Busy weeks ahead? Pregnant or cooking for new parents? Or just want to not have to think about dinner midweek? Batch Cooking and filling your freezer is the way forward!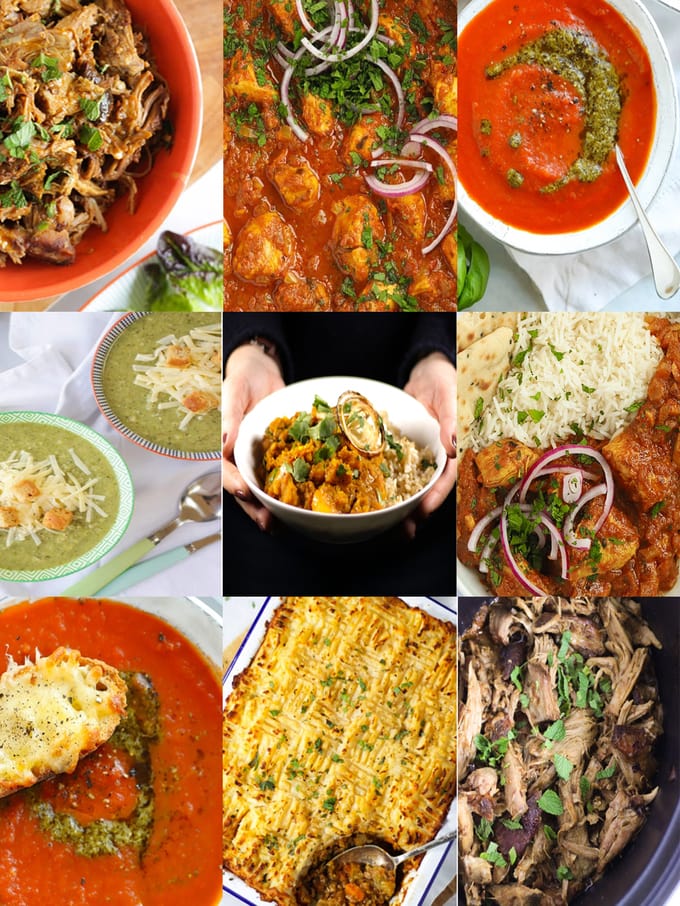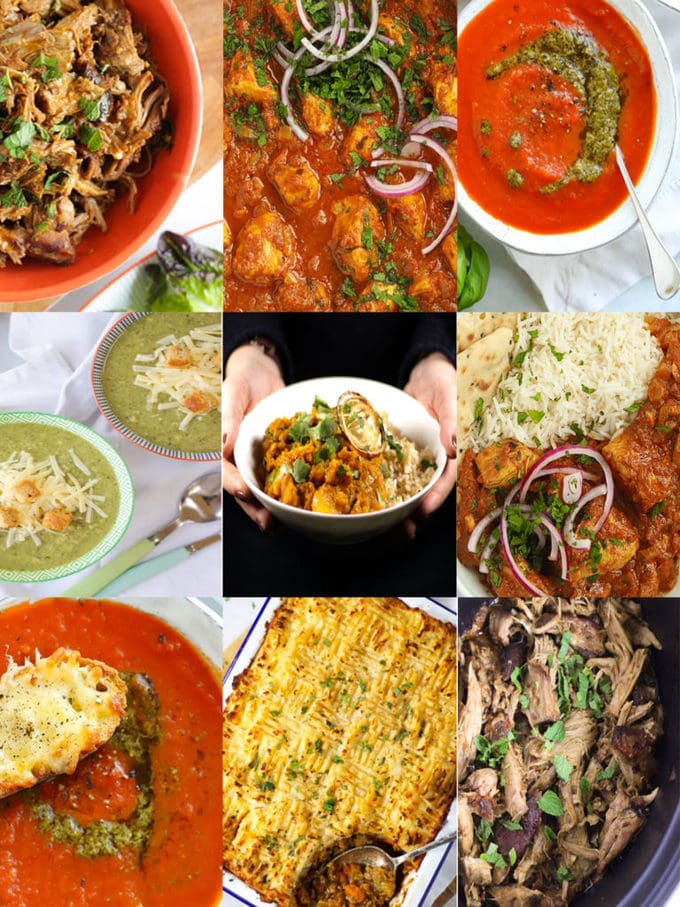 Struggling to find the brain space and time to think of dinner during the week?
Me too!
Over the years I've realised that if I can keep even just a handful of precooked homemade meals ready (either in the freezer or the fridge), it makes my week so much calmer.
I call this batch cooking and I mostly do this by doubling up a recipe a couple of times a week when I cook dinner.
A couple of notes about these Batch Cooking recipes
All of the recipes are linked below.
All of the portion sizes and full recipes are on the individual recipe pages.
I always like to include some soup recipes in my freezer filling as these make a really quick shortcut meal when we are late home.
All of the portion sizes are for adult portions. If you're feeding children they will obviously make even more.


FAQs about Batch Cooking
What is batch cooking?
Batch cooking to me means any time I can cook once and eat twice or more. Saving the time/mess of preparing a meal.
You can do this by cooking dinner and double the portions, to freeze half (or more) for another day. Or, of course, you could also have a big batch cooking day where you fill your freezer.
Do I need freezer space for batch cooking?
I like to freeze my batch cooked recipes as it means I can get organised well into the future.
All that said, even if you don't have freezer space, I still think batch cooking can be really useful.
You could cook dinner on a Monday for example, and then eat the same meal (or a version of it) later in the week without having to do any more cooking or preparation.
Can I freeze and refreeze meals and ingredients?
The food safety rules on the NHS website say:
" You can cook frozen meat and fish once defrosted, and then refreeze them. You can refreeze cooked meat and fish once, as long as they have been cooled before going into the freezer."
Basically if you had frozen mince or chicken, defrosted it and cooked it, it's fine to then refreeze but you should not refreeze it again raw.
Ready for the recipes? Here we go!
⭐️ Tomato Soup
This Easy Tomato Soup recipe is so cosy and comforting. Made with all store cupboard ingredients (oh hi canned tomatoes!) and ready in just 20 minutes. This recipe is such an easy freezer filler for a quick midweek supper.
Pair with a swirl of extra pesto, a sprinkle of cheese and some bread to dunk and you're good to go for a light dinner.
⭐️ Slow Cooker Pulled Pork
The ultimate shortcut pulled pork. Smothered in honey and chipotle, this easy crock pot pork shoulder creates a delicious sticky and smoky sauce. A winning base for so many meals.
Naturally gluten free too, it can be a base of so many delicious meals. Serve it over nachos, in enchiladas, in sandwiches, in pasta bakes. So good!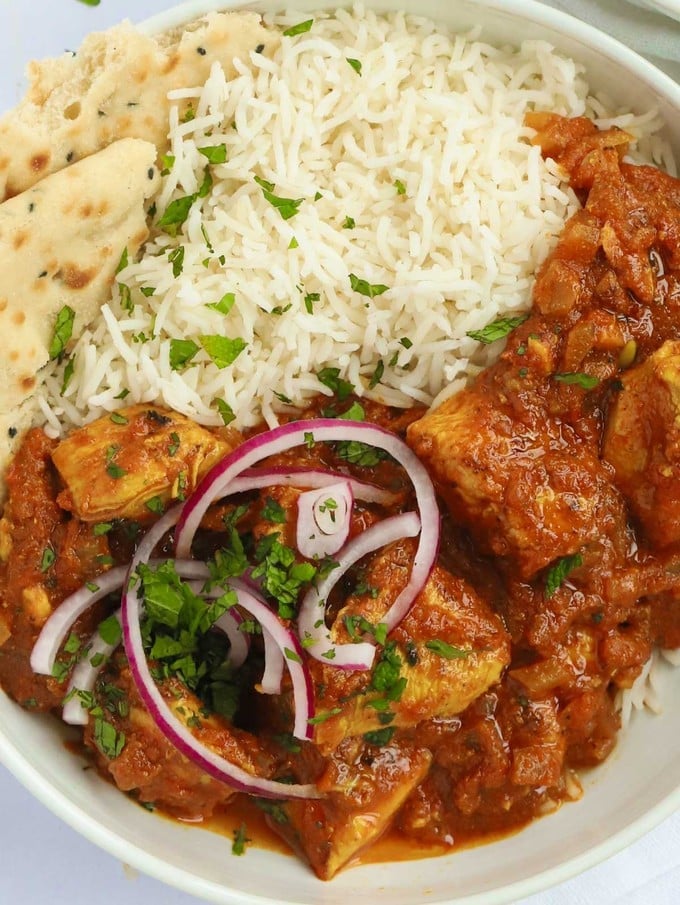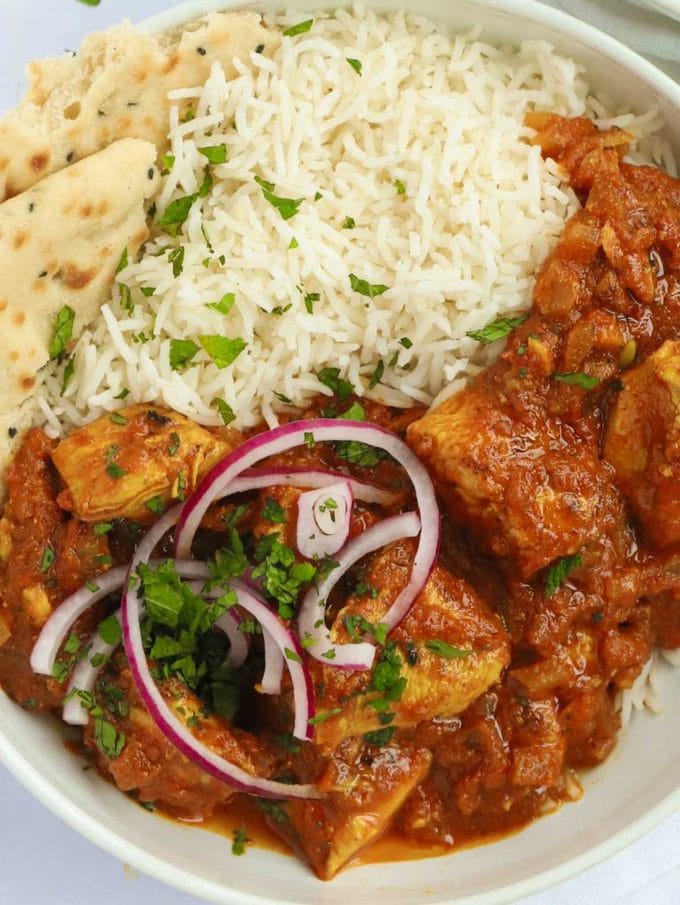 ⭐️ Easy Chicken Curry
We all need a simple, tasty, quick, takeaway alternative in our repertoire – here's mine.
Using a basic short cut curry paste, with a few teeny tweaks to take this to the next level. Make a batch of this for your freezer, and you won't want to wait for a takeaway delivery again.
⭐️ Bolognese Sauce
This beef bolognese sauce is packed with hidden vegetables, making it a complete meal.
It's SO versatile, use it stirred through pasta, in pasta bakes, top jacket potatoes, over nachos or potato wedges, as 'sloppy joes' in bread rolls.
Bake a double batch and pull it out of the freezer whenever you need a meal that everyone will love – no arguments!
⭐️ Dahl with Butternut Squash
This easy, family friendly vegetarian Dahl recipe makes the perfect one pan midweek dinner.
With red lentils, spinach and butternut squash it's delicious creamy texture makes it so comforting. It is a low cost dish, and freezes really well.
Serve with rice, poppadums or flatbreads for a really tasty and nutritious meal
⭐️ Cauliflower and Broccoli Soup with Cheddar
This easy soup recipe makes a family friendly meal is super quick time.
Use frozen vegetables to keep things super simple. The child friendly version of Broccoli Stilton Soup, packs a punch with two portions of vegetables and plenty of taste.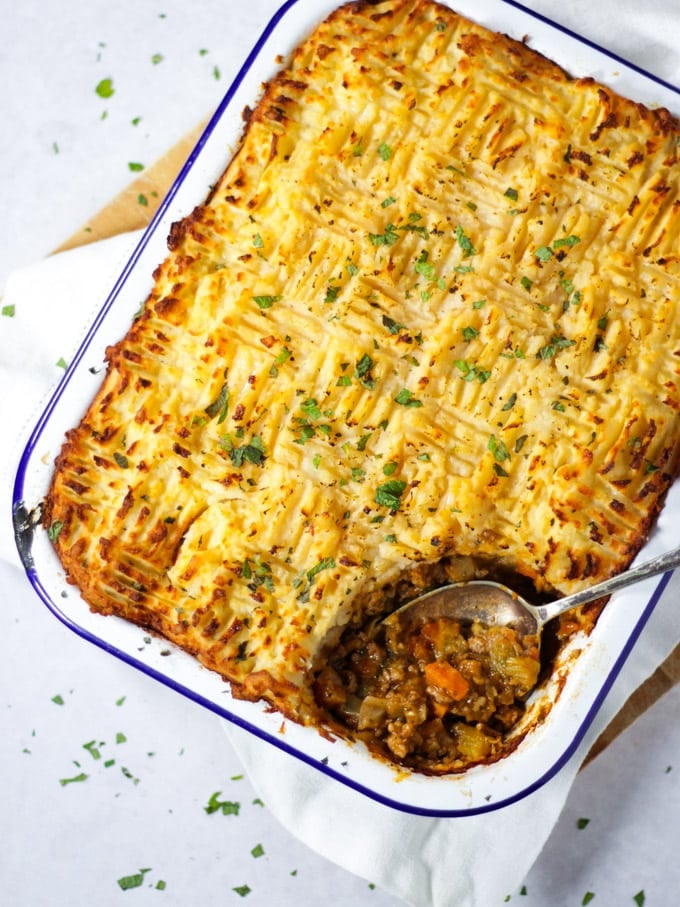 ⭐️ Shepherd's Pie
This easy, comforting Shepherd's Pie recipe is the perfect antidote to a cold winters day or when you just need some comfort food.
It is ideal for batch cooking as it is a complete meal in one dish.
Hope this post is useful. I'd love to know how you got on and what you thought of it if you make any of these recipes.
If you fancy showing me a photo by tagging me on Instagram (@tamingtwins) I LOVE to see your creations and try and share as many of them as I can.