Looking for cold weather comfort food without the faff? This Slow Cooker Chicken Casserole recipe is so quick to prepare. The stew is packed with vegetables and in a delicious creamy sauce with crispy bacon bits. Cosiness in a bowl!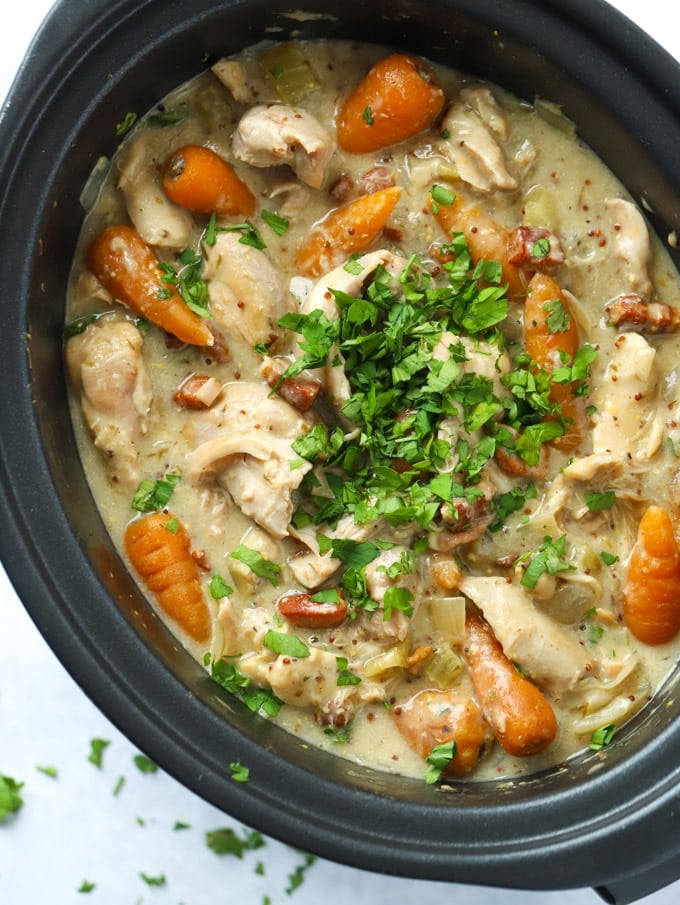 Autumn is most definitely here in the UK and you know what? I am so happy about it!
It's a reason for wooly jumpers, open fires and of course, cosy food.
You have LOVED my Slow Cooker Chicken Curry recipe as it's so simple to prepare, I decided it was about time to come up with a Chicken Stew version. Perfect for autumn and winter evenings.
You'll love this Slow Cooker Chicken Casserole because..

✅ It's packed with vegetables and a light, but creamy sauce.

✅ Hardly any preparation, no need to brown the chicken.

✅ Freezes brilliantly, cook once, eat twice!
How do you make a Slow Cooker Chicken Casserole?
Basically, pop all of the ingredients in, pour over some stock and herbs and GO!
I've added a couple of other steps (browning some bacon lardons and adding creme fraiche at the end) because after testing this approximately 100 times (!) I really think they make a difference and are worth the added tiny bit of effort.
You're welcome to leave those steps out, but.. Hello CRISPY BACON BITS!
SHOULD YOU BROWN CHICKEN BEFORE COOKING IN THE SLOW COOKER?
If you want to get scientific, the reason we brown meat before slow cooking, is because it causes a Maillard reaction. The process of frying, heating it very hot until it browns, changes the flavour compounds in the meat, basically adding a depth of flavour.
Does it add something to most slow cooked dishes? Yes. Is it vital in this dish, which is packed with other flavour? No.
My opinion is that it's much more important in red meat dishes and even then, sometimes speed and ease are more important.
Ingredients for the Slow Cooker Chicken Casserole
Chicken Thighs – These should be boneless and skinless. You could use chicken breast in this recipe, but it won't be as tender or shred when cooked in the same way.
Bacon Lardons – These are optional (as you need to fry them before adding, so it is another step in your prep) BUT using smoked bacon pieces adds SO much flavour and a little extra texture too.
Onions – Fresh or pre prepared from the freezer is fine. (Always after a shortcut!)
Carrots – I used mini Chantenay carrots, because no peeling, they look super cute and I like saying the word CHANTENAY! You can use regular, peeled carrots if you prefer, just cut into big chunks.
Celery – Even if you hate celery raw, it's a really good idea to use it here as it adds lots of depth of flavour to the sauce. Chop quite small.
Stock – I like Marigold Vegetable Stock powder.
Mustard – Wholegrain works well as it adds an extra texture and makes the sauce look pretty. A little Dijon/French mustard is fine if you don't have wholegrain. Please do add this, as it really enhances the flavour.
Dried Thyme – Make sure this isn't from a pack that's been open at the back of the cupboard for years as it really loses it's flavour!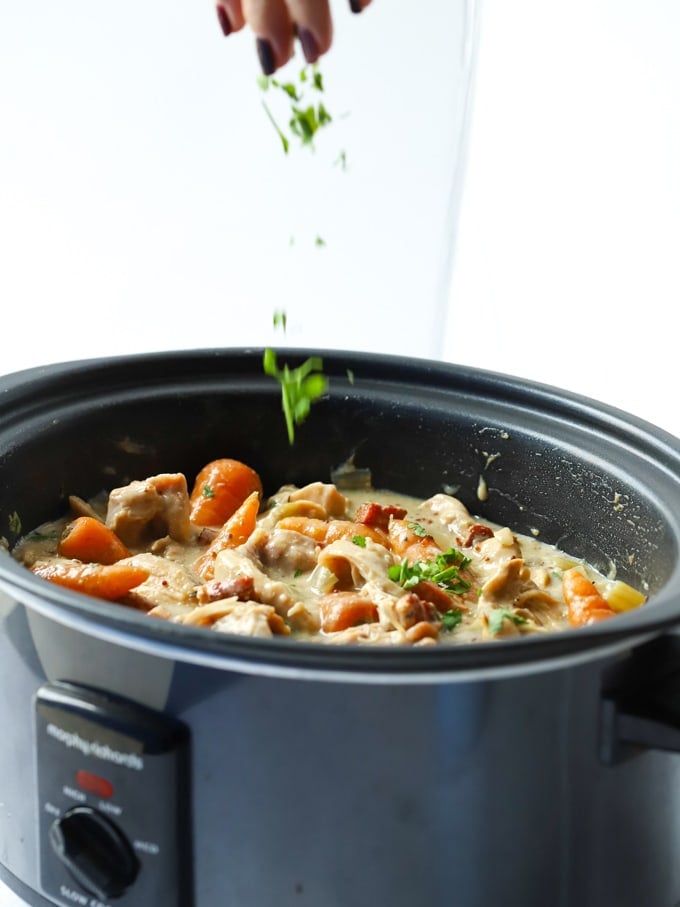 Fancy some other delicious slow cooker dishes?
Hope you enjoy this recipe as much as we do. I'd love to know how you got on and what you thought of it if you make this Slow Cooker Chicken Casserole recipe. Please rate the recipe using the ⭐️ by the recipe.
Also, if you'd like to show me a photo by tagging me on Instagram (@tamingtwins) I LOVE to see your creations.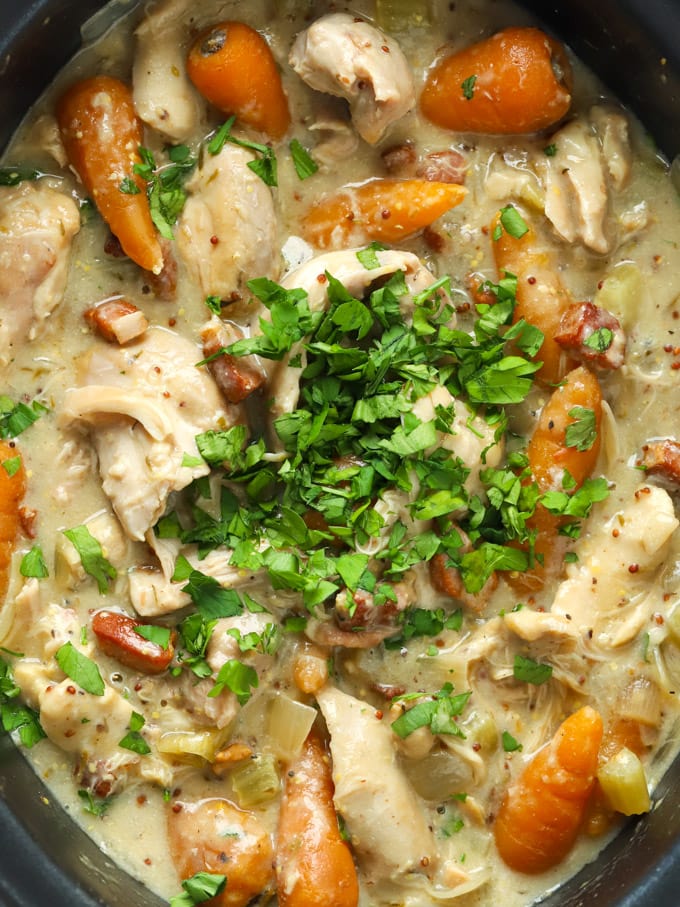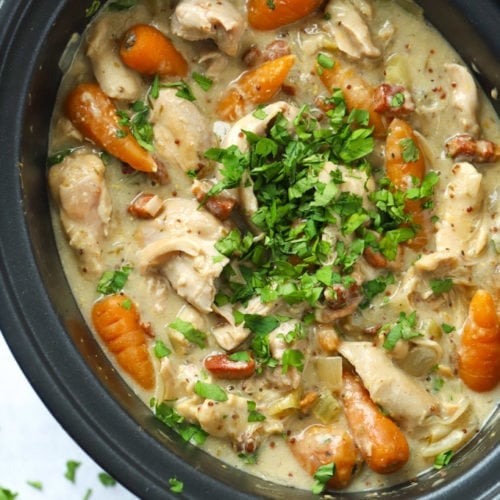 Slow Cooker Chicken Casserole with Bacon
Looking for cold weather comfort food without the faff? This Slow Cooker Chicken Casserole recipe is so quick to prepare. The stew is packed with vegetables and in a delicious creamy sauce with crispy bacon bits. Cosiness in a bowl!
Ingredients
1

kg

Chicken thighs

Boneless and skinless

50

g

Plain flour

2

Onions

Large, peeled and chopped

3

Sticks

Celery

Trimmed and chopped into small pieces

500

g

Carrots

See note 1 below.

200

g

Smoked bacon lardons

See note 2 below.

300

ml

Chicken stock

2

tbsp

Wholegrain mustard

2

tsp

Dried thyme

See note 3 below.

Salt and freshly ground black pepper
To serve:
4

tbsp

Creme fraiche

3

tbsp

Chopped fresh flat leaf parsley

Salt and freshly ground black pepper
Instructions
Fry your bacon lardons either in a small frying pan, or in the bottom of your slow cooker pan if it can be used on the hob. Let them go crispy and golden brown.

Meanwhile, put your chicken thighs in a large bowl and coat thoroughly in the flour.

When the bacon has finished cooking, put the onions, celery, carrots and bacon pieces into your slow cooker (or leave the bacon pieces in that pan if they've been cooking in there).

Sit the flour rolled chicken pieces on top of the vegetables in the slow cooker.

Mix the stock, mustard, thyme and salt and pepper and pour into the slow cooker, around the side of the chicken.

Put the lid on and cook on HIGH for 4 hours or LOW for at least 6 hours.

When you're ready to serve, add the creme fraiche and the chopped parsley. Check for seasoning and add more salt and pepper if needed.
Notes
Note 1 - Carrots - I used baby carrots whole, but you can just use regular carrots peeled and chopped into large chunks if you prefer.
Note 2 - Bacon lardons - You don't NEED to add these if you don't want to add the step of pre frying them HOWEVER, I think they really add a lot of flavour. They do need to be fried before adding to make them crispy. 
Lardons are basically fat chunks of bacon, you can buy them in packs cut to that size, which adds lovely textured chunks. Or you can just use smoked bacon cut into chunks. 
When you fry these, they won't need any oil as the fat will render out. I like to add the fat juices from the pan along with the bacon pieces as they add more flavour.
Note 3 - Thyme
I actually use 2 TABLESPOONS of dried thyme as I find slow cooker casseroles can sometimes be a little bland as they don't reduce whilst cooking so you need to make adjustments to use more flavourings than you normally would. I've reduced the amount in the recipe as I know that might not be to everyone's taste. Use more if like me your tastebuds need a lot for them to pack a punch!
Nutrition
Calories:
596
kcal
Carbohydrates:
33
g
Protein:
42
g
Fat:
33
g
Saturated Fat:
11
g
Cholesterol:
194
mg
Sodium:
817
mg
Potassium:
1158
mg
Fiber:
6
g
Sugar:
11
g
Vitamin A:
21320
IU
Vitamin C:
13
mg
Calcium:
123
mg
Iron:
4.5
mg
Made it? Tag me!
Tag @TamingTwins so we can admire your make ⭐️