This easy one-pan Lamb Keema Curry is so packed full of flavour, yet is probably the easiest lamb mince recipe you'll find anywhere.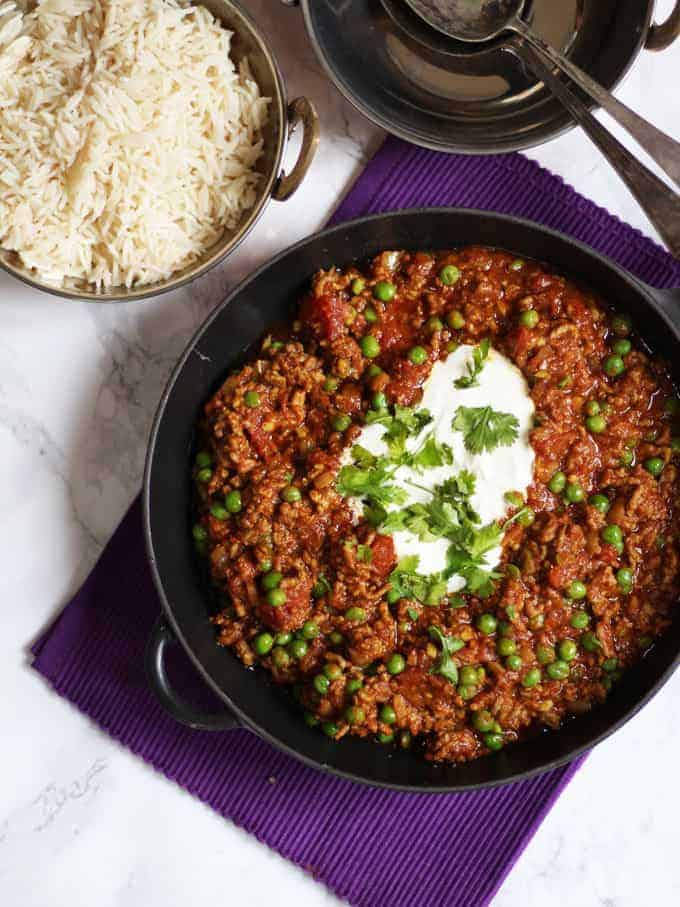 There are many praises I can sing about this delicious one-pan Lamb Keema Curry, but let's start with how flipping EASY it is! It's so tempting to shy away from making homemade curries because they quite rightly need to have that depth of flavour and spice to come close to being credible.
Well, that is until you take the absolutely divine lamb mince, which is so delicious on its own that frankly I'm glad there's an easy way we can introduce it to our meal planning. As well as simplicity, this is also so tasty and it's a little something different if you eat a lot of chicken or beef.
It's also fantastic for batch cooking and freezing for another day, and you can adapt this recipe for a beef mince curry if you'd prefer. Personally I love this with lamb as it tastes so unlike anything else, but I get that some people just don't like it. By the way, this tastes waaaaay naughtier than it tastes too, making it enough of a treat for a weekend fakeaway or cooking for guests, but quick and easy enough for a midweek family dinner too (about 30 minutes).
You'll love this recipe because:

✅ Low effort, high on quality

✅ Quick and budget-friendly

✅ Perfect fakeaway or midweek dinner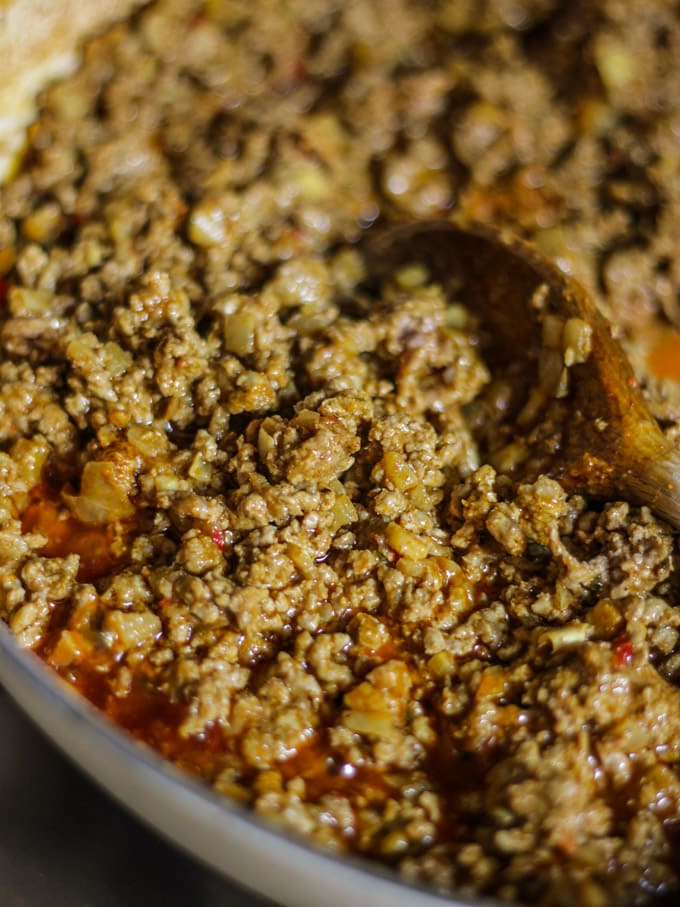 FAQs about this Lamb Keema Curry Recipe
How do you make Lamb Keema Curry?
First brown off your lamb mince in a pan and set aside. Then add your onions, garlic, ginger, chilli and curry paste and let them cook down. Add your mince back in, then your tinned tomatoes, sugar and tomato puree. Let it all bubble away, add the peas to cook through and serve. Delicious!
What should I serve with this dish?
I like to serve this with basmati rice or brown rice if I'm feeling healthy, but there is always the option of a time-saving microwave packet rice. This isn't the most economical way of serving up rice but sometimes the speed is worth it, especially if you only want a small amount.
We also love this with poppadoms, naan breads or chapatis, or sometimes my Easy Flatbreads. If you're going all out, it's nice to serve up a simple raita (yoghurt dip/sauce) using plain yoghurt mixed with fresh mint or mint sauce.
Is this a spicy curry?
This depends on the curry paste you choose to make this recipe with and how many green chillies you add. I use Patak's Tikka Masala Paste for this one, but if that's too spicy for your family, go for something milder.
Can I substitute the lamb for beef?
Yes, it's possible to use this recipe with beef mince instead. The flavour will be different but it will taste really good too.
Is this an authentic keema curry?
Keema Curry is basically a minced curry. This one uses lamb mince but it can also use other types of meat. There is no one-size-fits all recipe for keema as such, as different cultures have their own creations dating back generations in India and neighbouring countries.
Here we have substituted a long spice list with the Patak's paste, which I personally think is a brilliant brand that never disappoints on flavour, while allowing time-poor cooks the chance to have a go at a curry.
Fancy more easy curry recipes?
Hope you enjoy this recipe as much as we do.
I'd love to know how you got on and what you thought of it if you make this Lamb Keema Curry recipe. Please rate the recipe using the ⭐️ by the recipe. Also, if you'd like to show me a photo by tagging me on Instagram (@tamingtwins) I LOVE to see your creations.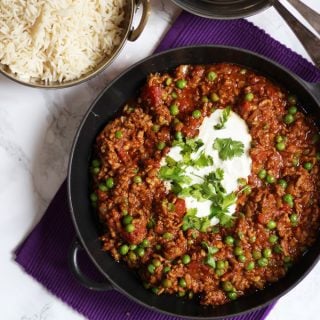 Easy Lamb Keema Curry
A delicious, quick and easy, family-friendly Lamb Keema Curry recipe. Perfect for a midweek dinner or weekend fakeaway. Here's how to make one of the tastiest and easiest curry recipes.
Ingredients
450

g

Lean lamb mince

2

tsp

Rapeseed or vegetable oil

1

Large onion

Peeled and finely chopped

2

Garlic cloves

Peeled and finely chopped or crushed, or 10ml/2tsp garlic purée

1

tsp

Minced ginger or 1 x 2.5cm/1inch piece fresh root ginger

Peeled and finely chopped

1-2

Green chillies

Deseeded (if preferred) and finely chopped or 5ml/1tsp hot chilli sauce

3

tbsp

Curry paste of your choice

3

Medium tomatoes

Chopped

1

tsp

White sugar

2

tbsp

Tomato purée

75

g

Peas

Fresh or frozen

Salt and freshly milled black pepper

Large handful freshly chopped coriander

To garnish
Instructions
Heat the oil in a large non-stick frying pan and cook the onion and garlic over a low heat for 10 minutes or until soft and lightly golden.

Add the ginger, hot chilli sauce or fresh chillies and curry paste. Cook over a moderate heat for 1-2 minutes, stirring occasionally.

Add the lamb and stir-fry for 2-3 minutes, then add the tomatoes, sugar, tomato purée and bring to the boil. Season, reduce the heat and cook uncovered for 20-25 minutes, stirring occasionally. Add a little water, if needed.

During the last 5 minutes add the peas. Remove from the heat and stir through the herbs.

Use as required or cool quickly, transfer into plastic container and freeze for up to 3 months.
Nutrition
Calories:
375
kcal
Carbohydrates:
13
g
Protein:
22
g
Fat:
27
g
Saturated Fat:
12
g
Polyunsaturated Fat:
3
g
Monounsaturated Fat:
10
g
Trans Fat:
2
g
Cholesterol:
82
mg
Sodium:
181
mg
Potassium:
346
mg
Fiber:
4
g
Sugar:
6
g
Vitamin A:
2725
IU
Vitamin C:
26
mg
Calcium:
50
mg
Iron:
3
mg
Made it? Tag me!
Tag @TamingTwins so we can admire your make ⭐️