A delicious quick and easy Lamb Keema recipe. This minced lamb curry is perfect for midweek meals. This recipe for keema is one of the tastiest and easiest lamb mince recipes you will ever make. This family curry recipe also freezes well and is adaptable to use beef mince.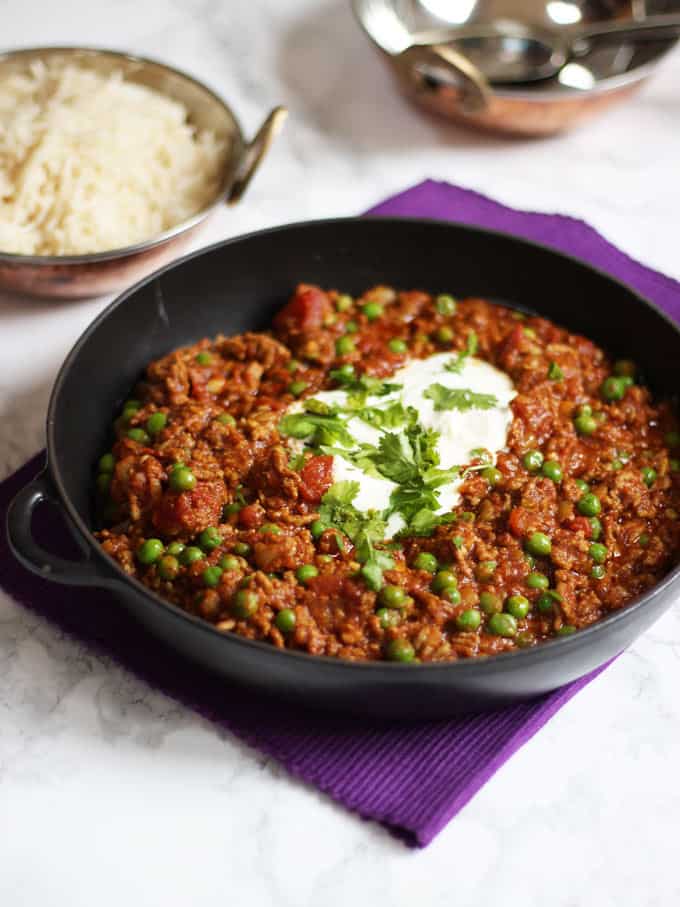 Life is just so hectic! The juggle of work, school, after school activities, playdates (!) and trying to maintain some social life or me time, is a challenge. This has led me to try and become more organised through meal planning.
One meal we've enjoyed was this Lamb Keema recipe using lamb mince. Why is it so good?
TIME: It is on the table in around 30 minutes – What is more, most of that thirty minutes it is bubbling away on its own so plenty of time for you to do homework, lathe table, read a book, whatever you like!
It is the perfect BATCH COOK dish. I have to restrain myself from putting it on my meal plan each week as it is such a good recipe to make double of, and it freezes really well.
All cooked in ONE PAN – minimum washing up! Need I say anymore?
What is lamb keema?
Keema is a basically a minced lamb curry, this one uses lamb mince but it can also use other types of minced meat. 
It's a favourite meal here, so quick, easy and economical, a perfect midweek curry. Of all of the lamb mince recipes in my go to pile, this is our favourite.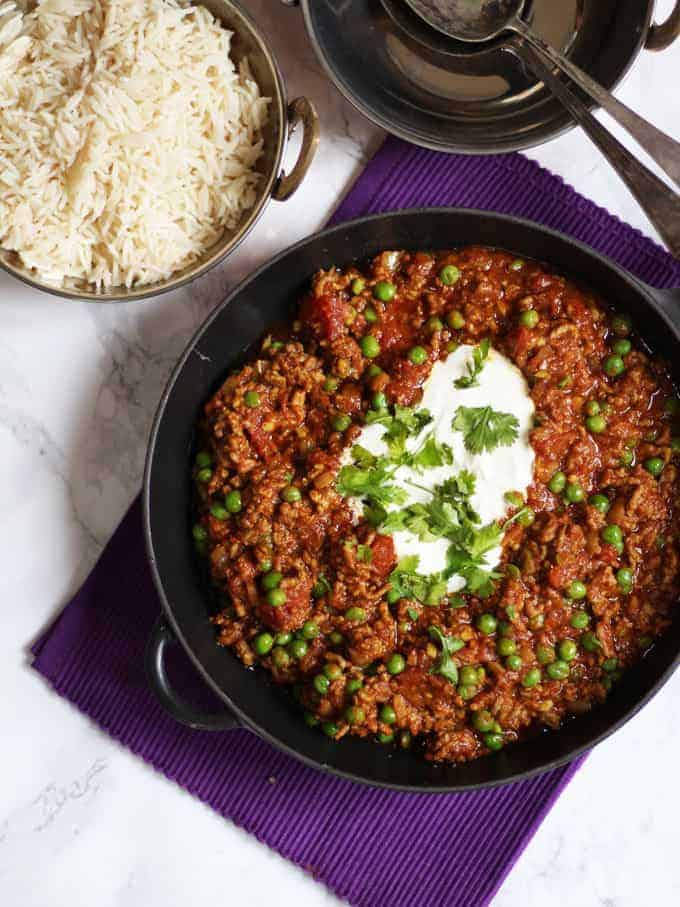 I know I told you how I was feeling all the feels about school but then, the big moment came and off they went. G said "have a fun day Mummy" as he turned away without so much as a backwards glace. OMG.
If you follow me on Instagram (@tamingtwins) you might've seen my post, where I asked three questions that have been perplexing me during the first three days of this school malarky:
Will I ever find out what they've actually been up to? They tell me nothing.
Did they really have 'edges' for lunch? They insisted that's what was on the menu. Whaaaa'?
Do they get replaced at home time by ravenous, fridge raiding monsters? They are SO hungry, I've never known anything like it.

The answers I got there made me laugh a lot, it turned out I'm definitely not alone. There's lots of ravenous kids out there after school.
I hope this recipe helps you to tame yours too!
How do you make a Keema Curry?
To make this minced lamb recipe, you brown off your lamb mince in a pan and set aside. Then add your onions, garlic, ginger, chilli and curry paste and let them cook down. Add back in your mince, then your tinned tomatoes, sugar and tomato puree.
Let it all bubble away, add the peas to cook through and serve. Delicious!
This recipe is also easy to adapt if you're following the Slimming World plan, just omit the oil, replace the mince for very lean lamb mince (and count any 'syns') and replace the curry paste with curry powder.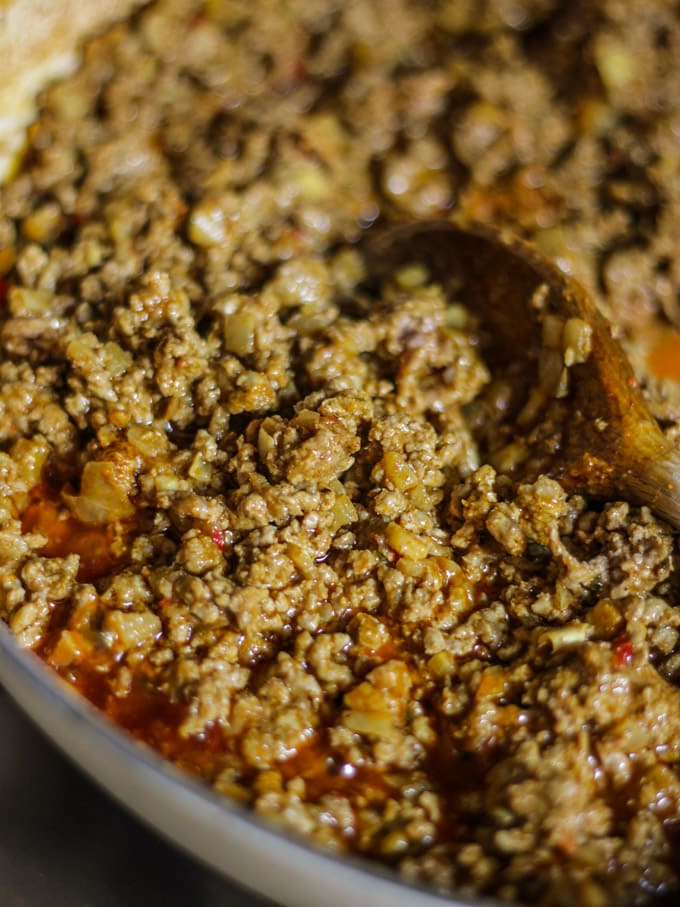 What to serve with the Keema recipe?
Rice: I tend to serve this with basmati rice (or brown rice if we're feeling healthy). TIME SAVING TIP: Use microwave rice – 90 seconds and ready. It is especially good when you only need a small amount.
Poppadum,
Naan breads or chapatis – or if you have more time my Easy Flatbreads.
I also really like to make a simple raita (yoghurt sauce) using yoghurt, mixed with fresh mint or mint sauce.
What I used to make the Lamb Keema Curry Recipe:
Watch how to make the Lamb Keema Curry Recipe:
MORE CURRY DISHES?
I hope you enjoy this recipe as much as we do. I'd love to know how you got on and what you thought of it if you make this Lamb Keema Curry recipe. Please rate the recipe and leave me a comment below if you do.
If you enjoyed this recipe, subscribe to my newsletter for weekly meal plans, and follow me on Facebook, Instagram and Pinterest for lots of chat, recipes and life updates!
How to make this Lamb Keema Curry recipe:
Lamb Keema Recipe
A delicious, quick and easy, family friendly Lamb Keema curry recipe. Perfect for a midweek dinner, on the table quickly. Here's how to make one of the tastiest and easiest curry recipes.
Ingredients
450

g

lean lamb mince

2

tsp

rapeseed or vegetable oil

1

large onion

peeled and finely chopped

2

garlic cloves

peeled and finely chopped or crushed or 10ml/2tsp garlic purée

1

tsp

minced ginger or 1 x 2.5cm/1inch piece fresh root ginger

peeled and finely chopped

1-2

green chillies

deseeded (if preferred) and finely chopped or 5ml/1tsp hot chilli sauce

3

tbsp

curry paste of your choice

3

medium tomatoes

chopped

1

tsp

white sugar

2

tbsp

tomato purée

75

g

peas

fresh or frozen

Salt and freshly milled black pepper

Large handful freshly chopped coriander

to garnish
Instructions
Heat the oil in a large non-stick frying pan and cook the onion and garlic over a low heat for 10 minutes or until soft and lightly golden.

Add the ginger, hot chilli sauce or fresh chillies and curry paste. Cook over a moderate heat for 1-2 minutes, stirring occasionally.

Add the lamb and stir-fry for 2-3 minutes, then add the tomatoes, sugar, tomato purée and bring to the boil. Season, reduce the heat and cook uncovered for 20-25 minutes, stirring occasionally. Add a little water, if needed.

During the last 5 minutes add the peas. Remove from the heat and stir through the herbs.

Use as required or cool quickly, transfer into plastic container and freeze for up to 3 months.
Nutrition Facts
Lamb Keema Recipe
Amount per Serving
% Daily Value*
* Percent Daily Values are based on a 2000 calorie diet.