Slow Cooker Chicken Cacciatore Recipe – This easy dinner recipe is simple to prepare and bursting with flavour. Chicken thighs are braised in a tomato sauce with basil, oregano, olives, onions and mushrooms. Perfect served with pasta, rice or mashed potatoes. It is also gluten and dairy free, and freezes really well for a meal in a hurry.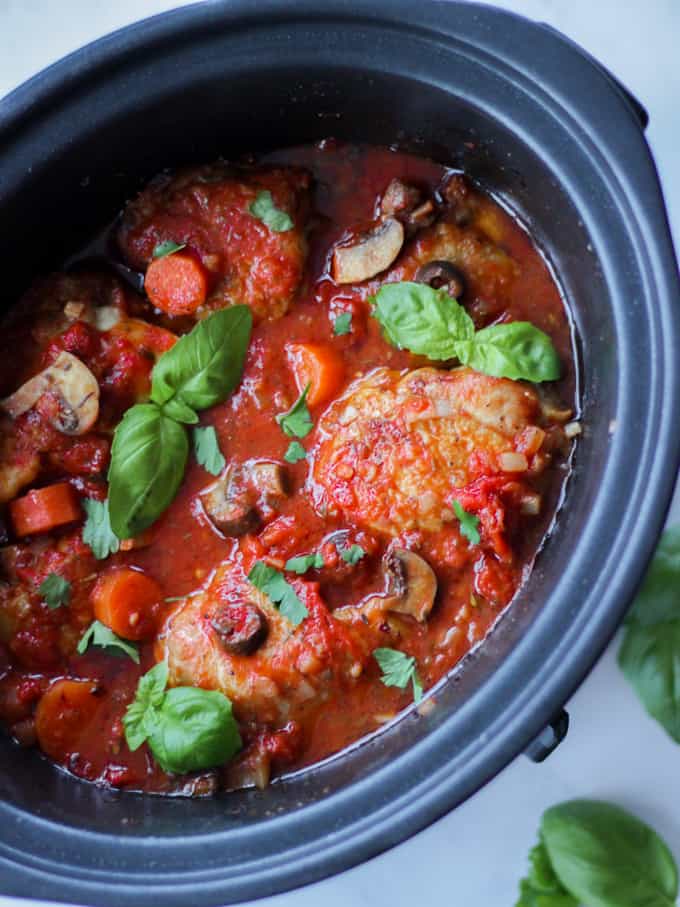 Life is just so hectic with at the moment with house renovations, school, work, and trying to maintain some semblance of a social life. I don't know about you but January seemed to whizz by in a cold dark blur.
To try and be a bit kinder to myself whilst maintaining some element of Domestic Goddess-ness, who am I kidding :), I'm really trying to focus on recipes that can be batch cooked.
Then I can make double the recipe with very little extra work, half to eat that night and then freeze the rest to eat another day. It means that a few nights a week I only have to worry about what I'm serving dinner with, rather than spending hours in my not so amazing kitchen.
So this is where this delicious Chicken Cacciatore recipe comes in. It is such a simple Italian recipe, with a small amount of preparation time. You can just pop it into the oven and let it bubble away whilst you do homework, reading… any of the things family life entails!
How do you make Chicken Cacciatore?
It really is so easy! Firstly brown your chicken thighs (you may need to do this in several batches depending on the side of your pan).
Once the chicken is browned, set it aside. Add some more oil to your pan if necessary and fry your chopped onions and garlic. These should take around 5 minutes until slightly golden and softened. Next add in chopped tomatoes, tomato puree, sun-dried tomato paste (if you have some) mushrooms, olives, carrots and dried oregano.
Give it a good old stir and add back in your chicken. Bring everything to the boil and then pop into a preheated oven for 1 1/2 hours. There you have it Chicken Cacciatore done!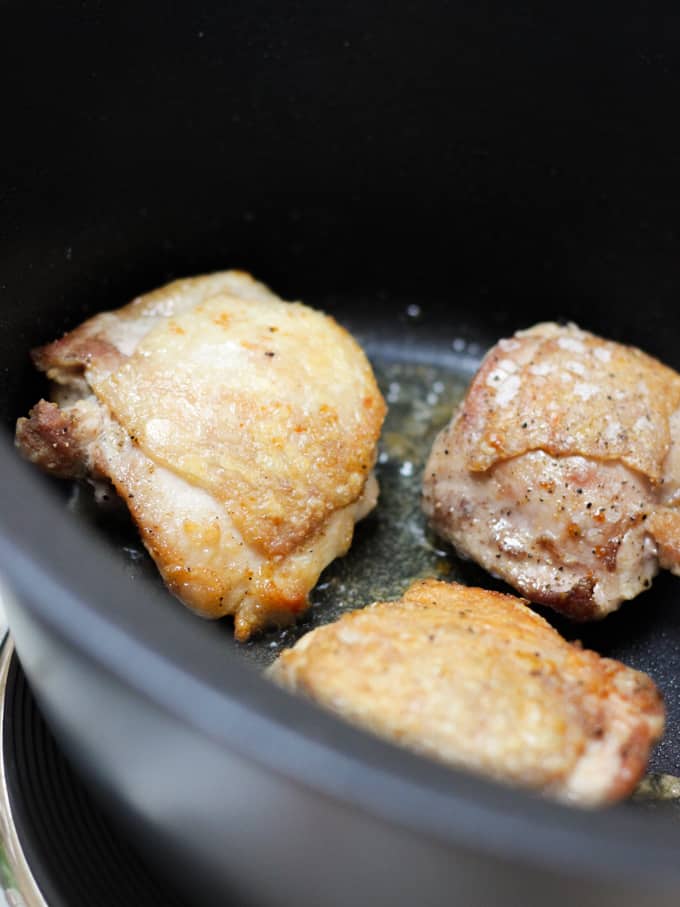 What ingredients are in Chicken Cacciatore?
The basic recipe is chicken pieces browned, vegetables, tomatoes and herbs added. It can be made with chicken or rabbit. The thing I really like about this Chicken Cacciatore dish is that it's so easy to mix up with whatever you have in the fridge or store cupboard and change it to your family tastes.
What is best to serve with Chicken Cacciatore?
I tend to serve my Chicken Cacciatore with rice (brown rice is good for texture), cous cous, mashed potatoes, pasta or even soft polenta. All of them work well.
Is Chicken Cacciatore healthy?
Chicken thighs are higher in fat, particularly if they have the skin on, to reduce this you could take the skin off, or use chicken breasts. Although I would say thighs are much nicer! Apart from this, Chicken Cacciatore is a really healthy recipe, packed full of vegetables.
If you are following the Slimming World plan, then substitute the olive oil for a spray oil and remove the chicken skin, and tah- dah a SYN free dish.
If this dish couldn't get any more fabulous it is also gluten and dairy free.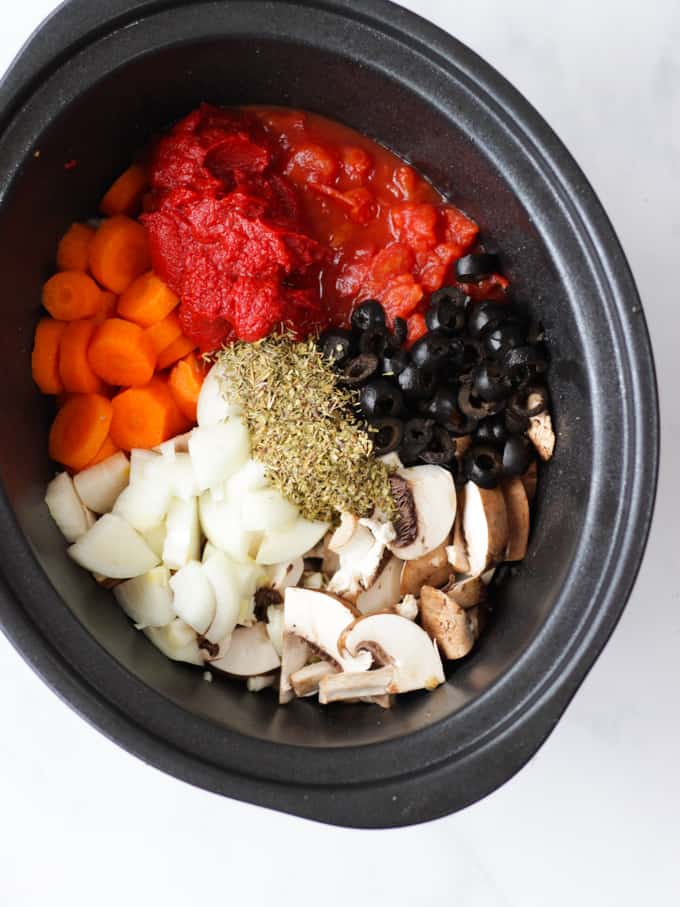 What vegetables go in Chicken Cacciatore?
In this Chicken Cacciatore recipe I've used tomatoes, mushrooms, onions, fresh herbs, carrots and olives. Some recipes use bell peppers (mostly American versions of the recipe I've found) but I don't as I'm not keen on them. Feel free to add them in in you prefer.
Is Chicken Cacciatore Italian?
According to Wikipedia:
'Cacciatore' means 'hunter' in Italian. In cuisine, alla cacciatora refers to a meal prepared "hunter-style" with onions, herbs, usually tomatoes, often bell peppers, and sometimes wine.
So yes, it's Italian in origin but so easy to adapt with whichever vegetables or herbs you fancy or have at home.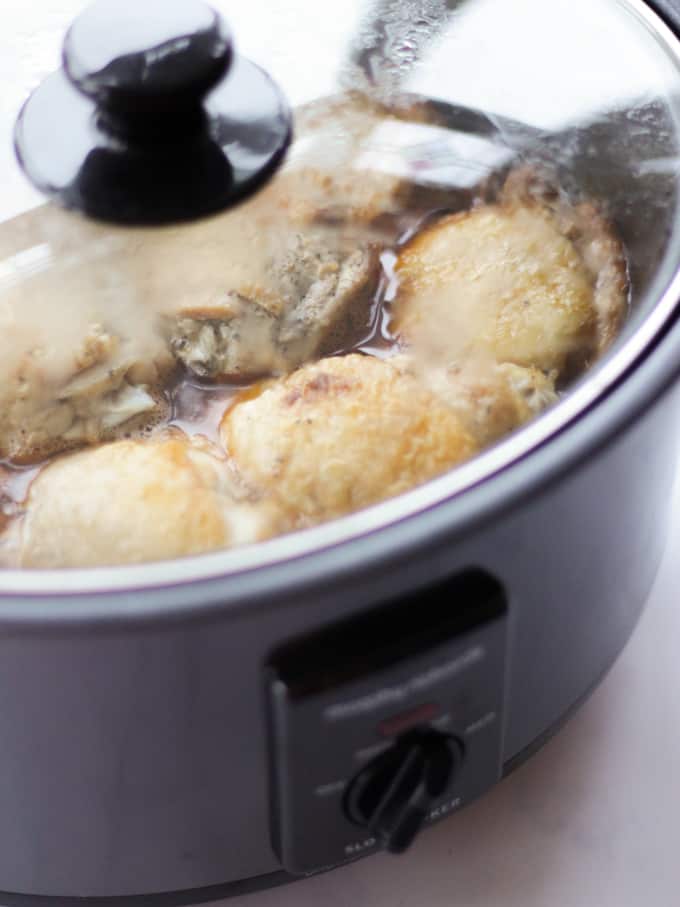 What did I use for this recipe:
This Chicken Cacciatore recipe is amazing cooked in a slow cooker, I've got THIS one, which has a pan you can use on the hob. Really handy for recipes like this where you need to brown the meat first, it saves on the washing up!
Really good quality tinned tomatoes really do make a difference to the taste of your recipe – I use Cirio.
Freezer tubs (if you're making a bigger batch).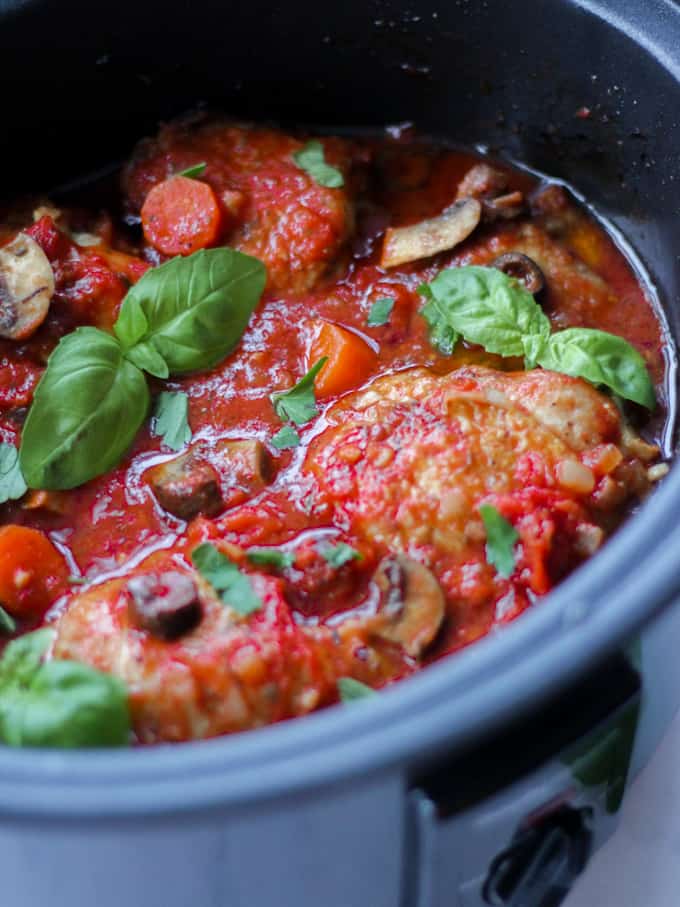 Tips for making this Slow Cooker Chicken recipe:
Chicken Cacciatore is a really versatile dish it can be cooked in many different ways and still get a delicious outcome. You could pop it into your slow cooker (crock pot) as shown in these photos. Simply brown your chicken first as in the instructions and then add everything bar your basil into the slow cooker and cook on high for 3-4 hours or low for 4-6. You could also do a speedy version on the hob by cooking the chicken thighs in the oven for around 25 minutes whilst you bubble the sauce away on the hob. One recipe three different ways, perfect!
This Chicken Cacciatore freezes so well. When it is totally cold, I package up in these dishes, label and freeze. Just be sure to not refreeze once thawed. You may need to add a splash more liquid when it is defrosted.
Good quality chopped tomatoes and tomato puree really go make a difference, so buy the best you can where possible.
If your Chicken Cacciatore needs thickening whisk a small amount of corn flour (corn starch) or even plain flour with some water (or a little of the sauce), and stir slowly in. Cook for a further 5-10 minutes or until its thickened.
If you aren't cooking this Chicken Cacciatore for children and fancy indulging yourself then you could marinate the chicken for a couple of hours before hand in some oregano and red wine. Before browning your chicken, pour off the marinade and then add it back in with the tomatoes etc.

In the mood for a chicken dinner? Have a look at my other recipes like Chicken Pasta Bake or Chicken Enchiladas, plus I have a Pinterest board with a collection of beautiful looking recipes… winner winner!
I'd love to know how you got on and what you thought of the recipe if you make this Chicken Cacciatore Recipe. Please rate the recipe and leave me a comment below if you do.
Also, if you fancy showing me a photo by tagging me on Instagram (@tamingtwins) I LOVE to see your creations.
How to make the Chicken Cacciatore recipe: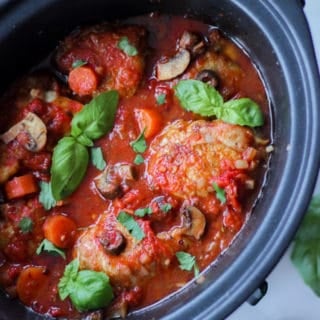 Chicken Cacciatore
Chicken Cacciatore Recipe - This easy dinner recipe is simple to prepare and bursting with flavour. Chicken thighs are braised in a tomato sauce with basil, oregano, olives, onions and mushrooms. Perfect served with pasta, rice or mashed potatoes. This also freezes really well for a meal in a hurry.

Ingredients
900g

Chicken thighs, bone in

1

tbsp

Olive oil

200

g

Onions

Peeled and chopped into chunks

4

Cloves

Garlic

400

g

Tinned tomatoes

100

g

Tomato paste or puree

250

g

Mushrooms

Chopped into medium chunks

250

g

Carrots

Peeled and chopped into chunks

75

g

Olives

Drained and chopped a little

1

tbsp

Dried oregano

2

tbsp

Sun dried tomato paste

If you have it, don't worry if you'd prefer not to buy a whole tube

Salt and pepper

30

g

Fresh basil
Instructions
Preheat your oven to 180c fan (or 160c conventional).

Heat the oil in a pan brown off your chicken thighs in batches until golden all over.

Remove pan from the heat and set the chicken aside.

Pour a little more oil into the pan if required. Fry your onions and garlic until lightly browned and softened.

Then add tinned tomatoes, tomato puree, mushrooms, carrots, olives, oregano, sun-dried tomato paste (if using) and salt and pepper. Give everything a good stir and and then add your chicken thighs back into the pan.

Bring everything to the boil.

Cover and place in the oven for 1 1/2 hours.


Once the cooking time is complete, remove from the oven and remove any fat that has accumulated before stirring in some fresh basil.
Notes
You can use skin on or off chicken thighs for this recipe, whichever you prefer. The skins can go a little soft in the slow cooker but they do keep the meat very tender.
You can also use bone in or bone out chicken thighs, it's personal preference. Boneless are easier to eat, but I do think that bone in gives more flavour. If you use boneless you'll probably only need about 750g rather than 900g of bone in chicken thighs.
Nutrition
Calories:
441
kcal
Carbohydrates:
18
g
Protein:
28
g
Fat:
28
g
Saturated Fat:
7
g
Cholesterol:
147
mg
Sodium:
677
mg
Potassium:
1019
mg
Fiber:
5
g
Sugar:
9
g
Vitamin A:
7965
IU
Vitamin C:
17.1
mg
Calcium:
94
mg
Iron:
3.6
mg
Made it? Tag me!
Tag @TamingTwins so we can admire your make ⭐️
This recipe may contain affiliate links. This means that I may get a small percentage from any purchase that you make but it will not affect the price you pay.