This recipe for Honey Garlic Chicken is cooked in the slow cooker with just 5 minutes preparation needed. It cooks up a sticky, Asian style sauce and super tender meat.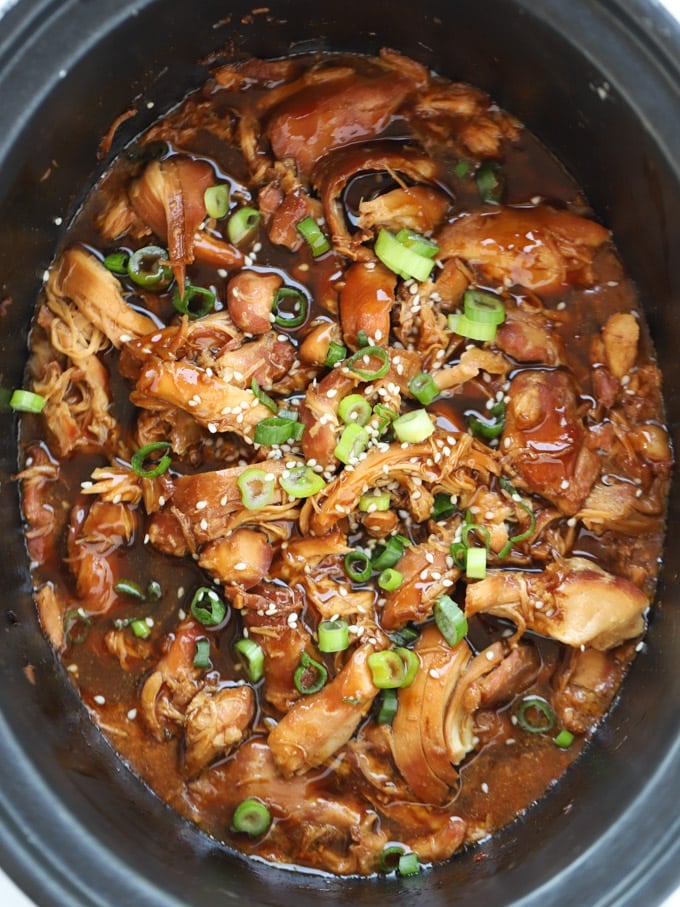 A couple of weeks ago, I asked on Instagram what recipes you'd like to see and SO MANY people said slow cooker recipes… For summer?!
I don't know why, I always think of the slow cooker (or crock pot if you're in the USA) as an autumn and winter staple but actually, it could be SO good for summer days. No need to get hot and sweaty by the oven or stove – yessss 🙌🏼
You have LOVED my NO PREP Slow Cooker Chicken Curry so I thought I'd go down the same route here for Chicken Thighs in a sticky Asian style sauce.
I hope you love this as much as we do!
You'll love this Honey Garlic Chicken recipe because:

✅ Prepared in under 5 minutes.
✅ It has the most delicious, sticky, tasty sauce. 😍
✅ Great change from a takeaway.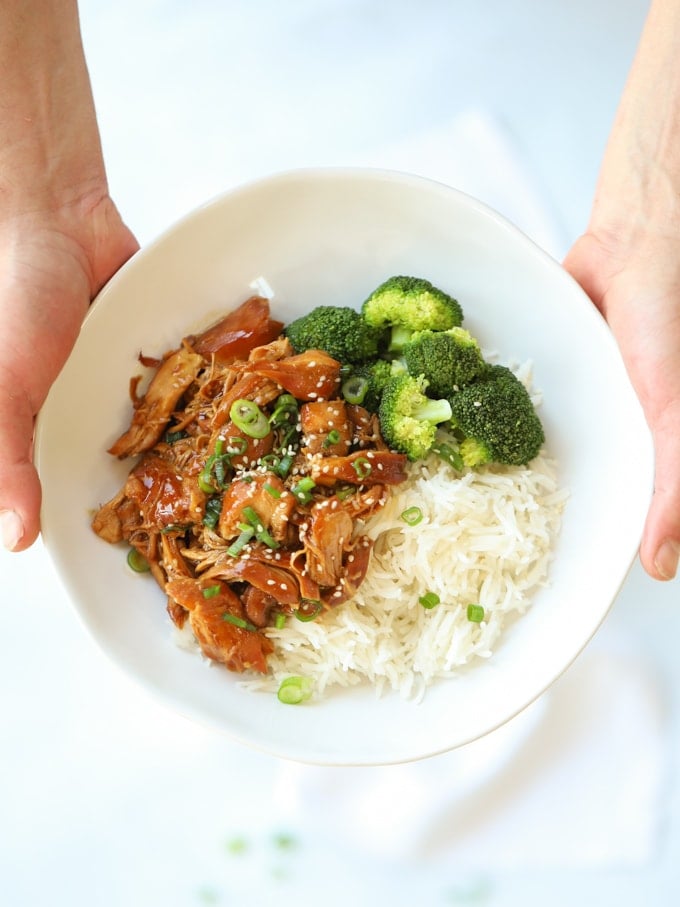 How do you make Honey Garlic Chicken in the Slow Cooker?
Throw everything in (always a good start to a recipe right?!) apart from the cornflour.
When the recipe has cooked for 4 hours on HIGH or 6 hours on LOW, take off the lid, give everything a good stir. You'll notice the chicken breaking up.
Remove a little of the cooking liquid and mix with cornflour. Add it back in to thicken the sauce and you're good to go.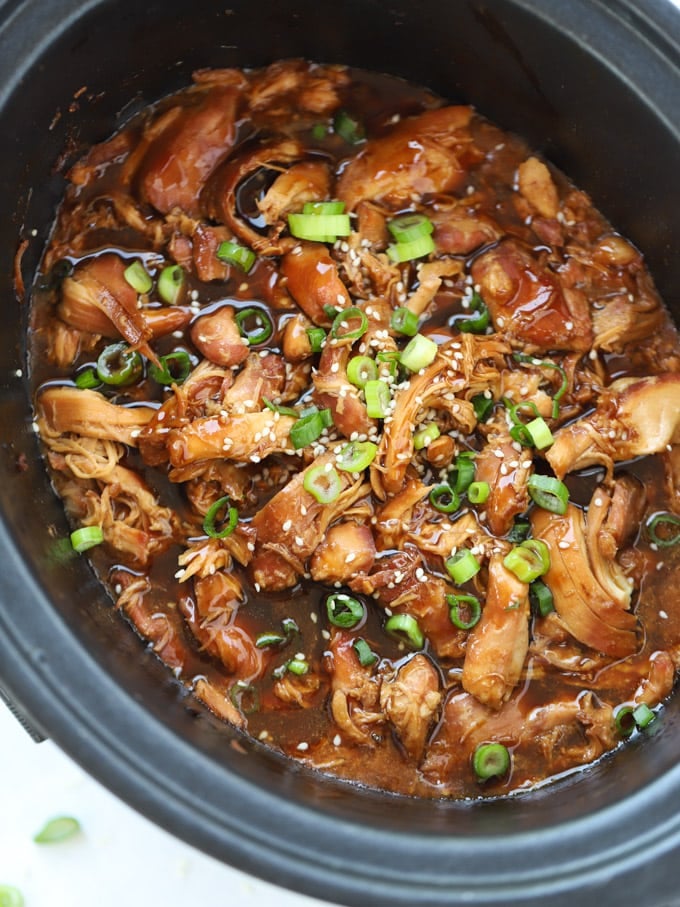 What to serve with the Honey Garlic Slow Cooker Chicken?
Boiled rice (or from a microwave pouch if you're saving time)
Boiled or roasted green vegetables (I like broccoli with this or mange tout peas)
Prawn crackers
Extra sweet chilli sauce and soy sauce on the side
Should you brown chicken before cooking in the slow cooker?
If you want to get scientific, the reason we brown meat before slow cooking, is because it causes a Maillard reaction. The process of frying, heating it very hot until it browns, changes the flavour compounds in the meat, basically adding a depth of flavour.
Does it add something to most slow cooked dishes? Yes. Is it vital in this dish, which is packed with other flavour? No.
My opinion is that it's much more important in red meat dishes and even then, sometimes speed and ease are more important.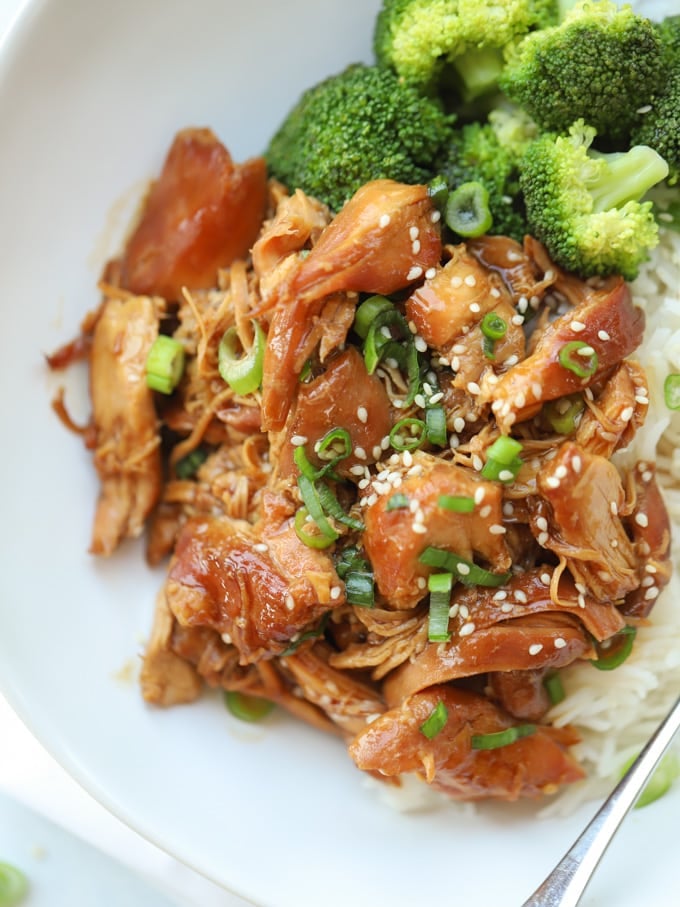 Fancy some more slow cooked dinner recipes?
Hope you enjoy this recipe as much as we do. I'd love to know how you got on and what you thought of it if you make this recipe. Please rate the recipe using the ⭐️ by the recipe.
Also, if you'd like to show me a photo by tagging me on Instagram (@tamingtwins) I LOVE to see your creations.
Honey Garlic Chicken (Slow Cooker)
This recipe for Honey Garlic Chicken is cooked in the slow cooker with just 5 minutes preparation needed. It cooks up a sticky, Asian style sauce and super tender meat.
Ingredients
1

kg

Boneless, skinless chicken thighs

See Note 1.

4

Cloves

Garlic

See Note 2.

2

tsp

Fresh ginger

See Note 2.

8

tbsp

Dark soy sauce

See Note 3.

2

tbsp

Oyster sauce

Optional. See Note 4.

4

tbsp

Honey

Runny or set is fine.

4

tbsp

Tomato ketchup

1/2

tsp

Chilli flakes

Optional
To add at the end of cooking
To serve
Rice

Chopped spring onions

Sesame seeds
Instructions
Put everything APART FROM the cornflour, into the slow cooker (crock pot). Give it a good stir.

Put the lid on and cook on HIGH for 4 hour or LOW for at least 6 hours.

When the chicken is tender and falling apart, scoop out a couple of tablespoons of the liquid and mix into the cornflour in a small bowl or mug. Whisk until totally smooth and add back into the chicken mixture.

Gently shred the chicken with two forks and stir thoroughly so that the cornflour is distributed.

You may find that the sauce thickens almost instantly (depending on how long it takes you to shred the chicken), if it doesn't, just leave in the slow cooker switched onto HIGH for about 10 minutes stirring occasionally.

Serve sprinkled with chopped spring onions and sesame seeds.
Notes
Note 1 - Garlic and Ginger
I use all of these from the freezer, pre prepared. (Always after a shortcut) You can obviously prepare fresh if you'd prefer. Note 2 - Chicken Thighs
These should be boneless and skinless. You could use chicken breast in this recipe, but it won't be QUITE as tender. You may also need to cook for slightly less time. Note 3 - Soy Sauce
I prefer Dark Soy Sauce as it gives a rich, thick, tasty sauce. If you only have Light Soy Sauce, the end result will use be more pale and not quite as rich. You could use a mix of both if you don't want such a rich sauce. Note 4 - Oyster Sauce
This is optional as I know it's not super common to have in your cupboards. BUT if you can get it/have some, it's definitely worth adding as it really is the secret to super tasty asian style sauces.
Nutrition
Calories:
276
kcal
Carbohydrates:
18
g
Protein:
35
g
Fat:
7
g
Saturated Fat:
2
g
Cholesterol:
158
mg
Sodium:
1584
mg
Potassium:
506
mg
Fiber:
1
g
Sugar:
14
g
Vitamin A:
141
IU
Vitamin C:
1
mg
Calcium:
23
mg
Iron:
2
mg
Made it? Tag me!
Tag @TamingTwins so we can admire your make ⭐️