Learn How to Make Flapjacks with this easy recipe. The favourite simple, English, chewy, gooey, kids bake. Add chocolate if you fancy, or use dairy free spread to make them vegan. Use gluten free oats to make them gluten free too.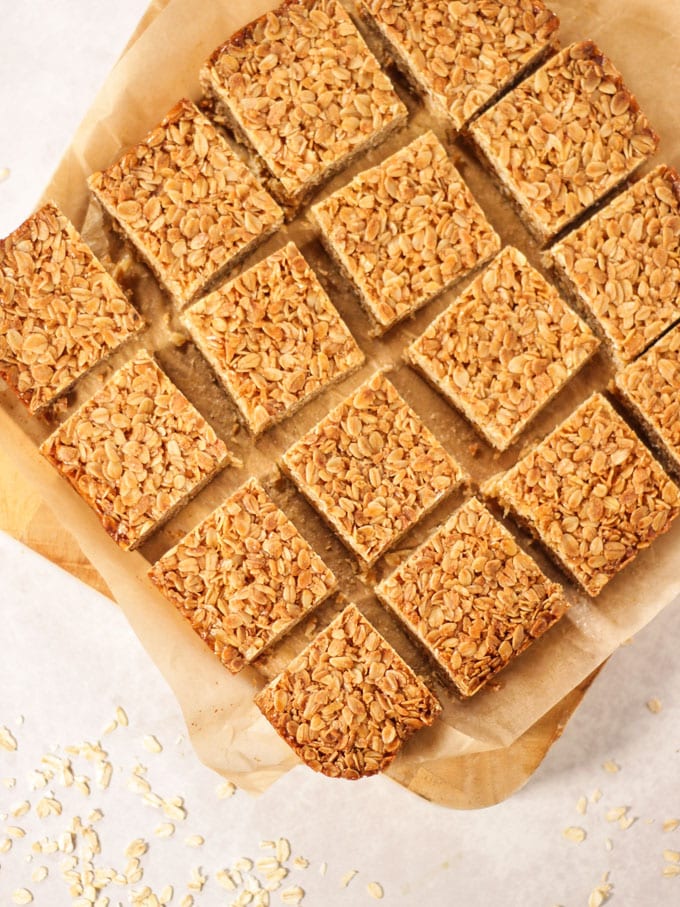 Homemade, sticky, gooey flapjacks! The stuff school sometime dreams are made of for kids – right?
I accidentally ordered a COMEDY sized huge bag of oats with our weekly shop last week and it made me realise that I'd never shared this recipe before.
Writing up how to make flapjacks, I've realised I MUST make them more. They are SO good!
✅ Uses simple, store cupboard ingredients.
✅ No fancy equipment required.
✅ Feel slightly more wholesome than a plain cake because of the oats!
What are flapjacks?
Before we get into the details I feel I should clarify what a flapjack is for any transatlantic readers.
In America a flapjack is actually a pancake. English flapjacks are more of a gooey oat/granola bar, made with butter, sugar, golden syrup and oats, all baked in the oven.
Flapjacks are a super simple and easy treat.
How do you make flapjacks?
The absolute key in how to make flapjacks is all in the cooking time.
They really are such a simple bake to make. Melt unsalted butter in a heavy bottomed pan. Once the butter is melted, stir in sugar and golden syrup. As soon as the sugar is dissolved, you remove the pan from the heat.
(You can see in my photo below that I heated this a bit too much and it split – those are the white bits – ooops. Nevermind, flapjacks are very forgiving!)
Now stir in your oats, making sure that they are all coated with the mixture.
Put the flapjack mixture into a baking parchment lined baking tray. Carefully press them down using a spatula to ensure they cook evenly and are the same thickness when you cut them.
Bake in the oven for 20 minutes, the edges of your flapjack should just be starting to brown, but the middle should be soft with a slight amount of wobble.
Which oats should I use in flapjacks?
I used Jumbo whole oats, in this flapjack recipe. They give a lighter, more crumbly texture.
You can also rolled oats, which make a more dense flapjack.
What other ingredients can I add to my perfect flapjack recipe?
Once you have mastered the basic flapjack recipe, the world is your oyster in terms of other flavours.
A simple covering of melted chocolate after cooking adds some sugary goodness that will be a hit with the children.
You can also add dried fruits for an extra portion of fruit.
Other ideas I have include:
Dried cranberries with a white chocolate drizzle
Pear and Ginger
Peanut Butter
Date and walnut
Chocolate chip
Mashed banana
Cinnamon
The list is endless, let me know if you find your perfect flapjack flavour!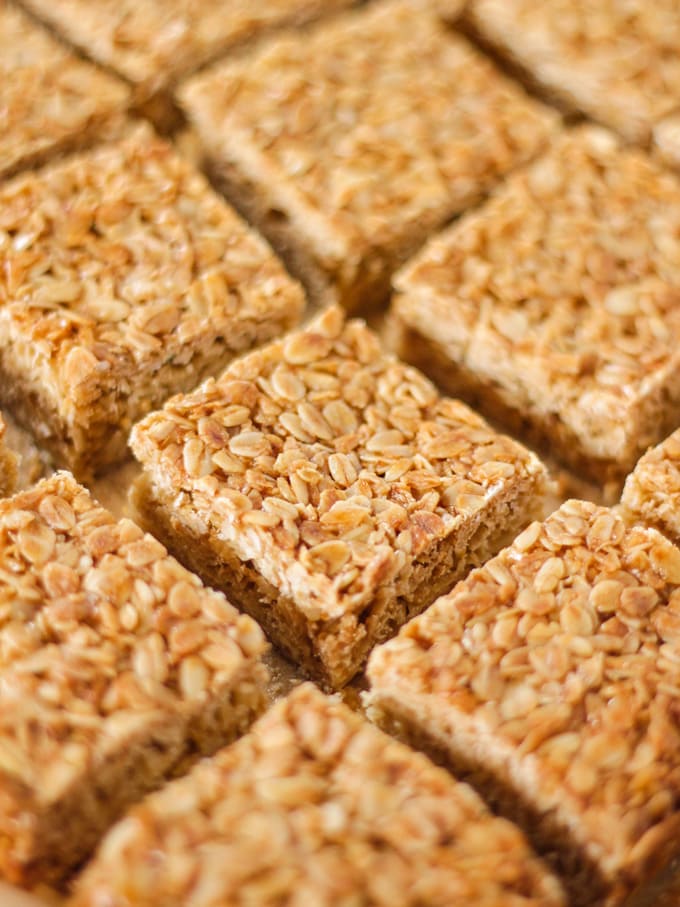 Tips for making the perfect homemade flapjack:
Always use a good quality baking parchment to line your baking tray. A top tip is to make small cuts in your parchment at each corner to help it fit the baking tray better.
You can vary the type of sugar used in your flapjack. I used soft brown sugar in this recipe to make it chewy and rich. You could also use castor sugar but it won't be quite as tasty. Dark brown sugar would give a darker appearance and a richer flavour.
I have used 1tsp of salt in this flapjack recipe. You can leave this out if you are cooking for young children, but I do have to say I think it really adds to the recipe and brings out the flavour.
If you prefer you could substitute honey for golden syrup, I haven't tried this myself, but if you do let me know how you get on.
If you fancy some inspiration for other simple sweet treats or after school snacks then take a look at my Ultimate Banana Muffins or Microwave Brownies recipes.
Hope you enjoy this recipe as much as we do. I'd love to know how you got on and what you thought of it if you make this Easy Flapjack recipe. Please rate the recipe and leave me a comment below if you do.
Also, if you fancy showing me a photo by tagging me on Instagram (@tamingtwins) I LOVE to see your creations.
PS. Look at these two getting in on the post photo act. HAHA! Hope your children enjoy this recipe as much as mine do.
How to make flapjacks:
How to make flapjacks
Ingredients
225

g

Butter

150

g

Golden Syrup

150

g

Soft light brown sugar

450

g

Oats

Jumbo Rolled

1

tsp

Salt
Instructions
Preheat your oven to 170deg (fan) 150deg (conventional).

Line a 20cm x 20 cm baking tray with baking parchment, cut slits in each corner so it fits neatly.

Melt your butter in a large pan over a low heat.

Once melted add your sugar. and golden syrup. Once the sugar has dissolved remove from the heat and stir in the oats.

Give the entire mixture a really good stir so that all of the oats are coated.

Bake in the oven for 20 minutes, the edges should be starting to brown but the middle should still be soft and wobbly.

When the flapjacks are cold, remove from the tin and slice your flapjack into 16 squares with a sharp knife.
Recipe Notes
When do you cut the flapjacks? Leave the flapjack in the tin until it is completely cooled before cutting into sixteen squares and removing from the tin.

(Allowing them to cool helps them to keep their shape and means that you don't need to overcook them.)

Should flapjacks be crunchy or chewy? For me the perfect flapjack is a chewy one, with slightly crunchy edges. Anything else is simply not good enough!

However, if you of the crunchy flapjack persuasion, just cook your flapjacks for slightly longer.

Can you make Dairy free or vegan flapjacks? Yep! Just replace the butter with your favourite dairy free spread.

 

How long do homemade flapjacks last for? In our house this is about 5 minutes but if you can resist temptation this flapjack recipe will last for around 10 days kept in an air tight container.

You can also freeze flapjack in portions for up to one month.
Nutrition Facts
How to make flapjacks
Amount Per Serving
Calories 273
Calories from Fat 117
% Daily Value*
Fat 13g20%
Cholesterol 30mg10%
Sodium 250mg11%
Potassium 117mg3%
Carbohydrates 35g12%
Protein 3g6%
Vitamin A 350IU7%
Calcium 26mg3%
Iron 1.3mg7%
* Percent Daily Values are based on a 2000 calorie diet.