An Easy Chilli Con Carne recipe, perfect for the whole family. This slow cooked beef steak dish is also a great freezer filler. (Easily adapted to be Slimming World friendly too.)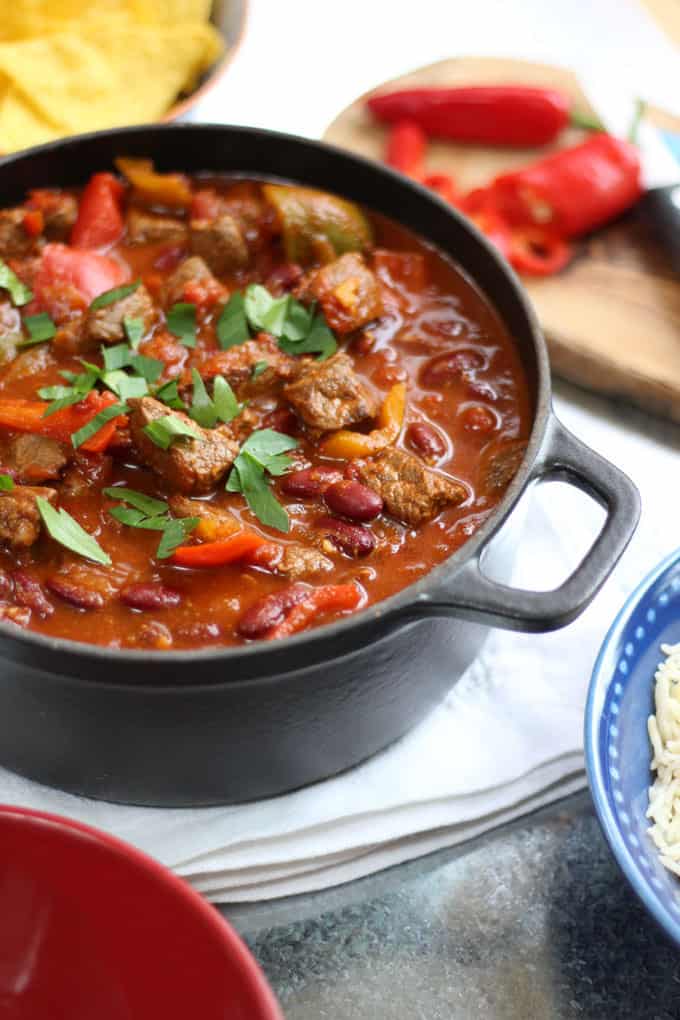 Chilli con Carne (or Chili con Carne as the American's spell it) is one of those family favourite dishes.
A great winter warmer, but also perfect for these British summer days where the weather tends to let us down a bit.
Eating this outside with a side of tortilla chips (and a margharita?!) makes me feel like perhaps we could actually still be on the way to summer, despite grey skies outside.
You'll love this easy chilli con carne because:

✅ Warming, comfort food – and it's even slimming world friendly.
✅ It's a firm family favourite, mild enough for the children, but easy to add heat too if you fancy it.
✅ It freezes so well – a real batch cook hero.
Have I sold it to you yet?!
This is my tried and tested family version of easy chilli con carne. There is some debate about where it originated, Mexico or America, I have no idea how authentic my version is (perhaps not at all) but I've been cooking it for years and we all love it.
Which beef is best to use in a Chili Con Carne?
I always use chunks of beef rather than mince to make this easy chilli con carne. I saw it once many moons ago on a programme about cowboy cooking, true story, and I've never looked back. I think the texture is so much better than making chilli con carne with mince and it feels like a real treat.
Braising steak (also known as chuck steak), is my preference, but any type of casserole steak would be fine. The slow cooking lends its self to tender, melt in the mouth chunks of beef. I prefer to buy this type of meat from the butcher (or the butchery counter in your supermarket) as they will dice it for you! You could also use beef brisket, or mince (ground beef).
For more top tips for making this Easy Chili Con Carne – see the recipe notes section.
What is Chilli served with?
Chilli is such a versatile dish, it's the perfect meal for large gatherings, easy to keep warm and people can serve themselves (it often features on our bonfire night menu!) You can serve it with:
Any type of Rice.
Use as a filling to Tacos.
Over oven baked potato wedges, grilled and covered in cheese!
Tortilla chips to dip, or over as chilli beef nachos.
Topped with sour creme and chopped chilies (if you like the extra heat!)
Crushed (or smashed 😆) avocado.
Jacket Potatoes – makes a great hearty filling.
Pasta (over pasta shapes or baked into a lasagne)
If feeling really fancy, as a hot dog topping.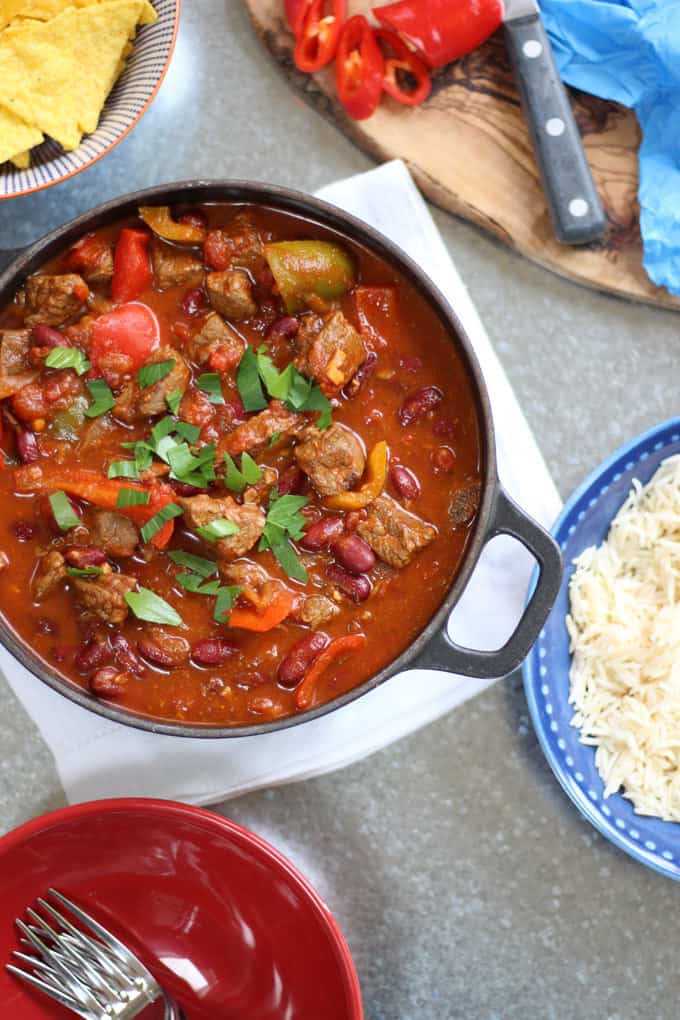 Fancy some other beef recipes?

Beef Enchiladas – a simple, midweek family favourite.

Beef Bourguignon – the PERFECT winter warmer.

Slow Cooker Beef Curry – a "fakeaway" without any guilt!

Beef Stir Fry Recipe with Sticky Sauce and Noodles – an easy 30 minute, one pan meal.
Hope you enjoy this recipe as much as we do. I'd love to know how you got on and what you thought of it if you make this Chilli con Carne recipe. Please rate the recipe using the ⭐️ by the recipe.
Also, if you'd like to show me a photo by tagging me on Instagram (@tamingtwins) I LOVE to see your creations.
How to make the Easy Chilli Con Carne Recipe:
Easy Chilli Con Carne Recipe
An easy chilli con carne recipe, perfect for the whole family.
Ingredients
2

tsp

Olive oil

750

g

Beef Mince

1

Large Onion

chopped into small pieces.

3

cloves

Garlic

peeled and crushed

2

tsp

Mild Chili Powder

1

tbsp

Smoked Paprika

1

tbsp

Dark brown sugar

1

tbsp

Ground Cumin

Salt and Pepper

To taste.

800

g

Good quality chopped tomatoes (2 tins)

2

tbsp

Tomato Puree

300

ml

Beef stock

from a good quality stock cube is fine

800

g

Kidney beans (2 tins)

drained and rinsed

2

Peppers

chopped into small pieces chunks (red or green work best)

25

g

Dark Chocolate

Approx 1 square
Instructions
Heat the olive oil in a large, deep pan. Add the mince, and fry for 5-10 mins, or until browned all over, use a wooden spoon to break up the chunks as you go.

Add the onion, garlic, cumin, paprika, chilli powder, salt, pepper and sugar. Cook gently for a further five minutes, stirring frequently so the spices are toasted in the pan.

Add the tomatoes, tomato puree, kidney beans, red peppers and beef stock, stirring well, pop a lid on the pan.

Simmer gently for 45 minutes.

Remove from the heat, stir through the chocolate until it's melted. Check for seasonings, if it's not spicy enough add more chili powder or sauce to taste.
Notes
Beef Mince: 10% fat mince would be best for this recipe, however - you could use 5% but the mince may be slightly tougher, or 20% (as it is cheaper) but you may want to drain off some of the fat.
Cooking the Mince: Your mince should be coloured all over and stating to turn golden in places. 
Garlic: I use garlic puree as it is so easy, the rough conversion would be 1tsp per clove.
Dark Chocolate: This needs to be really dark, good quality dark chocolate (70% cocoa solids or higher) you cannot subsitute this with another type of chocolate as it will just make the chilli too sweet, so if you don't have the chocolate then leave it out. 
Can I make ahead?
This is a prefect make ahead recipe, you can cook and keep in the fridge for 2-3 days, or keep leftovers for lunches.
Can I freeze?
Yes, once cooked allow to cool, and freeze in an air tight container. I like to use individual containers like these.
Can I cook in a Slow Cooker?
Yes you can, simply brown off your meat and add all the ingredients to you slow cooker before cooking on HIGH for 5-6 or LOW for 7-8 hours. 
Nutrition
Calories:
269
kcal
Carbohydrates:
7
g
Protein:
36
g
Fat:
10
g
Saturated Fat:
3
g
Cholesterol:
97
mg
Sodium:
192
mg
Potassium:
533
mg
Fiber:
1
g
Sugar:
3
g
Vitamin A:
370
IU
Vitamin C:
45.3
mg
Calcium:
29
mg
Iron:
4
mg
Made it? Tag me!
Tag @TamingTwins so we can admire your make ⭐️
(