This post may contain affiliate links.
We all know the classic, family favourite, Easy Chilli Con Carne – but do you know these tricks for the best version ever?!
A super simple recipe with big results. Great for batch cooking, freezing extras and ideal for entertaining or parties. Let a pot of this bubble away as a comfort food crowd pleaser.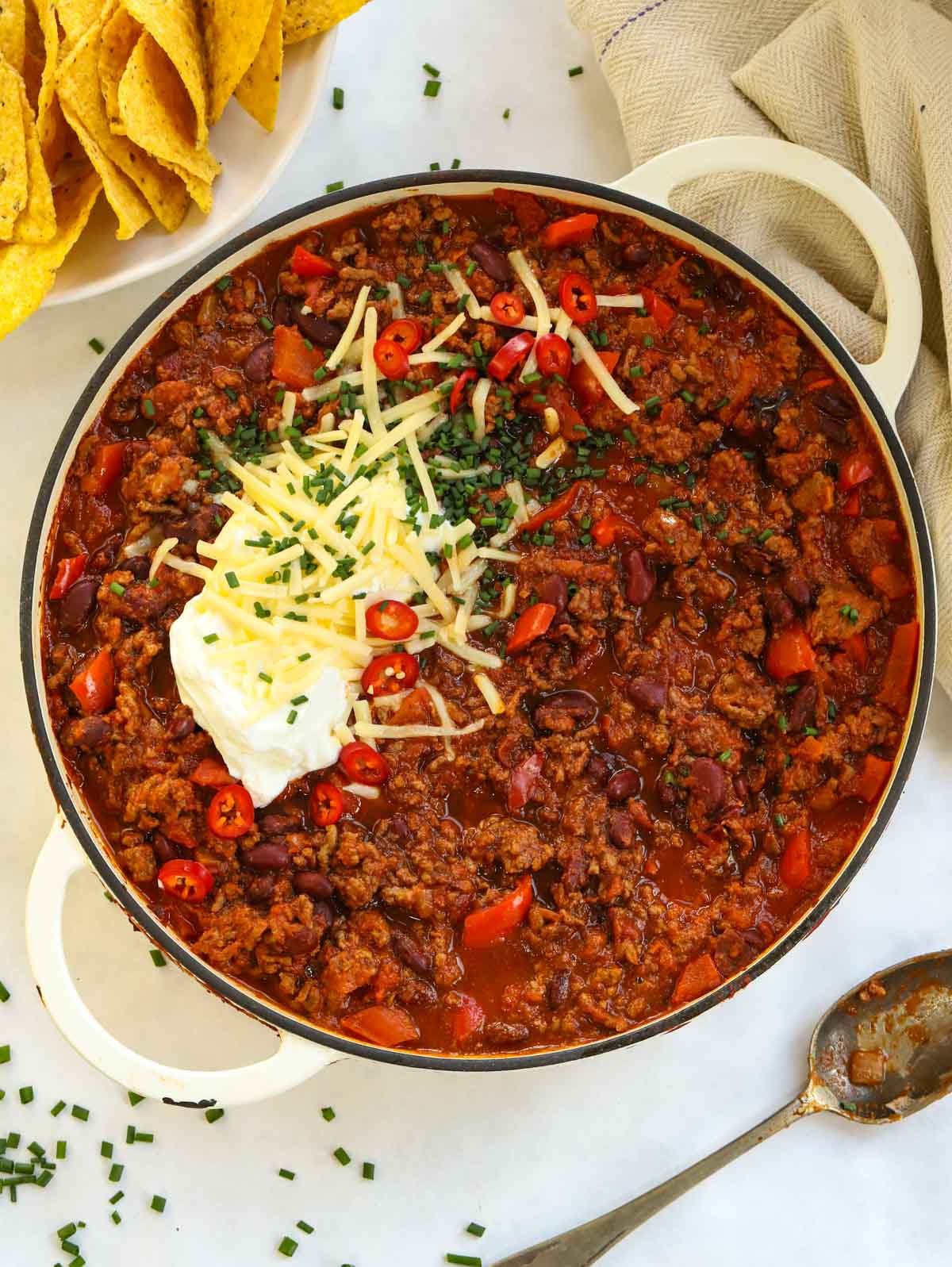 This is Easy Chilli Con Carne is full-blown comfort food which benefits from the low cost, versatile, tasty beef mince with heaps of rich flavour.
It's perfect for any time of year as it can be tailored to whatever side dishes you fancy. You can even make it as part of a winter banquet with baked potatoes, rice or pasta, or even an al fresco summer meal alongside tortilla chips and dips (and a margarita!)
Of course, it's ideal for batch cooking too, so keep some in your freezer for those quick-turnaround evenings, and it's so easy to double up and keep warm on the stove if you have lots of guests to feed.
You can also adapt it to a Slow Cooker Chilli Con Carne if you need to and it's all made in one pot. (Don't you just love a non-precious and forgiving dinner that can work in so many ways and be reheated without fuss?!)
And to give this simple and easy chilli con carne a bit of a special edge too… we have an extra secret ingredient that you really need to try!
---
Why you'll love this Easy Chilli Con Carne recipe
⭐️ Comforting, delicious and healthy
⭐️ Family favourite with a spice level you can control
⭐️ Freezes so well – a real batch cook hero!
---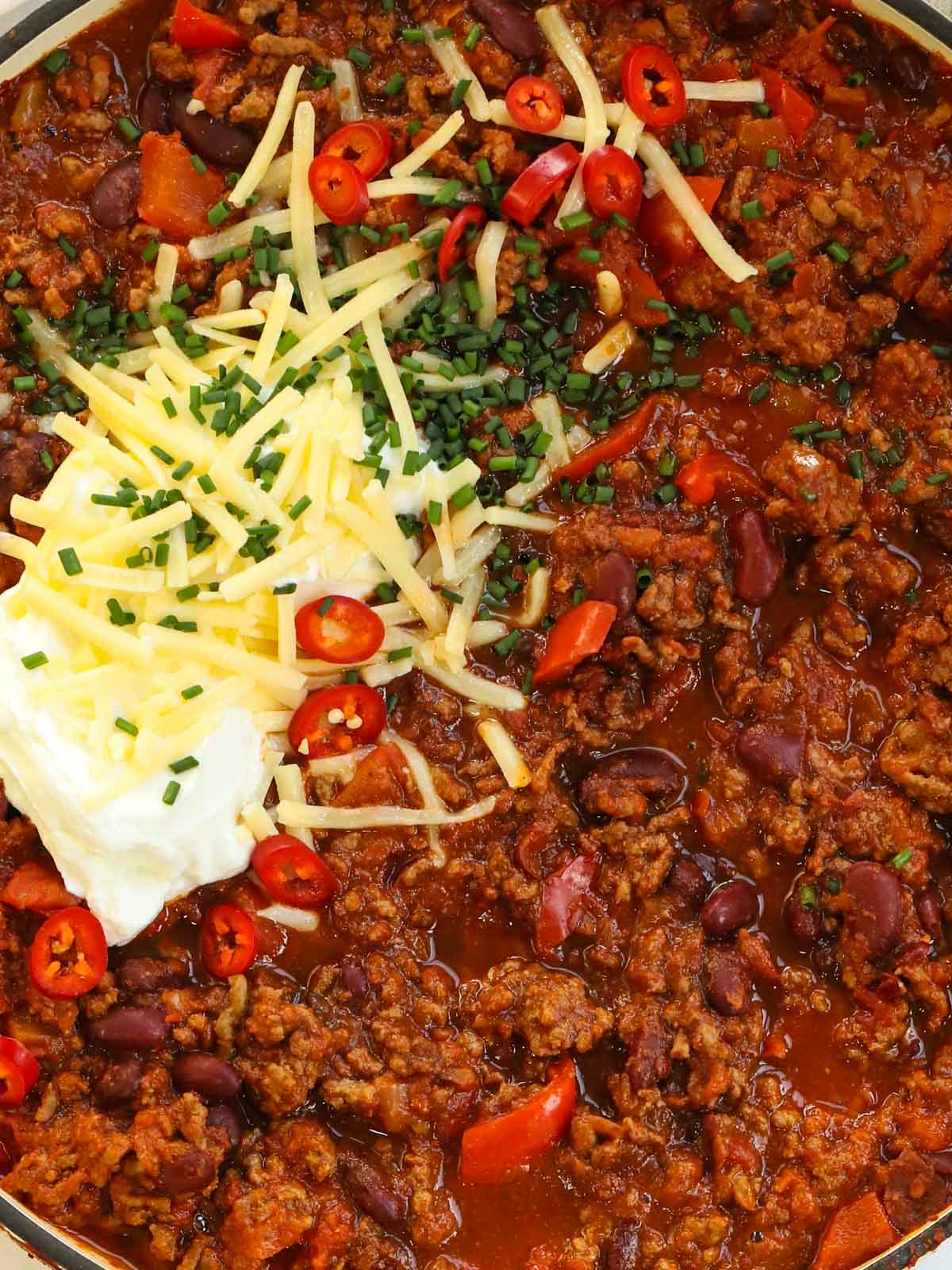 What is Chilli Con Carne?
While Chilli Con Carne is often served in Mexican restaurants, it's actually firmly in the Tex Mex camp. In other words, it is mainly from Texas with inspiration from Mexico.
It's taken so seriously in the USA, there's even an International Chili Society, which hosts the World Champion Chili Cook-Offs!

The ingredients in a traditional Chilli Con Carne vary a lot but tend to always include red meat, onions, chilli of some kind and cumin.

You can read more about the history of the dish here or find a very technically detailed version of the dish here.
Easy Chilli Con Carne Ingredients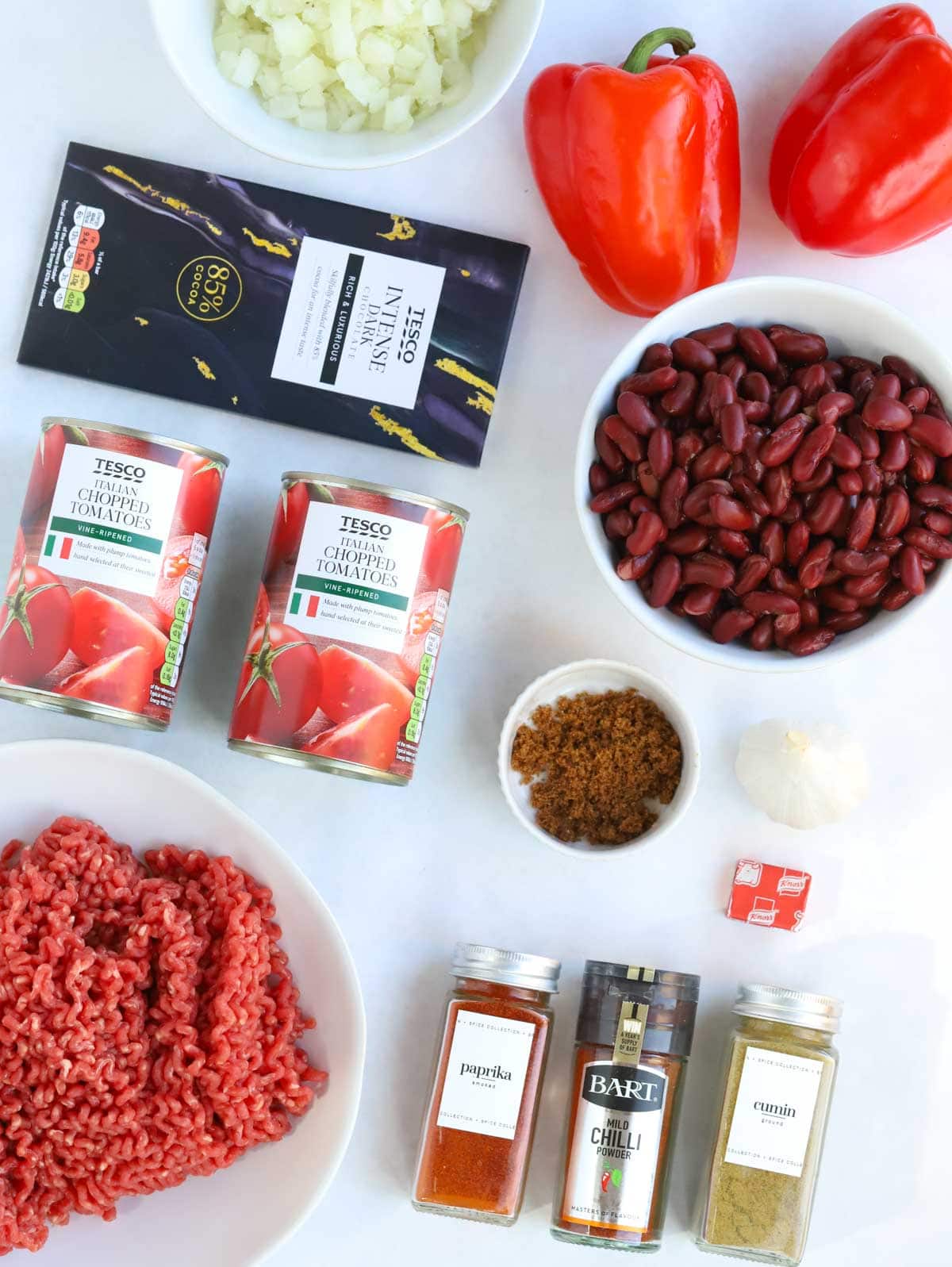 Olive oil – Or a mild/flavourless oil
Beef mince – See tips below for which kind to choose
Onion – Use fresh or frozen
Garlic – I use garlic puree as it's so easy, but you could use fresh too
Mild chilli powder – Use this to taste for spice level
Smoked paprika – Not the sweet kind
Ground cumin – Use seeds if you don't have ground
Dark brown sugar
Tinned chopped tomatoes – As good a quality as you can
Beef stock – Good quality stock cube is fine
Kidney beans – Canned, drained and rinsed is fine
Peppers – Red or green work best
Dark chocolate – This is our secret weapon for elevating the recipe and it needs to be really dark and good quality (70% or higher). Don't substitute with anything else as it will just make the chilli too sweet. Leave it out if you don't have it.
---
How to make easy Chilli Con Carne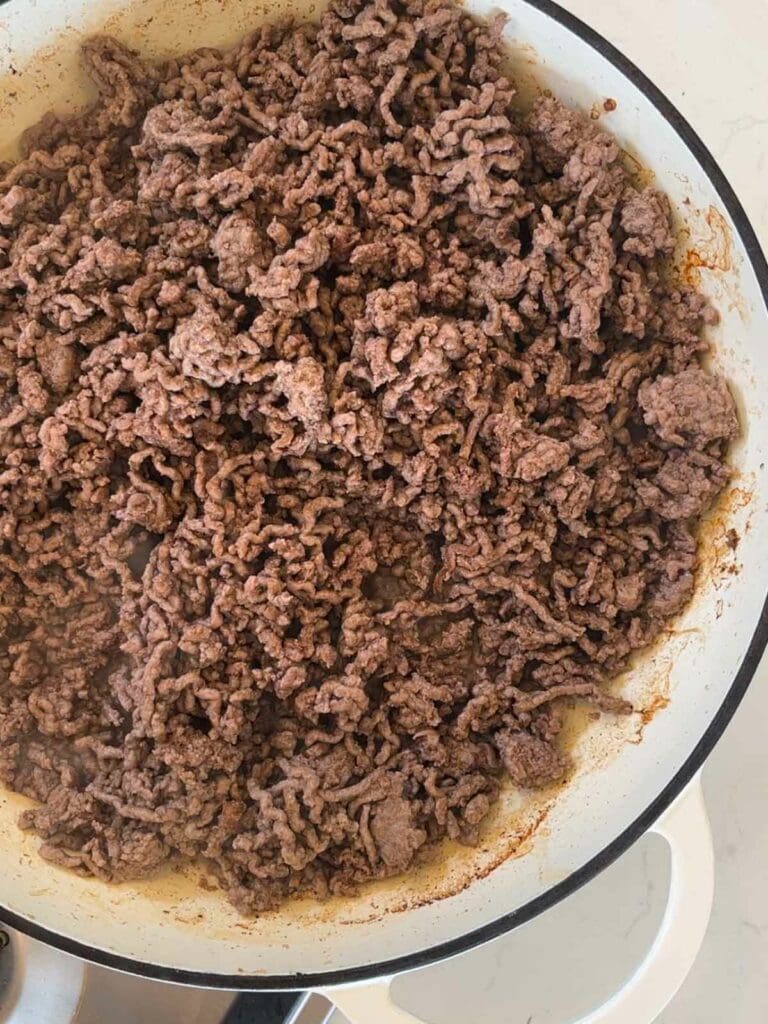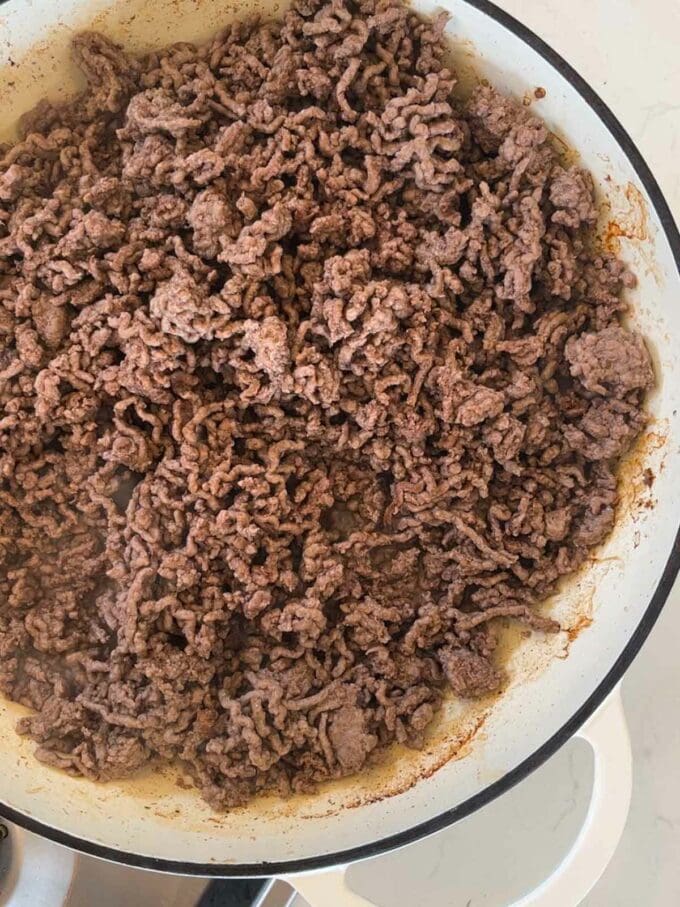 Heat the oil in a pan and brown the mince.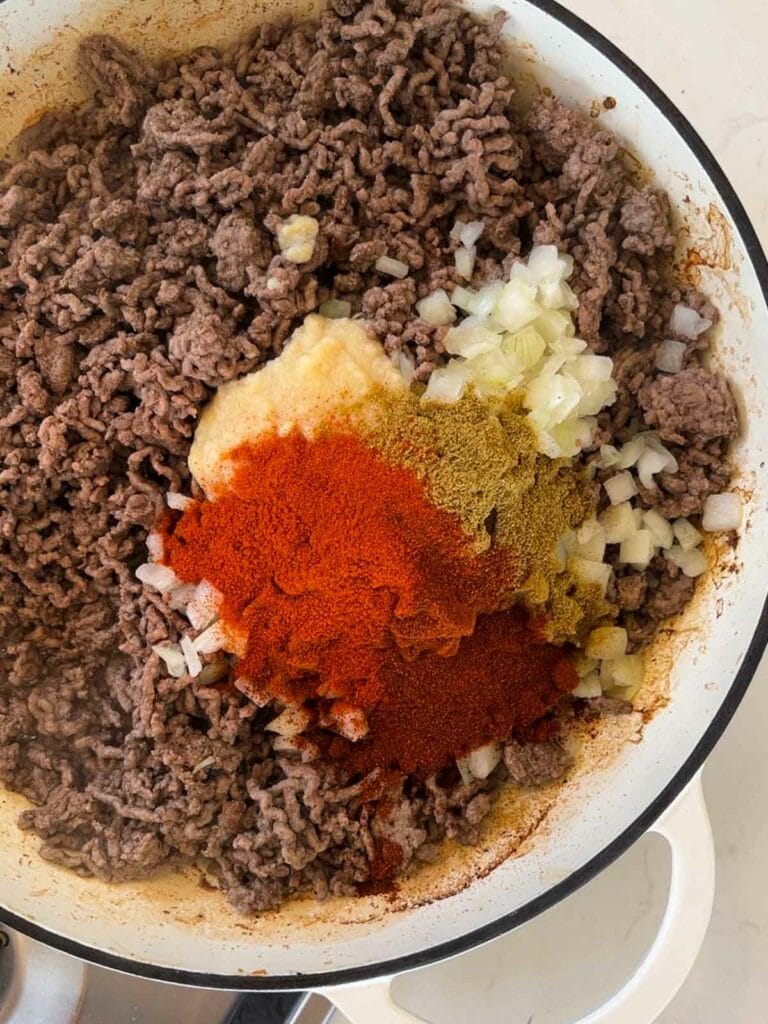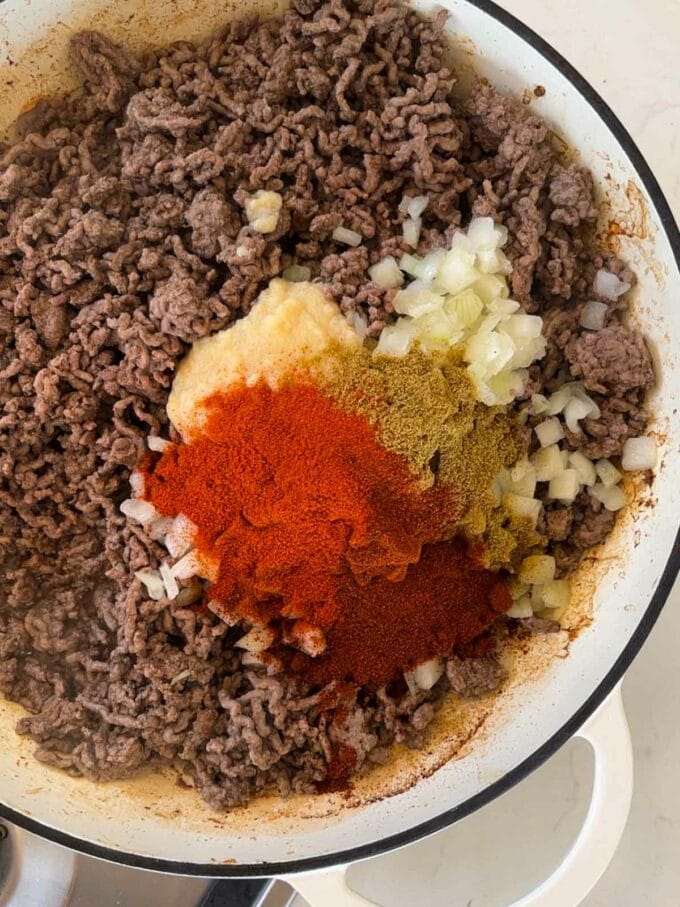 2. Add the onion and spices and cook.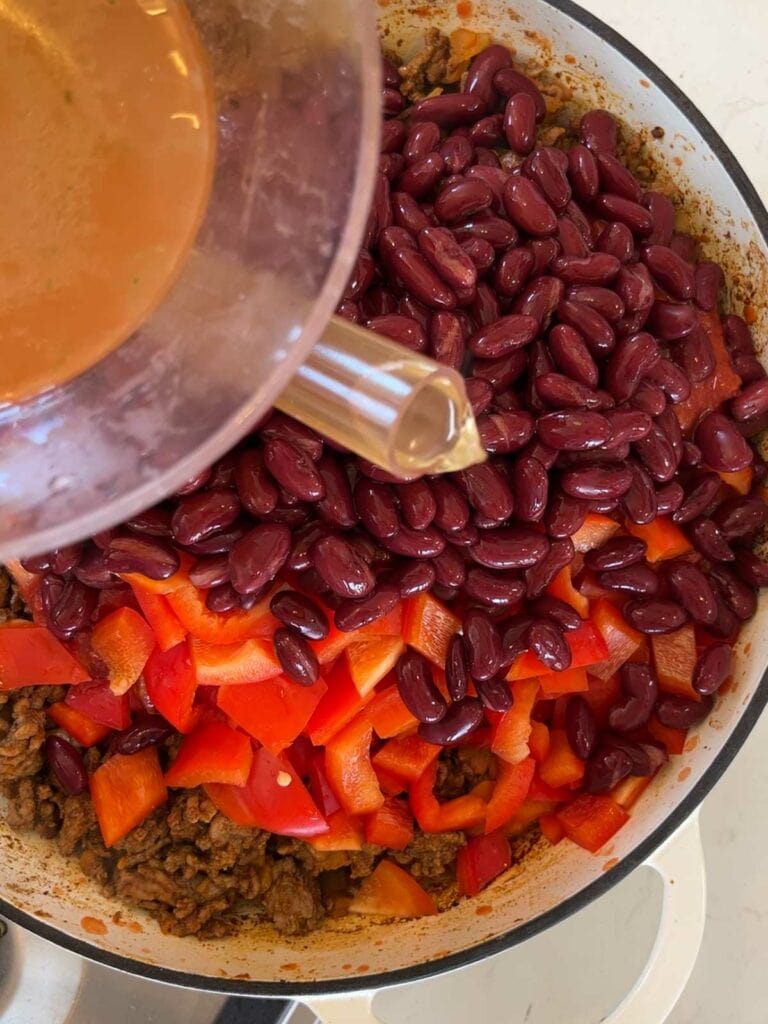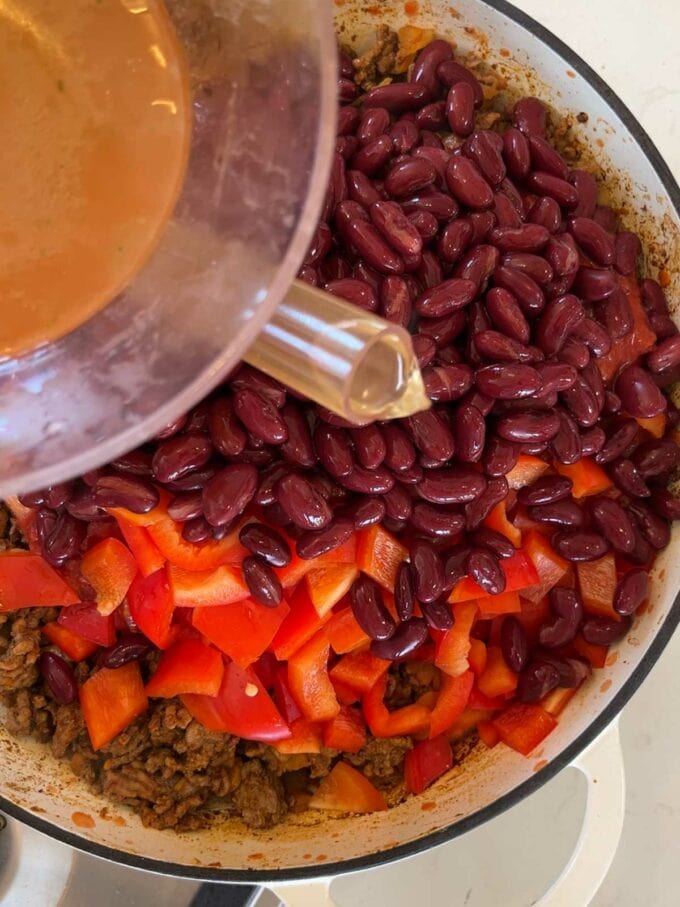 3. Add the rest of the ingredients and simmer.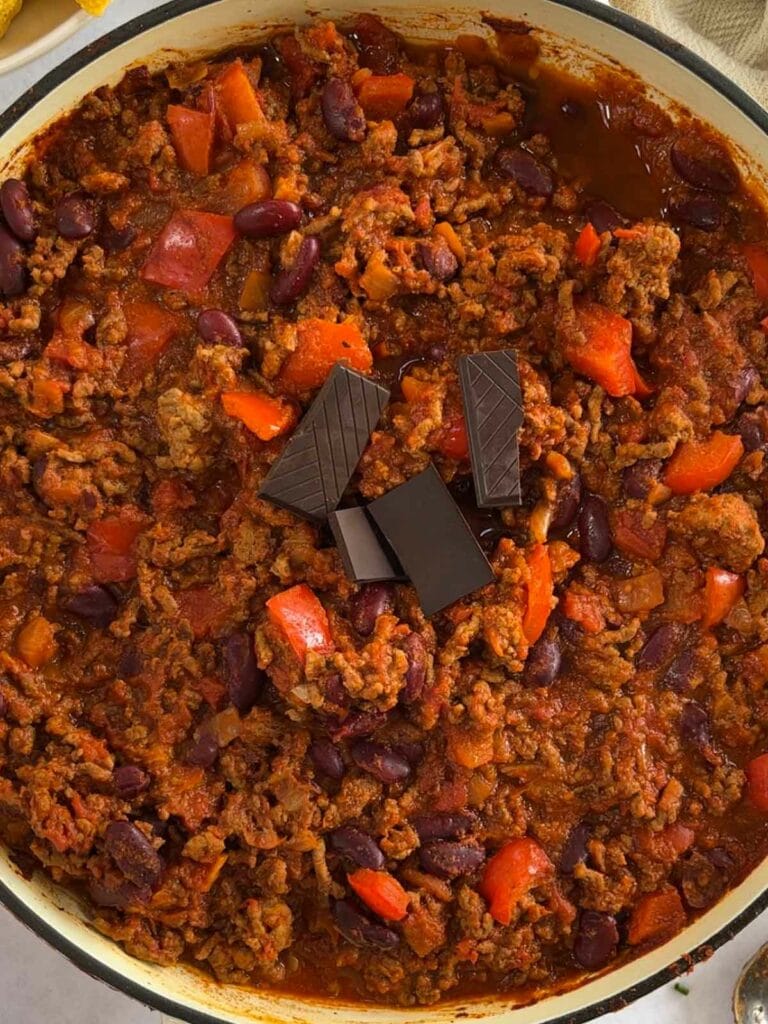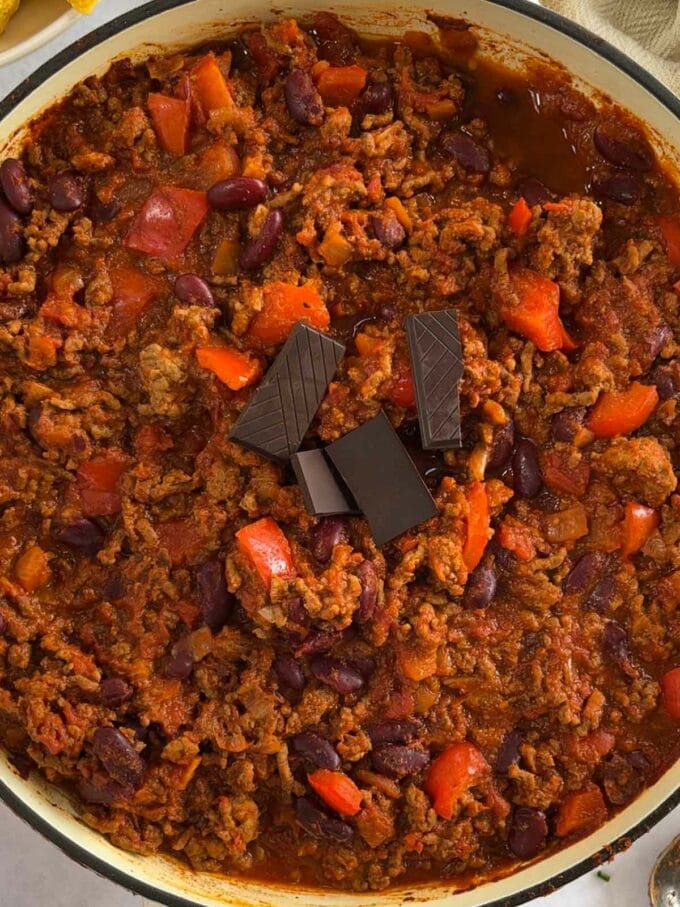 4. Remove from the heat and stir in the chocolate until it's melted.
---
Substitutions
Mince – You can make this with quorn mince if you prefer.
Peppers – Red and green work best, but any will work. You can also use frozen peppers but these will be in much smaller chunks.
What to do with Chilli leftovers
In the fridge You can keep this recipe in the fridge for 3 days. Reheat fully in the microwave or hob before serving.
In the freezer This is a great recipe for freezing. Just wait until it's totally cold and then put into a freezer proof container and freeze for up to 3 months. Defrost thoroughly before reheating in the microwave or hob.
Top tips
Secret ingredient hacks
There are a couple of little extras in this recipe that a pretty minor in term of effort, but really elevate the flavour. Firstly, the adding the sugar to the onions at the start brings a rich sweetness, and the dark chocolate at the end takes it to another level again. Try it out!
Beef mince
In terms of fat content, 10% is ideal for this recipe. If you prefer, you could go for 5%, but it might not be quite as tender in texture. If you go for 20%, it will be very tasty but you might need to drain some fat away when cooking it.
During the browning process, your mince should be coloured all over and starting to turn golden in places before you add the rest of the ingredients.
What to serve with Chilli Con Carne
Any type of Rice.
Use as a filling to Tacos.
Over oven baked potato wedges, grilled and covered in cheese!
Tortilla chips to dip, or over as chilli beef nachos.
Topped with sour creme and chopped chilies (if you like the extra heat!)
Crushed (or smashed 😆) avocado.
Jacket Potatoes – makes a great hearty filling.
Pasta (over pasta shapes or baked into a lasagne)
If feeling really fancy, as a hot dog topping.
FAQs
Can I make this a vegetarian chilli recipe?
Yes, simply use quorn mince instead of beef mince and follow the packet instructions as to how best to cook it. Alternatively, try my Vegan Butternut Squash Chilli recipe.
Can I make chilli ahead of time?
You certainly can. It's a perfect recipe for that. Just keep it in the fridge or freezer until it's time to eat it. (Instructions on this above.)
Why do you add chocolate to a chilli?
A small amount of very dark chocolate is often used in a chilli to finish it off but off setting the tomato acidity and adding rich, sweet, earthiness to the flavour. It's optional but I would definitely recommend. (It must be very dark chocolate though! Anything too sweet will taste rather odd.)
Let me know how you got on and what you thought of these recipes. Please rate the recipe using the ⭐️ below.
Also I'd LOVE to see your cooking creations. If you'd like to share yours with me, you can tag me on Instagram (@tamingtwins).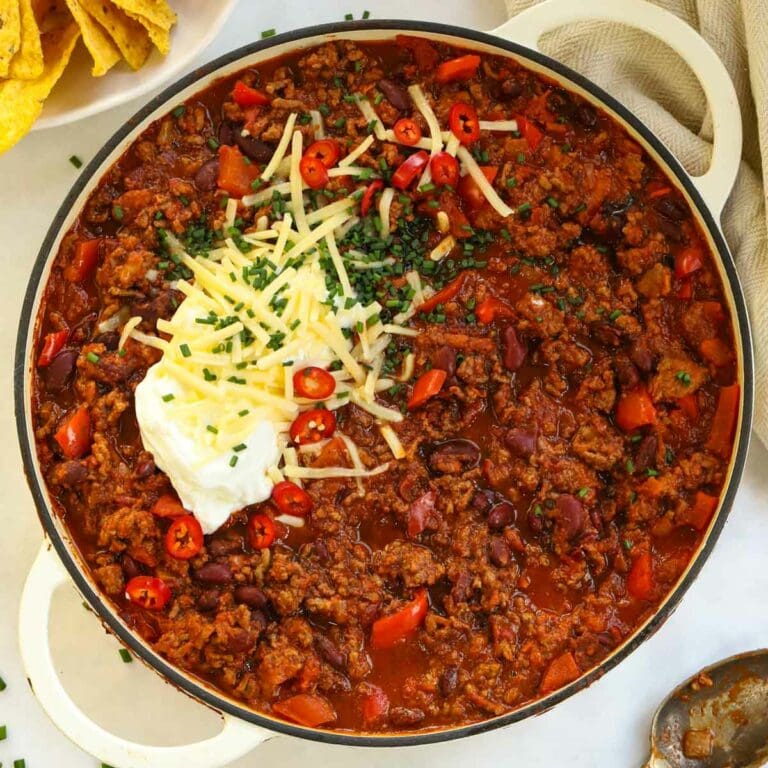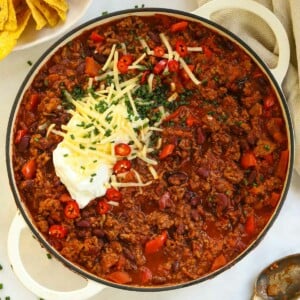 Easy Chilli Con Carne
This Easy Chilli Con Carne recipe is perfect for the whole family or for feeding guests. Low cost, full of flavour and versatile for serving too.
Ingredients
2

tsp

Olive oil

750

g

Beef mince

1

Large onion

,

Chopped into small pieces

3

cloves

Garlic

,

Peeled and crushed

2

tsp

Mild chilli powder

1

tbsp

Smoked paprika

1

tbsp

Dark brown sugar

1

tbsp

Ground cumin

Salt and pepper

,

To taste

800

g

Chopped tomatoes

2

tbsp

Tomato puree

300

ml

Beef stock

800

g

Kidney beans

,

Drained and rinsed

2

Peppers

,

Chopped into small pieces chunks

25

g

Dark chocolate

,

Approx 1 square
Instructions
Heat the olive oil in a large, deep pan. Add the mince, and fry for 5-10 mins, or until browned all over. Use a wooden spoon to break up the chunks as you go.

Add the onion, garlic, cumin, paprika, chilli powder, salt, pepper and sugar. Cook gently for a further five minutes, stirring frequently so the spices are toasted in the pan.

Add the tomatoes, tomato puree, kidney beans, red peppers and beef stock, stirring well, pop a lid on the pan.

Simmer gently for 45 minutes.

Remove from the heat, stir through the chocolate until it's melted. Check for seasonings. If it's not spicy enough add more chilli powder or sauce to taste.
Notes
Beef mince: 10% fat mince would be best for this recipe, however – you could use 5% but the mince may be slightly tougher, or 20% (as it is cheaper) but you may want to drain off some of the fat Cooking the mince: Your mince should be coloured all over and stating to turn golden in places Garlic: I use garlic puree as it is so easy, the rough conversion would be 1tsp per clove Dark chocolate: This needs to be really dark, good quality dark chocolate (70% cocoa solids or higher) you cannot substitute this with another type of chocolate as it will just make the chilli too sweet, so if you don't have the chocolate then leave it out
Nutrition
Calories:
445
kcal
Carbohydrates:
47
g
Protein:
42
g
Fat:
11
g
Saturated Fat:
4
g
Polyunsaturated Fat:
1
g
Monounsaturated Fat:
4
g
Trans Fat:
0.4
g
Cholesterol:
78
mg
Sodium:
395
mg
Potassium:
1544
mg
Fiber:
14
g
Sugar:
10
g
Vitamin A:
2212
IU
Vitamin C:
67
mg
Calcium:
124
mg
Iron:
10
mg
Nutrition information is automatically calculated, so should only be used as an approximation.