This Chicken Pie recipe has everything you need in a creamy chicken pie. Moist, tasty, home cooked chicken, added vegetables and a light chicken pie sauce made with the chicken stock. Add in some crispy bacon and delicious shortcrust pastry and this easy chicken pie recipe is a winner!
I can't believe that I've never shared this Easy Chicken Pie recipe, it is honestly one of my most favourite recipes ever.
Actually I can believe it, I'm a bit nervous to share it as I love it so much.  It feels like sending a child off into the big bad world. I really hope you make it and love it as much as I do. It's one of those recipes where the leftovers are every bit as good as the first time round. A slice of cold leftover Chicken Pie lurking is the is the ultimate fridge find.
It was a Jamie Olive Chicken Pie recipe that reignited my love of the dish about 10 years ago and I've been making my version this way ever since.
How do you make a Chicken Pie?
Start with a whole free range chicken and boil it until fully cooked. You could also roast it if you prefer, but I find this gives the most moist and delicious chicken.
Honestly? It looks a bit unappealing as it cooks, but once you get past that this is a brilliant way to use every part of the chicken for your Chicken Pie and make your own delicious chicken stock. This shredded chicken is the base for your Chicken Pie.
Next I fry off carrots, celery and onions with some garlic. I am slightly obsessed by this shortcut and am using it in SO many recipes at the moment. It's these bags of frozen Soffrito mix (onions, celery and carrots – chopped into small cubes) from Waitrose. I do a big order from Ocado every month and stock the freezer up ready for this top shortcut.
Next add some flour, seasoning, and the stock you created from cooking your whole chicken in water. Bubble away for a while and cool before encasing in pastry. Your Chicken Pie is ready to be baked.
How do you make Shredded Chicken?
By cooking a whole free range chicken in boiling water, I really think you can make the most tasty and moist cooked chicken meat, perfect for shredding or chicken chunks. Taking the meat from the bones isn't the best job in the world, I will be honest, but so worth it and so tasty.
I like to take all of the meat off and then cut with a knife into big chunks. If you want more of a shredded chicken texture, just use forks to pull the meat apart rather than a knife.
How do you prepare a Chicken Pie?
Once you're made your chicken pie filling, grease a pie dish and lay in your first sheet of pastry.
Add your cold filling (be sure it's cold or almost cold so that it doesn't make the pastry soggy) and your second sheet of pastry as a topping. Crimp the edges to seal them with a fork, add decorations if you fancy and pierce a few holes in the top to let out the steam. Brush with an egg wash.
I LOVE this Pyrex glass pie plate and use it for just about every pie I ever make, amongst other things.
The pie dish is available from Amazon and such a good buy for £6.50, if feels super sturdy and makes every pie look a little bit prettier, as well as being the perfect depth for pie dreams to come true.
Can I use shortcrust pastry for a Chicken Pie?
Yes. Shortcrust Pastry Chicken Pie tends to have more crunch than a Puff Pastry Chicken Pie.
I really like that texture contrast. It's also still buttery without being at greasy. Be sure to cook the pastry until well and truly crunchy – no soggy bottoms here please!
Tips for making this Easy Chicken Pie recipe:
Top Chicken Pie baking tip coming up.. As you warm up your oven, put a baking tray in to heat up, then when you put your pie in the oven, sit the dish on top of the hot baking tray. I find that this really helps to cook the base of the Chicken Pie and stop a soggy bottom.
Because I am a food nerd (true story) I use a food thermometer to check the temperature inside the pie as it cooks. It takes the guess work out of burned pastry vs cold filling. I use this one: Food Thermometer about £12 on Amazon. It's a good buy and I use it for heaps of kitchen jobs (it helps cook THE best roast meats).
On that subject, if the pie crust is cooking before the inside of the pie, cover the top in tin foil and reduce the oven temperature slightly to 200C.
Like in the Jamie Oliver Chicken Pie recipe, I use ready made pastry. I'm not even going to apologise, I know it's a cheat, but I'd rather spend time cooking the yummy shredded chicken filling properly for better results. I tend to use this pack from Ocado which comes with a handy two sheets of pastry in: Frozen Shortcrust Pastry Sheets.
I like to cut out some nifty little pastry decorations for the top of my Chicken Pie. This time I've made leaves with the offcuts. I used these little leaf cutters, available on Amazon: Leaf Plunger Cutters. They are so easy to use and I am always so pleased to find them in the kitchen drawer just when I need them.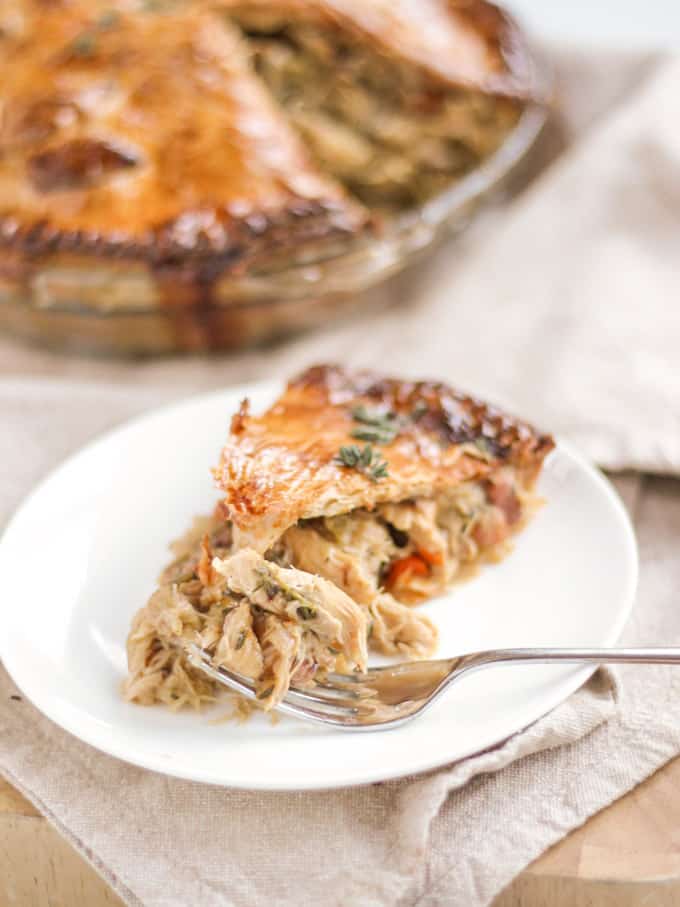 Fancy some other easy chicken recipes? How about my Easy Chicken Curry or One Pan Chicken Pesto Bake?
Hope you enjoy this recipe as much as we do. I'd love to know how you got on and what you thought of it if you make this Easy Chicken Pie recipe. Please rate the recipe and leave me a comment below if you do.
Also, if you fancy showing me a photo by tagging me on Instagram (@tamingtwins) I LOVE to see your creations.
How to make the Easy Chicken Pie Recipe:
Chicken Pie Recipe
This Chicken Pie recipe has everything you need in a creamy chicken pie. Moist, tasty, home cooked chicken, added vegetables and a light chicken pie sauce made with the chicken stock. Add in some crispy bacon and delicious shortcrust pastry and this easy chicken pie recipe is a winner!

Cook Time
2
hours
20
minutes
Total Time
2
hours
40
minutes
Ingredients
For the shredded chicken
1.5

kg

Free range whole chicken

300

g

Celery

1

Large onion

15

g

Fresh thyme

Salt and black pepper
For the pie filling
250

g

Pancetta cubes

1

Large onion

200

g

Celery

Trimmed and chopped

200

g

Carrots

Peeled and chopped

3

Cloves

Garlic

Peeled and crushed

75

g

Plain flour

15

g

Fresh thyme

Leaves only, picked from the stalks

100

ml

Single cream

Optional

Salt and black pepper
For the pie
430

g

Shortcrust pastry sheets

1

Egg

Beaten
Instructions
Pop your chicken, celery, onion (cut in half, no need to peel), thyme, salt and pepper into a large saucepan and add water to come about two thirds of the way up the chicken. Bring to the boil.

Continue to simmer for about 90 minutes (or the same cooking time as quoted on the chicken) with a lid on. When cooked, remove the chicken from the stock and allow to cool. When cool, chop or shred into large chunks.

Drain the stock, discard the bits of celery, onion and herbs and reserve the stock.

Meanwhile, fry off the pancetta in a large saucepan (it shouldn't need any oil as the fat from it will render down). As it begins to turn crisp add the onions, celery, carrots and garlic. Cook for 5 - 10 minutes until softened.

Add the flour and thyme and stir through everything, cook for 5 minutes. Gradually add the stock to the vegetable and flour mix, stirring until the sauce is smooth. Add just enough to create a smooth, thick sauce. This will take about 10 minutes.

Add the chicken chunks, single cream and plenty of salt and pepper. Allow to cool.

Meanwhile, grease your pie dish and lay in a sheet of pastry covering the base and sides of the dish. Pile in the pie filling. Add the second layer of pastry on top.

Seal the edges of the pastry with a fork, poke some holes in the middle and trim off the excess.

Decorate the pie with cut out shapes if you feel that way inclined and brush with the beaten egg.

When you are ready to bake the pie, preheat the oven to 220C and bake for about 30 minutes until the filling is hot throughout and the pastry is crisp and golden.
Nutrition Facts
Chicken Pie Recipe
Amount Per Serving
Calories 809
Calories from Fat 432
% Daily Value*
Fat 48g74%
Cholesterol 195mg65%
Sodium 678mg29%
Potassium 795mg23%
Carbohydrates 44g15%
Protein 45g90%
Vitamin A 5065IU101%
Vitamin C 14.8mg18%
Calcium 98mg10%
Iron 5mg28%
* Percent Daily Values are based on a 2000 calorie diet.