This post may contain affiliate links.
This healthy Slow Cooker Chicken Curry is SO incredibly easy. No browning, no preparation. Just leave it to bubble away and come home to the most delicious, creamy but light, coconut milk curry.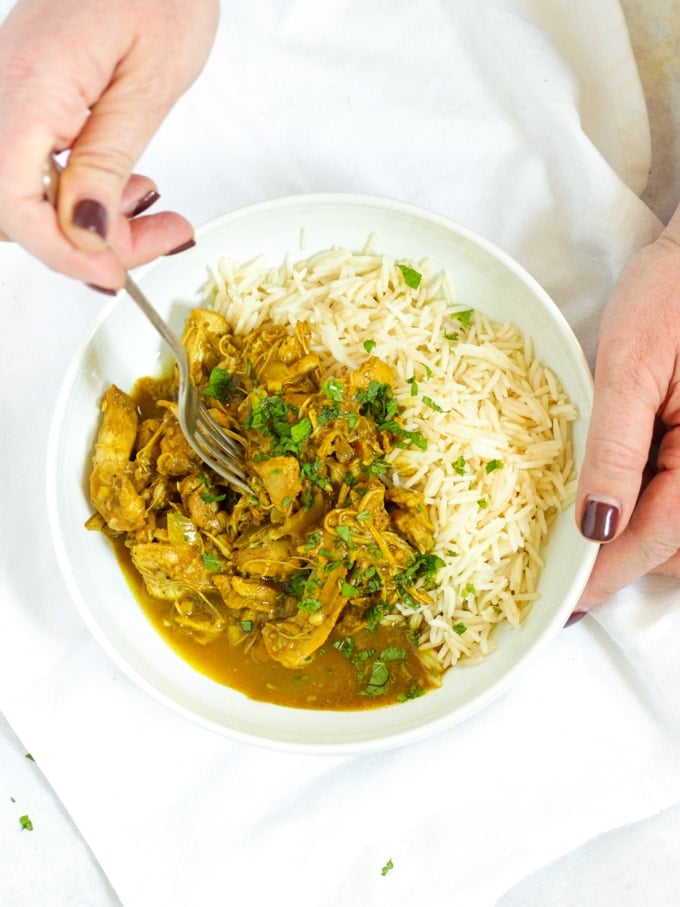 I've wanted to try making a curry recipe using this slow cooker method for SO long. I love easy, slow cooked curries, but who has time for browning meat at 7am before work?!
So, I thought I'd test out, NOT browning the meat and just kind of, flinging it all in to the slow cooker (or crock pot if you're in the USA). Friends, THIS is the total gem of a result.
Let's be honest, an authentic Indian curry, Madras curry or Thai curry, this is not. BUT it's a super shortcut to a delicious, easy dinner. Just what we like!
Why you should make this recipe:
✅ It's so easy. No prep, no stirring, combine everything and come home to a delicious Chicken Curry.
✅ The recipe uses Coconut Milk and no cream for a yummy flavour and a lighter, healthier curry.
✅ Perfect for families, kids, or spicy phobic people, as you can really simply adjust the level spice.
✅ Oh and I did I mentioned – it tastes SO GOOD.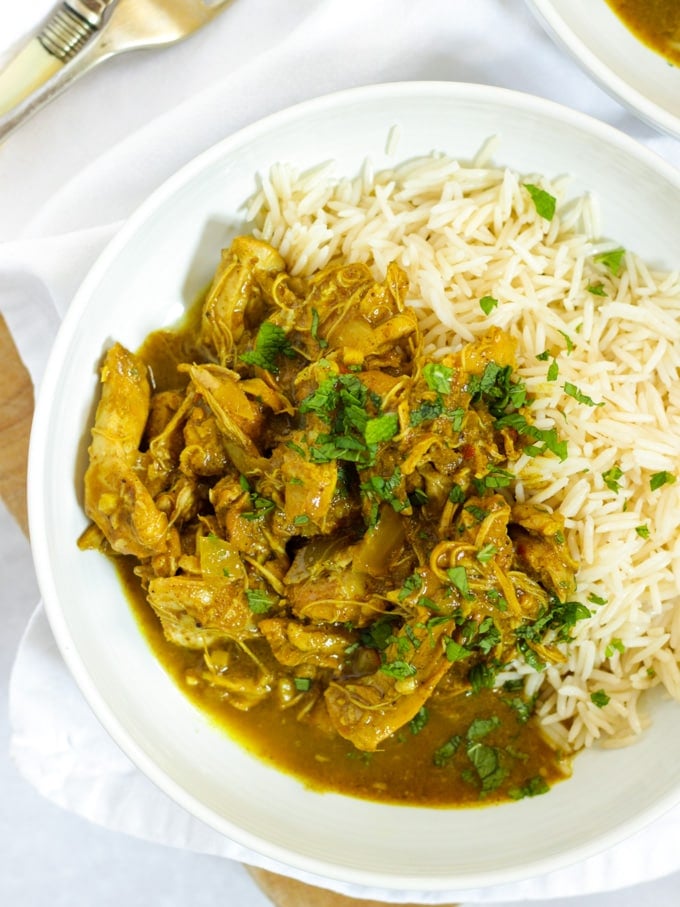 How to make a Slow Cooker Chicken Curry:
Pop all of your ingredients, (apart from your Garam Masala) into the slow cooker and cook until soft and tender. Gently break up the meat and mix in with the sauce, plus the Garam Masala.
Serve and get ready to fall in sweet curry love.
---
When the recipe has cooked for 4 hours on HIGH or 6 hours on LOW, take off the lid, give everything a good stir. You'll notice the chicken breaking up.
Top tip! I like to gently shred the chicken with forks when the curry is cooked, whilst still in the slow cooker (crock pot) and stir it into the sauce. It kind of soaks into the sauce and thickens the sauce.
Stir in the Garam Masala and some extra mango chutney if you think it needs a little more sweetness. Garnish with mint or coriander if you fancy.
Slow Cooker Chicken Curry Ingredients
Garlic, Ginger & Onion – I use all of these from the freezer, pre prepared. (Always after a shortcut) You can obviously prepare fresh if you'd prefer.
Medium Curry Powder – Replace with mild, or extra hot depending on your spicy taste. This is just right for us.
Chilli Flakes – This just gives a little extra flicker of heat. Feel free to leave out if you prefer.
Salt – I use good quality flakes like Maldon Sea Salt. It really adds to the flavour.
Mango Chutney – This added a sweet, 'rounded' taste. Use whichever brand is your favourite – with more to serve of course!
Reduced Fat Coconut Milk – You can use full fat if you prefer, this is just what I usually have in the cupboard. Give the can a shake before you add it. Coconut Milk curry is so creamy without the heavy feeling of a curry like Chicken Tikka Masala or Chicken Korma made with double cream.
Chicken Thighs – These should be boneless and skinless. You could use chicken breast in this recipe, but it won't be as tender or shred when cooked in the same way.
Garam Masala – We add this after cooking as it can become a little bitter if cooked, it is (I believe) usually used as an uncooked seasoning.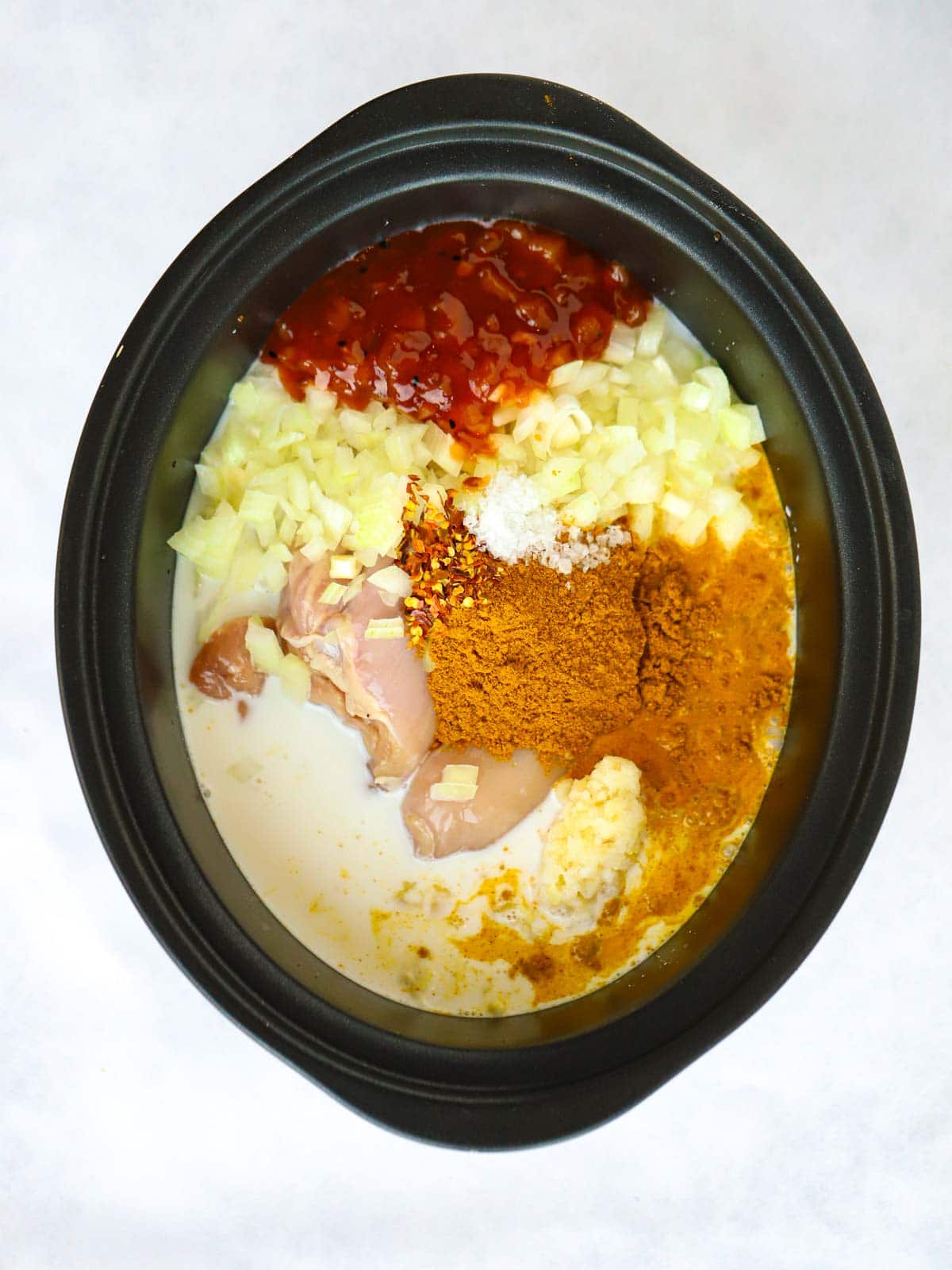 What to serve with the Slow Cooker Chicken Curry?
Boiled Basmati rice (or from a microwave pouch if you're saving time!)
Raita salad (yoghurt mixed with mint and cucumber and a little lemon juice)
Naan breads
Roasted cauliflower (I coat in oil and some curry powder and roast – it's SO GOOD!)
Poppadoms (or GIANT crisps as George and Harriet call them)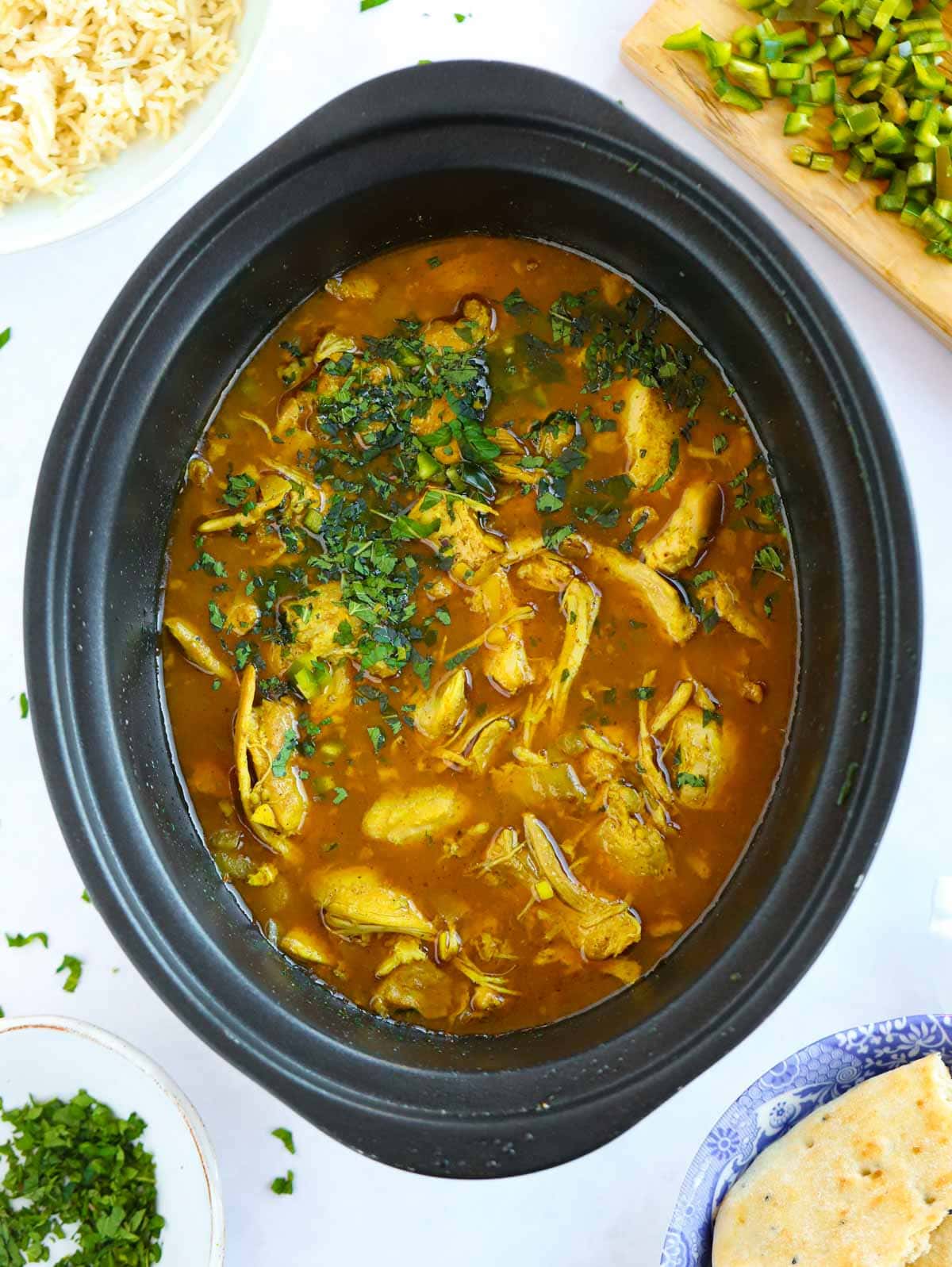 Should you brown chicken before cooking in the slow cooker?
If you want to get scientific, the reason we brown meat before slow cooking, is because it causes a Maillard reaction. The process of frying, heating it very hot until it browns, changes the flavour compounds in the meat, basically adding a depth of flavour.
Does it add something to most slow cooked dishes? Yes. Is it vital in this dish, which is packed with other flavour? No.
My opinion is that it's much more important in red meat dishes and even then, sometimes speed and ease are more important.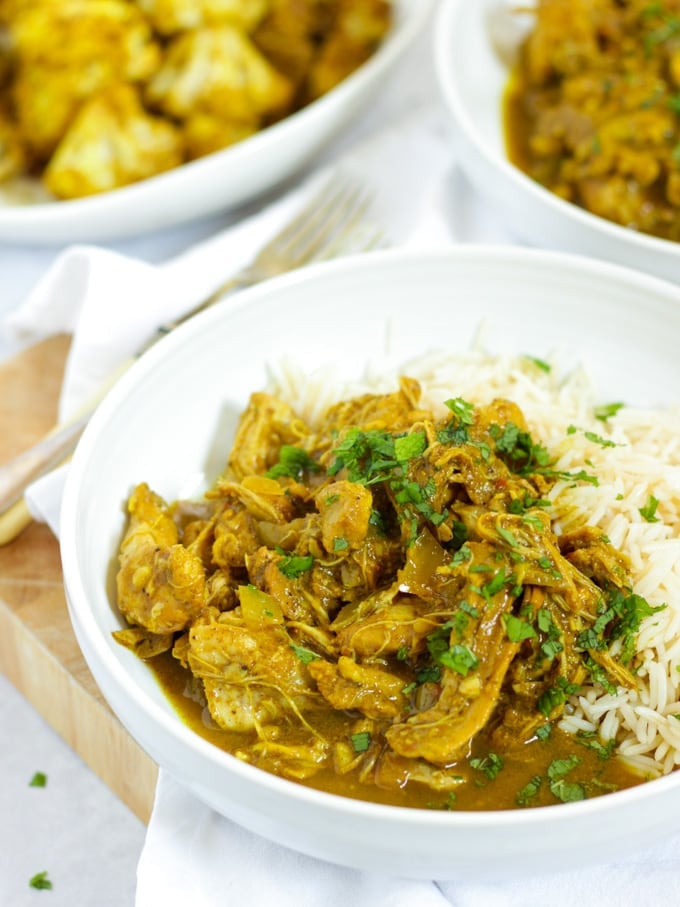 Variations on the Slow Cooker Chicken Curry recipe:
Butter Chicken Slow Cooker Curry – Add the juice of half a lemon, and 50g of butter before serving, stir well into the sauce.
Slow Cooker Chicken Korma – Use Korma curry powder, and add 3 tbsp of ground almonds before serving.
Madras Chicken Curry – Use Madras curry powder.
Slimming World Slow Cooker Chicken Curry – Count the Syns for the mango chutney and coconut milk.
I'm not promising any of these are mega authentic, but we all need a shortcut sometimes, right?!
Can you freeze this recipe?
Yes! I LOVE making a big batch of this and freezing it for another day. When it's cold, I portion it up into takeaway containers (in the photo below).
I buy them in bulk from Amazon, about £8 for 50. (I wash and reuse them but they are much cheaper than buying hundreds of thick Tupperware containers.) I then defrost and warm through when needed.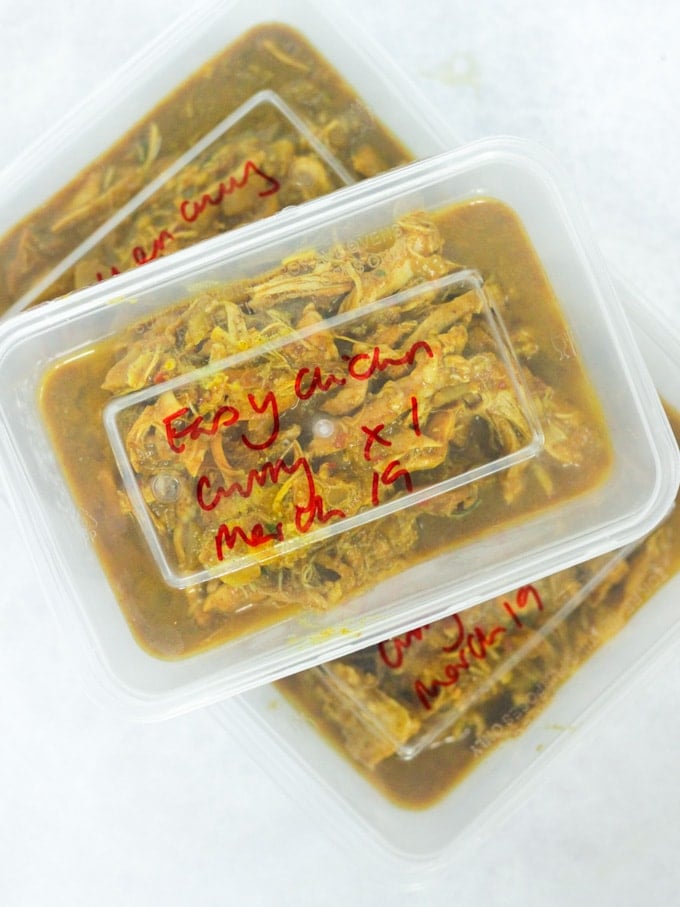 Fancy some more slow cooked dinner recipes?
Hope you enjoy this recipe as much as we do. I'd love to know how you got on and what you thought of it if you make this Slow Cooker Chicken Curry recipe. Please rate the recipe and leave me a comment below if you do.
Also, if you fancy showing me a photo by tagging me on Instagram (@tamingtwins) I LOVE to see your creations.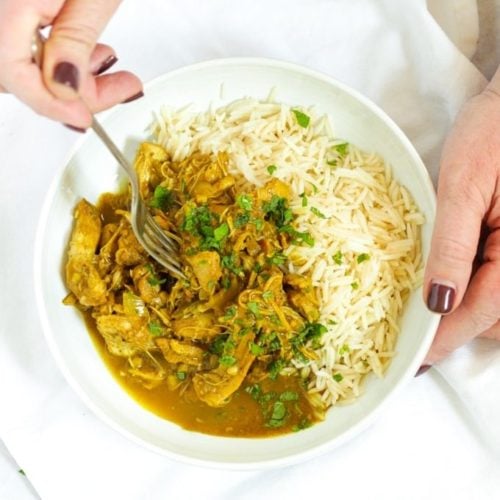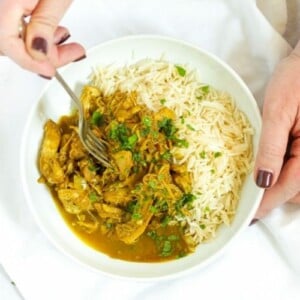 Slow Cooker Chicken Curry – easiest EVER recipe
This healthy Slow Cooker Chicken Curry is SO incredibly easy. No browning, no preparation. Just leave it to bubble away and come home to the most delicious, creamy but light, coconut milk curry.
Ingredients
4

Cloves

Garlic

,

Peeled and chopped, or frozen, ready prepared

2

tsp

Fresh ginger

,

Peeled and grated, or use a ready prepared paste

3

tbsp

Medium curry powder

1/2

tsp

Chilli flakes

1/2

tsp

Salt

100

g

Mango chutney

400

ml

Reduced fat Coconut Milk

1

Large

Onion

,

Peeled and very finely chopped, I use frozen ready prepared

1

kg

Boneless, skinless chicken thighs

1

tsp

Garam Masala
Instructions
Put everything APART FROM the Garam Masala into the slow cooker (crock pot). Give it a good stir.

Put the lid on and cook on HIGH for 4 hour or LOW for at least 6 hours.

When the chicken is tender and falling apart, gently shred it with two forks and stir in the Garam Masala. Mix well until everything is coated and softened in the sauce.
Notes
Thick/thin sauce?
This recipe makes quite a thin sauce, which I like as the shredded chicken kind of 'soaks' it up. If you're anxious to have a thick sauce, you have a couple of options:
Use 300ml of Coconut milk instead of the full can.
Or when cooked, if you feel that the sauce is too thin, pop 1 tbsp of cornflour into a mug or small bowl, take a ladle of sauce from the curry and mix until smooth with the cornflour. Pour BACK into the curry and stir through and heat through. It will thicken the sauce slightly. (Do NOT just put the cornflour straight in, it will go lumpy!)
If you're planning on reheating the curry, or freezing, definitely use the full amount and don't thicken as it will get thicker when you reheat it.
To finish:
When you taste the curry at the end, you can add another tablespoon or two of Mango Chutney if you think it needs more sweetness.
Garnish with mint or coriander if you fancy.
Nutrition
Calories:
325
kcal
Carbohydrates:
18
g
Protein:
33
g
Fat:
11
g
Saturated Fat:
6
g
Cholesterol:
158
mg
Sodium:
408
mg
Potassium:
514
mg
Fiber:
1
g
Sugar:
9
g
Vitamin A:
120
IU
Vitamin C:
4.3
mg
Calcium:
43
mg
Iron:
2.4
mg
Nutrition information is automatically calculated, so should only be used as an approximation.