The ultimate Slow Cooker Pulled Pork Recipe – Smothered in honey and chipotle, this easy crock pot pork shoulder creates a delicious sticky and smoky sauce. A winning base for so many meals. Gluten free and freezes well too.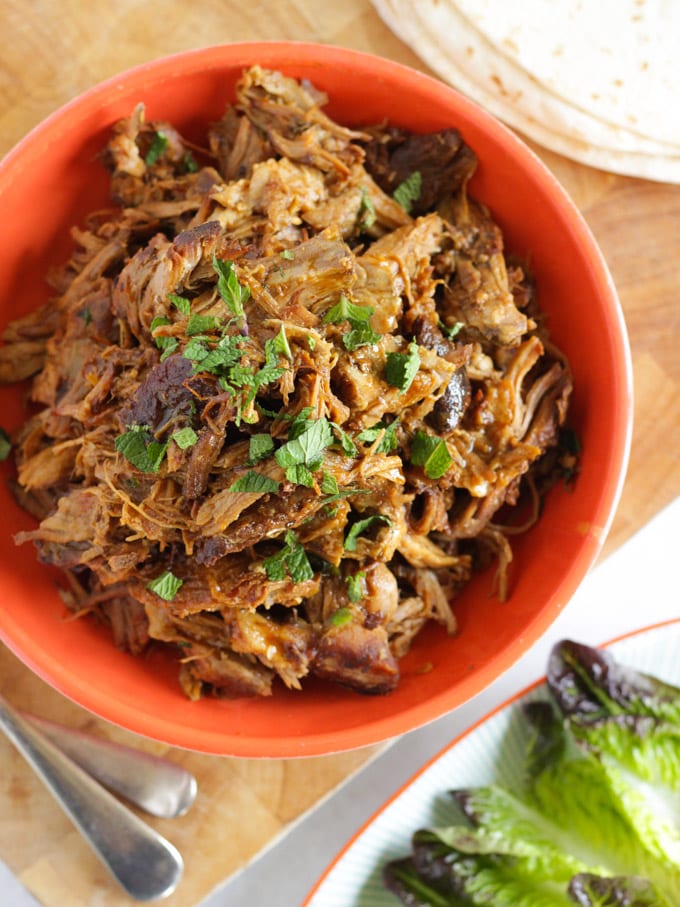 Looking for a crowd pleasing recipe to serve a big group? A batch cook to give you the base of heaps of meals from the freezer?
Or just a little somethin' somethin' to make Friday night feel special?
HELLO Honey Chipotle Sticky Slow Cooker Pulled Pork Recipe!
This recipe takes about 30 seconds to prep, and 12 hours later, greets you with a sticky, spicy delicious treat of a meaty dish.
Here's why you should add this to your meal plan:
✅ Big batch cooking saves tons of time later – YES.
✅ Just a handful of ingredients.
✅ Uses low cost pork shoulder for a great value meaty dish.
A note on the ingredients in this recipe:
Pork – I think the best cut of meat for pulled pork is pork shoulder.
It's cheaper than pork loin and the fatty stripes through the meat mean it lends itself very well to this kind of cooking. I used a free range pork shoulder (like this one from Ocado) and it always works well. You could use a pork loin for this recipe but it just doesn't really have enough fat. I think it's much better to use a more economical cut like shoulder and then drain the excess fat.
I do cut off the pork skin and any excess visible fat (plus the string!) before popping in the slow cooker.
Chipotle Paste – For a sweet and smoky pulled pork I use a Chipotle Paste. Most major supermarkets stock this now and it's so worth finding. It's such a fab shortcut to really tasty pulled pork.
Vinegar – I use Balsamic, but you could use Red Wine Vinegar if you prefer.
Honey – Any honey is fine, I just use runny honey as it's easy to pour in.
How to make Slow Cooker Pulled Pork:
I know I say this a lot but this really is a super simple recipe.
Firstly, remove any skin from the pork joint using sharp scissors.
Place your pork into your slow cooker (or Crock Pot if you're in the US) bowl and set it to LOW.
The magic in this recipe is all in the rub. Pour chipotle paste, balsamic vinegar, ketchup and honey over the pork joint.
Rub it into the pork with clean hands, making sure it's all covered well.
Cook on LOW for 12 hours.
How do you PULL the PORK?!
When the meat is cooked, drain and keep the juices.
Using a couple of forks, shred up the pork into chunks.
Now you have a couple of choices:
If the juice you drained off doesn't look too fatty (like mine in the photo below) just add back into the meat.
If there's a LOT of fat (that layer at the top) pour that carefully off the top before adding the juices back into the meat.
If you want a more dry finished pulled pork, you can put the juices into a small pan over a high heat and let them bubble for a few minutes until they reduce. Then add back to the pork. (I don't often do this as the meat kind of absorbs the juices as it sits in them, keeping it moist.
How long do you cook a pork shoulder for in the slow cooker?
I've cooked this slow cooker pulled pork on low for 12 hours, this makes it, juicy and tender and its the perfect set and leave recipe for long days at work.
If you have less time you could cook on HIGH, it will be delicious but it won't be as meltingly tender as the slower cooked version. It should take around 6 – 7 hours on HIGH.
The Slow Cooker I use:
My love affair with slow cookers is a relatively new thing, but oh my goodness, since I've had this one I'm converted.
It wasn't necessary in this recipe but my slow cooker pan can be used directly on the hob, check if yours does to, it saves time, and washing up. This is the one I have:
Ideas for how to serve the Slow Cooker Pulled Pork:
In bread rolls, or as sandwiches, add some apple sauce and pour over extra gravy.
As a taco filling.
Tortilla wraps, lime, avocado, sour cream/yoghurt and cheese (like Pork Carnitas).
American style with homemade potato wedges, baked beans and coleslaw.
Add to tomato sauce and pasta for a pork ragu style dish.
Those following a low carb diet you could also serve as a pulled pork salad, or on top of scrambled or fried eggs as a protein packed breakfast.
On tortilla chips for loaded nachos.
Love a meaty slow cooker recipe…? Have a look at these:
Hope you enjoy this recipe as much as we do. I'd love to know how you got on and what you thought of it if you make it. Give me feedback by rating the recipe using the ⭐️s below.
If you enjoyed this recipe, subscribe to my newsletter for weekly meal plans, and follow me on Facebook, Instagram and Pinterest for lots of chat, recipes and life updates!
Slow Cooker Pulled Pork
The ultimate Slow Cooker Pulled Pork Recipe – Smothered in honey and chipotle, this easy crock pot pork shoulder creates a delicious sticky and smoky sauce. A winning base for so many meals. This pulled pork freezes well too.
Total Time
12
hours
5
minutes
Ingredients
1.5

kg

Pork Shoulder

90

g

Chipotle Paste

One jar

4

tbsp

Honey

2

tbsp

Ketchup

2

tbsp

Balsamic vinegar
Instructions
Set your slow cooker to LOW.

Mix the chipotle paste, honey, ketchup and balsamic vinegar.

If there is a layer of skin on the pork remove this and then rub the marinade onto the pork.

Place in the slow cooker and cook on LOW for 12 hours.

Once finished drain all of the juices from the slow cooker, remove the fat and then add the juices back and start to pull the pork using two forks into bite sized chunks.
Nutrition Facts
Slow Cooker Pulled Pork
Amount per Serving
% Daily Value*
* Percent Daily Values are based on a 2000 calorie diet.