This Slow Cooker Pulled Pork is smothered in a really simple, four ingredient sauce, and is a brilliant recipe to serve up to guests, with its meaty, smoky big flavour and versatility.

Perhaps you want an easy dinner for a crowd? Or maybe you just want to dish something up a little extra this weekend? This recipe won't let you down!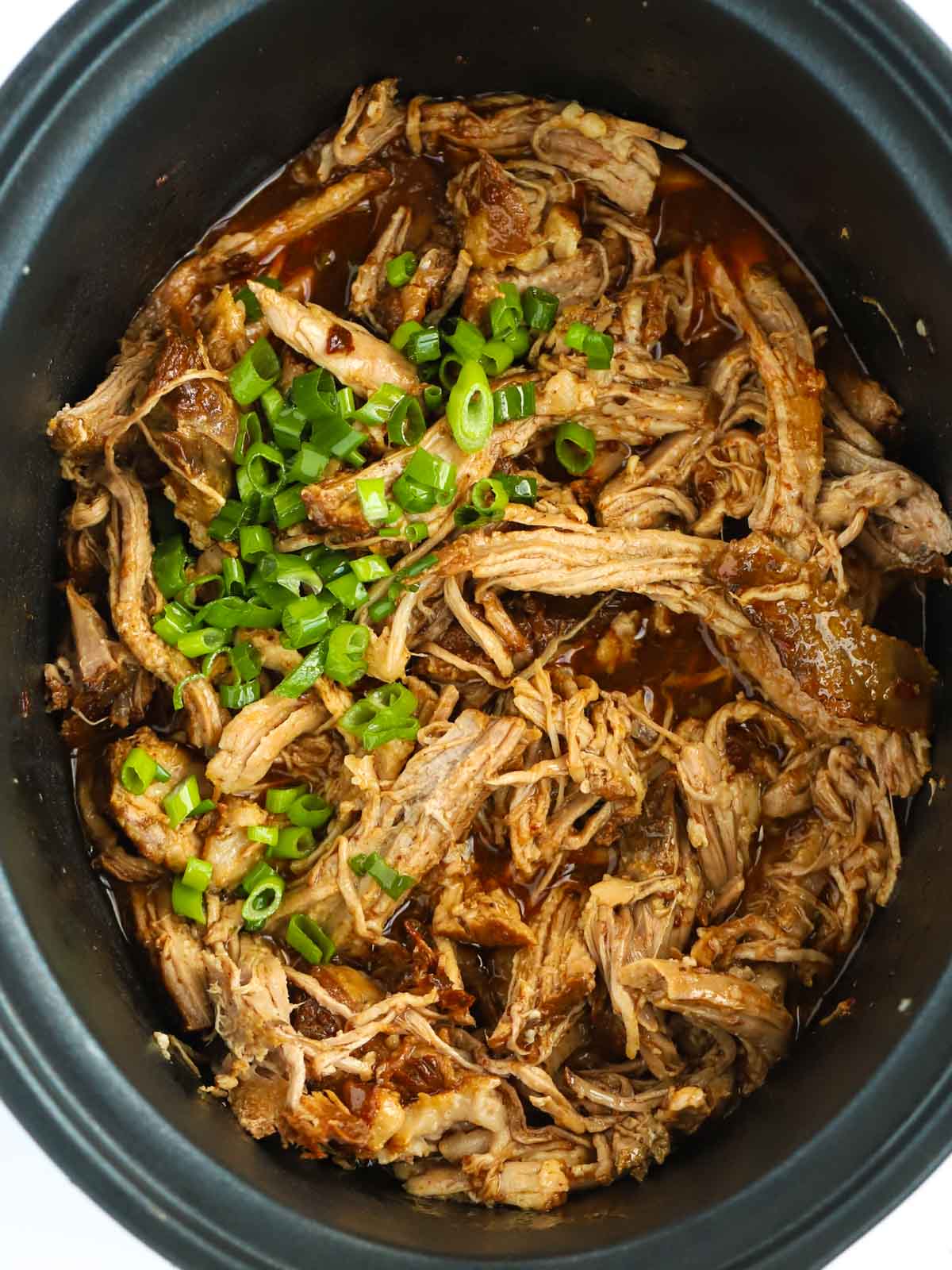 My favourite thing about this recipe is it gives the impression of 'pulling' out all of the stops (boom boom), when in fact the effort and cost involved is super low.
This Slow Cooker Pulled Pork uses pork shoulder, which lends itself beautifully to a long, slow cook – 12 hours no less and then you have tender, meltingly delicious meat in a rich sauce with a wonderful depth of flavour.
Yes, you heard that right – 12 hours! (I will go into how to manage cooking times for this one). It's a classic 'dump recipe' (stick it all in together) and you can then serve it up as you please, from Pork Carnitas-stye or simply in a burger bun.
---
Why you'll love this recipe
⭐️ Low cost pork shoulder makes this value for money
⭐️ Just a handful of ingredients
⭐️ Mouth-watering results for little effort
---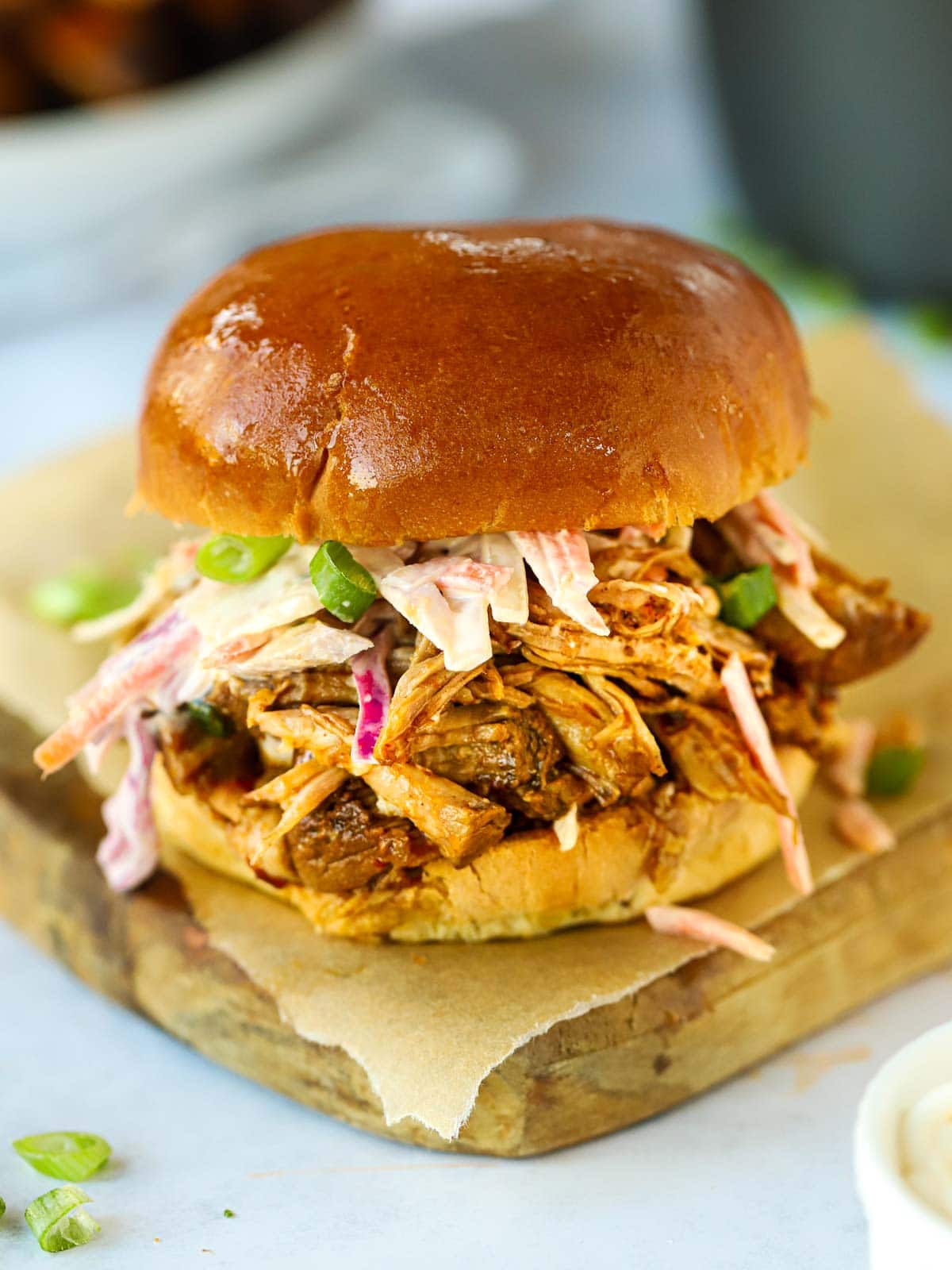 About Slow Cooker Pulled Pork
The origins of Pulled Pork go back to southern USA, where pork shoulder was typically cooked slowly outdoors over a barbecue and then shredded and mixed with sauce. The dish has travelled far and wide, but it hasn't changed much in variations.
My recipe is made with chipotle for a bit of spice and a sticky barbecue marinade for that rich, smoky flavour. I also use pork shoulder because it works so well. If I find there's some excess fat, I simply remove what's visible, remove the string, and get it in the slow cooker.
What you'll need
Pork shoulder – this cut is really good value and is best when cooked slowly.
Chipotle paste – this adds smokey flavour without being too spicy. If you're worried about any heat at all, just half of the amount in the recipe to be sure (the strength will depend on the brand you use!)
Honey – runny honey is best here.
Balsamic vinegar – use a rich, good quality balsamic if you can.
Tomato ketchup – use your regular favourite brand.
---
How to make it
1. If there is a layer of skin on the pork, remove this, then put the pork in the slow cooker and start to add the other ingredients.
2. Mix the ingredients together and smother over the pork. Put the lid on and cook (according to the recipe at the bottom of this post).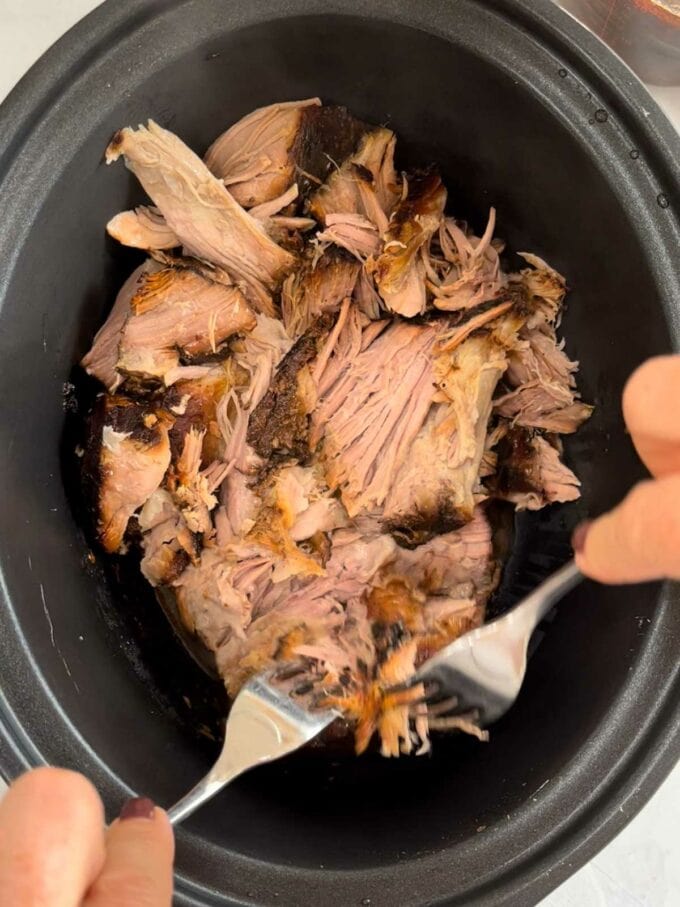 3. Once cooked, remove the juices from the pan, remove the fat layer from the liquid and set aside. Shred up the pork using two forks.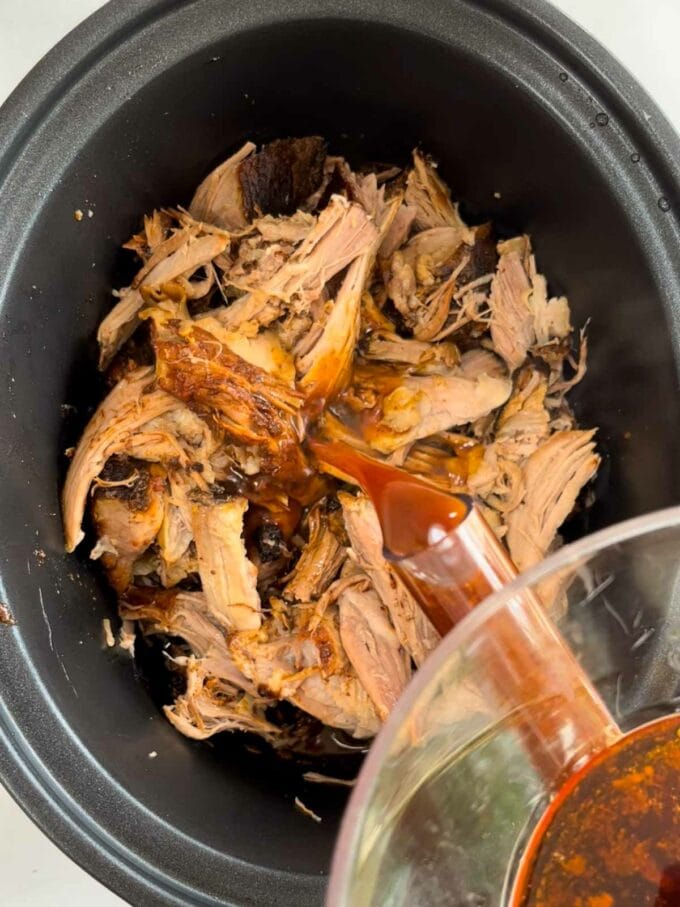 4. Add the juices back into the meat and mix in.
Hint: If you have less time you could cook on HIGH, it will be delicious but it won't be quite as tender as the slower cooked version. It should take around 6–7 hours on HIGH.
---
Leftovers
In the fridge You can keep this recipe in the fridge for 3 days. Reheat fully in the microwave or on the hob before serving.
In the freezer This recipe freezes well. Just wait until it's totally cold and then put into a freezer proof container and freeze for up to 3 months. Defrost thoroughly before reheating in the microwave or on hob.
Top tips
Cooking schedule:
To serve this for dinner at, say, 7pm, I'd put this on to cook at 6am (I always allow an hour or two grace with slow cooking in case they need extra time – it's not an exact science!)
To serve this for lunch at 1pm, say, you have a couple of different options. Cook it the day before, allow it to cool and store in the fridge, covered. Then reheat in a saucepan, with the cooking sauce, stirring until hot through when you want it.
OR use a nifty plug timer to start your slow cooker off in the middle of the night.
Serving suggestions:
In bread rolls, or as sandwiches, add some apple sauce and pour over extra gravy.
As a taco filling or tortilla wraps, lime, avocado, sour cream/yoghurt and cheese (like Pork Carnitas).
American-style with homemade potato wedges, baked beans and coleslaw.
Add to tomato sauce and pasta for a pork ragu style dish.
Those following a low carb diet you could also serve on salad, or on top of scrambled or fried eggs as a protein packed breakfast.
On tortilla chips for loaded nachos.
Shredding and sauce:
When the meat is cooked, drain and keep the juices. Using a couple of forks, shred up the pork into chunks. Now you have a few choices:
If the juice you drained off doesn't look too fatty, just add back into the meat.
If there's a LOT of fat (that layer at the top) pour that carefully off the top before adding the juices back into the meat.
If you want a more dry finished pulled pork, you can put the juices into a small pan over a high heat and let them bubble for a few minutes until they reduce. Then add back to the pork. (I don't often do this as the meat kind of absorbs the juices as it sits in them, keeping it moist.)
FAQ
Can I use pork loin or does it have to be shoulder?
You could use a pork loin for this recipe but it just doesn't really have enough fat.

I think it's much better to use a more economical cut like shoulder and then drain the excess fat. It's cheaper than pork loin and the fatty stripes through the meat mean it lends itself very well to this kind of cooking.

I do cut off the pork skin and any excess visible fat (plus the string!) before popping in the slow cooker.
Can I cook this Pulled Pork recipe in the oven instead?
Yes, you can cook this recipe in the oven but be sure to use a lidded casserole dish.

You'll need to cook it at 160C for about 3 hours or until the meat is soft and tender. You will need to add additional water to the pot to ensure it doesn't dry out (a cup or two and keep an eye on it) as cooking in an oven can dry out in a way that a slow cooker doesn't.
Is this spicy?
I would say that it has a smokey warmth rather than heavy spice. This will depend slightly on the brand of chipotle paste you use though!

If you're very concerned about using any spice, I'd suggest using HALF of the chipotle measurement in the recipe and then when the pork is cooked, adding more if needed.
Let me know how you got on and what you thought of these recipes. Please rate the recipe using the ⭐️ below.
Also I'd LOVE to see your cooking creations. If you'd like to share yours with me, you can tag me on Instagram (@tamingtwins).
Slow Cooker Pulled Pork
The ultimate Slow Cooker Pulled Pork recipe – Smothered in honey and chipotle, this easy crock pot pork shoulder creates a delicious sticky and smoky sauce. A winning base for so many meals. This pulled pork freezes well too.
Ingredients
1.5

kg

Pork shoulder

90

g

Chipotle paste

x1 jar

4

tbsp

Honey

2

tbsp

Ketchup

2

tbsp

Balsamic vinegar
Instructions
Set your slow cooker to LOW.

Mix the chipotle paste, honey, ketchup and balsamic vinegar.

If there is a layer of skin on the pork, remove this, then rub the marinade onto the pork.

Place in the slow cooker and cook on LOW for 12 hours.

Once finished, drain all of the juices from the slow cooker and remove the fat. Shred the pork with two forks into bite-sized chunks.

Add the juices back into the meat and mix.
Notes
Cooking time:If you have less time you could cook on HIGH. It will be delicious but it won't be as meltingly tender as the slower cooked version. It should take around 6–7 hours on HIGH.
Nutrition
Calories:
278
kcal
Carbohydrates:
10
g
Protein:
42
g
Fat:
6
g
Saturated Fat:
2
g
Cholesterol:
112
mg
Sodium:
343
mg
Potassium:
732
mg
Sugar:
10
g
Vitamin A:
20
IU
Vitamin C:
0.2
mg
Calcium:
13
mg
Iron:
1.7
mg
Made it? Tag me!
Tag @TamingTwins so we can admire your make ⭐️