The easiest Fish Pie recipe with delicious cheesy mash topping. A really simple sauce, no pre-cooking the fish, just assemble for the ultimate comfort food.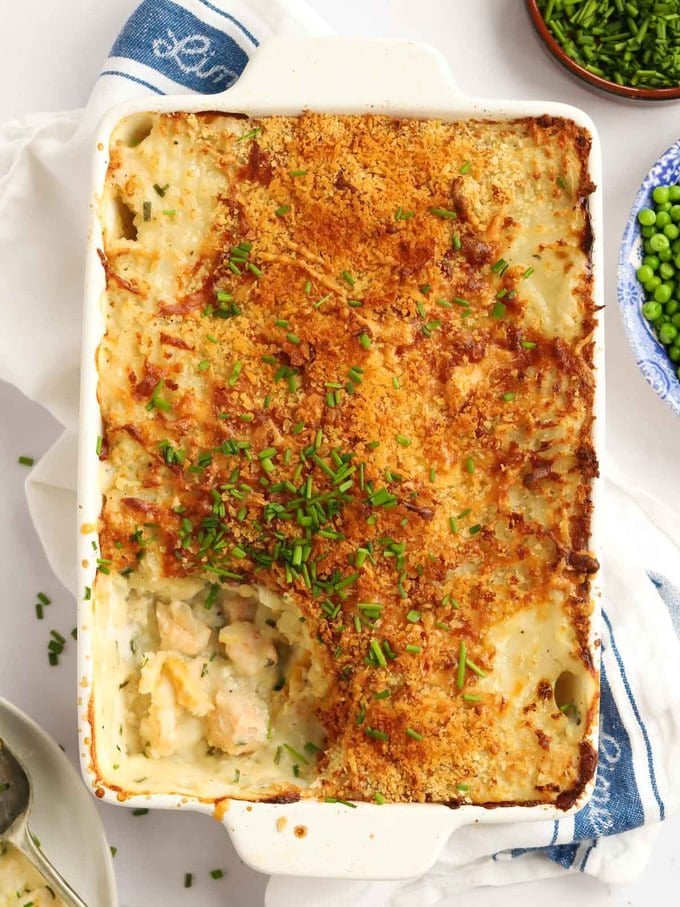 I LOVE comfort food fish pie. It's cosy and warming and feels so.. Nourishing somehow?
BUT. Can I be bothered with using 5 pans and 20 different techniques to make it? NOPE.
So, here's my favourite Easy Fish Pie recipe. I've simplified it so it's quick enough to make midweek and sink into some easy comfort food any night of the week!
You'll love this Easy Fish Pie recipe because:

✅ Simple, no fail sauce method.

✅ No pre-cooking the fish, just bake in the oven.

✅ Perfect freeze filler for batch cooking.

FAQs about this Easy Fish Pie recipe
Why does fish pie sometimes go watery?
This can often happen when your mashed potatoes are too soft to start with, they need to be left a little thicker than normal.
It can also happen if your fish is fresh and gives off water as it cooks. But honestly? I think a tiny bit of water in the sauce is worth it rather than having overcooked fish or having the extra step of pre-cooking the fish.
Is this gluten free?
If you use gluten free breadcrumbs (or omit them), this recipe is gluten free.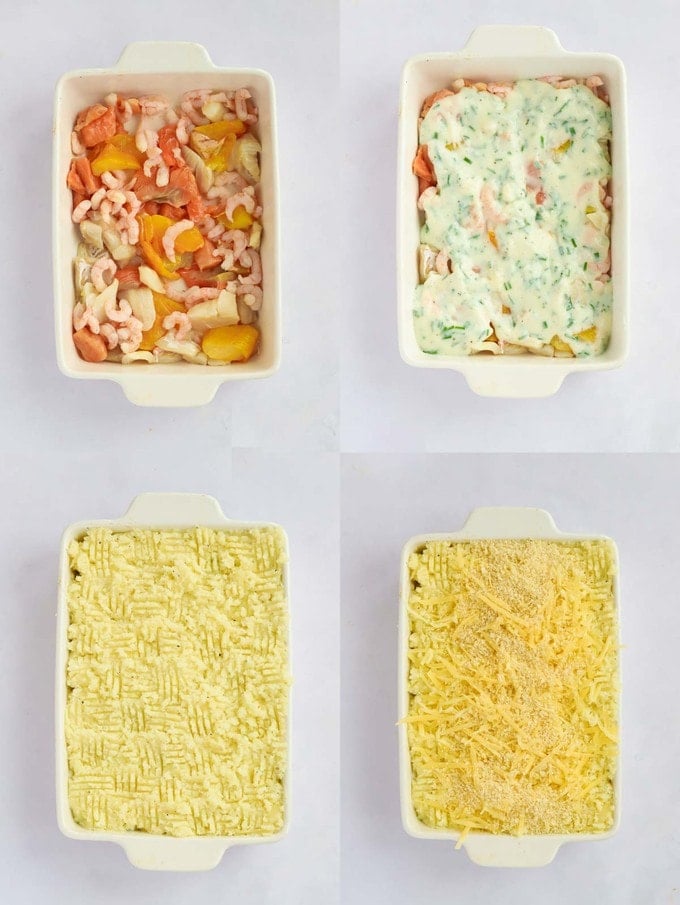 Do I really not need to cook the fish before putting into the pie?
Nope. I really think if you do it a) overcooks the fish and b) is just another step that we don't need in our life.
Just be sure to check that the pie is hot all the way through before serving (push a metal knife into the middle and when you pull it out it should be burning hot OR better still use a meat thermometer).
Can I make fish pie in advance?
Yep. I prepare it all up to the stage where you would put it into the oven. Then it will keep in the fridge for up to 24 hours.
When you come to cook it, it will take about 10- 15 minutes longer to cook than if you were using a sauce/potatoes that's already warm.
As above, just check that it is hot all the way through before serving.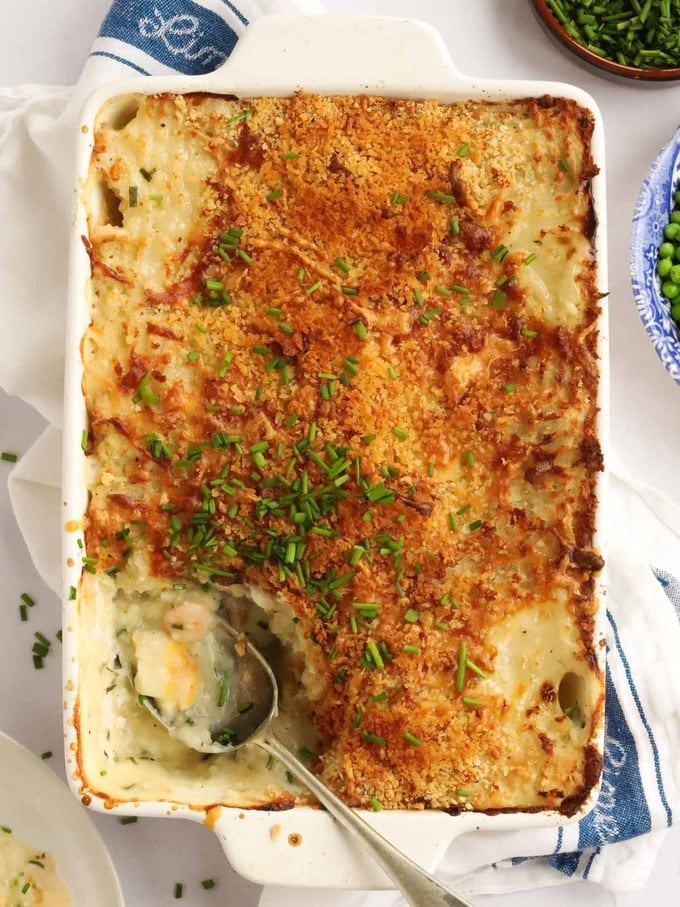 Can you freeze this recipe?
Yes, you can freeze this pie. I tend to make it all up to the point where you put it in the oven and then freeze.
Allow to defrost fully and then bake in the oven on the day you want to eat it.
Is this recipe suitable for toddlers and weaning?
Yes, my children were fed on this so much! Leave out the salt and you can freeze small, leftover portions and reheat before serving.
Fancy some more fish recipes?
Hope you enjoy this recipe. I'd love to know how you got on and what you thought of it if you make this recipe. Please rate the recipe using the ⭐️ below!
Also, if you fancy showing me a photo by tagging me on Instagram (@tamingtwins) I LOVE to see your creations and try and share as many of them as I can.
This post was originally published on March 06,, 2019 and updated with new photos, tips and video on March 04, 2021.
Easy Fish Pie with Crunchy Cheese Topping
The easiest Fish Pie recipe with delicious cheesy mash topping. A really simple sauce, no pre-cooking the fish, just assemble for the ultimate comfort food.
Ingredients
520

g

Fresh fish pie mix (cod, salmon and smoked haddock)

(2 x 260g Packs) See Note 1.

175

g

Cooked prawns
For the topping:
1.25

kg

Potatoes

Peeled and cut into chunks.

3

tbsp

Butter

Sea salt and freshly ground black pepper

100

g

Cheddar cheese

Grated.

50

g

Panko breadcrumbs
For the sauce:
400

ml

Milk

Full fat or semi-skim.

30

g

Cornflour

Cornstarch if you're in USA.

10

g

Fresh chives

Finely chopped

Sea salt and freshly ground black pepper
Instructions
Preheat the oven to 180C.

Put your potatoes, with a sprinkle of salt, in a pan of boiling water and cook for 10 minutes or until a knife slides in easily.
To make the sauce:
While the potatoes are cooking, put the cornflour into a mug and mix with a small amount of the measured milk until it forms a paste.

Put the remaining milk into a sauce pan over a medium heat. Pour in the cornflour 'slurry' and whisk the sauce until it thickens and is smooth.

Add the chives and plenty of salt and pepper.
To make the pie:
Put the raw fish pie mix and prawns into the bottom of a large dish. Pour over the sauce.

Mash the cooked and drained potatoes in the saucepan and add the butter and salt and peppers. Spread over the top of the dish and sauce.

Sprinkle over the cheese and breadcrumbs.

Bake in the oven for 30 minutes until the top is crispy and golden and the fish is cooked through.
Notes
Note 1 - Fish Pie Mix
In the UK these packs are sold in supermarket and are usually a mix of cubes of cod, salmon and some smoked haddock. 
The same weight of similar fish in cubes is fine. Try to include some smoked fish for flavour.
Nutrition
Calories:
345
kcal
Carbohydrates:
14
g
Protein:
31
g
Fat:
18
g
Saturated Fat:
8
g
Trans Fat:
1
g
Cholesterol:
155
mg
Sodium:
509
mg
Potassium:
599
mg
Fiber:
1
g
Sugar:
4
g
Vitamin A:
641
IU
Vitamin C:
3
mg
Calcium:
275
mg
Iron:
2
mg
Made it? Tag me!
Tag @TamingTwins so we can admire your make ⭐️