This post may contain affiliate links.
Ready for your new favourite time saving dinner shortcut? Meet these Slow Cooker Dump Bags.
These are recipes that can be prepped in minutes and then frozen, uncooked, until you need them.
You know I am a HUGE fan of slow cooker recipes that can be just popped straight into the slow cooker with NO browning first, but what if we prepped these in advance too for convenience that's on another level?
Yes it's possible! Here are some of my favourite recipes – made into… DUMP BAGS!
---
What is a 'dump bag'?
I know, I know. The name is not my favourite word 😬 BUT it does describe what these do on the tin.
A dump bag is where you prepare all (or most) of the ingredients for a slow cooker meal, then:
Put it into a freezer container.
Label and freeze until you want to cook it.
Defrost thoroughly, dump in the slow cooker (get it?) and cook according to the usual instructions.
That's it. Dinner is done!
What's the benefit of meal prepping like this?
⭐️ Use days when you do have a tiny bit of spare time to help you on days that you don't.
⭐️ Helps with bulk-buying ingredients (meat, for example, is often cheaper in bulk).
⭐️ Doubling up your prep means double dinners, in less than double the time. (I usually make at least x2 of each recipe.)
---
Do you have to defrost the food before cooking it in the slow cooker?
The short answer is yes. It is always recommended for dishes containing meat.
There's a really useful article of tips here in the Guardian: Defrost and Dump.
Allow the bags to defrost totally before adding to the slow cooker.

Be sure to defrost them in the fridge. This will be slower but is the food safety recommendation.

The time they take to defrost will depend a lot on the shape of the container you are using to freeze. If you can freeze in thin bags (see my notes re: bags further down) they will defrost much quicker.

As a rule, my reusable bags take over 24 hours to defrost in the fridge. So if I want it for dinner on Tuesday night, I'd need to take it out of the freezer on Sunday night to be sure, and then cook it in the slow cooker on Tuesday morning. So about 36 hours.

Again, these timings will depend highly on what shape of container you use. Flatter bags will defrost MUCH quicker.
---
Which bags or containers are the best to use?
OK, I'm going to share the re-usable bags I've used recently because so many people asked BUT… I do NOT love them.
Out of 8, one split on me after a couple of weeks and also as they are SO wide they take a very long time to defrost and are tricky to fit into the freezer.
Without doubt, for convenience, single-use plastic bags are the best option. You can lay them flat in the freezer and they freeze in a thin shape so they defrost quickly. But who wants to be buying single-use plastic these days?
Honestly, I don't have an answer right now, so I'm sharing the options below so you can decide for yourself:
---
---
---
---
Some final tips
⭐️ Before you set aside time to prepare your dump bags, make sure you have freezer space!
⭐️ Have bags and labels ready.
⭐️ If you need a shopping list, you can adjust the recipe ingredients needed for portion sizes on every recipe here: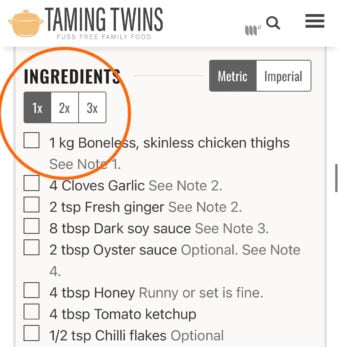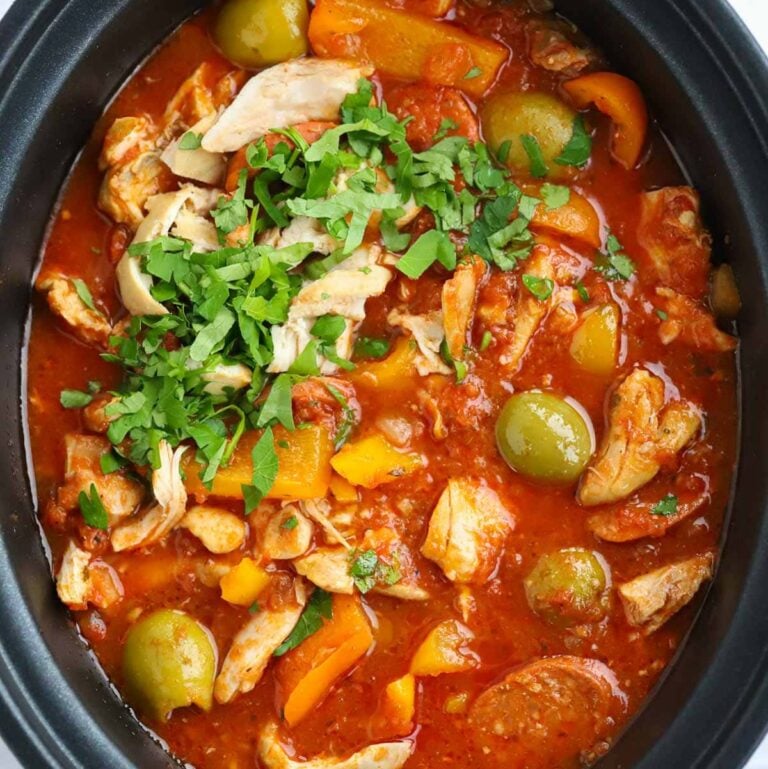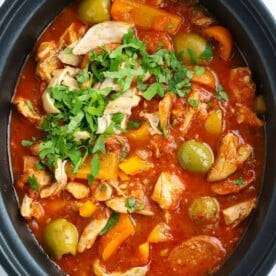 Slow Cooker Chicken and Chorizo Stew
This Chicken and Chorizo Stew is the ideal midweek meal. Throw everything into the Slow Cooker in the morning, and a Spanish style casserole is waiting when you get home.
View Recipe
Slow Cooker Vegetable Soup
As far as soup recipes go, this one is as easy as it is delicious. It's also hearty and healthy, creamy and low cost. Bonus!
To prepare this as a dump bag:
Put all of the peeled and chopped vegetables in a bag and freeze. Add water and stock and finish as per the recipe.
It's worth noting, as this is vegetarian, you DO NOT need to defrost before adding to your slow cooker – win!
Click here for the full recipe.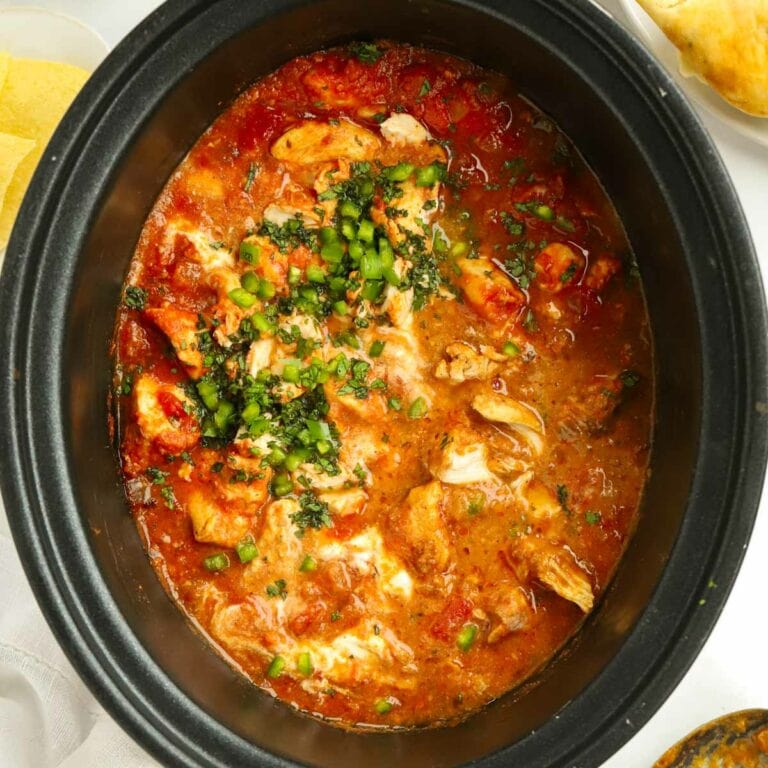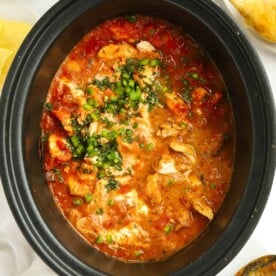 Slow Cooker Chicken Tikka Masala
This is a classic fakeaway.
To prepare this as a dump bag:
Add all ingredients apart from the garam masala, mango chutney and crème fraîche. Defrost and cook as per the rest of the instructions.
Note: You may find that some water come out of this as it defrosts. Be sure to defrost the bag in a big bowl in the fridge and add the contents of the bag INCLUDING THE WATER to the slow cooker. Give everything a good mix to recombine as it cooks.
Click here for the full recipe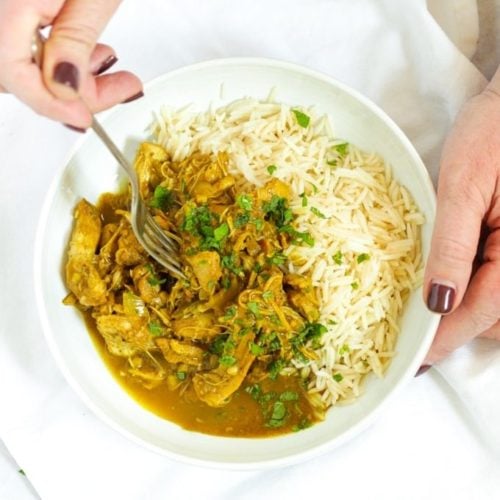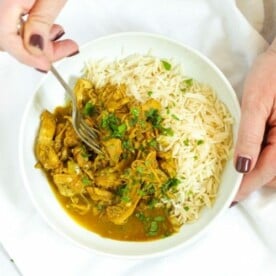 Slow Cooker Chicken Curry
This healthy Slow Cooker Chicken Curry is SO incredibly easy. No browning, no preparation. Just leave it to bubble away.
To prepare this as a dump bag:
Add all ingredients apart from the Garam Masala to the bag. Defrost and cook as per instructions.
Click here for the full recipe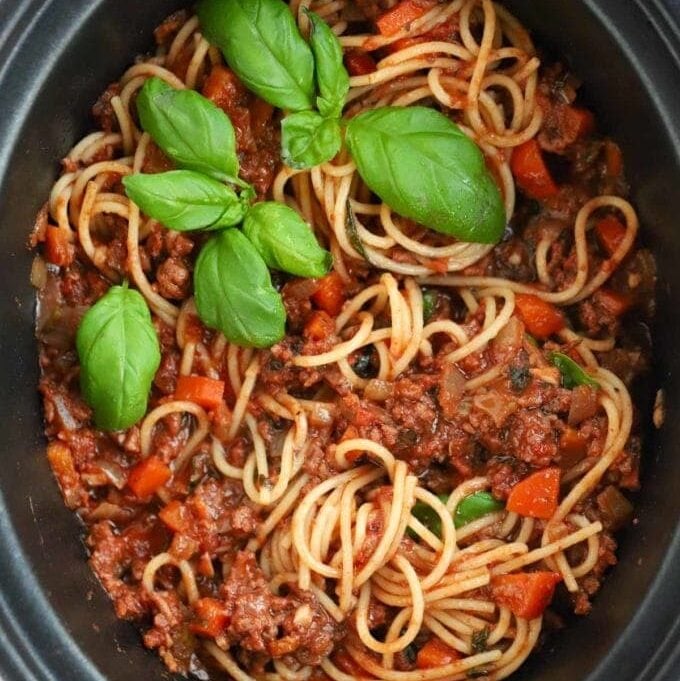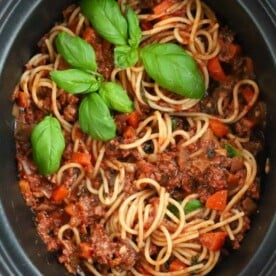 Slow Cooker Bolognese
This Slow Cooker Bolognese recipe is so easy, no browning needed. Perfect to top spaghetti or use in lasagne.
To prepare this as a dump bag:
Add all ingredients apart from the Worcester sauce and basil to the bag. Defrost and cook as per the rest of the instructions.
Click here for the full recipe
Let me know how you got on and what you thought of these recipes. Please rate the recipe using the ⭐️ below.
Also I'd LOVE to see your cooking creations. If you'd like to share yours with me, you can tag me on Instagram (@tamingtwins).