This post may contain affiliate links.
So many of you ask for slow cookers recommendations, so I thought I would put some to the test. Here are the results!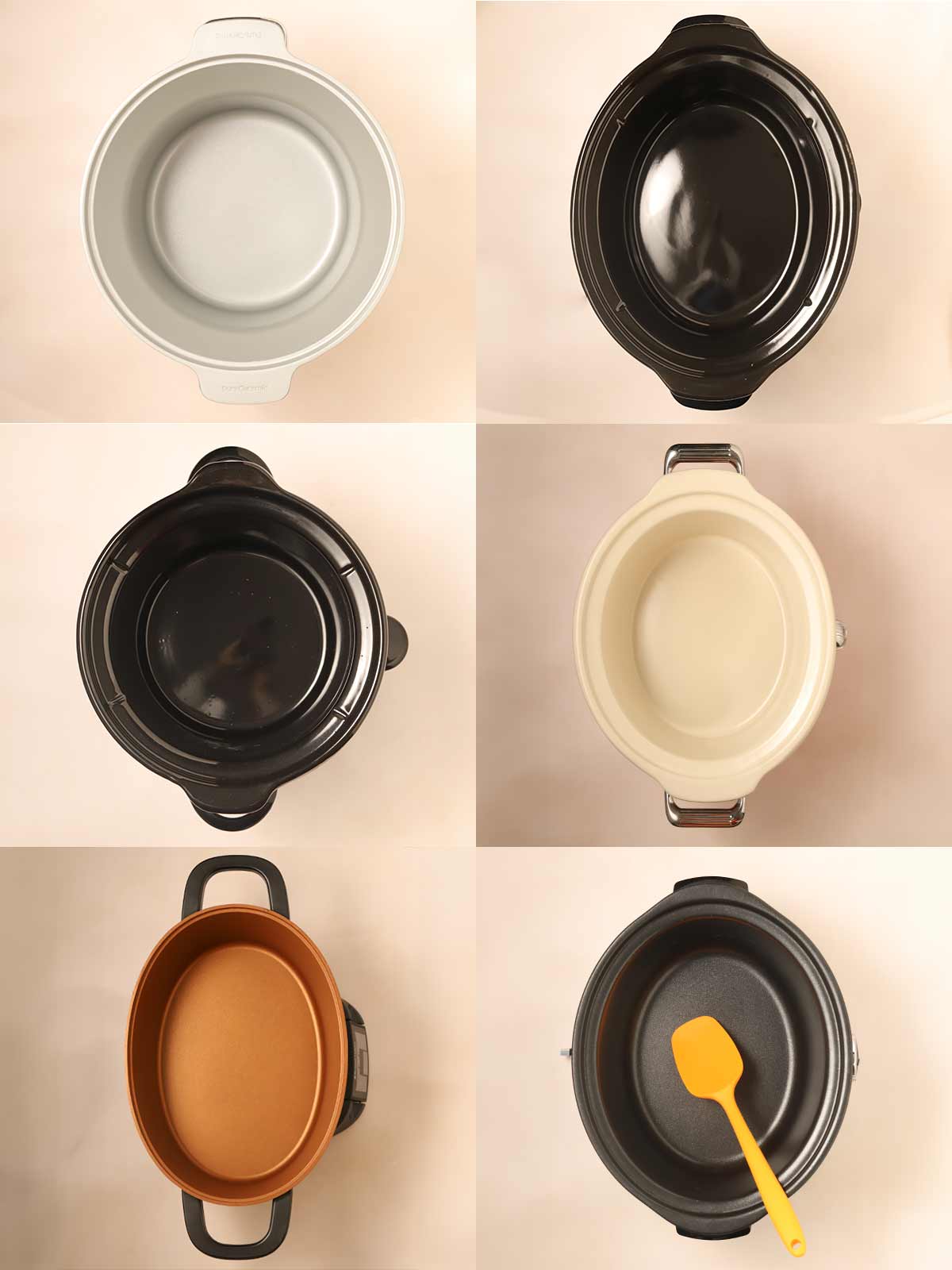 Bringing you a huge variety of handy, healthy and delicious slow cooker recipes is one of my life's goals, but what about the appliance itself?
I thought it was time to put some slow cooker machines through their paces to find out which out there on the market might fit our needs the best, because getting a good one can honestly be a game-changer.
We tried all of them rigorously to find out which ones passed the test and might be the best slow cooker for you.
Important features we looked for:
⭐️ Best for gas hob (for initial meat browning/sautéing without using a different pan)
⭐️ Best for induction hobs
⭐️ Dishwasher safe
⭐️ Suitable for families
⭐️ Good price
⭐️ Amazon reviews of over 4.5 ⭐️
We tested each slow cooker at least 3 times using different recipes from my site that we know work.
---
Slow Cooker Reviews
⭐️ BEST OVERALL ⭐️
⭐️ BEST FOR SEARING WITHOUT A HOB ⭐️
⭐️ TOP PICK FOR INDUCTION HOB ⭐️
⭐️ TOP PICK FOR SMALL PORTIONS ⭐️
⭐️ TOP PICK FOR GOOD LOOKS ⭐️
⭐️ TOP FAMILY BUDGET PICK ⭐️
---
Why use a slow cooker?
If you're new to slow cooking and haven't yet experienced its virtues, here are just a few reasons to invest in one (I could go on and on but I'll keep try to keep it brief!)
Saves electricity: These devices are so energy efficient compared to ovens or hobs, using only about 1.3kWh for 8 hours cooking time. The Energy Saving Trust say they use about the same amount of electricity as a standard light bulb.
Depth of flavour: Cooking ingredients long and slow creates a delicious depth of flavour.
Convenience: There is just something so simple about being able to put everything in and know a meal is going to be ready later, when time might be tighter. Yes it requires a bit of thinking ahead, but the rewards are great.
More room in the oven: If you are making this as part of a bigger roast dinner, using a slow cooker means you've got plenty of room left in the oven for everything else!
Healthy options: Because everything cooks together and the flavours marinate over time, there's often no need for frying, so it can be a healthier choice.
Low maintenance cooking: Slow cookers don't get hot enough to burn or catch the food on the sides, which means there is rarely a need to stir what's inside, allowing for truly hands-off cooking.
Cost saving: Not only does it save on electricity but slow cooker meals allow us to use cheaper (but tastier) cuts of meat that are perfect for cooking on a low heat over an extended period of time.
---
Looking For Slow Cooker ReciPES?
---
All information above was correct at the time of publication, but please check and verify before purchasing or using as information and products can regularly change.
I hope this guide is useful. Let me know if you'd like me to test any other kitchen favourites!