Say hello to Mexican flavours in this crowd pleasing Slow Cooker Pork Carnitas recipe. So easy to pull together and totally delicious.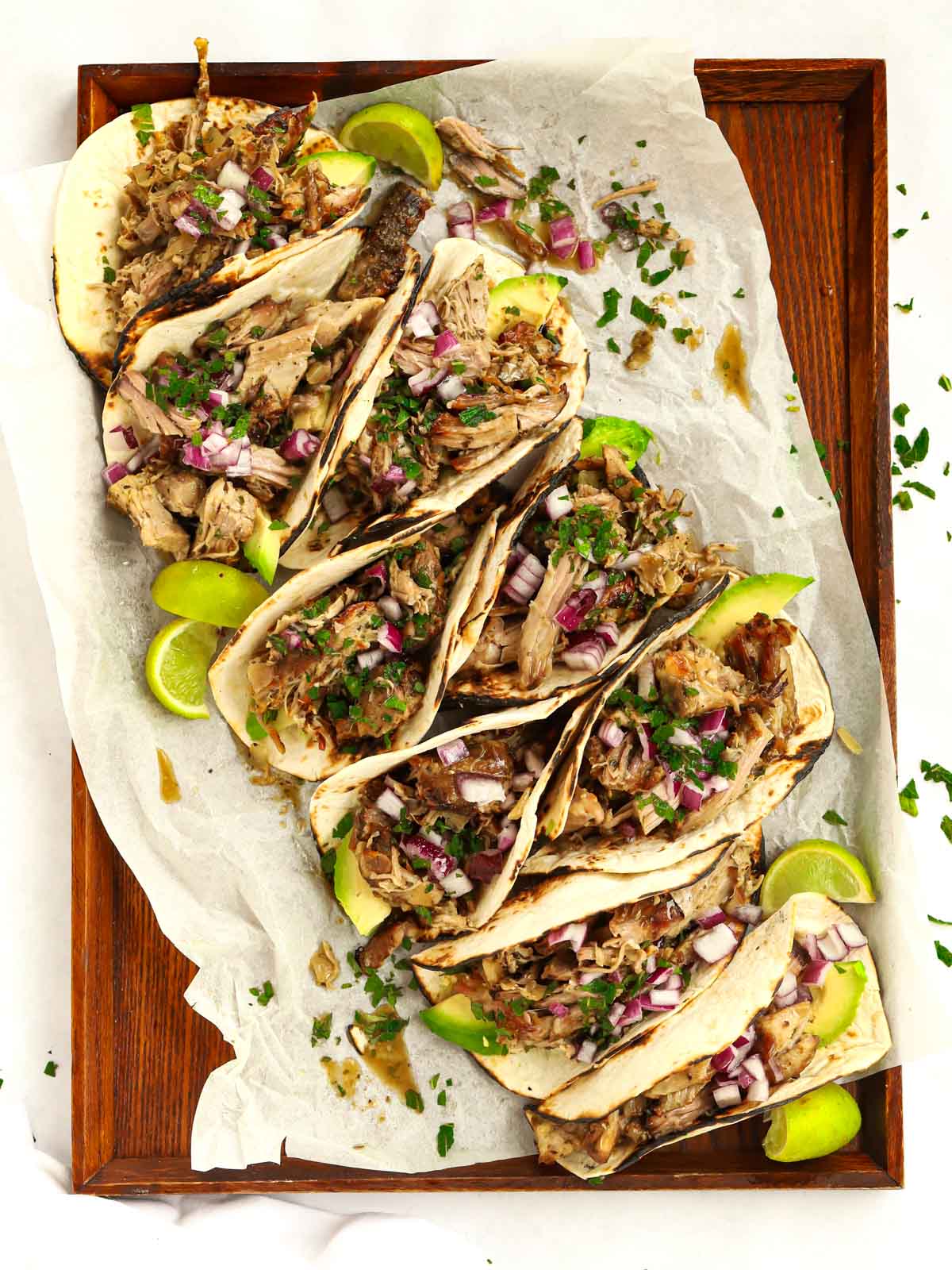 This Slow Cooker Carnitas recipe is a total crowd please AND super low effort. Win win.
I absolutely love the flavours of Mexico, so here's my take on Carnitas. Basically, Mexican style pulled pork, where the pork cooks very slowly so it's as juicy and succulent as possible, then pulled apart and served up in tacos or tortillas, or however you like.
What I love about this recipe is that it's minimum effort and all the flavour, while keeping costs low by using the pork shoulder cut of meat. You can cook it all for a big gathering or batch cook ahead for the freezer for another day too – I think you're going to love this.
You'll love this recipe because:

✅ The perfect weekend fakeaway

✅ Easy, delicious and low cost

✅ Batch cook ahead for the freezer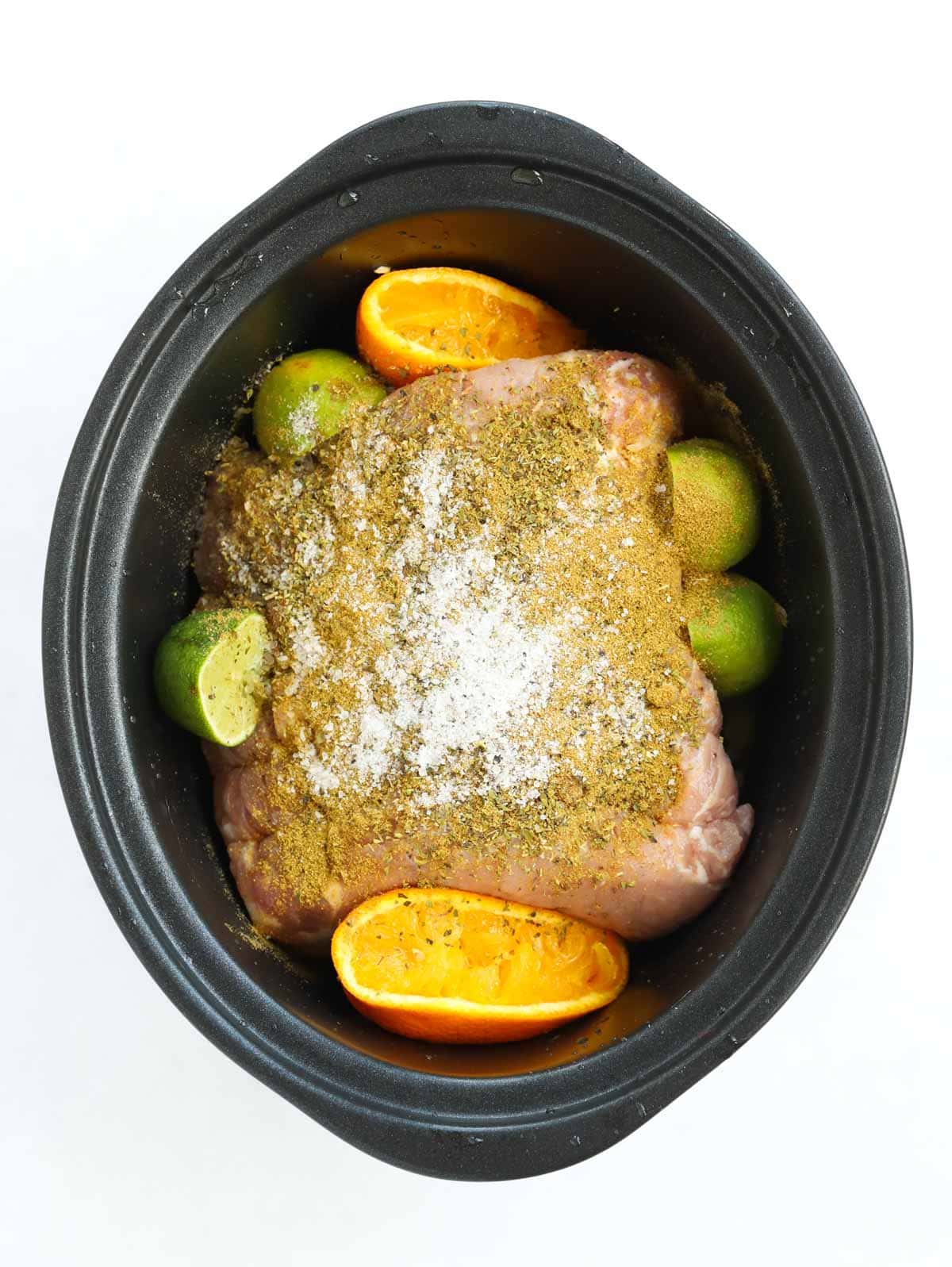 FAQs about this Slow Cooker Carnitas Recipe
Is this recipe authentic?
These Pork Carnitas, while incorporating similar flavours, are in no way going to taste 100% like the real deal. They are my interpretation based on the amazing versions I've eaten in the past.
Traditional Carnitas are cooked in a copper pot as these distribute the heat evenly. Here is a video showing how they're cooked in Mexico if you'd like to learn more.
Is pork shoulder the best cut of meat to use?
Carnitas traditionally use pork shoulder because of the fat content, which is what makes the dish so tasty and juicy when cooked slowly. It's also a fantastic value-for-money cut of meat. I like to cut some of the fat off before cooking but it's up to you.
How should I pull the pork?
Once the meat is cooked, lift the pork out of the juices and, using two forks, shred the meat up. Place it all onto a grill-proof baking sheet and see the recipe for what to do with the juices once the pork has been pulled.
Do I have to put this under the grill before serving?
You don't HAVE to, but this part of the method (step 6 in the recipe) which involves putting the meat under the grill or your broiler gives the Carnitas the crunchy texture, which is so delicious.
Does this freeze well?
It sure does. Freeze the leftovers and defrost them another day for a different meal. I like to use the mix in stir fries or quesadillas.
What slow cooker would you recommend?
I always recommend my trusty favourite – the Morphy Richards Sear & Stew Slow Cooker. With this one you can brown meat on the hob first (for those recipes where you really have to) and it's also really light. If you have an induction hob, I would recommend the Lakeland Digital 6.5l Slow Cooker instead.
If you haven't already heard me talking about it, here is the Tp Link Tapo Smart Plug too. This allows you to switch the slow cooker from your phone while you're out, making slow cooking even more convenient!
What can I serve the Pork Carnitas with?
If you want that gathered-around-the-table-sharing-food experience, I'd go for tacos or tortilla wraps with side dishes of lime, avocado, sour cream or yoghurt, and cheese. But you could go American-style and load it all on potato wedges with coleslaw.
You could also spoon into bread rolls for pulled pork sandwiches, or even use the mix as a pasta base. If you want to keep it Mexican-style, load onto tortilla chips for loaded nachos instead.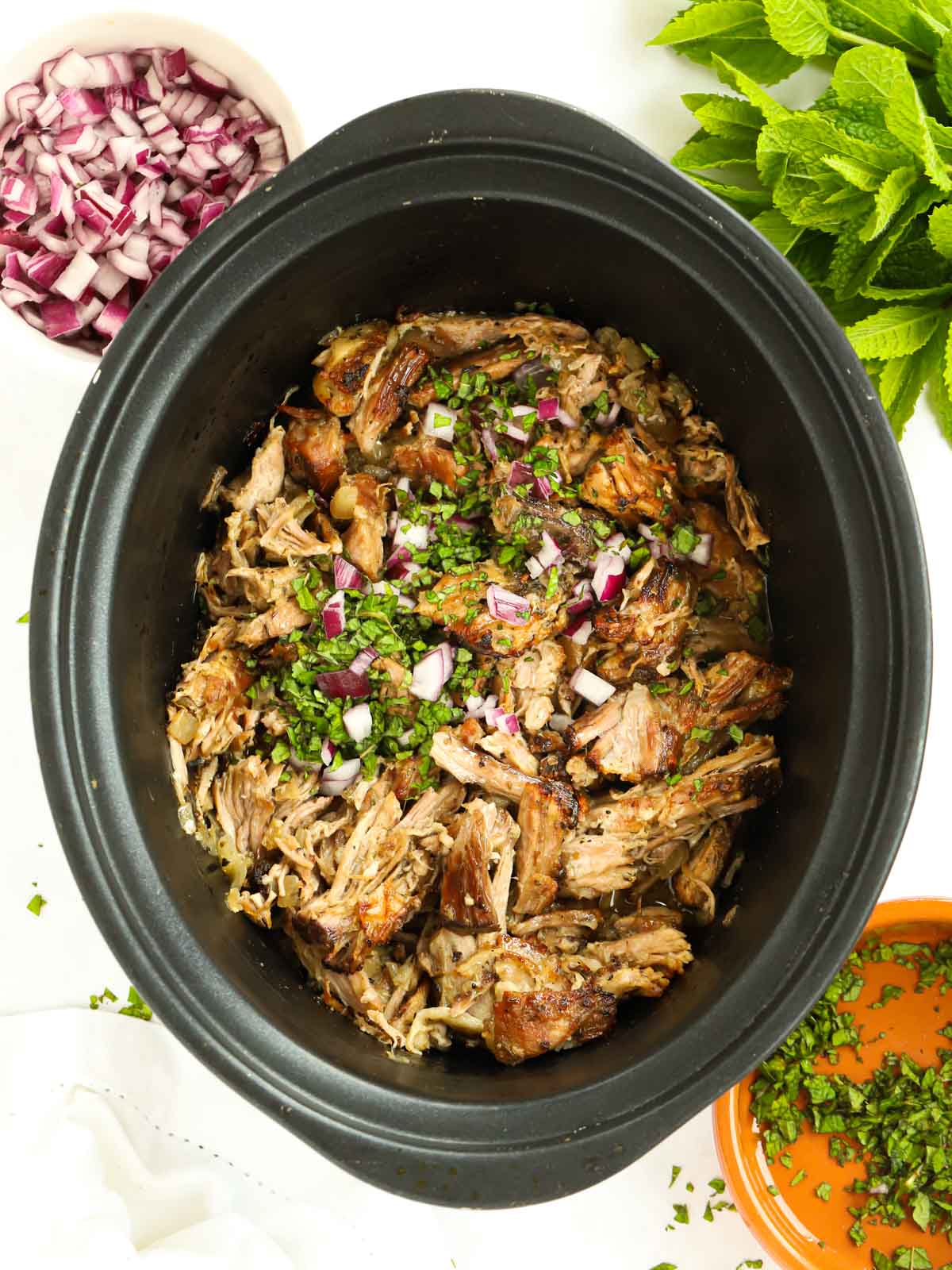 Fancy more Mexican-inspired recipes?
Hope you enjoy this recipe as much as we do.
I'd love to know how you got on and what you thought of it if you make this recipe. Please rate the recipe using the ⭐️ by the recipe. Also, if you'd like to show me a photo by tagging me on Instagram (@tamingtwins) I LOVE to see your creations.
Slow Cooker Pork Carnitas
If you're looking for a crowd-pleaser or a new weekend family favourite, my Pork Carnitas recipe is the newest addition to my Summer Slow Cooker Series and it's so so good!
Ingredients
2

kg

Pork shoulder

As much fat removed as you easily can

1

Onion

Peeled and chopped

2

Limes

Cut in half

1

Orange

Cut in half

2

tsp

Salt

2

tsp

Ground cumin

2

tsp

Dried oregano

Freshly ground black pepper
Instructions
Put the pork shoulder into the slow cooker and add the onion.

Squeeze over the limes and orange and put the squeezed fruits around the pork.

Sprinkle over the salt, cumin, oregano and a generous sprinkle of pepper.

Put the lid on and cook on HIGH for 7-8 hours or LOW for 11-12 hours, or until the meat breaks apart very easily with a fork.

When the meat is cooked, lift it out of the juices (don't throw them away!) and shred it into chunks. Put them onto a grill-proof baking sheet.

Put the meat under a hot grill for about 5-10 minutes, turning once or twice, until some of the 'prickly' bits are crispy and charred.

Discard the fruit from the cooking liquid and put the crunchy pork back in and stir through the liquid.
Notes
Leftovers:
This dish freezes well, so you can save some for another day if you have too much.  Grilling:
You don't have to do the grilling stage, however do if you can as it gives the meat the crunchy texture and makes it taste so good. Fat:
You can skim the fat off the liquid at step 7 if you like, before adding the meat back. Sauce: 
If you have a lot of liquid at step 7, or if you want your pork dish to have a richer sauce, you can reduce it down on the hob before returning it to the meat. Just heat over a medium heat in a suitable pan until it is thicker and reduced down, then add the meat back in.
Nutrition (per serving)
Calories:
271
kcal
Carbohydrates:
4
g
Protein:
46
g
Fat:
7
g
Saturated Fat:
2
g
Trans Fat:
1
g
Cholesterol:
120
mg
Sodium:
575
mg
Potassium:
822
mg
Fiber:
1
g
Sugar:
2
g
Vitamin A:
48
IU
Vitamin C:
12
mg
Calcium:
37
mg
Iron:
2
mg
Made it? Tag me!
Tag @TamingTwins so we can admire your make ⭐️