This Campfire Stew recipe is a really easy way to cook gammon in the slow cooker. Packed with veggies and beans, it's makes a tasty meal.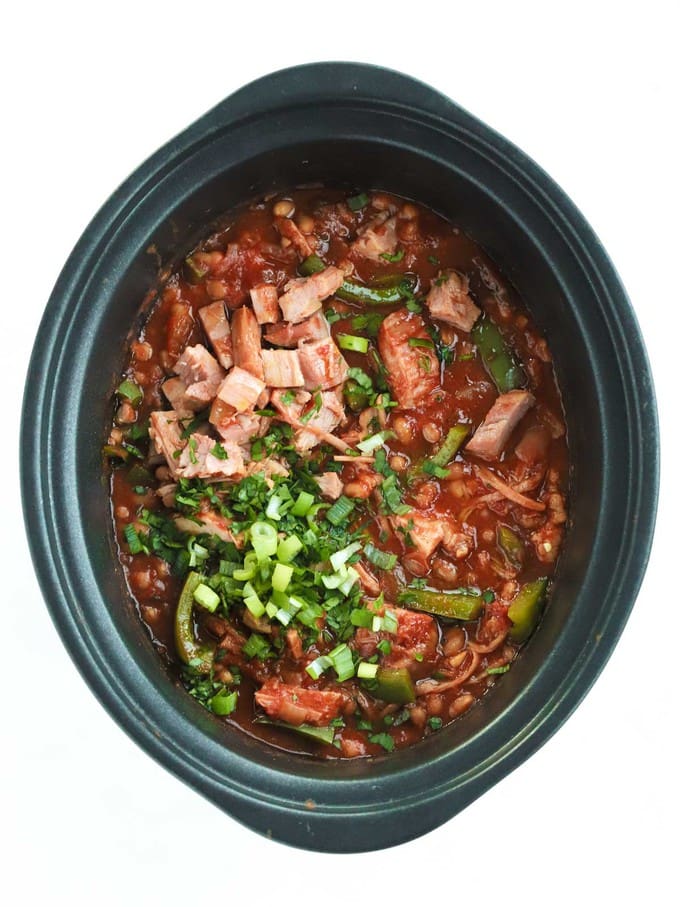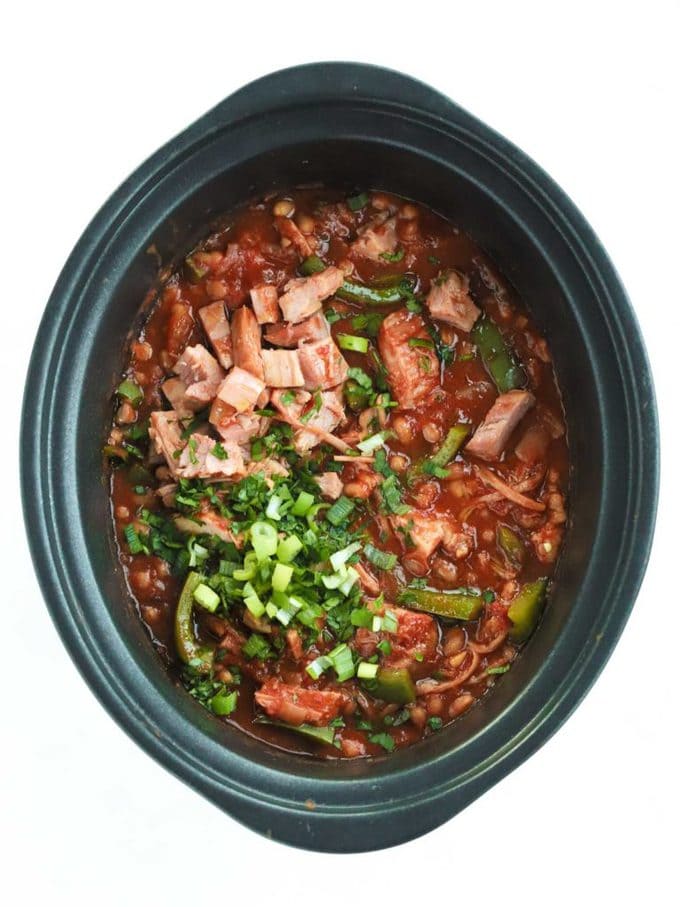 Slow Cooker recipes that can just be popped in in the morning without too much thought are 100% my happy place right now.
Who's with me?!
I've been making this Campfire Stew for years as a way to slow cook gammon as a whole meal and I've just come back to it recently as it's such brilliant comfort food.
I love it served with crunchy potato wedges and a sprinkle of grated cheese. Enjoy!
You'll love this Campfire Stew because:

✅ It's packed with vegetables and a tasty sauce.

✅ Hardly any preparation, throw it all in.

✅ Delicious leftovers, cook once and eat twice 🙌🏻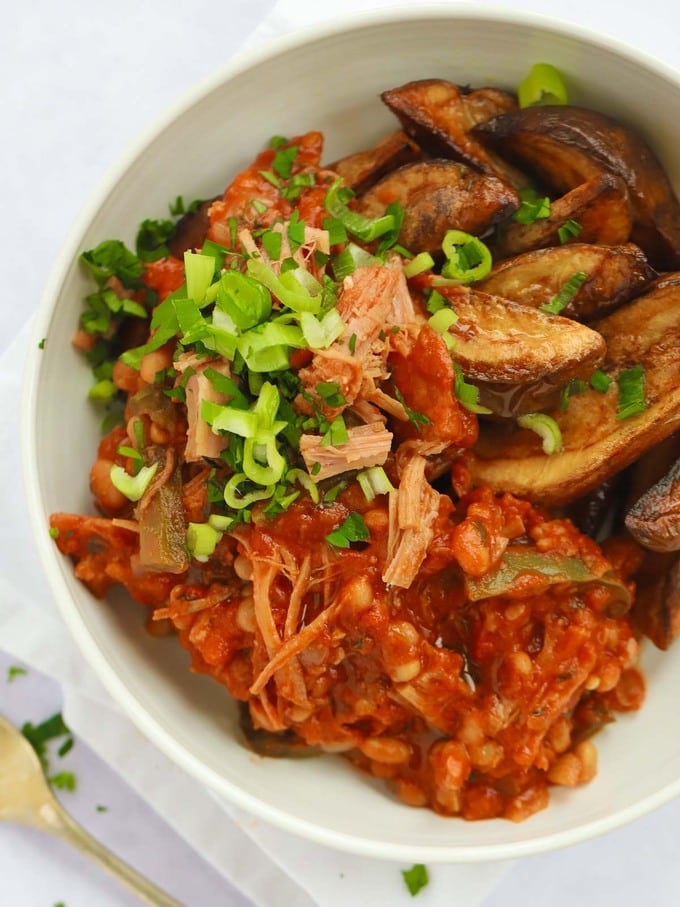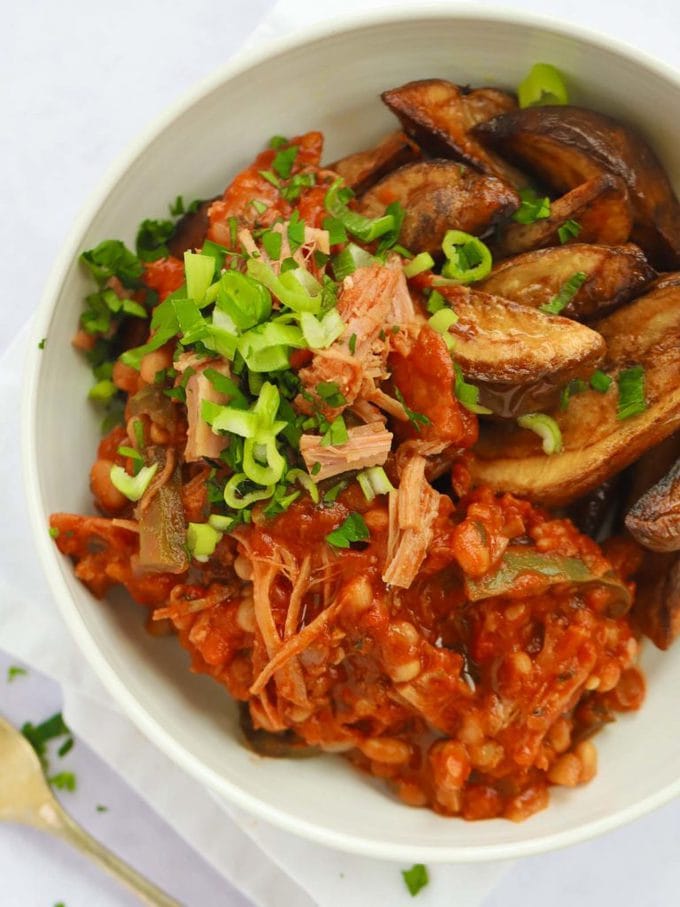 FAQs on the Campfire Stew recipe
Can I cook this in the oven if I don't have a slow cooker?
Sure. Cook at 160C for about 2 hours or until the meat is soft and tender.
Should I use smoked or unsmoked gammon?
Like with any bacon, it's personal taste. Either is fine, just decide if you want that smokey flavour or not.
Do I need to soak the gammon joint?
If you're in the UK, most gammon joints, even smoked ones are now quite mild. I never soak mine.
However, if you're concerned about food being too salty, or if that's not to your taste, you can soak it in fresh cold water for a couple of hours before adding to the slow cooker.
If you're in the USA, uncooked ham joints tend to be much stronger in flavour so follow the instructions on that joint about whether you should soak it first.
I'm in the USA and can't find Baked Beans?
No problems, just substitute 2 cans of any other cooked bean and add 4 tbsp of extra tomato paste.

Notes on the Campfire Stew Recipe

I don't add the green peppers until towards the end of the cooking time. (There's notes at the bottom of the recipe on this.) Just because I'm not keen on them when they are overcooked. You can add them at the start if you like though.
Leftovers of this are SO good. I think it maybe gets even more tasty?
This recipe was originally inspired by a Slimming World recipe many moons ago.

What to serve with the Campfire Stew
Baked potatoes
Rice
Potato Wedges
Cous cous
Cauliflower Rice
In Enchiladas/Wraps
On toast
With a fried egg
Add sliced chillis or chilli sauce
With mashed potatoes
Fancy some other easy Slow Cooker recipes ?
Hope you enjoy this recipe. I'd love to know how you got on and what you thought of it if you make this recipe. Please rate the recipe using the ⭐️ below!
Also, if you fancy showing me a photo by tagging me on Instagram (@tamingtwins) I LOVE to see your creations and try and share as many of them as I can.
Easy Campfire Stew
This Campfire Stew recipe is a really easy way to cook gammon in the slow cooker. Packed with veggies and beans, it's makes a tasty meal.
Ingredients
1

Large

Onion

See Note 1.

3

Cloves

Garlic

See Note 1.

400

g

Tinned chopped tomatoes

2

Tins

Baked beans

(2 x 415g tins)

2

tbsp

Tomato puree

2

tsp

Cumin

4

tsp

Sweet Smoked Paprika

See Note 2.

1/2

tsp

Mild chilli powder

3

tbsp

Worcestershire sauce

600

g

Gammon joint

Fat layer cut off. See Note 3.

2

Green peppers

See Note 4.
Instructions
Put all of the ingredients (apart from the peppers SEE NOTE 4 below) into the slow cooker.

Cook on HIGH for 6 hours or LOW for 8 hours.

When the stew is cooked, microwave the chopped green peppers for about 3 - 4 minutes until just softened.

When the meat joint is cooked and tender, shred the meat with a knife or two forks and add in the green peppers.

Stir everything well and serve.
Notes
Note 1 - Onions and garlic
I use pre prepared frozen, chopped here. An onion weighs about 150g, so replace with that pre chopped weight. Garlic is about 5g per clove so I use 15g (3 teaspoons).
Note 2 - Sweet Smoked Paprika
Be sure to use SWEET Smoked, not HOT. The outcome will be very different if you mix them up!
Note 3 - Gammon Joint
Slightly bigger is fine if you can't get the exact size. Smoked or unsmoked to your taste is also fine.
Note 4 - Green peppers
I hate overcooked bell peppers, but you have 3 options here for adding the peppers:
Add them with all of the other ingredients before cooking, if you don't mind them very soft, no probs!
Add them to the slow cooker about an hour before the stew is due to be cooked, they will be just nicely soft - BUT this isn't always possible if you're not at home right?
Here's what I do: When the stew is ready, I pop the chopped peppers into a covered bowl and microwave them for 4 minutes before adding to the stew before serving (you could also quickly fry them if you don't have a microwave).
Your choice!
Nutrition
Calories:
202
kcal
Carbohydrates:
12
g
Protein:
21
g
Fat:
8
g
Saturated Fat:
2
g
Cholesterol:
73
mg
Sodium:
1335
mg
Potassium:
696
mg
Fiber:
3
g
Sugar:
6
g
Vitamin A:
383
IU
Vitamin C:
65
mg
Calcium:
58
mg
Iron:
3
mg
Made it? Tag me!
Tag @TamingTwins so we can admire your make ⭐️