If you've never tried making your own Homemade Oven Chips – now's your chance! This method is ridiculously simple.
With a few simple tricks, these skin on fries are lighter and cheaper than a bag of frozen chips.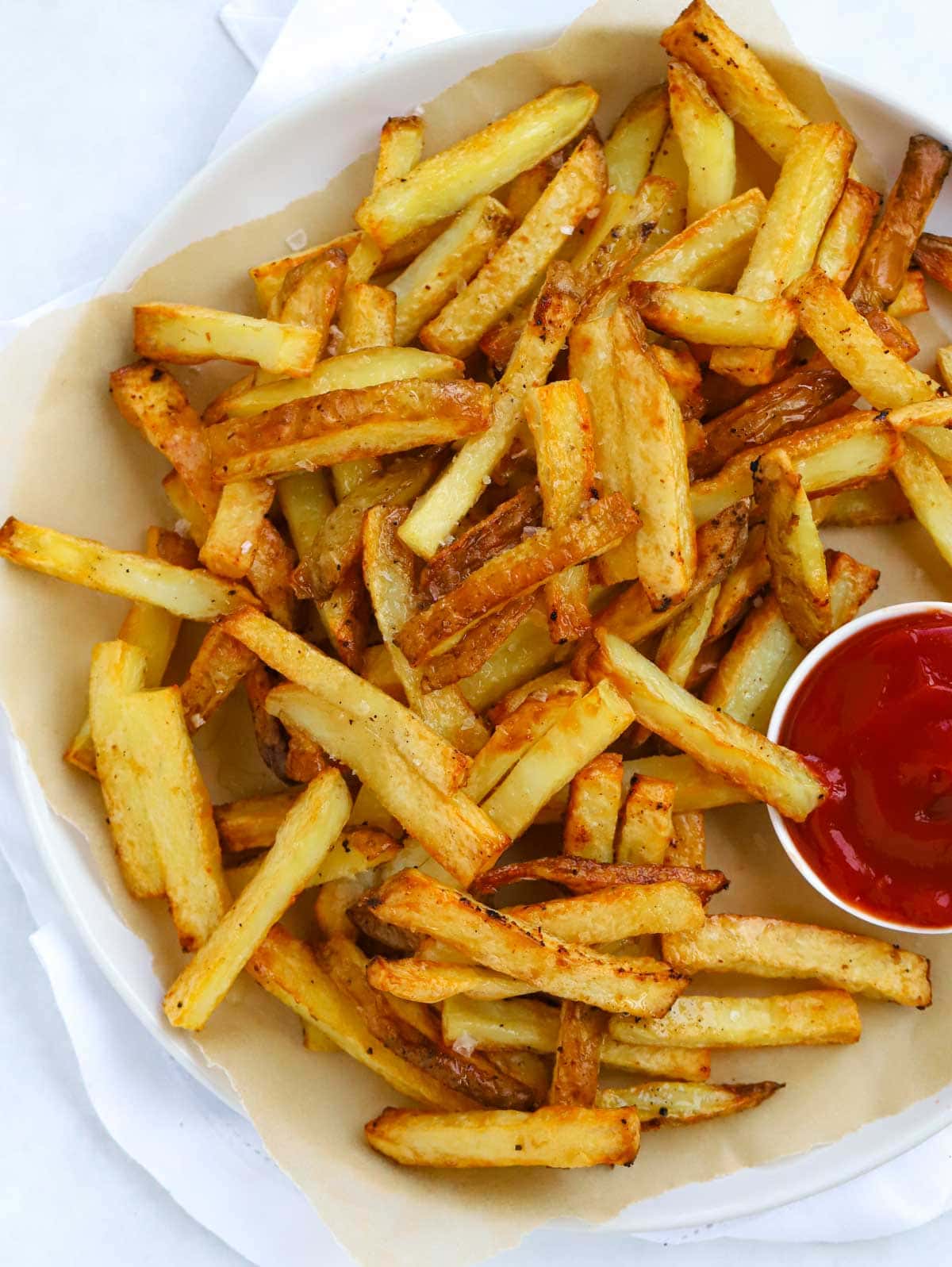 Oh hello fresh oven chips at home! Are they the perfect, greasy, deep fried fish and chips shop chips? Maybe not. But are they perfectly acceptable for a home cooked dinner – absolutely yes!
Making Homemade Chips doesn't have to mean deep frying to get the flavour. This recipe involves zero faff – no soaking, no peeling, no nonsense. You can serve them up alongside loads of different meals too and everyone will love them.
See how Homemade Oven Chips pair with these recipes:
---
Why you'll love this Skin On Fries recipe
⭐️ Comfort food satisfaction
⭐️ Gluten-free, vegan and healthy
⭐️ Zero faff and good value
---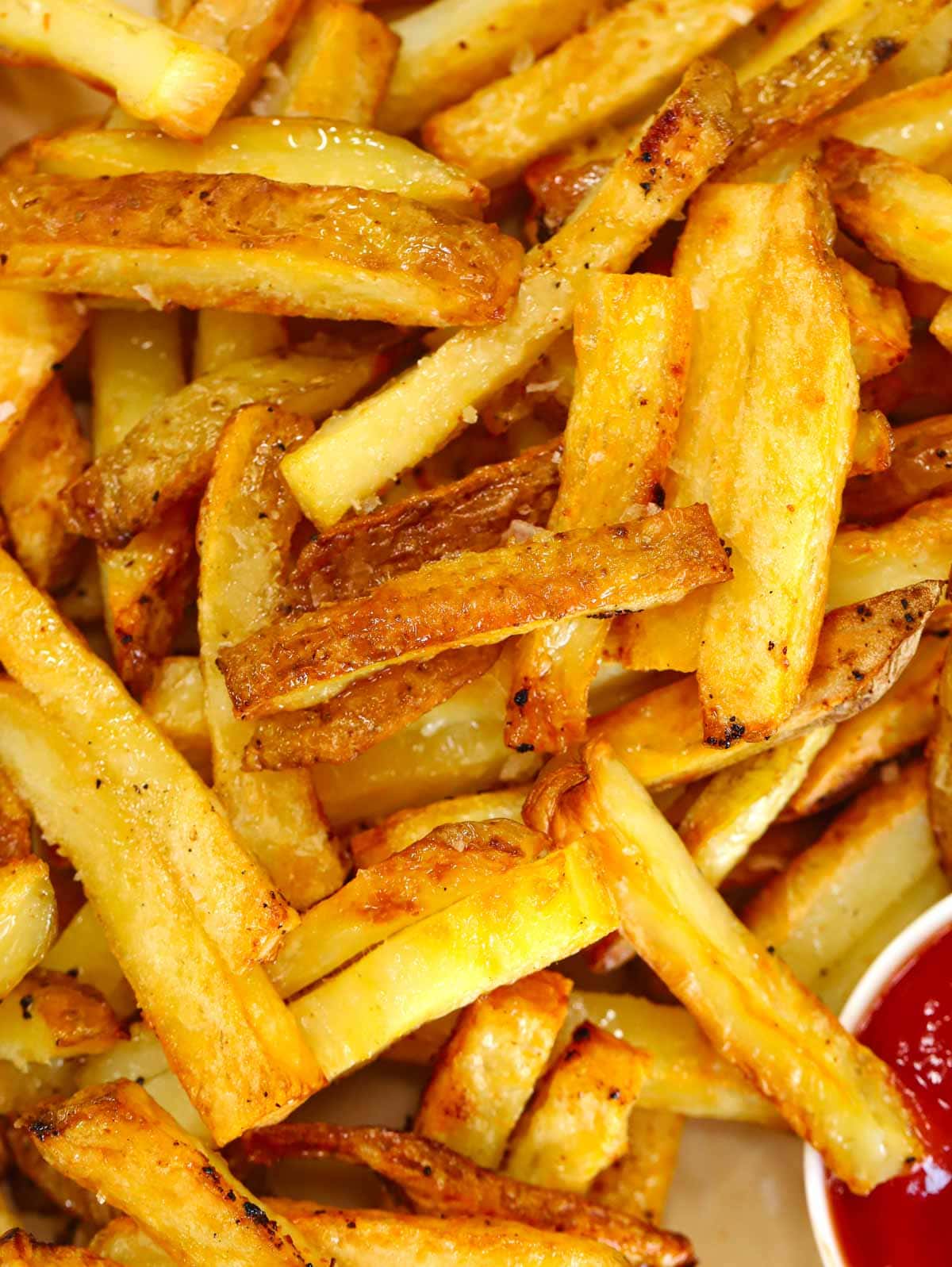 About these Homemade Oven Chips
Out of the many ways to cook potatoes, there is no doubt that the firm favourite in most households is the humble chip.
No need for deep pans with bubbling fat (do you remember chips pans in the kitchen being a thing?!) And no need to dish up bland, unhealthy pre-made ones from a bag either.
Take some potatoes, cut them up, add a little olive oil, sprinkle some garlic powder, some salt and pepper, and put them in the oven until crispy. That's just about all there is to it. No need to peel so we have perfect skin on fries awaiting.
When it comes to the type of potatoes to use, Maris Piper or King Edwards are perfect for chips. Also, potatoes that have been hanging around in the cupboard for a while are apparently even better as they've dried out a little – who knew?
All that said, use whichever variety you have. While they may not be the ultimate chip every time, they'll still be delicious. Read more about which potatoes are best for doing what with in this potato guide.
---
Homemade Oven Chips Ingredients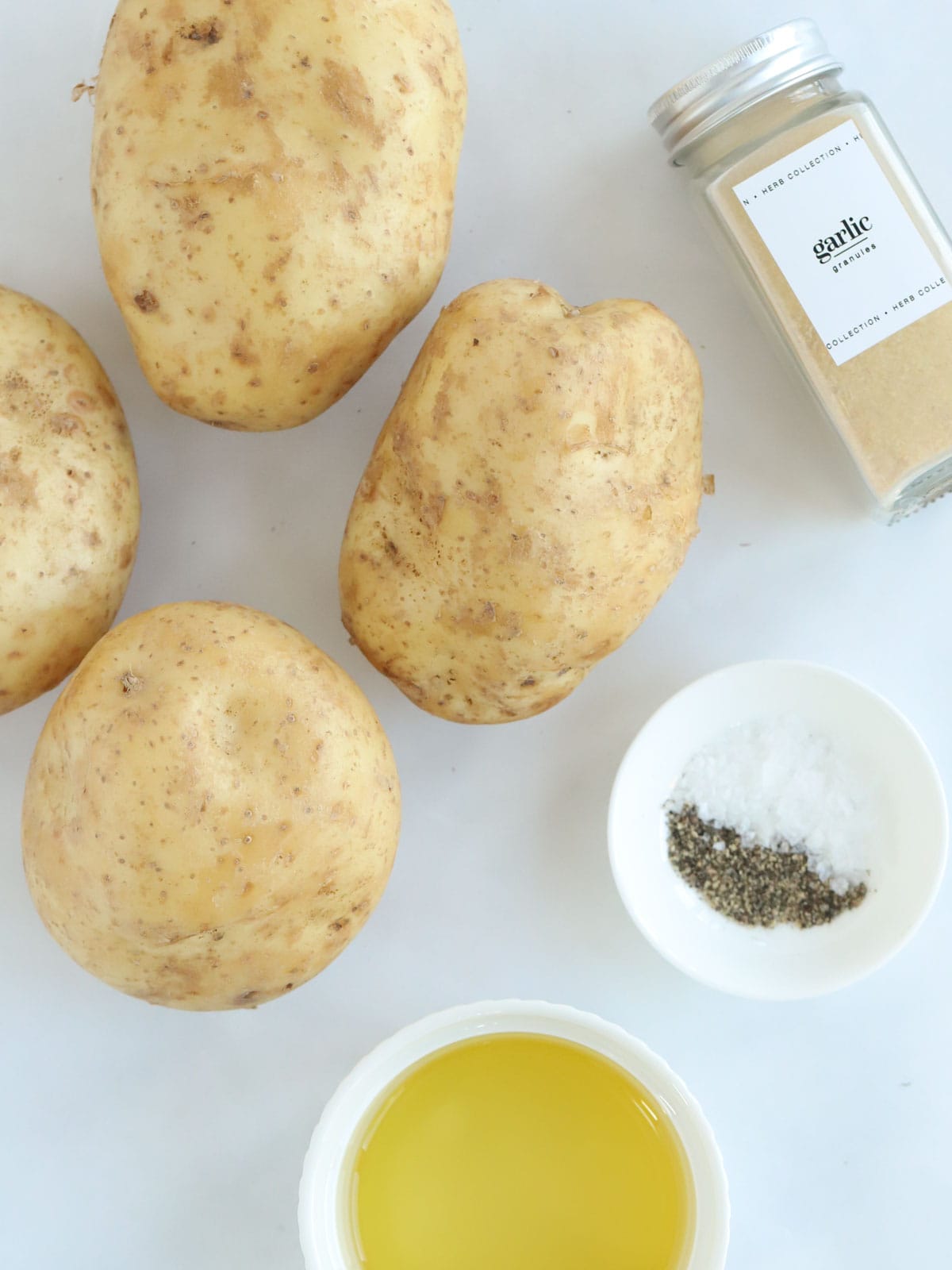 Potatoes – Maris Pipers or King Edwards are ideal, but any kind will also do.
Olive oil – Use this to coat the potatoes. Sunflower or vegetable oil is OK too. A light flavour or flavourless is best.
Garlic powder – For some added taste.
Salt and pepper – To taste.
---
How to make Homemade Chips in the Oven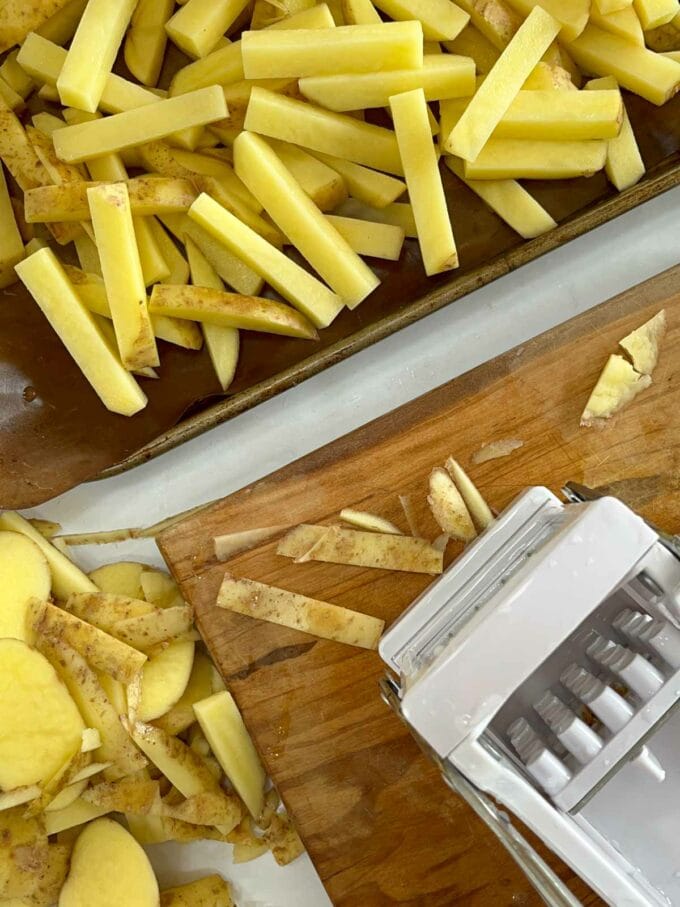 1. Preheat the oven and cut the potatoes into 1cm chip shapes.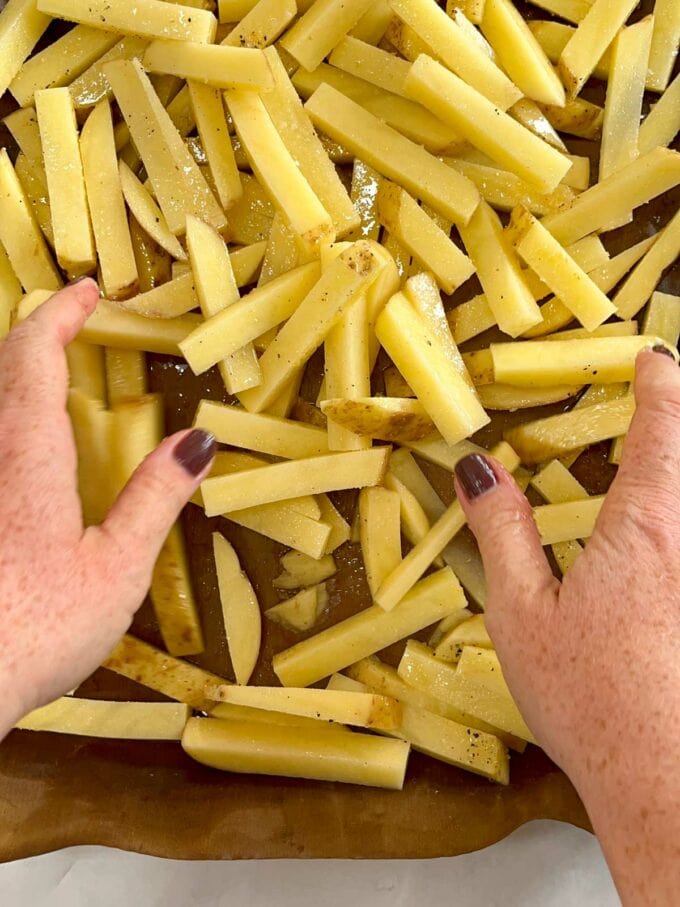 2. On a baking sheet sprinkle oil, garlic powder, and salt and pepper over the chips until they're well coated. Bake until crunchy and golden, turning once (as per the recipe below).
---
Substitutions
Flavourings
If you fancy taking the skin on fries up a notch, you could try adding one of the following:
1tsp chilli powder or chilli flakes
2 tsp smoked paprika
2 tsp onion powder
Leftovers
In the fridge You can keep this recipe in the fridge for 3 days. Reheat fully before serving. HOWEVER, be prepared – they will go a little soggy if heated in the microwave, but honestly I'd still eat them as a late night snack found in the fridge!
Top tips for making Homemade Oven Chips
Peel or not to peel?
I don't bother as I am far too lazy and also quite like the texture with the skin on and a lot of people prefer skin on fries because of the additional flavour. Of course, it's up to you though and if you'd like to peel first, feel free.
How to cut the chips
I used this gadget, which has had a lot of use in my house: KitchenCraft Potato Chipper.
The machine isn't perfect. It's a bit clumsy and clunky and doesn't feel super sturdy, BUT I still love it as the chips are so perfectly sized.
To cut them up by hand, just turn the potatoes lengthways, carefully cut into 1cm slices and then cut each slice into 1cm strips.
How to get them crispy
If they're not quite as crispy as you'd like, this is almost always because they need more time to cook or they are overcrowded on the oven tray.
Soaking the uncooked chips
I've read about people doing this and tried it. It's supposed to remove some of the starch from the potatoes before cooking. I guess it makes them a tiny bit crispier, but for me it's not worth the extra step.
If you want to try it, when you've cut the chips up, soak them for 30 minutes in cold water. Then drain and pat dry before continuing.
Skin On Fries FAQs
Do I need to parboil homemade chips?
Honestly, you can do this but I'm a big fan of omitting any unnecessary steps. I think the end result of cooking them like this is just that they won't stay as crispy for as long after cooking.

So if you let them hang around they would go a little soft. Does this matter when you'll be eating them sharpish though?!
Are these chips healthy?
These chips are cooked with very little oil so are much lighter than a usual deep fried chip.

If you leave the skins on too they contain more fibre than your average chip.

Are homemade chips gluten free?
Yes they are! Naturally gluten free.
Let me know how you got on and what you thought of these recipes. Please rate the recipe using the ⭐️ below.
Also I'd LOVE to see your cooking creations. If you'd like to share yours with me, you can tag me on Instagram (@tamingtwins).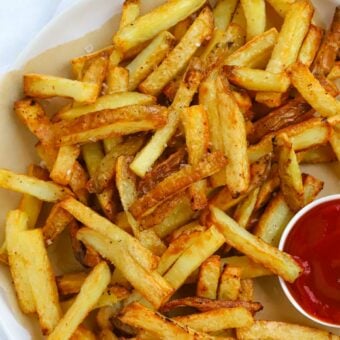 Easiest Ever Homemade Oven Chips
If you've made your own homemade chips you aren't going back to the frozen oven variety, that's for sure. These vegan, gluten-free skin on fries are the perfect accompaniment to many family dinners.
Ingredients
1

kg

Potatoes

2

tbsp

Olive oil

2

tsp

Garlic powder

Salt and pepper
Instructions
Preheat the oven to 200c. Cut the potatoes into 1cm chip shapes. Line a baking sheet (see notes) and put the chips on. Sprinkle over the oil, garlic powder and salt and pepper.

Toss the potatoes so they are totally coated in the oil and the seasoning.

Bake for 45 mins. Flip and cook for another 10-15 minutes until cooked to your preferred level of crunchiness!
Notes
When adding to the baking tray, don't overcrowd the chips or they might not go as crispy as you'd like and will take longer to cook.
Nutrition (per serving)
Calories:
259
kcal
Carbohydrates:
45
g
Protein:
5
g
Fat:
7
g
Saturated Fat:
1
g
Polyunsaturated Fat:
1
g
Monounsaturated Fat:
5
g
Sodium:
16
mg
Potassium:
1070
mg
Fiber:
6
g
Sugar:
2
g
Vitamin A:
5
IU
Vitamin C:
49
mg
Calcium:
31
mg
Iron:
2
mg
Made it? Tag me!
Tag @TamingTwins so we can admire your make ⭐️