The easiest ever Slow Cooker Gammon recipe – A Ham joint cooked in cider, smothered in honey, mustard and brown sugar for a delicious outer crunch.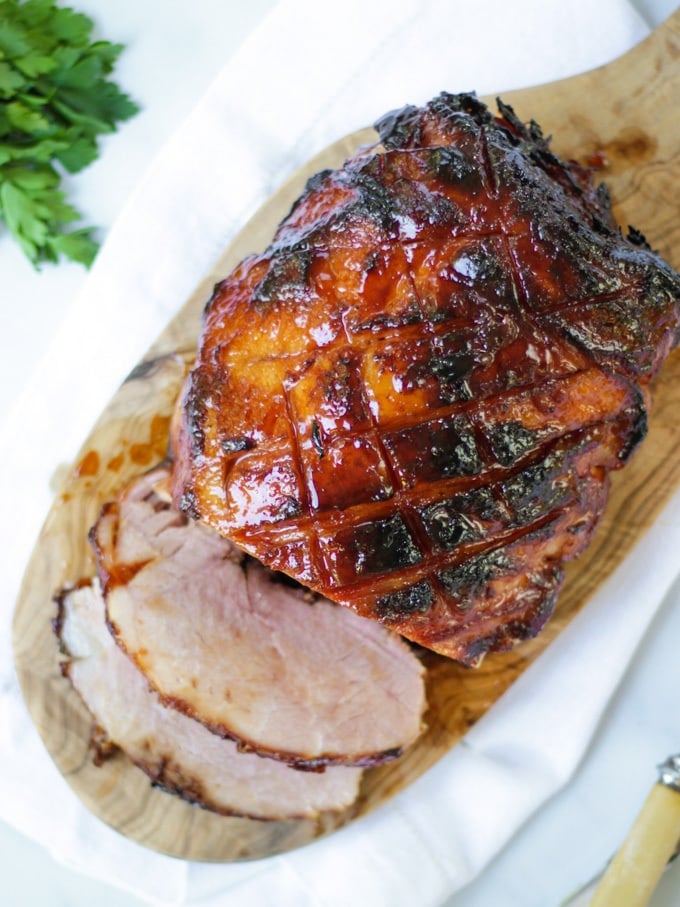 I first published this recipe as my Cider Christmas Ham recipe here in 2014. Oh my goodness, that feels like a lifetime ago now.
The Slow Cooker Gammon recipe is still just as good though. It's sweet and tangy from being cooked in apple juice and cider. Deliciously tender with that moreish honey and brown sugar outer crust. What's not to love?!
This year, I just decided to play around with it a little and see it I could simplify it for busy lives. I tried it in the slow cooker (or crock pot if you're American) and it was a definite winner.
I also feel like it's too good to save JUST for winter or Christmas. This boneless joint would be perfect for any Sunday lunch.
You'll love this Slow Cooker Ham recipe because:

✅ Delicious hot or cold.
✅ Doesn't take up oven space for too long.
✅ It's a showstopper to bring to the table!
FAQs about the Slow Cooker Gammon recipe
How long should I cook a ham in the slow cooker?
The beauty of this recipe is it can take as long as you have.
You can leave it in your slow cooker on HIGH for 4-6 hours, or if you are out at work all day, on LOW for 6-8. It's so versatile.
If you were in a huge rush, you can cook the ham on the hob for around 2 hours (see the tips section for more accurate timings).
What is the best type of gammon for slow cooking?
Ham on the bone does retain moisture and keeps its shape well but today I used a boneless joint. It's easy to handle and easy to carve. It's personal preference really, just adjust your timings accordingly.
I prefer to use smoked ham rather than unsmoked as it gives a greater depth of flavour. However, just choose the best quality, ideally British ham you can find in your local supermarket. Again, in terms of taste it's personal preference. Use which bacon you'd buy as a guide.
How much liquid do you need for a slow cooker ham?
I like to almost cover my ham with the liquid as this makes the cooked ham really juicy and moist.
This slow cooker gammon recipe uses 500ml of cider and 1ltr of apple juice.
You can vary the amount of apple juice depending on the size of your slow cooker. Or all apple juice instead of cider if you prefer to use no alcohol.
Tips on making slow cooker ham:
I bought this slow cooker (crock pot if you're in the USA) last year and our love affair continues!I've never been a big slow cooker fan but this has made such a difference, I've used it SO much. It's light and easy to lift, really affordable too and the pan can be used on the hob as well as in the slow cooker, hurrah! Available from Amazon: Morphy Richards Sear and Stew Slow Cooker.
You could also make this recipe on the hob, for this you need to know the weight of your joint. It requires 30 mins cooking per 450g/1lb plus an additional thirty minutes. Then finish in the oven as per the recipe to glaze the joint.If I cook my Christmas ham this way, I tend to work out the total cooking time, then make sure that the boiling time + the oven time = the total so it's not overcooked.
If you are eating the ham cold you can refrigerate it for up-to 3 days before eating.
Rather than discarding the liquid you can use it for stock. Ham stock is great for making soups, just test to make sure it isn't too salty before using.
If you are unsure of how to tell if your ham is cooked I've invested in a really simple and easy to use digital thermometer. (Only about £6 on Amazon) It is great for testing joints of meat and achieving that perfect rare roast beef.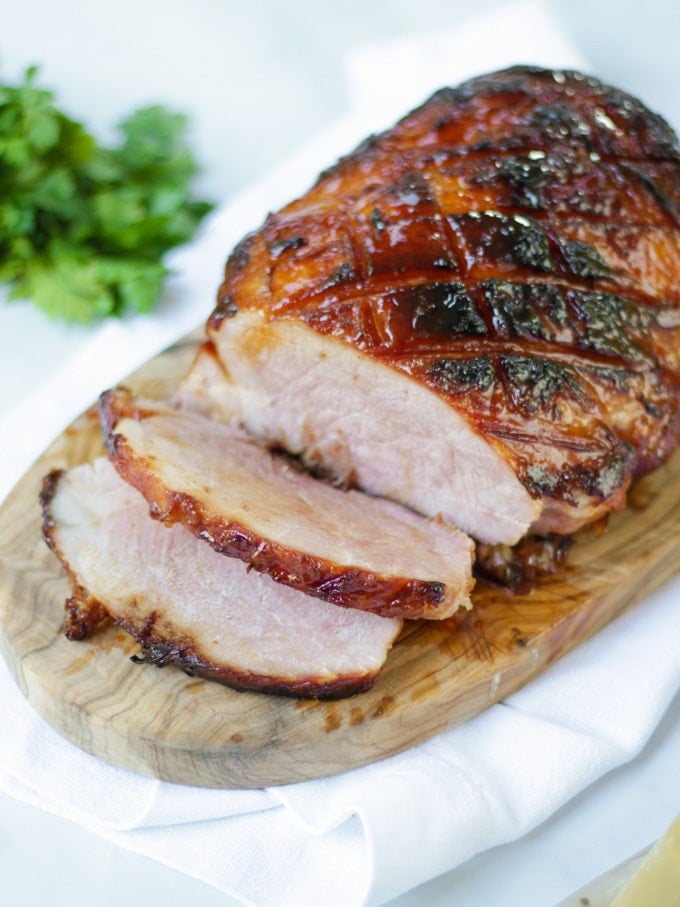 Fancy some other slow cooked recipes?
Hope you enjoy this recipe. I'd love to know how you got on and what you thought of it if you make this recipe. Please rate the recipe using the ⭐️ below!
Also, if you fancy showing me a photo by tagging me on Instagram (@tamingtwins) I LOVE to see your creations and try and share as many of them as I can.
This post was originally published on Dec 05, 2014 and rewritten and with new photos on Nov 15, 2018.
Slow Cooker Gammon - The BEST Ham Joint
The easiest ever Slow Cooker Ham recipe - A gammon joint cooked in apple juice and/or cider with spices for added flavour, smothered in honey, mustard and brown sugar for a delicious outer crunch.
Ingredients
Smoked

bone out gammon (about 2kg)

1

Carrot

thickly sliced

1

Onion

cut in to quarters

3

tbsp

Mixed Spice

500

ml

Cider

1

ltr

Apple juice

depending on the size of your slow cooker
For the glaze:
6

tbsp

Runny honey

3

tbsp

Dark brown sugar

1

tbsp

English mustard powder

This is optional, if you like the flavour of mustard
Instructions
Turn on your slow cooker, this recipe can be done either on high or low depending how hungry you are!

Quarter the onion and thickly chop the carrot.

Rub the mixed spice on to the ham.

Put the onion, carrot and ham joint into your slow cooker.

Add in your cider, and upto 1ltr of apple juice (the exact quantity depends on the size of your slow cooker, ideally the joint would be covered)

Place the lid on and cook on high for 4-6 hours OR low for 6-8 hours. If you can baste, and turn the joint whilst cooking.

When the cooking time is complete, take out of the slow cooker and discard the vegetables, liquid and spices.

Remove the string and layer of fat/skin (if your gammon has them). Score the fat.

Put into a roasting pan and drench in the honey. Pat the sugar onto the honey. (Make sure you line the baking tin with tin foil as the honey and sugar combo can really stick to the pan!)

Roast for the remaining 30 minutes at about 200C until the ham is just blackening and crispy at the edges.

When cold, store in the fridge and enjoy whenever!
Nutrition
Calories:
148
kcal
Carbohydrates:
30
g
Sodium:
15
mg
Potassium:
106
mg
Fiber:
1
g
Sugar:
26
g
Vitamin A:
1700
IU
Vitamin C:
2.6
mg
Calcium:
36
mg
Iron:
0.9
mg
Made it? Tag me!
Tag @TamingTwins so we can admire your make ⭐️