These are the ULTIMATE comfort food treat – Loaded Potato Skins stuffed with crispy bacon and cheese are totally delicious and so easy to make.
This is such a basic recipe that has amazing results from such simple ingredients. Perfect for feeding up your family, at a buffet or even just as a snack in the fridge for peckish children (and grownups).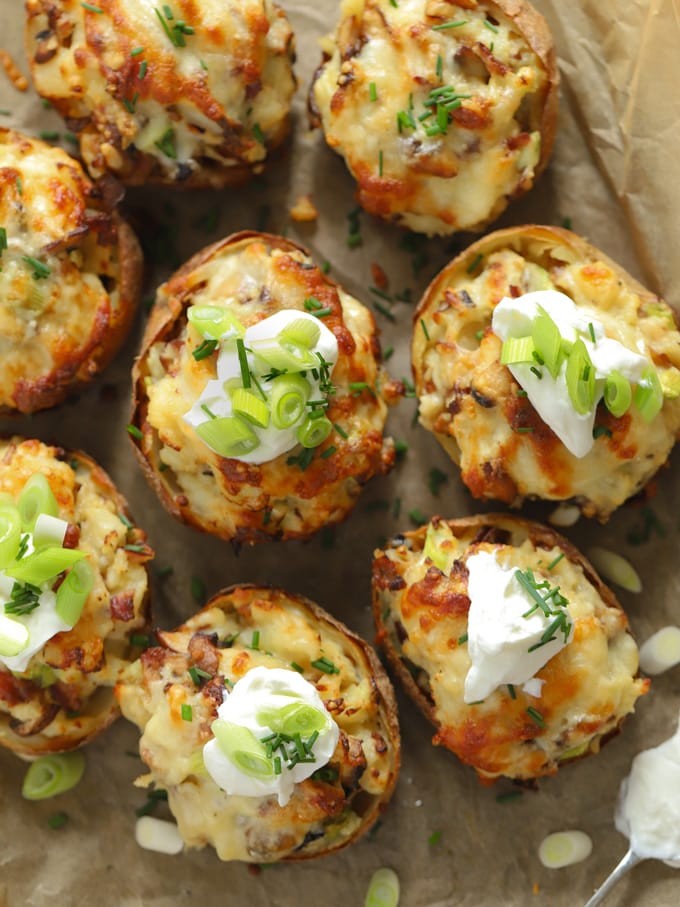 What I love most about Stuffed Potato Skins is that you can adapt this recipe really into whatever filling you like (there are some other loaded potato skin ideas further down).
These transform your plain jacket potato into something special. They're perfect for a weekend fakeaway style meal or for a special lunch or picnic. You can serve them as a main course with beans and salad, or as a side dish to a bigger meal.
These are my little secret indulgence – make a batch for the freezer and your family will love you forever!
---
Why you'll love this recipe
⭐️ A cheap and easy meal
⭐️ Family favourite and a big hit with kids
⭐️ Feels like a treat, better than a takeaway
---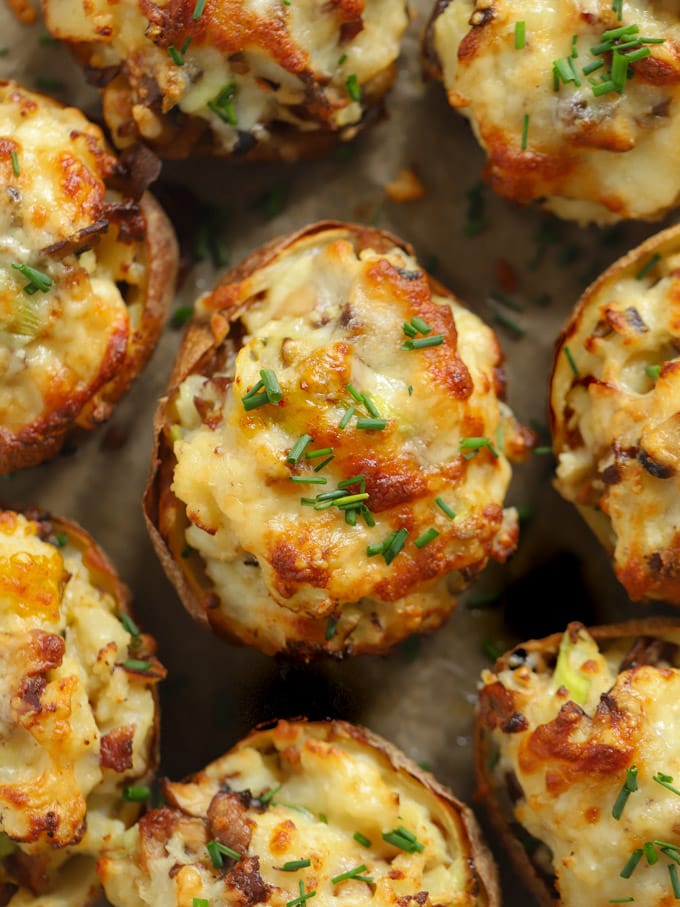 What are Loaded Potato Skins?
Essentially they are baked potato skins with the cooked potato filling scooped out and mashed up with a variety of different delicious flavours.
They became popular after restaurants began serving them up as starters or side dishes, but I'm here to tell you that they're SO EASY to make at home, and so worth trying out (you won't look back).
Loaded Potato Skins (or Stuffed Potato Skins) can be made with leftover baked potatoes or especially made jacket potatoes.
---
What to put in Loaded Potato Skins
For this recipe we're stuffing the crispy potato skins with bacon, cheese, mushrooms, spring onion and cream cheese (combined together with an egg), but there are LOADS of ways you can adapt this. Basically throw in what you like!
Some ideas include other kinds of veg or cheese, ham instead of bacon, sour cream, chorizo, chillies, chilli beans… the list is endless. You can make these vegetarian or vegan if you prefer too.
Potato Skins Loaded: Ingredients
Baking potatoes
Olive oil
Bacon
Mushrooms
Spring onions
Cream cheese
Egg – I use medium free range
Cheddar cheese
Salt and pepper
To serve:
Sour cream
Spring onions
Chives
---
How to make Loaded Potato Skins
Some recipes scoop out all of the potato mash in the middle and just have the crunchy potato skins. You can do that with these if you prefer but I love the gooey, carby comfort of the cheesy mash filling. Plus this way makes a full meal.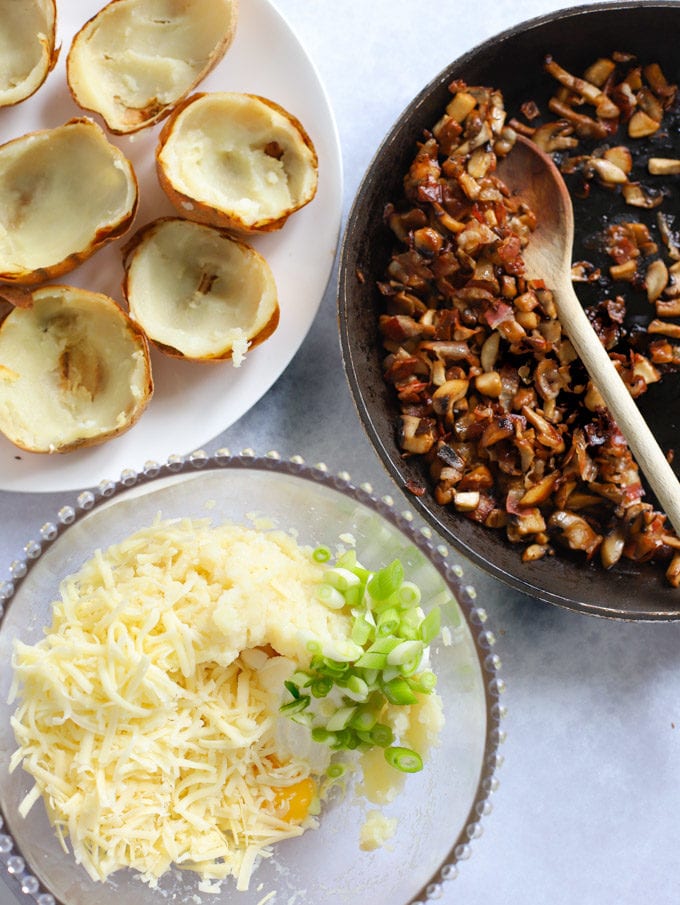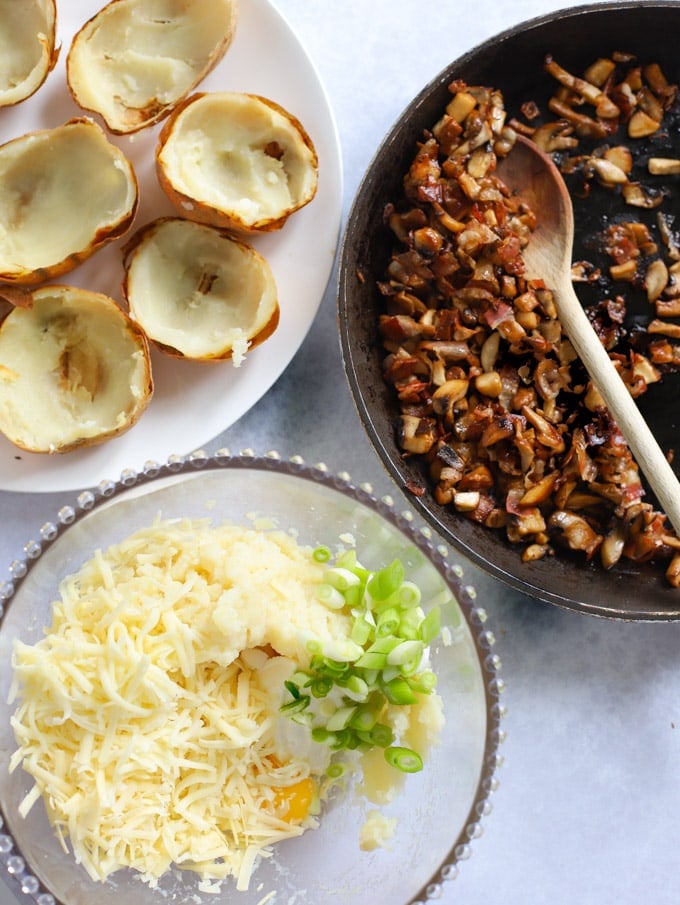 1. Bake the potatoes until cooked. Allow to cool slightly and cut in half and scoop out the middle into a bowl. Put the skins back into the oven for 10 minutes to crisp up.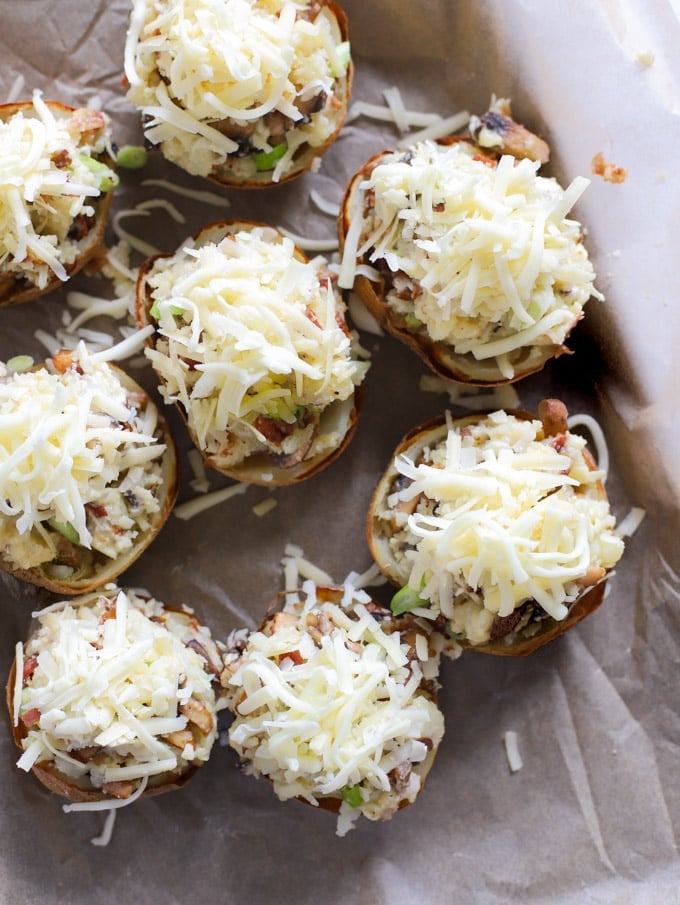 2. Meanwhile, fry the mushrooms and bacon. Add the filling ingredients into the bowl with the potato filing and mash together. Share the mixture into the skins, top with cheese and pop back in the oven for 10 minutes.
---
Some of my other favourite potato recipes
Make Ahead Tips for Potato Skins
Make a batch of these for the fridge or freezer!
In the fridge You can keep this recipe in the fridge for 3 days. Eat cold or reheat them fully in the microwave or oven before serving.
In the freezer This recipe freezes well. Just wait until it's totally cold and then put into a freezer proof container and freeze for up to 3 months. Defrost thoroughly before reheating in the microwave or oven.
Tips for making Stuffed Potato Skins
Leave some skin
Make sure you leave a little of the potato skin behind when scooping out to make sure the 'shell' is sturdy enough not to tear.
Substitutions
Choose whichever style of bacon you prefer (smoky or not) or you can use pancetta or something similar too.
If you don't have any cream cheese, you can omit this OR add more grated cheese, or something to make it a bit smoother like milk, cream or creme fraîche.
Very strong cheddar is best for flavour. A little added mozzarella gives that extra melted stretch.
You can swap sour cream for Greek yoghurt, creme fraîche or mayonnaise.
FAQ
What are the best potatoes for potato skins?
Go for the kind that when roasted are soft and fluffy on the inside but crispy on the outside, like floury Maris Piper, King Edward or Rooster. Salad or boiling potatoes won't work well because they tend to dry out.
What can I serve with these Potato Skins?
It depends on how you're eating them. You could have them as part of a weekend buffet with pizza and garlic bread, or on their own with beans and salad, as a side dish at a party or even as a starter to a bigger meal.
Are Potato Skins gluten free?
Yes, potatoes are naturally gluten free. Your choice of filing will make all the difference to whether the whole dish is gluten free, so check those ingredients first.
Can baked potato skins be frozen?
Yes, you can freeze them. Just defrost them fully before reheating them in either the oven or the microwave.
Let me know how you got on and what you thought of these recipes. Please rate the recipe using the ⭐️ below.
Also I'd LOVE to see your cooking creations. If you'd like to share yours with me, you can tag me on Instagram (@tamingtwins).
Loaded Potato Skins (with Bacon and Cheese}
These Loaded Potato Skins stuffed with crispy bacon and cheese are the perfect easy comfort food. Melting cheesy goodness baked in a jacket potato.
Ingredients
4

Large baking potatoes

1

tbsp

Olive oil

250

g

Bacon

Chopped into small pieces.

250

g

Mushrooms

Chopped into small cubes.

4

Spring onions

Finely chopped.

50

g

Cream cheese

See notes.

1

Egg

Medium free range.

150

g

Cheddar cheese

See notes.

Salt and peper
To serve:
Sour cream

See notes.

2

Spring onions

Chives

See notes.
Instructions
Preheat the oven to 220C and bake the potatoes for about an hour until they are cooked all the way through (or use leftovers!)

Allow to cool slightly.

Cut the potatoes in half and scoop out the middle into a bowl (set aside). Make sure you leave a little behind so that the 'shell' is still sturdy.

Put the empty potato shells onto a baking tray and pop them back into the oven for about 10 minutes.

Meanwhille, heat the oil in a frying pan and fry the bacon and mushrooms until cooked and crispy.

Add the bacon, mushrooms, spring onions, cream cheese, egg, HALF of the grated cheddar and plenty of salt and pepper into the bowl containing the inside of the potatoes from earlier. Mash all together well.

Remove the potato shells from the oven and share the mixture between them. Top with the remaining cheese.

Pop back into the oven for about 10 minutes until the cheese is bubbling and crispy.

Serve with the sour cream and the extra chopped spring onions.
Notes
Bacon: I like to use smoky bacon for added flavour. Pancetta cubes would be even better if you're feeling fancy. Cream cheese: If you don't have any cream cheese, you can omit this, OR add more grated cheese or forage frais or creme fraiche or even a little milk or cream. It just adds a smoother texture to the mash but isn't vital. Cheddar: Very strong cheddar is best for flavour. Sometimes I like to mix it up and add in some mozzarella for the top sprinkles to make it extra stretchy and cheesy. Sour cream: You can substitute this for greek yoghurt, forage frais, creme fraiche or even mayonnaise.  Chives: These make a lovely, tasty garnish but aren't necessary if you don't have any.
Nutrition (per serving)
Calories:
318
kcal
Carbohydrates:
5
g
Protein:
26
g
Fat:
22
g
Saturated Fat:
10
g
Polyunsaturated Fat:
1
g
Monounsaturated Fat:
6
g
Trans Fat:
0.01
g
Cholesterol:
85
mg
Sodium:
1562
mg
Potassium:
323
mg
Fiber:
1
g
Sugar:
3
g
Vitamin A:
684
IU
Vitamin C:
5
mg
Calcium:
305
mg
Iron:
1
mg
Made it? Tag me!
Tag @TamingTwins so we can admire your make ⭐️