This easy Chicken and Bacon Pasta Bake is a winner for the whole family. It's packed with veggies, has a delicious creamy sauce base and is topped with cheese. You'll get no complaints from the kids with this one!
Fill your boots with this cheesy, carby goodness that is so satisfying in any season. This recipe for Chicken and Bacon Pasta Bake is comfort food, pure and simple. The best thing is, it's healthy too. And so quick and easy!
This has always been one of my go-to dishes, and there's so many ways you can mix it up. It's a brilliant way of getting chicken and vegetables into the kids, and the bacon and cheese just add to the whole yummy flavour. But really you can add your own favourite ingredients or anything you have left needing using from the fridge. (I'm thinking broccoli, carrots, mushrooms, that kind of thing.)
Every home cook needs a cheap and easy Pasta Bake in their repertoire, right? Here is my offering. I hope it'll be added to your go-to midweek meals too!
You'll love this recipe because:

✅ Easy and adaptable (mix it up each week)

✅ Healthy and so comforting

✅ Fantastic for lunch leftovers

FAQs about this Pasta Bake Recipe
How do you make Chicken and Bacon Pasta Bake?
Start with bacon and chicken breasts, browned in a pan until delicious and golden. Add vegetables and garlic while cooking your pasta in another pan. Make the creamy sauce by making a cornflour 'slurry' and heating the milk until it's nice and thick. Drain the pasta, mix everything together and top with cheese. Bake until you have a dish of cheesy gorgeousness (totally a thing).
TIPS: If you're using leftover cooked chicken, add this to the sauce without browning. Whatever timing that your pasta pack says, cook it in the boiling water for a minute or two less. This means that when you add your pasta to the tomato sauce, it won't get over cooked. When you chop your fresh basil, squish it a little with your knife. This really brings the flavour out.
Do you cook the pasta before baking in a pasta bake?
It's always best to cook pasta in fresh boiling water and then drain before adding to a pasta sauce to make a pasta bake. This prevents the sauce from becoming too thick and means you can gauge the consistency of the sauce more easily.
Do I have to use an oven for this dish?
No! If you'd prefer to not put the whole oven on for your pasta bake, you can just pop it under the grill (or broiler) to melt the cheese on top. Just make sure that the sauce and pasta are hot all the way through from being in the saucepan before transferring to your shallow dish.
What should I serve with Chicken and Bacon Pasta Bake?
Really this is a one-stop-shop easy meal that requires not further effort. However, if you're up for adding extras to the meal to make it go further or because you're entertaining, you could serve this with a side salad or garlic bread.
Can I make this pasta bake recipe vegetarian?
You sure can! Just omit the chicken and bacon and replace with extra vegetables or Quorn. If you eat fish, my mum often made this with drained tinned tuna for a Tuna Pasta Bake (just add the tuna to the tomato sauce when you add the cooked pasta). Other meat options could be meatballs, sausage or chorizo.
Is pasta bake healthy?
This pasta recipe is already quite low in fat (and packed with veggies) but can be made super low fat by replacing the olive oil with a spray like Fry Light and using very lean bacon.
How can I use the leftovers?
Pasta Bake is a brilliant dish to eat as leftovers or for a packed lunch or picnic. Just store it in the fridge until you're ready to eat it (for not more than a couple of days) and enjoy. If you want to reheat it, make sure it's piping hot before serving again, and never reheat more than once.
Can you recommend a good pasta bake dish?
My most favourite enamelware are these dishes from Amazon. They are light, easy to clean, look gorgeous and are super cheap. What's not to love?!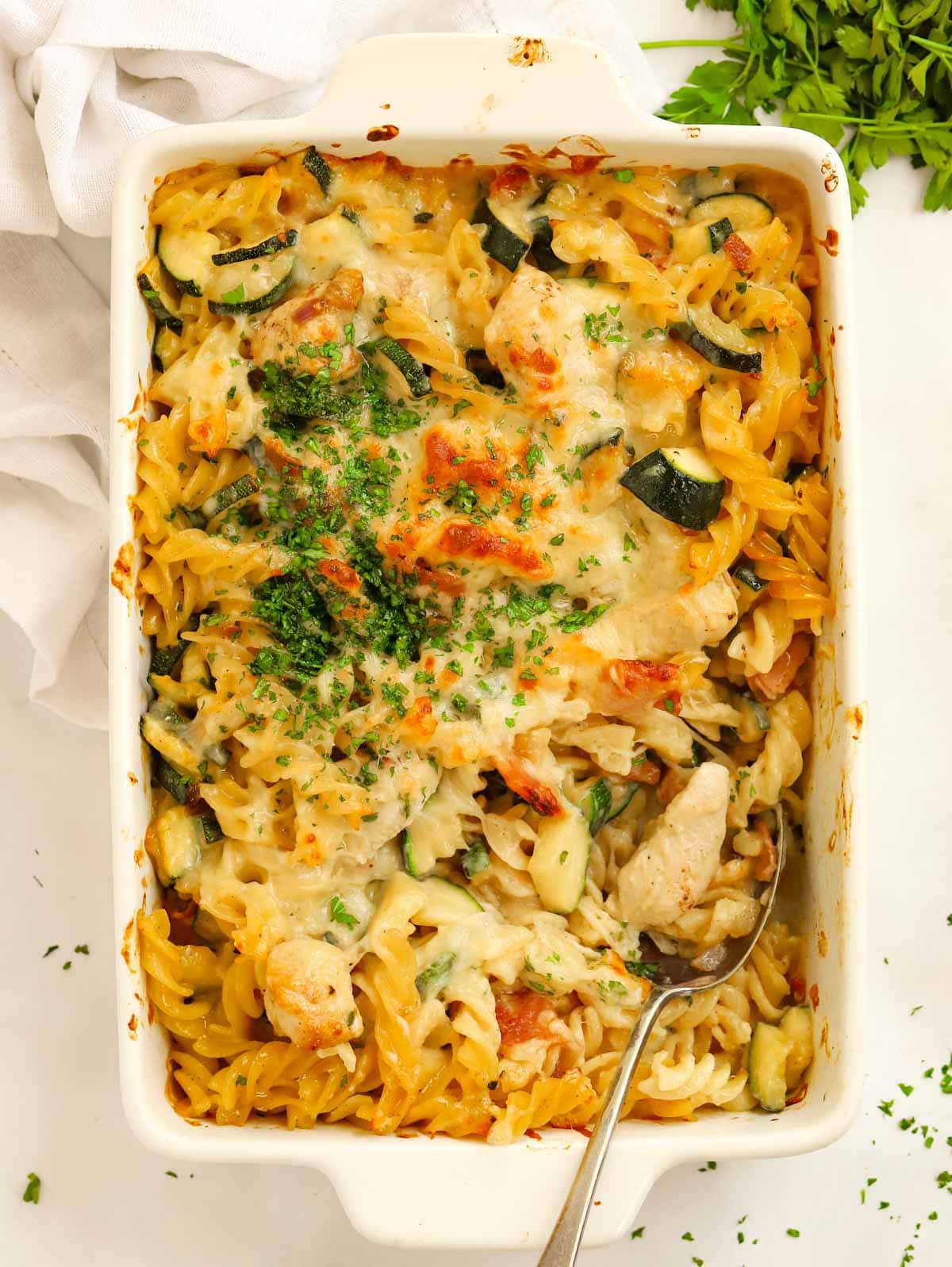 Fancy more easy pasta recipes?
Hope you enjoy this recipe as much as we do.
I'd love to know how you got on and what you thought of it if you make this recipe. Please rate the recipe using the ⭐️ by the recipe.Also, if you'd like to show me a photo by tagging me on Instagram (@tamingtwins) I LOVE to see your creations.
Easy Chicken and Bacon Pasta Bake
This Easy Chicken and Bacon Pasta Bake recipe is a delicious and healthy dinner for all the family.  The simple creamy sauce is packed with vegetables and bacon and topped with cheese. 
Ingredients
1

tsp

Olive oil

300

g

Chicken breast chunks

(About 2 large chicken breasts)

3

Cloves

Garlic

Peeled and crushed

1

Large onion

Peeled and chopped into chunks

200

g

Bacon

Chopped into small pieces

200

g

Courgettes

Chopped into small chunks

500

ml

Milk

25

g

Fresh basil

See notes

Salt and freshly ground black pepper

300

g

Pasta

100

g

Cheese

See notes

30

g

Cornflour
Instructions
Cook the pasta in a pan of boiling water as instructed on the packet (usually about 10 minutes). Remove the pasta from the water and drain about 2 minutes BEFORE the end of the cooking time.

Meanwhile, heat the olive oil in a large pan. I like to use a wok as it's good for frying and cooking the sauce in. 

Fry off the bacon for 5 mins, then add the chicken and fry for about 5 minutes until coloured all over.

Add the onions, garlic, courgettes and basil, and cook until just softened.

Put the cornflour into a mug and mix with a small amount of the measured milk until it forms a paste.

Put the remaining milk into a sauce pan over a medium heat. Pour in the cornflour 'slurry' and whisk for about 5 minutes until it thickens, whisking often.

Add half of the cheese to the white sauce, plus salt and pepper, and whisk until it's thick.

Add the drained, cooked pasta to the bacon, chicken and vegetables, plus the sauce, and sprinkle the cheese on top.

Put under the grill for about 10 minutes until crispy and bubbling.
Recipe Notes
Cheese:
You can use whichever cheese you like to top your chicken pasta bake. I like to use half mozzarella, for streeeeeeetchy-ness (is that a word?) and half cheddar, for flavour.
Vegetables:
Don't like courgettes? Substitute whichever vegetables your family prefers. My Mum always used to make this with broccoli and carrots!
Pasta cooking time:
Cook the pasta in the boiling water for a minute or two less than the packet instructions to stop it from overcooking later.
Basil:
Bring out the flavour by squishing the basil with your knife while chopping.
Nutrition Facts
Easy Chicken and Bacon Pasta Bake
Amount per Serving
% Daily Value*
* Percent Daily Values are based on a 2000 calorie diet.