This Slow Cooker Beef Joint recipe is the easiest and most delicious pot roast. Pop your meat and vegetables in to stew in the morning and then just thicken the gravy before serving. So tasty.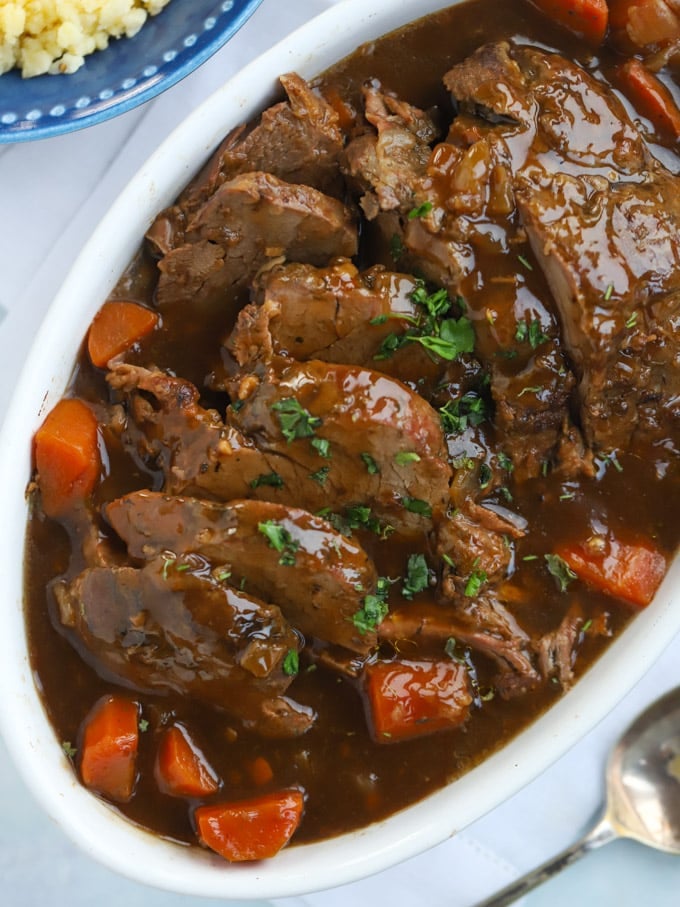 However chaotic life gets during the week, I do LOVE a Sunday roast. Don't you?
There's something about the ritual of sitting down together and eating a roast dinner, that never fails to warm my cockles.
I thought I'd share one of my favourite and easiest ways to cook a roast dinner – Slow Cooker Roast Beef. (Technically it's not a 'roast' as it's not cooked in the oven, but it still FEELS like a 'roast' to me as it's a joint of meat.)
This Slow Cooker Beef Joint is a winner and here's why:

Topside beef is a great value joint.
This roast beef takes hardly any preparation.
It magically creates gravy as it cooks.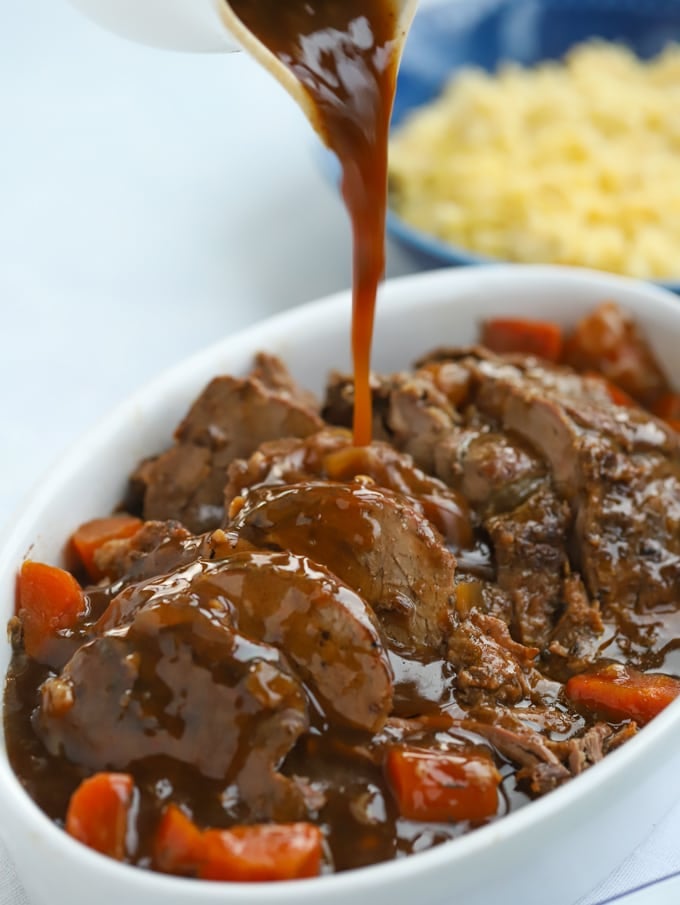 FAQs about the Slow Cooker Roast Beef recipe
How do you cook beef in a slow cooker?
To make this easy Slow Cooker Beef Joint recipe, sprinkle flour, thyme, garlic powder and salt and pepper on to a chopping board.
Dry your topside of beef well with kitchen roll and turn it over the flour mixture until it is well coated.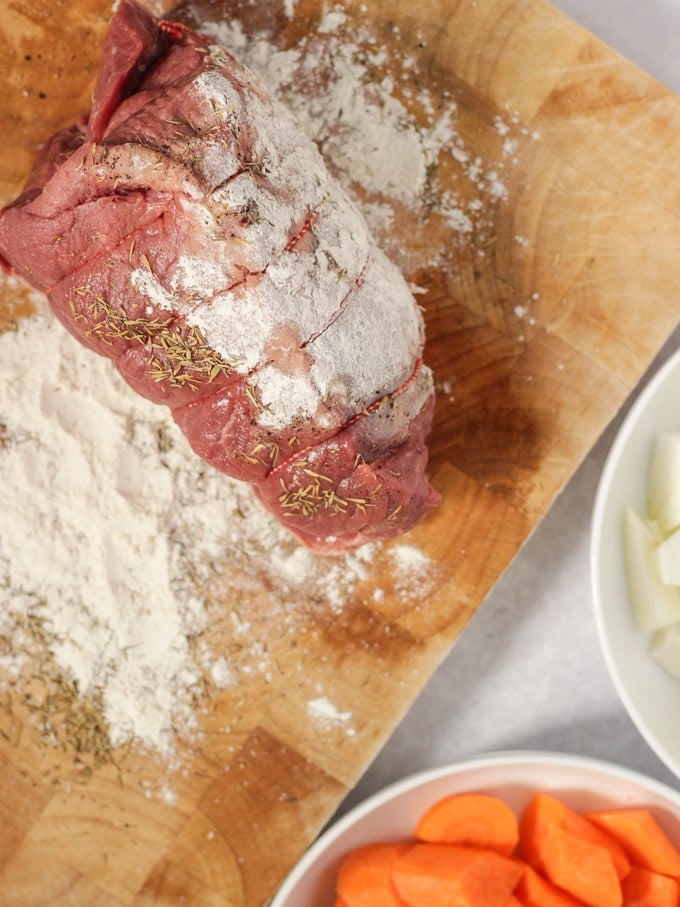 Now, heat the oil in a frying pan and brown the joint of beef all over ensuring, each side is coloured. This seals flavour into the meat.
Remove the meat from the pan and add: garlic, onions, and carrots and cook for five minutes until they begin to soften.
Now, put the meat and vegetables into the slow cooker pan.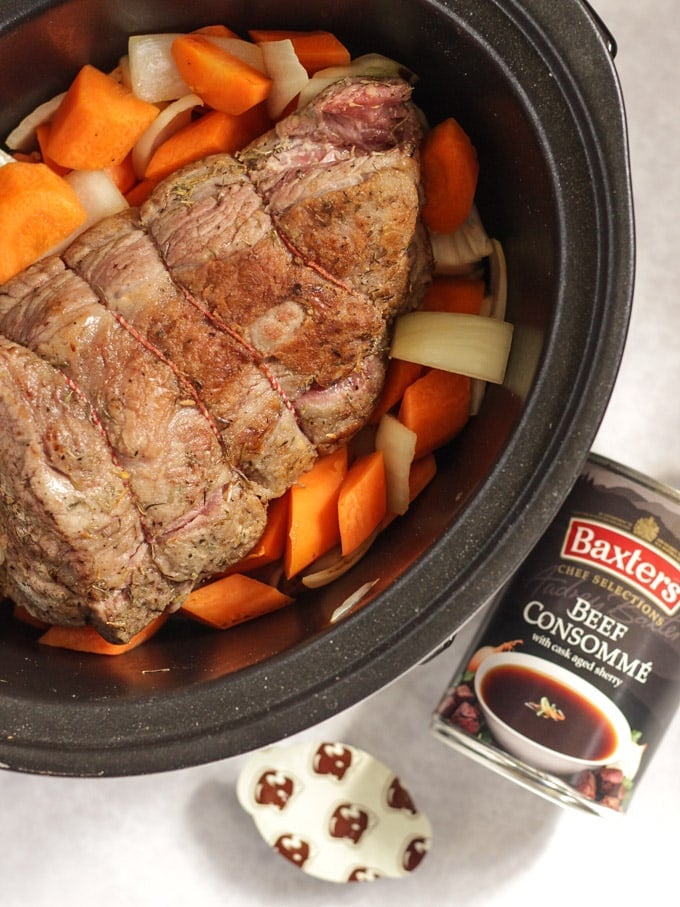 Finally, pour over a can of beef consommé, and add in a beef stock pot (or crumble a stock cube in).
I used a tin of Beef consommé in this recipe. (Consommé is basically a clear stock/broth/soup.) It is a perfect cheat for making sauce or gravy for beef based dishes. It gives you a rich dark gravy, and as it is tinned can last in the cupboard for ages meaning its always handy.
Cook on HIGH for 5 hours, or LOW for 7.
TIME SAVING TIP: My slow cooker pan can be used directly on the hob, check if yours does to, it saves time, and washing up. This is the one I have:
I haven't tried heaps of slow cookers, but I LOVE this one as I can use just one pan to quickly sear and cook.
The pan is also super light which I love.
How do you make Slow Cooker Roast Beef Gravy?
This slow cooker roast beef gravy is so easy.
Remove the beef and as many whole carrots as you can from the slow cooker.
Now mix cornflour with a little of the cooking liquid until it makes a paste. Put back into the gravy, stir through and cook for a little longer.
WHAT TO SERVE WITH SLOW COOKER ROAST BEEF:
Roast Potatoes (of course!)
Cauliflower cheese (sometimes I add some broccoli too)
Yorkshire puddings
Often if I do a midweek roast, I won't do all the trimmings just some simply cooked vegetables and mash or sautéed potatoes – all of the comfort, less of the hassle.
OR for Leftovers of the Slow Cooker Beef Joint:
Leftover slow cooker beef makes the best sandwiches. For maximum taste reheat the meat in your left over gravy and this keeps it moist. (It should stay fresh kept in the fridge for up to 3 days). Serve in sliced bread or bread rolls.
I often serve leftovers of this with Orzo pasta, super quick to cook and soaks up the gravy beautifully.
TIPS FOR MAKING THIS RECIPE:
Make sure that you dry the topside of beef as much as possible before rolling in the flour mixture. A drier piece of meat will brown better, and more quickly.
Often recipes say there is no need to brown your beef but when browning meat something called the Maillard reaction takes place and it does add depth of flavour. However, it really isn't the end of the world if you don't have time to do this step, you will still end up with a tasty roast.
To make this recipe gluten free, simply substitute the plain flour for a gluten free version, like cornflour.
You will have lots of gravy so you can freeze any leftovers. FREEZER SPACE SAVING TIP: Pour the gravy into freezer bags and freeze it flat!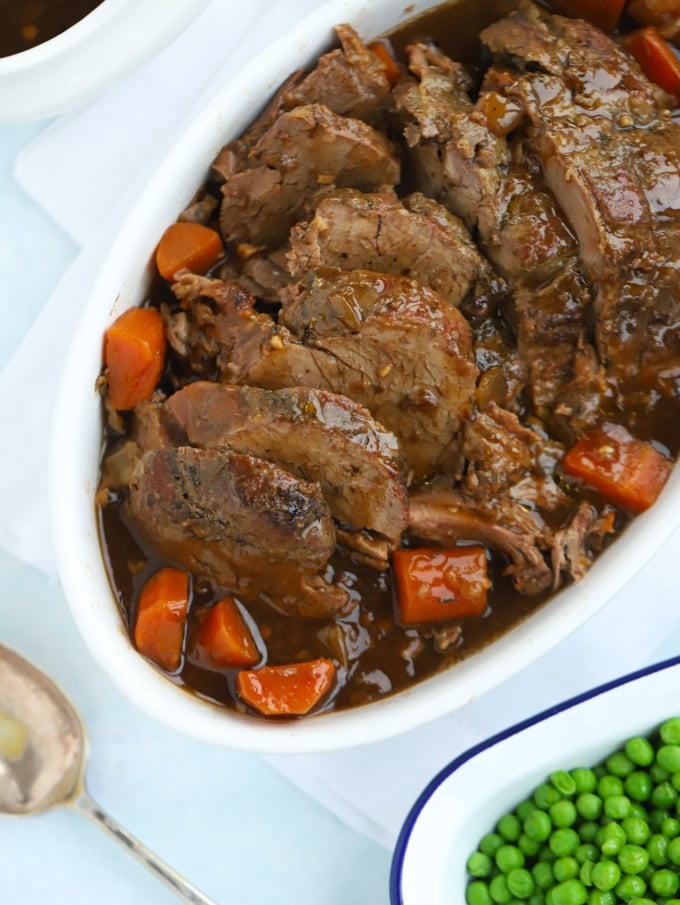 More slow cooked recipes?
Hope you enjoy this recipe as much as we do. I'd love to know how you got on and what you thought of it if you make this recipe. Please rate the recipe using the ⭐️ by the recipe.
Also, if you'd like to show me a photo by tagging me on Instagram (@tamingtwins) I LOVE to see your creations.
Slow Cooker Beef Joint with Rich Pot Roast Gravy
This Slow Cooker Beef Joint recipe is the easiest and most delicious pot roast. Pop your meat and vegetables in to stew in the morning and then blend the gravy before serving. So tasty.
Ingredients
1.5

kg

Beef Topside joint

2

tbsp

Plain flour

1

tbsp

Dried or fresh thyme

1

tbsp

Garlic powder

Salt and freshly ground black pepper

1

tbsp

Olive oil

3

Cloves

Garlic

Peeled and chopped/crushed

2

Large

Onions

Peeled and cut into chunks

3

Large

Carrots

Peeled and chopped into chunks

400

g

Beef consommé soup

See Note 1.

1

beef stock pot

3

tbsp

Cornflour
Instructions
Sprinkle your flour, thyme, garlic powder and salt and pepper onto a chopping board. Dry off your topside with some kitchen paper and then roll all over in the flour mixture.

Heat your oil in a large frying pan, or if your slow cooker allows it, by putting the cooking dish onto the hob. Brown off the flour coated meat on all sides.

Remove the meat from the pan and add the garlic, onions and carrots and brown for 5 minutes until starting to soften. If you're using your slow cooker pan, add the meat back in. If you're using a frying pan, transfer everything to your slow cooker pan.

Pour in the tin of

beef consommé and add a beef stock pot.

Cook on HIGH for 5 hours or LOW for 7 hours.

When cooked, remove the meat to a pan, along with the whole cooked carrots and onions (as many as you can fish out!).
To make the gravy:
Remove a small amount of the liquid from the pan and stir in the cornflour until it dissolves. Add a small amount at first and stir in, keep adding until you get a thick paste.

Add this 'slurry' back into the pan and stir. You can leave this in your slow cooker on HIGH for about 30 minutes, or if your pan is able to go on the hob, pop onto the hob to bubble for 10 minutes until thick.
Notes
Note 1 - Consomm

é
If you don't have any, beef stock or red wine work deliciously well too. BUT if you can get the Consomm

é

, it's a great shortcut to a super beefy sauce.
Nutrition
Calories:
761
kcal
Carbohydrates:
12
g
Protein:
48
g
Fat:
57
g
Saturated Fat:
23
g
Cholesterol:
175
mg
Sodium:
398
mg
Potassium:
1006
mg
Fiber:
2
g
Sugar:
4
g
Vitamin A:
6014
IU
Vitamin C:
6
mg
Calcium:
48
mg
Iron:
6
mg
Made it? Tag me!
Tag @TamingTwins so we can admire your make ⭐️
This recipe was first published on March 29 2019 and updated with new photos and extra tips on November 28 2020.