This Slow Cooker Lamb Shoulder recipe is so simple and delicious. It cooks slowly, making it's own delicious gravy sauce and is then glazed with sticky and sweet mint jelly.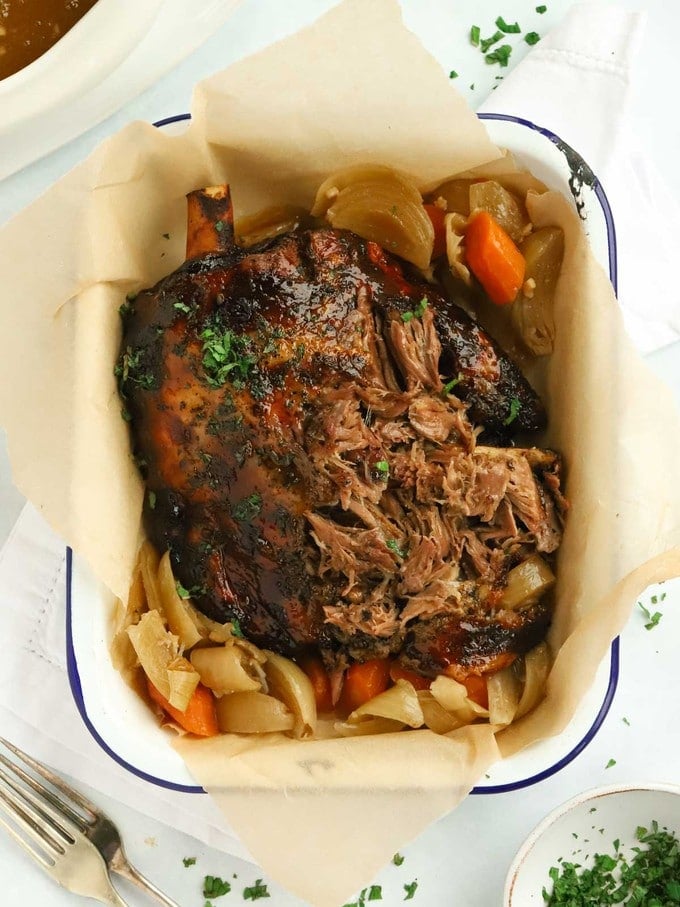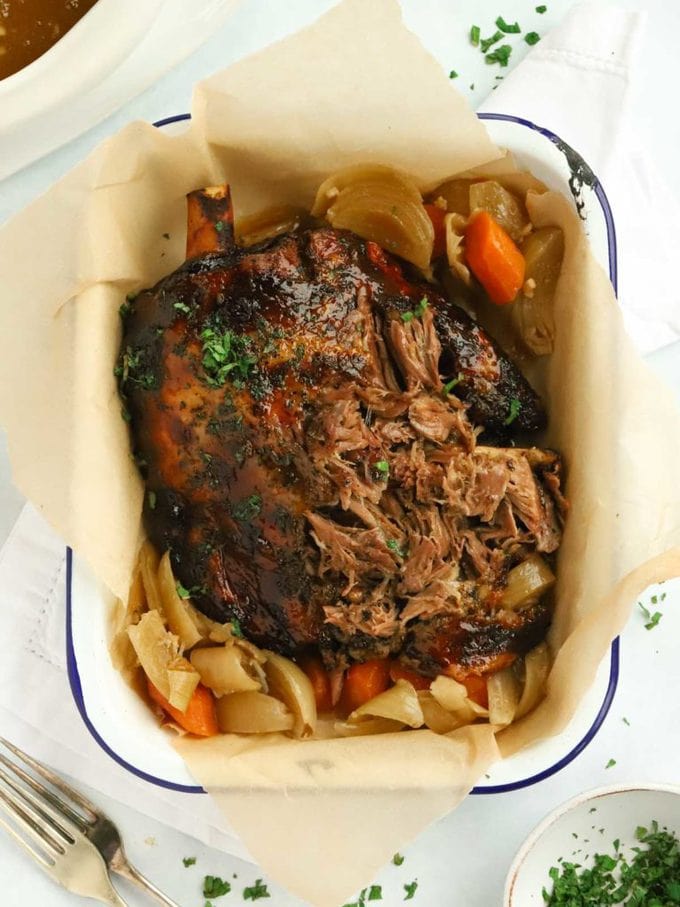 However chaotic and busy we've been during the week, there's something so calming about a Sunday roast isn't there?
Or maybe it's just because there's finally time to cook without being in a rush like midweek. Either way, it's a tradition I love.
I thought I'd share one of my favourite and easiest ways to cook a roast dinner – Slow Cooker Lamb Shoulder.  (Technically it's not a 'roast' as it's not cooked in the oven, but it still FEELS like a 'roast' to me as it's a joint of meat.)
This Slow Cooker Lamb Shoulder is a winner and here's why:

Lamb shoulder is a great value joint.
This roast lamb takes hardly any preparation.
It magically creates gravy as it cooks.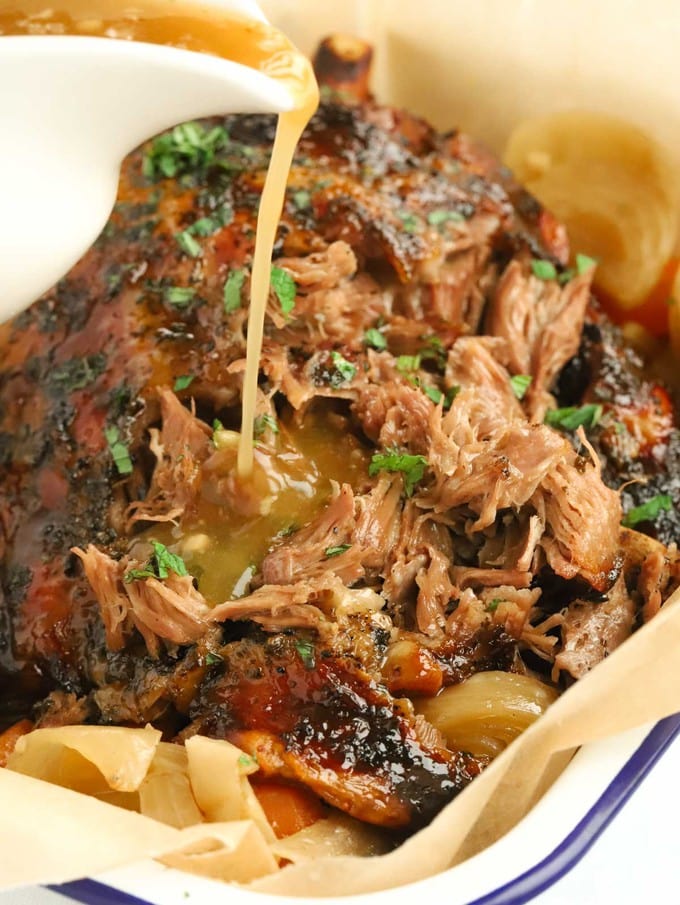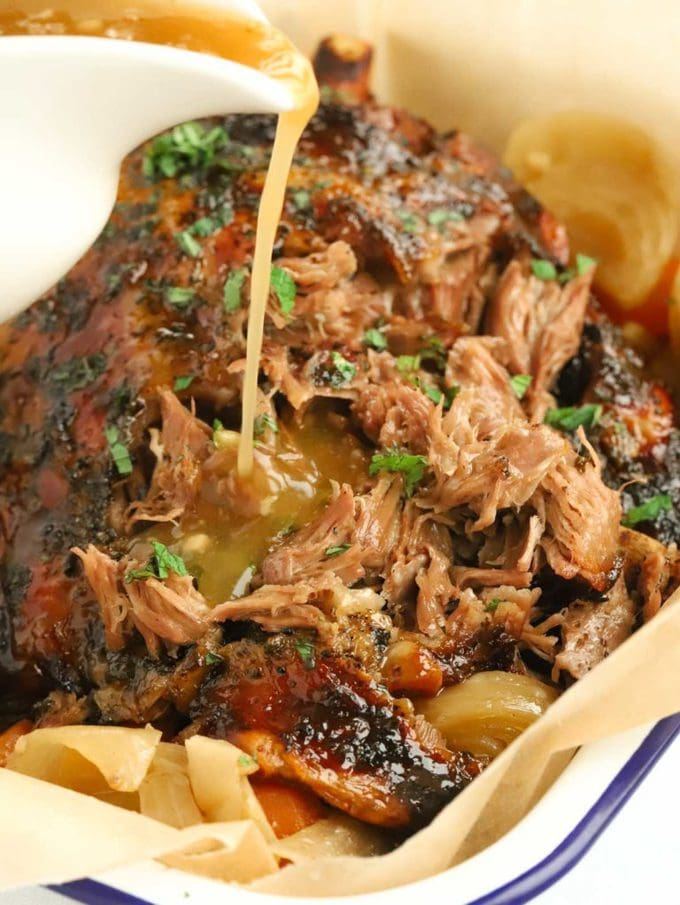 FAQs about the Slow Cooker Lamb Shoulder recipe
Do I really not have to brown the lamb before cooking?
No. I think you get a much better result with this dish by browning AFTER cooking when a lot of the fat has already cooked off. The result is crunchy on top and soft underneath – YESSSS!
How do I stop the gravy from being too fatty?
I LOVE my Oxo Good Grips Gravy Separator for this. It makes it a doddle to pour off the excess fat. Otherwise you can do it manually by spooning off the layer of fat on top of the cooking liquid.
Do I have to use a lamb shoulder for this?
No, you can use a lamb leg too but it's quite tricky to fit a whole one into the slow cooker! A lamb leg may take a little less cooking time depending on the size.
How do I cook this so it's ready for lunchtime?
Good question! You can either put it on overnight and cook it on low for a little longer (it's very difficult to overcook lamb shoulder) OR use a timer plug to start the slow cooker overnight. Genius!
Do I have to finish this off in the oven?
The short answer is: no. It just gives a delicious crispy golden glaze. You can serve the lamb straight from the slow cooker and it will still be meltingly tender, it just won't have any colour.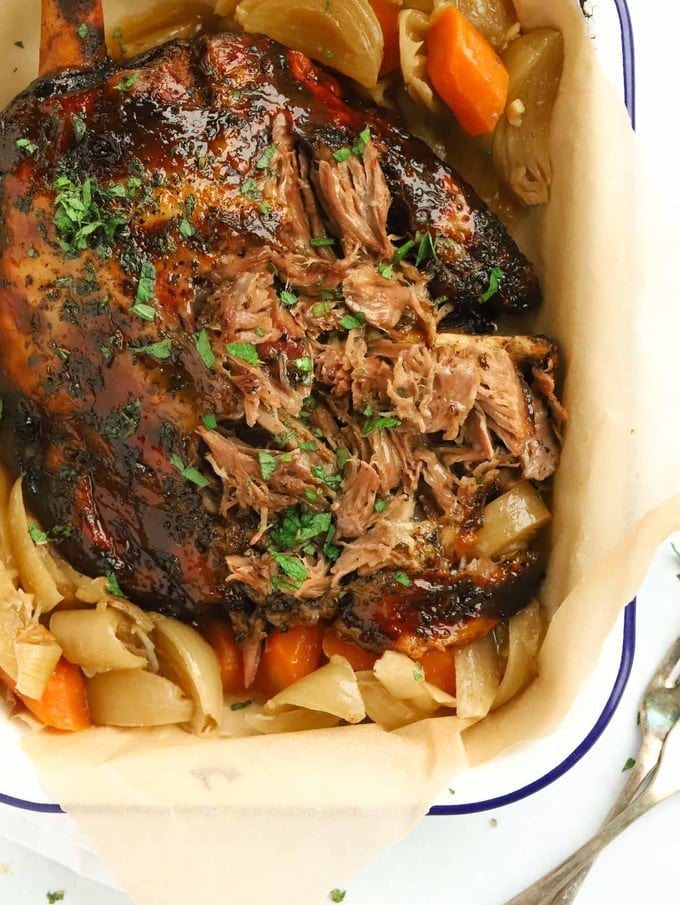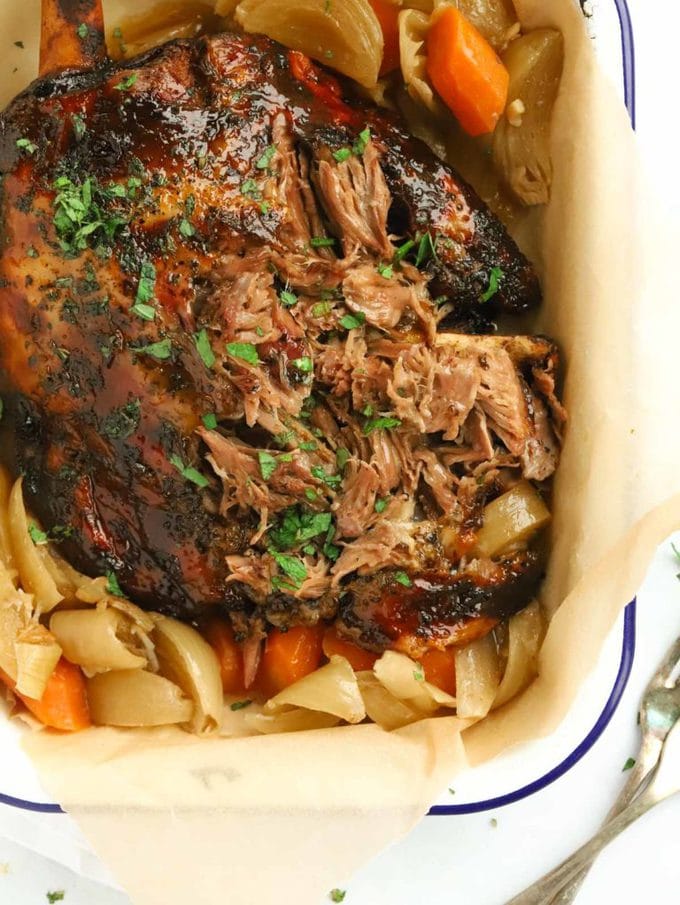 More slow cooked recipes?
Hope you enjoy this recipe as much as we do. I'd love to know how you got on and what you thought of it if you make this recipe. Please rate the recipe using the ⭐️ by the recipe.
Also, if you'd like to show me a photo by tagging me on Instagram (@tamingtwins) I LOVE to see your creations.
Slow Cooker Lamb Shoulder with Mint Glaze and Rich Gravy
This Slow Cooker Lamb Shoulder Joint recipe is the easiest and most delicious roast. Pop your meat and vegetables in to stew in the morning and then make the gravy before serving. So tasty.
Ingredients
1.5

kg

Lamb Shoulder

Sea salt and freshly ground black pepper

3

Cloves

Garlic

Peeled and chopped/crushed

2

Large

Onions

Peeled and cut into chunks

3

Large

Carrots

Peeled and chopped into chunks

400

ml

Lamb stock

See Note 1.

3

tbsp

Cornflour

100

g

Mint jelly

2

tbsp

Soy sauce

I use reduced salt
Instructions
Put the garlic, onions, carrots, lamb joint and stock into the slow cooker. Add salt and pepper.

Cook on HIGH for 10 hours or LOW for 12 hours.

When cooked, remove the meat to a tin, smother in the mint jelly and bake in the oven at 220C for about 20 - 30 minutes or until browned.

Remove the carrots and onions and set aside.
To make the gravy:
Using a spoon or a gravy seperator jug, pour off the fatty layer from the cooking liquid in the slow cooker. Discard the fatty part.

From the remaining cooking juices, remove a small amount of the liquid from the pan (say a tablespoon or two) into a mug or bowl and stir in the cornflour into it until it dissolves. Add a small amount at first and stir in, keep adding until you get a thick paste.

Add this 'slurry' back into the pan, pour in the soy sauce and stir. You can leave this in your slow cooker on HIGH for about 30 minutes, or if your pan is able to go on the hob, pop onto the hob to bubble for 10 minutes until thick.
Nutrition (per serving)
Calories:
267
kcal
Carbohydrates:
13
g
Protein:
34
g
Fat:
8
g
Saturated Fat:
3
g
Cholesterol:
101
mg
Sodium:
229
mg
Potassium:
646
mg
Fiber:
2
g
Sugar:
4
g
Vitamin A:
6015
IU
Vitamin C:
6
mg
Calcium:
45
mg
Iron:
3
mg
Made it? Tag me!
Tag @TamingTwins so we can admire your make ⭐️