This Slow Cooker Whole Chicken recipe makes a brilliant alternative to your usual Roast Chicken. So simple, succulent and tasty. Put this on your menu for next Sunday!
How is your festive season prep going? I'm already knee deep in school concerts and gift wrapping. Add a kitchen renovation into the mix and I'm in need of any shortcuts I can find right about now.
More than ever, this Slow Cooker Whole Chicken is a lifesaver.
You'll love this Slow Cooker Roast Chicken because:

✅ The simple way to cook succulent chicken every time.
✅ Perfect for saving oven space during a roast dinner.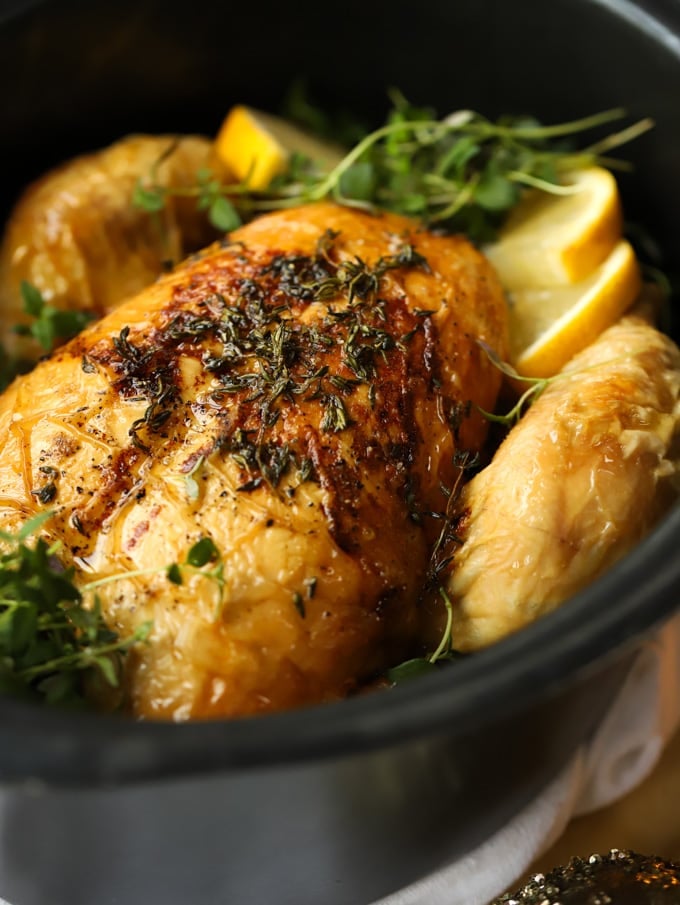 How do you cook a Whole Roast Chicken in the Slow Cooker?
Firstly, technically this isn't a 'roast' chicken. But, I tend to call any whole joint of meat a 'roast' so it seems fitting, right?
I like to make a simple herby butter, spread it over the meat, pop into the slow cooker (or crock pot) and cook until everything is soft, delicious and tender.
You can then remove the skin and serve like this if you're happy to. (I remove the skin if serving like this, as the meat won't look very pretty at this stage as it hasn't been browned.)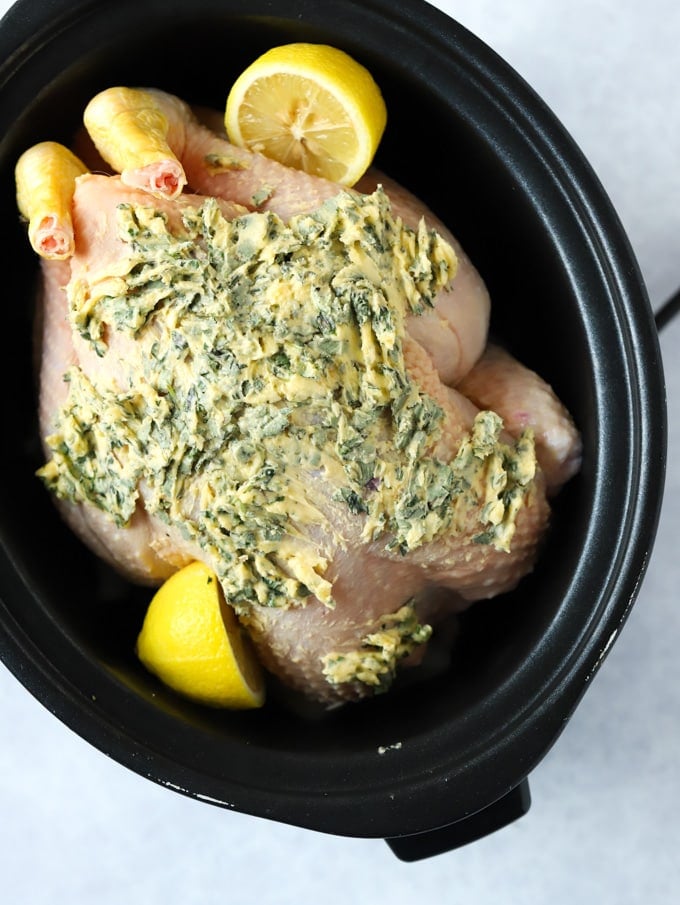 What about crispy skin when you cook it in the slow cooker?
If you do want to serve the whole bird, just pop it under a hot grill (broiler) for about 10 minutes until the skin is crispy and golden and delicious.
Taa daaa best of both worlds! Soft, tender meat and crispy skin.
How do I make gravy for my Slow Cooker Whole Chicken Roast?
If you want to serve gravy with your Roast Chicken, once you remove the chicken from the tin, blend the onions into the liquid (if you have a blender, if not, leave them in whole or remove with a slotted spoon if you prefer your gravy smooth).
Put 2 tbsp of cornflour into a small mug and add enough of the chicken juices to make a smooth paste.
Put the chicken juices over a medium heat on the hob (in the slow cooker pan, if it's heatproof and suitable for use on the hob, or in a small saucepan) add in enough of the cornflour mixture, a little at a time, whisking as you go to thicken the liquid.
You may not need to use all of the cornflour mixture, depending on how much liquid your chicken has released as it cooked.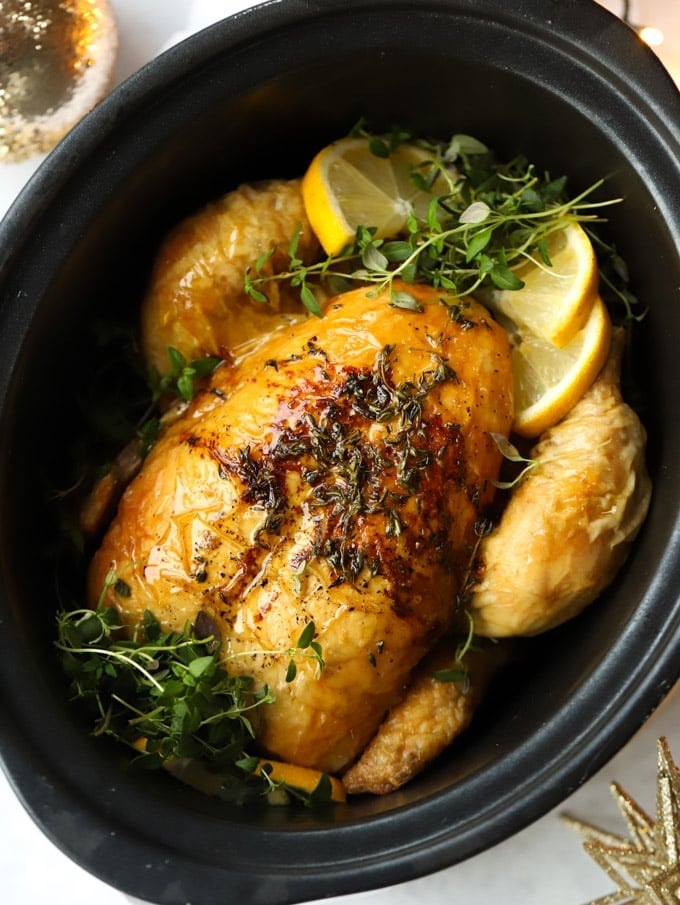 Fancy some other Slow Cooker inspiration?
Hope you enjoy this recipe as much as we do. I'd love to know how you got on and what you thought of it if you make this Slow Cooker Whole Roast Chicken recipe. Please rate the recipe using the ⭐️ by the recipe.
Also, if you'd like to show me a photo by tagging me on Instagram (@tamingtwins) I LOVE to see your creations.
Slow Cooker Whole Roast Chicken
This Slow Cooker Whole Chicken recipe makes a brilliant alternative to your usual Roast Chicken. So simple, succulent and tasty. Put this on your menu for next Sunday!
Ingredients
For the herb butter
3

tbsp

Butter

See note 1.

1

tbsp

Fresh thyme

Leaves only, stalks removed

1

tbsp

Fresh sage

Finely chopped

1

tbsp

Garlic powder

Salt and freshly ground black pepper
Instructions
Mix the herb butter ingredients together.

Pop the onion chunks into the bottom of the slow cooker and set the chicken on top. (I like to cut off and remove and string holding the bird. I think this makes it cook more evenly.)

Spread the herb butter over the top and sides of the chicken.

Slice one of the lemons in half and push in around the edges of the bird. Add 100ml of boiling water. Pop the lid on and cook for about 5 hours on LOW.

The chicken is cooked when if you wiggle a leg bone, it feels very loose. You can now serve (I tend to remove the skin and portion up if serving like this as the skin doesn't look/taste very good.) OR if you'd prefer to serve as a regular whole bird roast:
To brown the chicken
Pop the whole chicken under a very hot grill for about 15 minutes until the skin is crunchy and crisp. Add more lemon slices and fresh herbs to serve if you'd like to.
Notes
Note 1 - I use salted butter, if you only had unsalted, you could add extra salt. The butter should be soft, but not melted. If it's hard, just pop into the microwave for a few seconds. Herbs - You can use dried herbs if you prefer and/or it's all you have, BUT in this case I do feel like fresh herbs do work best as they have a more aromatic, softer quality.
Nutrition
Calories:
598
kcal
Carbohydrates:
2
g
Protein:
47
g
Fat:
43
g
Saturated Fat:
14
g
Cholesterol:
203
mg
Sodium:
226
mg
Potassium:
506
mg
Fiber:
1
g
Sugar:
1
g
Vitamin A:
580
IU
Vitamin C:
7
mg
Calcium:
45
mg
Iron:
3
mg
Made it? Tag me!
Tag @TamingTwins so we can admire your make ⭐️