We all need more one pan recipes in our life and this Broccoli Orzo Bake ticks the box. It's a quick, easy and delicious vegetarian pasta dish that's ideal for the whole family to tuck into.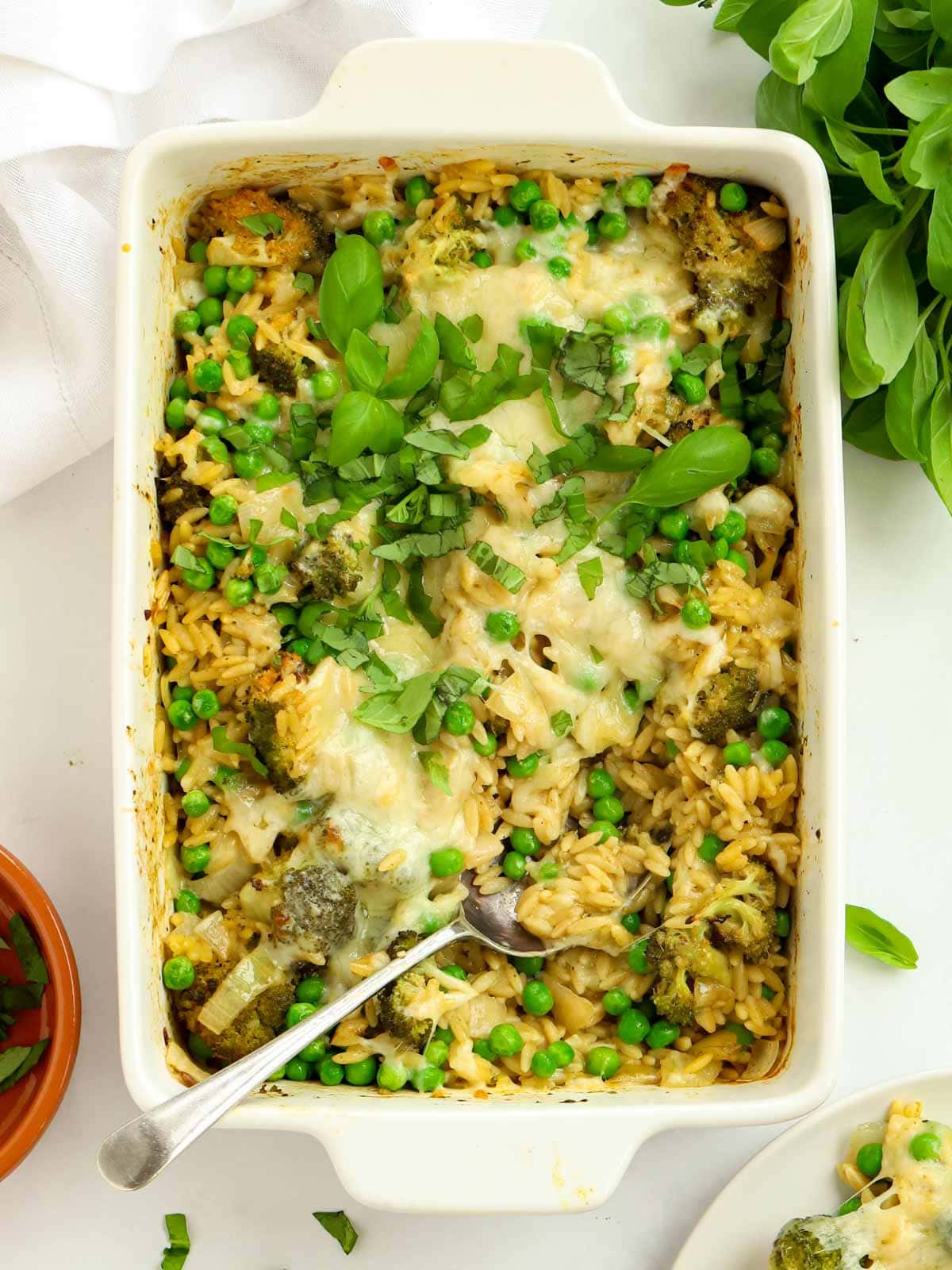 Have you ever cooked with orzo pasta? If not, where have you been my friends?!
It's shaped in tiny little grains, a little like rice. This means when it cooks it gives a kind of risotto vibe. It also cooks quickly and evenly with no faff which of course we love.
I've left this recipe meat free as I'm always trying to introduce more meat-free recipes to our dinners and I love broccoli. You could add in ham, or other cooked meats though if you like.
This orzo recipe involves very little effort, not much time in the oven, and is just one of those quick dinner wins when time and ingredients are low. This is perfect for budget meal planning at any time of the year too.
You'll love this recipe because:

✅ Super easy and no-faff

✅ All made in one pan

✅ Two portions of veg
FAQs about this Broccoli Orzo Bake Recipe
What is orzo?
Orzo is a kind of pasta that is shaped a bit like rice. In Italy, it is known as 'little pasta' and was traditionally used in soups, but it has become a widely-used versatile type of pasta that can be used in many kinds of hot or cold dishes. It's also a great one for something a little different in the slow cooker, like my Lamb Orzo Stew recipe.
Can I use another pasta if I don't have any orzo?
This recipe would be a bit hit and miss with with another kind of pasta because orzo cooks so quickly. If you have rice you could try my easy oven risotto instead. That has a similar cooking style but with risotto rice instead of orzo.
Can I reheat this dish?
You can but you might find with orzo that it becomes a bit gloopy. Add a splash of water or an ice cube before you reheat it to stop it drying out.
Can I freeze any leftovers?
Yes it's possible, but again they might be a little gloopy. Orzo is always at its best when cooked and eaten immediately, but that's not to say it won't still be delicious if it's out of the freezer.
Which cheese is best to use?
You can use any cheese to grate over this recipe, but I find the stronger flavour the better, especially when it goes over broccoli as the two ingredients go so well together.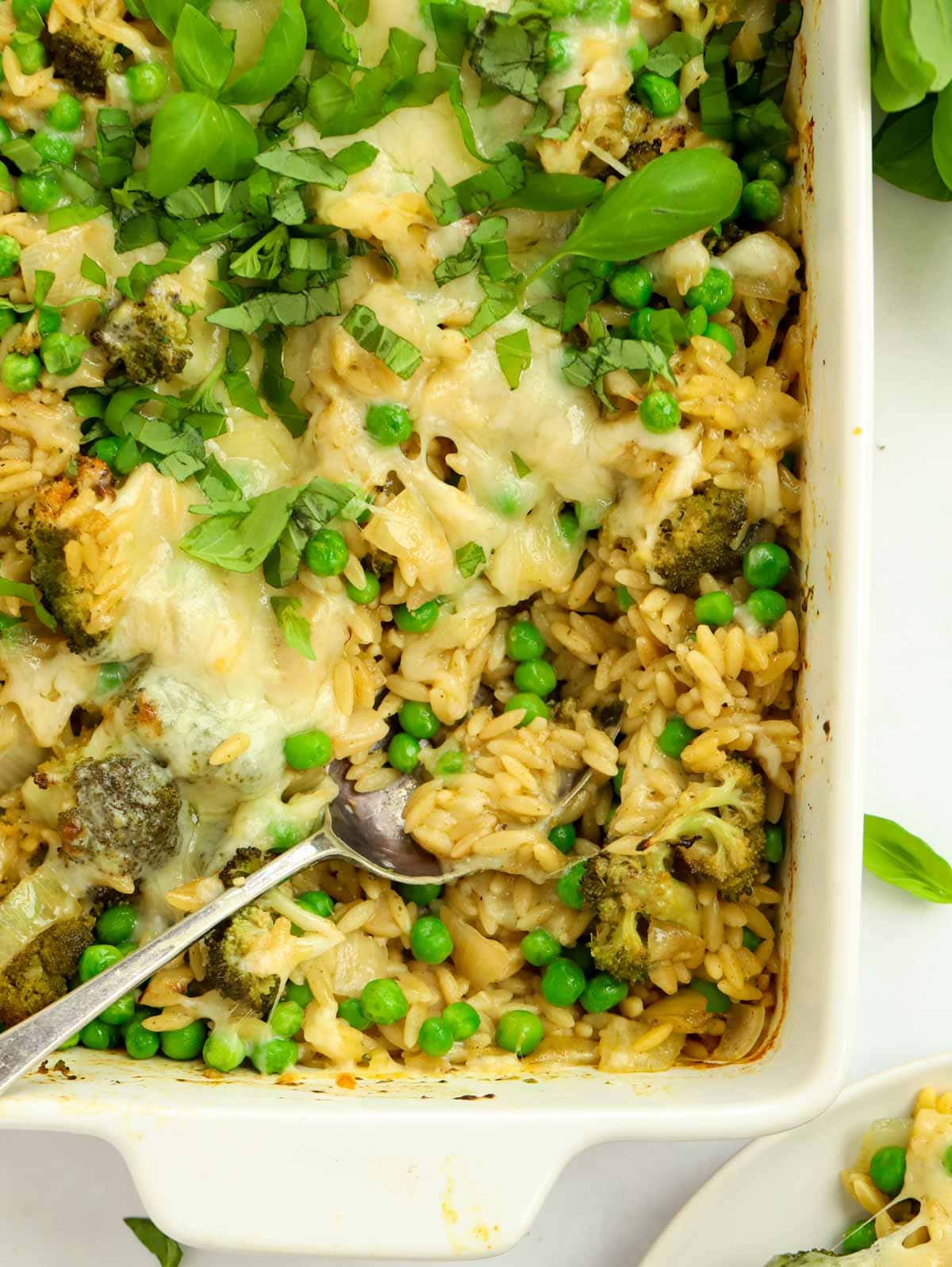 Fancy more vegetarian pasta recipes?
Hope you enjoy this recipe as much as we do.
I'd love to know how you got on and what you thought of it if you make this Broccoli Orzo Bake recipe. Please rate the recipe using the ⭐️ by the recipe. Also, if you'd like to show me a photo by tagging me on Instagram (@tamingtwins) I LOVE to see your creations.
Broccoli Orzo Bake
This Broccoli Orzo Bake is a delicious vegetarian pasta recipe that's so easy to make and is all thrown together in one pan.
Ingredients
2

tsp

Oil

1

Onion

Peeled and chopped

300

g

Broccoli

If cooking for 4 people, just use a whole head, the weight is a guide! Cut into small chunks

2

Cloves

of garlic

Peeled and chopped

1

tsp

Paprika

Salt and pepper

300

g

Orzo

500

ml

Vegetable stock

2

tbsp

Pesto

200

g

Peas

75

g

Grated cheese
Instructions
Preheat the oven to 200C.

In a roasting tin put the oil, onion, broccoli, garlic, paprika and salt and pepper. Toss everything so it's all coated. Bake for 10 minutes.

Add the orzo, pesto and stock. Mix well, cover with a lid (or tin foil). Bake for another 15 minutes.

Remove from the oven add the peas, mix in and sprinkle the cheese over. Bake for a further 5 minutes, uncovered.

Check that the orzo is cooked through and serve.
Nutrition
Calories:
514
kcal
Carbohydrates:
79
g
Protein:
22
g
Fat:
13
g
Saturated Fat:
5
g
Trans Fat:
1
g
Cholesterol:
19
mg
Sodium:
748
mg
Potassium:
842
mg
Fiber:
10
g
Sugar:
10
g
Vitamin A:
2180
IU
Vitamin C:
158
mg
Calcium:
255
mg
Iron:
3
mg
Made it? Tag me!
Tag @TamingTwins so we can admire your make ⭐️