A piping hot dish of Cauliflower Cheese at the dinner table is the most comforting sight. Swimming in sauce and a crispy golden topping.
Whether you're making this delicious dish as a midweek vegetarian main course or as a side dish to your Sunday lunch, this Easy Cauliflower Cheese recipe is full of flavour and can even be prepped ahead of time for ultimate convenience.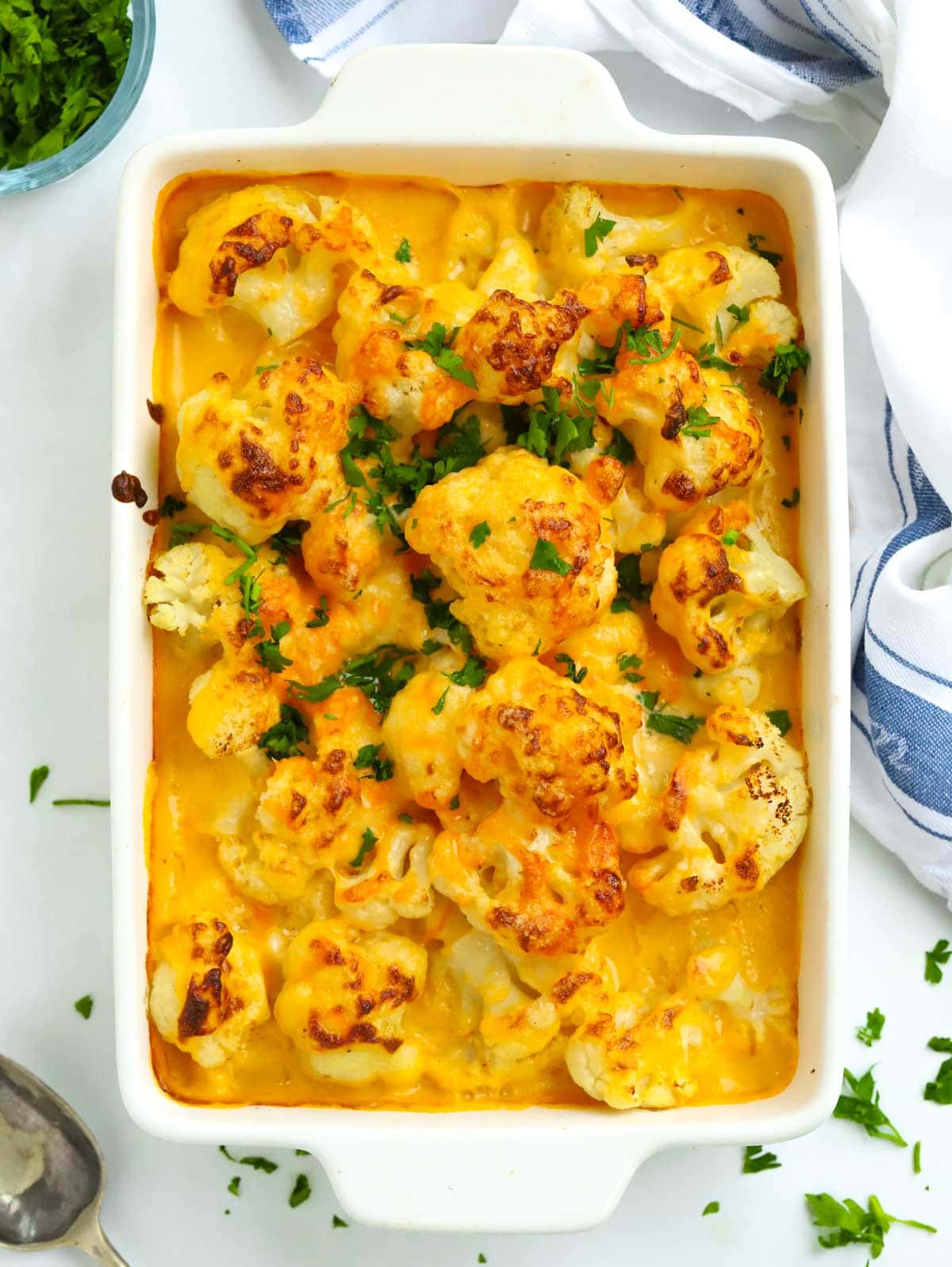 Cauliflower Cheese is a fairly simple dish to make, but there are a few tips and tricks I thought I'd share to make it be the best, every time. For example, how long you boil it for, how to make sure it's not too watery, and how to get that delicious cheese sauce just right.
This Easy Cauliflower Cheese recipe will outline how to get it right when you bake it in the oven or put under the grill, and how to make it in advance to save time later.
---
Why you'll love this recipe
⭐️ Comforting cheesy deliciousness
⭐️ Simple to make
⭐️ Gives any dinner something EXTRA
---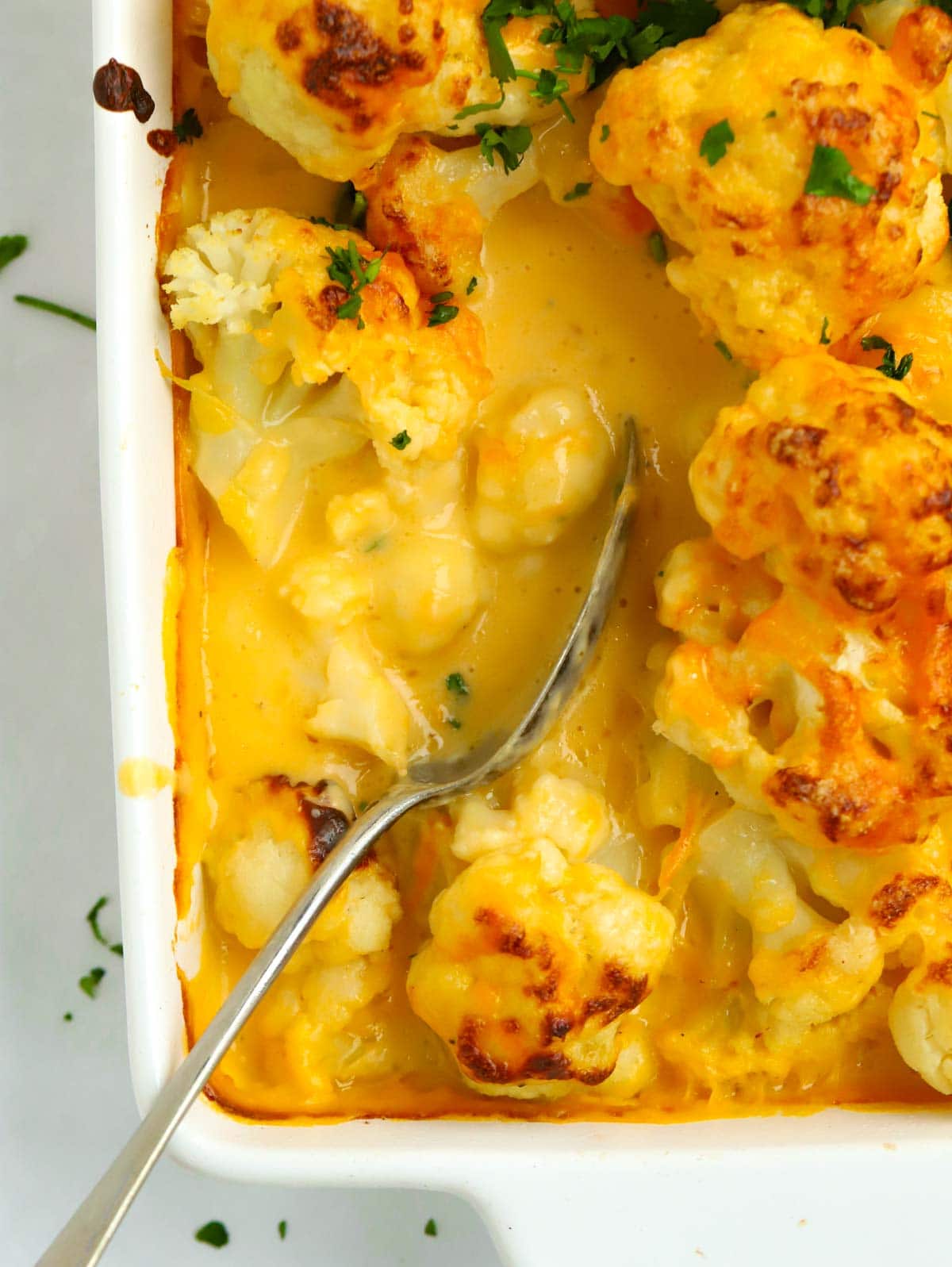 What you'll need
Cauliflower – I prefer fresh rather than frozen here as frozen can be a little easy to overcook. But frozen will work if needs must!
Milk – Whole milk is preferable, but semi-skimmed would be fine. Not skimmed!
Cornflour – Not regular flour, this method of easy sauce making needs cornflour.
Dijon mustard – French or other mustard would also work. If using English mustard, use half the amount.
Garlic granules – Or garlic powder.
Salt and freshly ground black pepper
Red Leicester cheese – I love this for the colour, but any strong cheddar is also fine.
Parmesan – The addition of parmesan gives a LOT of extra flavour (and texture to the top).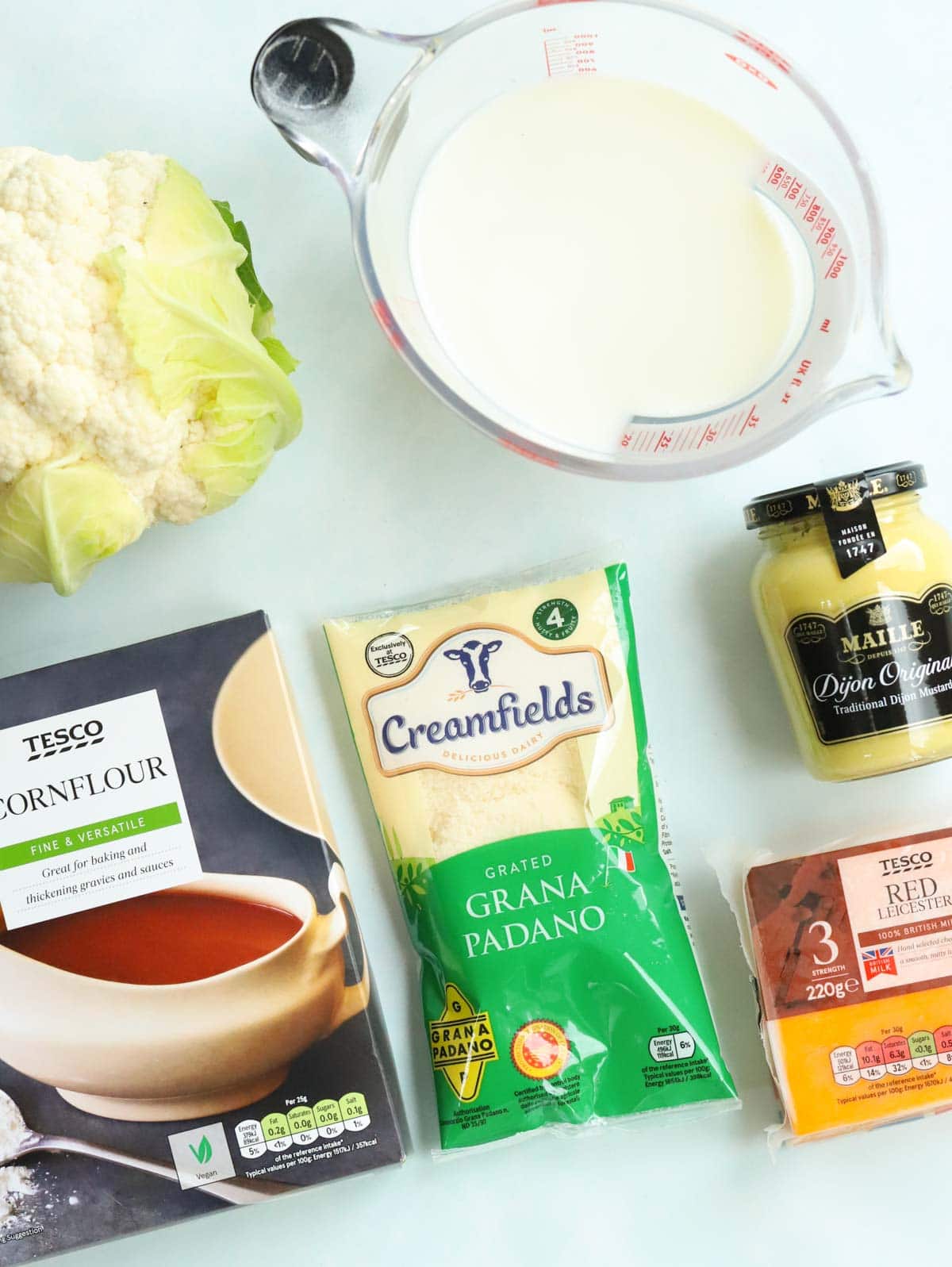 ⭐️ How to prepare the day before ⭐️
This recipe is a perfect addition to your roast dinner – or any dinner for that matter! But as side dishes go, it can be a faff to make in real time, when you're also trying to pull together meat, gravy, and various other veggies at the same time.
Fear not! This is where your meal prep really comes into its own, because you can do the hard work in advance (and plenty of time in advance as you can freeze it).
All you have to do is to make the cauliflower and the cheese sauce (up to step 8 in the recipe), then leave to cool, cover and refrigerate overnight. When you're ready to cook, put it in the oven according to the instructions in the recipe.
If you'd like to make it further in advance, do the same thing, but instead of refrigerating, pop it into the freezer instead. Defrost it before baking it in the oven (from step 8 onwards).
How to make it
Boil the cauliflower until almost cooked. Meanwhile, boil up the milk to start making the sauce.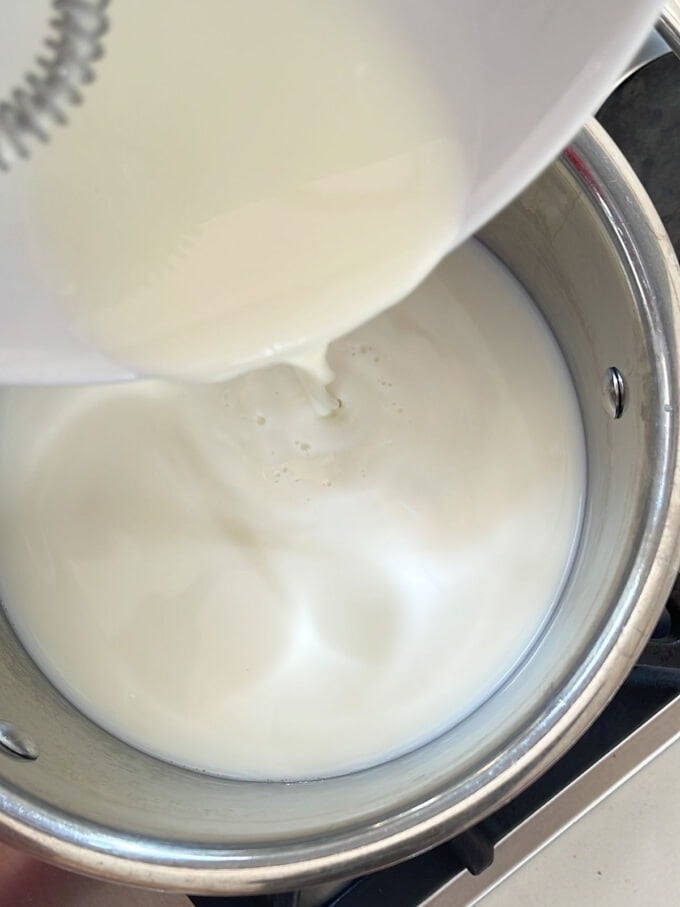 2. Use the cornflour and milk to make a paste, then add to the pan and whisk. Cook as per the recipe below.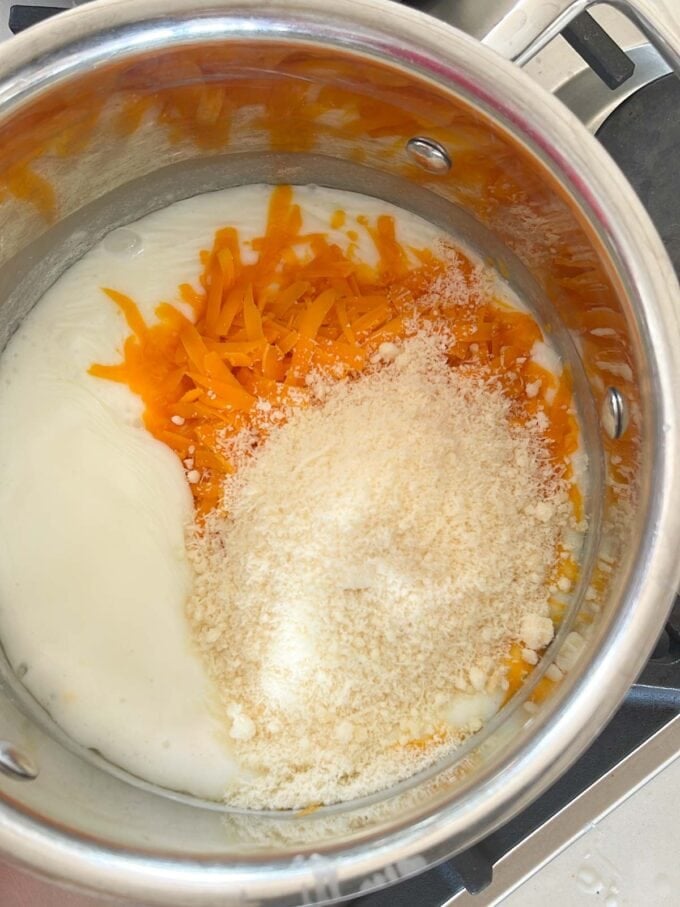 3. Add the mustard, garlic granules, salt and pepper and cheeses. Cook until smooth and the cheese is melted.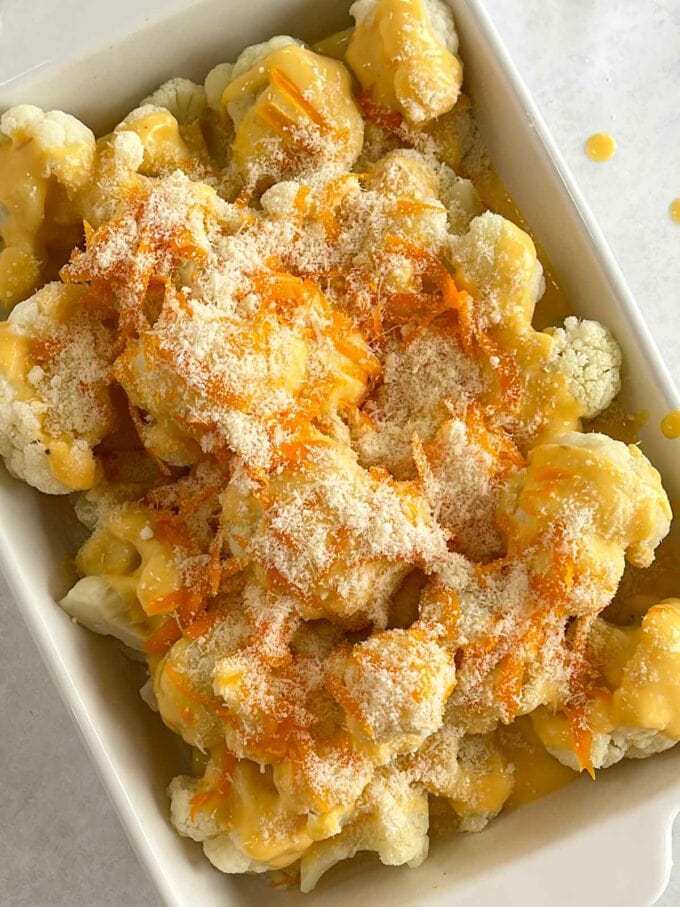 4. Drain the cauliflower and put in an ovenproof dish. Pour over the sauce. Sprinkle with cheese and bake or grill until the cheese is melted.
Hint: The cooking time will depend on the size of the florets. Be careful not to overcook them when boiling.
---
Substitutions
Cheese – I like Red Leicester because of its colour, but any strong cheddar will also work fine. You can use Gran Padano instead of parmesan too as it's cheaper.
Leftovers
Leftovers that have been in the oven can be frozen and then reheated in the microwave but it's much better to do it as above if possible as it's less likely to over cook and end up soggy.
Always be sure to follow food reheating guidelines and be sure everything is hot through.
Top tip
Drain well
Make sure you drain the cauliflower really well after it's boiled up and before you add it to the dish, otherwise it will end up too watery.
Add breadcrumbs
You could also add a sprinkling of breadcrumbs (I like Panko) to the topping before you bake or grill, which will give it a bit of extra crunch.
FAQ
Let me know how you got on and what you thought of this recipe. Please rate the recipe using the ⭐️ below.
Also I'd LOVE to see your cooking creations. If you'd like to share yours with me, you can tag me on Instagram (@tamingtwins).
Easy Cauliflower Cheese
The perfect and delicious side dish, this is comfort food at its best. Try this Easy Cauliflower Cheese recipe to serve with a Sunday roast, your full-blown Christmas dinner with all the trimmings, or just a regular accompaniment to any meal.
Ingredients
1

kg

Cauliflower (1 very large or 2 small)

Cut into florets

500

ml

Milk (plus a couple of extra tablespoons)

30

g

Cornflour

1

tsp

Dijon mustard

1

tsp

Garlic granules

Salt and freshly ground black pepper

100

g

Red Leicester cheese

Grated

75

g

Parmesan

Grated
For the topping:
25

g

Red Leicester cheese

Grated

25

g

Parmesan

Grated
Instructions
Boil the cauliflower in a large pan of salted water for 5-7 minutes until the florets are almost, but not quite, cooked. (When you poke a knife into a stem, it should go in easily but not be soft.)

While the cauliflower is cooking make the sauce.

Heat the 500ml of milk in a saucepan over a medium heat.

In a small bowl mix the cornflour with the extra tablespoon of milk (you may need a little more). Use just enough to whisk the cornflour to a thick, lump free paste (this feels a bit tricky but it will come together eventually).

Add this paste to the milk and whisk in. Cook for about 5 minutes until the sauce starts to thicken, whisking often.

Add the mustard, garlic granules, salt and pepper and cheeses. Whisk and cook for another 5 minutes until smooth and the cheese is melted.

Put your drained cauliflower in an ovenproof dish (or grill safe if you're using the grill). Be sure it's drained very well. Pour over the sauce.

Sprinkle the extra cheeses on top and then cook as follows:
Either:
Preheat the oven to 200C (you can do this when you start cooking) and bake for 15-20 minutes until the cheese on top is melting and golden.
Or:
Preheat the grill to medium and put under the grill to cook for about 5 minutes until the cheese is melted (be sure to use a grill proof dish if doing this).
Notes
Cauliflower cooking time: This will depend on the size of the florets. 
Don't over cook the cauliflower when it's boiling as it is going to cook more in the oven.
Drain well! Be sure to drain cauliflower well so not watery.
Tip: You could add breadcrumbs (I like Panko) on top for crunch.
Nutrition
Calories:
389
kcal
Carbohydrates:
27
g
Protein:
26
g
Fat:
21
g
Saturated Fat:
13
g
Polyunsaturated Fat:
0.4
g
Monounsaturated Fat:
3
g
Cholesterol:
65
mg
Sodium:
696
mg
Potassium:
1005
mg
Fiber:
5
g
Sugar:
11
g
Vitamin A:
478
IU
Vitamin C:
121
mg
Calcium:
712
mg
Iron:
1
mg
Made it? Tag me!
Tag @TamingTwins so we can admire your make ⭐️