Colcannon is a traditional Irish mashed potato side dish, made with spring onions, cabbage, cream, plenty of butter and seasoning, then topped with chives. 
This is the ULTIMATE comfort food, and a way to turn your usual mash into something extra (not to mention the benefit of hidden veggies!)
Colcannon has an interesting history, but it's also a delicious accompaniment to so many main dishes – it's one we should always have up our sleeve.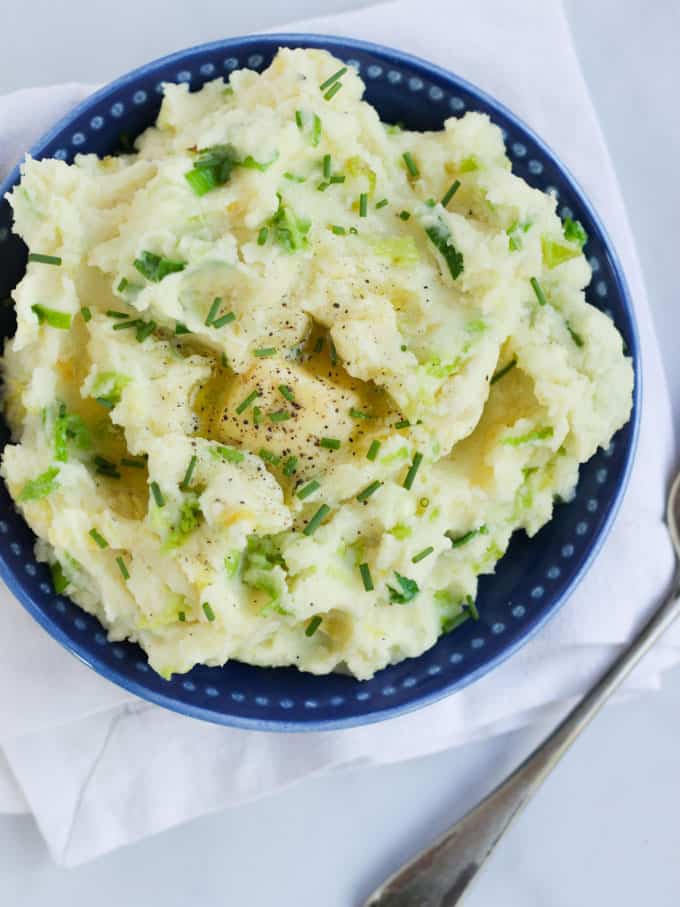 What is Colcannon?
Is there anything more satisfying than a heap of buttery, creamy, comforting mashed potato? This recipe is my take on the classic Irish mashed potato side dish, which has been a staple in the country's ancestral diet for a few centuries. 
Colcannon is traditionally made with fluffy, light mash mixed with either curly kale or Savoy cabbage and spring onions (scallions). Often recipes also feature milk, cream and butter, which is added to really elevate that consistency and flavour into something special. 

Colcannon has links to Halloween as an Irish traditional dish, but it's perfect as an addition to a comfort food meal any time of the year. This article in the Smithsonian magazine has an interesting delve into the origins of the dish.
---
Why you'll love this recipe
⭐️ Budget-friendly ingredients
⭐️ Simple but special
⭐️ So easy to make!
---
What to serve with Colcannon potatoes
There are so many dishes that this side dish complements:
---
Colcannon accompanies these side dishes well too:
---
Ingredients for Colcannon Mash
Potatoes – See below for guidance on which type
Garlic – Fresh or frozen pre-prepared is fine
Butter
Cabbage – I like Savoy but choose your favourite
Spring onions
Single cream
Fresh chives
Sea salt and freshly ground black pepper
---
How to make Colcannon
1. Peel your potatoes and boil them up with some garlic.
2. When cooked, drain and mash.
3. In a pan, soften your cabbage and spring onions in butter. Add your potatoes, cream and salt and pepper. Mix thoroughly.
4. Sprinkle with extra chives and butter to serve.
Hint: If you're not serving this straight away, you can keep it warm in the oven in an ovenproof dish, and it will get a nice crispy topping.
---
How to store Colcannon
In the fridge You can keep this recipe in the fridge for 3 days. Reheat fully in the microwave or oven before serving.
Does Colcannon freeze well? Yes! Just wait until it's totally cold and then put into a freezer proof container and freeze for up to 3 months. Defrost thoroughly before reheating.
Top tips
Mashing your potatoes
I like to use a potato ricer for mashing my potatoes. I find that this simple piece of kit gives the PERFECT mash every time, as it eliminates the chance of any pesky lumps getting through. Using a ricer also avoids the risk of that DREADED gluey mash potato which comes from too much beating or mashing.
I've had my potato ricer for years and use it every single time I make mashed potato. This one – Commercial Grade Potato Ricer – looks slightly different to mine (more sturdy in fact!) and is currently rated as the top choice on Amazon.
Cooking
Always start your potatoes off in cold water and bring them to the boil, so that the water starts to make its way through them as it warms up. This stops the potatoes getting soggy and overcooked on the outside before they've had a chance to cook on the inside.
Colcannon leftovers
Colcannon cakes are made with leftover Colcannon, shaped into patties or even one large cake to fill a frying pan.
How to make them: Shape the leftover Colcannon, coat in flour and fry until crispy all over. They are absolutely delicious – please try them if you have any leftovers! They are a bit like Bubble and Squeak and are perfect served with crispy bacon and a poached egg.
You could always use any leftovers to top a Cottage Pie, Shepherd's Pie, Cowboy Pie or Fish Pie!
FAQ
What type of potatoes should I use for Colcannon?
I like to use King Edwards or Maris Piper as they seem to give the best and fluffiest mashed potato. Find out more about which kind of potato is good for what on the Love Potatoes website.
What is the difference between Colcannon and Champ?
Both Irish dishes, Champ is mashed potatoes with chopped spring onions (scallions) and milk. Colcannon is Champ with the addition of cabbage and sometimes some herbs.
Is Colcannon gluten free?
Yes! Potatoes, milk, butter, cream and veggies are naturally gluten-free, so go ahead without concern if you need to eat this way.
Colcannon Recipe
Colcannon is delicious, light and fluffy mashed potatoes with spring onions (scallions), cabbage, cream, plenty of butter and seasoning. Topped with chives, this Irish potato recipe is the ultimate comfort food side dish. 
Ingredients
1

kg

Potatoes

Peeled and cut into large chunks.

4

Cloves

garlic

See notes.

200

g

Butter

300

g

Cabbage

Finely sliced.

100

g

Spring onions

Finely chopped (including the green parts).

100

ml

Single cream

20

g

Fresh chives

Chopped finely.

Sea salt flakes and freshly ground black pepper

Use plenty.
To garnish:
A pat of butter and a sprinkling of fresh chives
Instructions
Boil the potatoes with the garlic for 15-20 minutes until cooked through. 

While the potatoes are cooking, melt 100g of the butter in a small frying pan and saute the cabbage and spring onions for 3-4 minutes until softened.

Drain the potatoes and mash (leave the garlic in).

Add the cabbage and spring onions (including the butter they were cooked in) to the potatoes.

Meanwhile warm the remaining butter and cream until the butter is melted (I do this in the pan I fried the cabbage in). Add to the potato and cabbage mixture.

Add the chives and plenty of salt and pepper and stir until throughly combined. Serve immediately with extra butter and chives to garnish.
Notes
Garlic: If you're using fresh, peel and chop. Or use 4 tsp of your pre-prepared equivalent.
TIP: If you're not serving this straight away, you can keep it warm in the oven in an ovenproof dish, and it will get a nice crispy topping.
Use a ricer: This avoids lumpy mash and stops it from getting too overworked and gloopy.
Start with cold water: Boil up your potatoes in a pan with cold water to start with. This makes sure they get evenly cooked.
Nutrition (per serving)
Calories:
406
kcal
Carbohydrates:
26
g
Protein:
6
g
Fat:
32
g
Saturated Fat:
20
g
Cholesterol:
90
mg
Sodium:
272
mg
Potassium:
861
mg
Fiber:
5
g
Sugar:
2
g
Vitamin A:
1360
IU
Vitamin C:
43
mg
Calcium:
108
mg
Iron:
6
mg
Made it? Tag me!
Tag @TamingTwins so we can admire your make ⭐️