This post may contain affiliate links.
Did you know that homemade Fish Fingers are SO easy to make, are great for cooking with kids, you can batch cook them and they're ready in about 30 minutes?
We really don't need to use processed pre-made versions of this family favourite when it's this simple to make them yourself. They taste amazing too!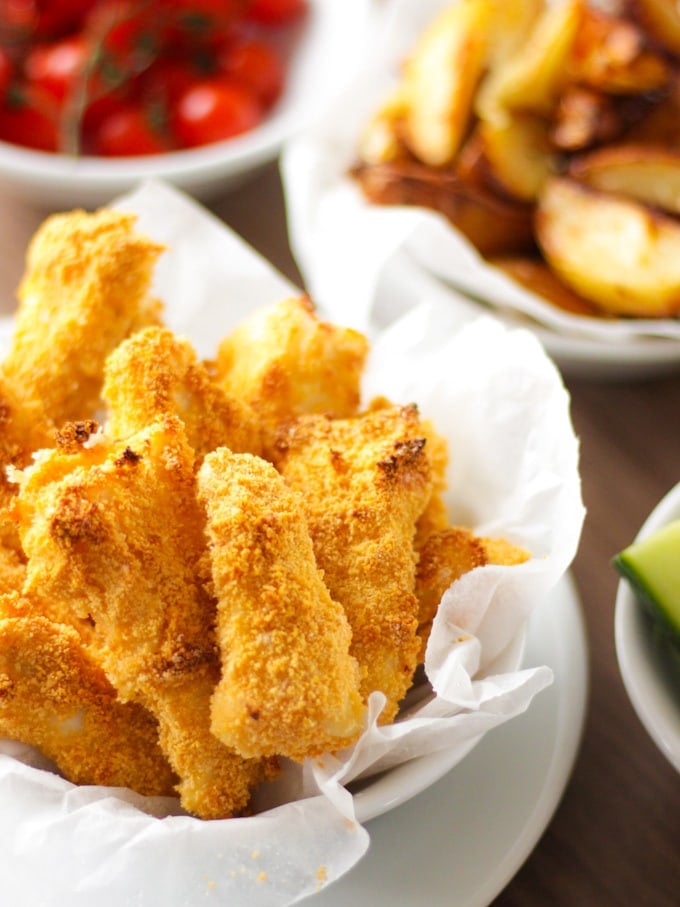 Fish fingers are one of the perfect ways to get kids eating more fish, but we all know that frozen processed versions are not going to offer much in the way of nutrition.
This Fish Fingers recipe is proof that you can make this classic dish from scratch, packing it with both goodness and flavour, without much faff or time involved at all.

In fact, this recipe has just FOUR ingredients, is ready in about half an hour and we're baking them instead of frying them, meaning hardly any hands-on faff and a healthy dinner, lunch or snack that's ready in no time.
---
Why you'll love this Fish Fingers recipe
⭐️ Healthy and delicious
⭐️ Baked for zero faff
⭐️ Great for freezing
---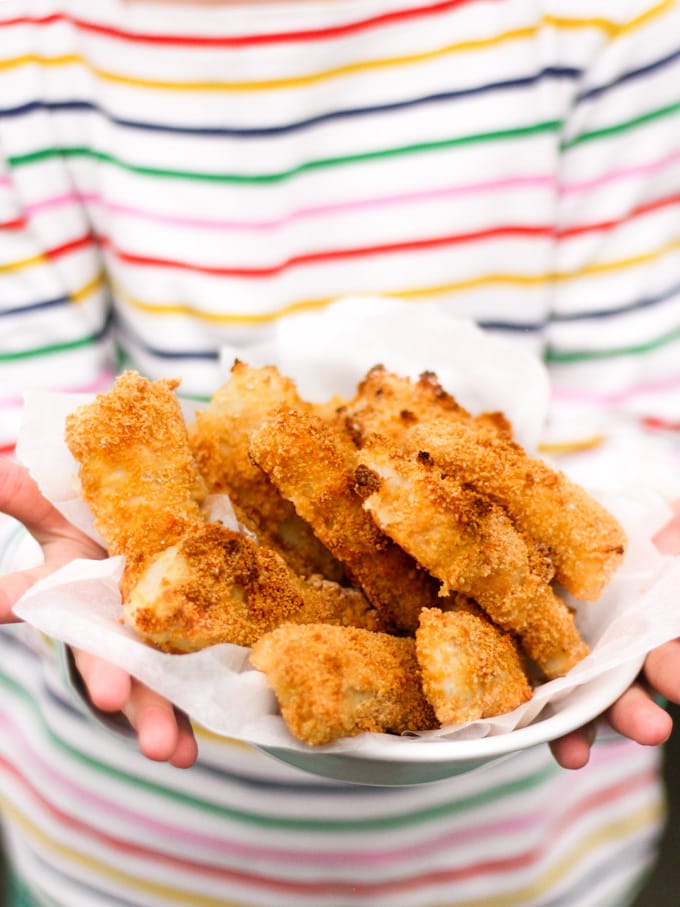 About this Homemade Fish Fingers Recipe
If you think your kids love fish fingers, just wait until they try fresh ones! We're using white fish for this Fish Fingers recipe, which is packed full of vitamins and minerals, as well as super tasty.
These are also great for getting the little ones involved in the kitchen, making them a perfect recipe if you're cooking with kids. That's because they're simple but fun to put together. (And they get to enjoy their efforts!)
I like to batch cook these for the freezer too – they're' so handy for busy weekends or the school holidays when everyone is famished but there's not much time.

Obviously we're taking a few shortcuts (as always) for this recipe, but the results are great and they taste delicious, whether you're making a fish finger sandwich for fish finger wrap for lunch, or a dinner with sides. They'd even be great in a picnic!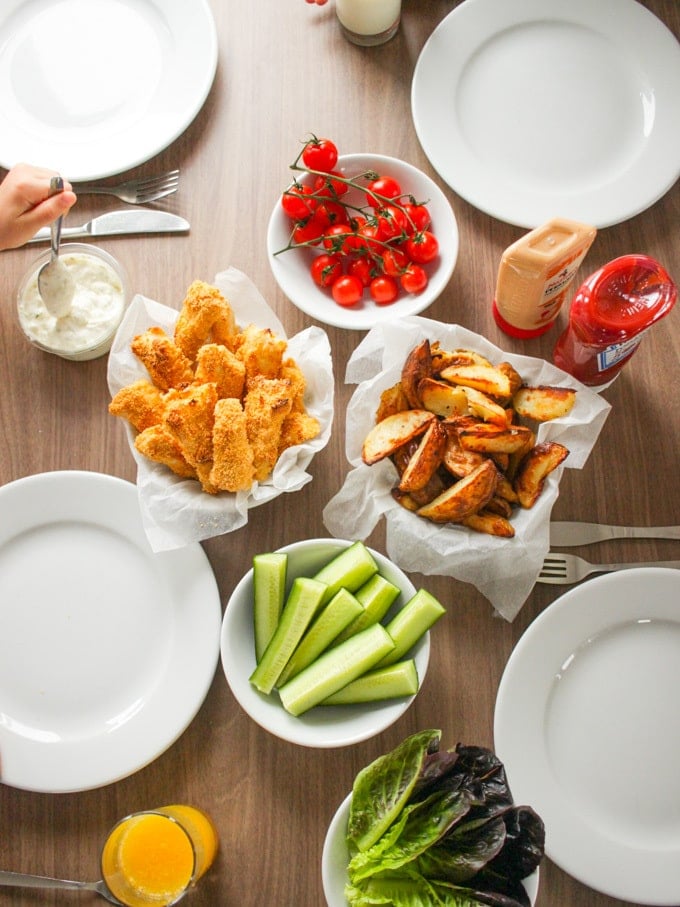 Fish Fingers Ingredients
Fish – I use cod but any firm white fish fillets will be fine, such as haddock or pollock. Get skinless and boneless for ease. You could also try Salmon Fish Fingers – follow the link to my recipe.
Plain flour – This is to dip your strips into. You can keep it plain or flavour it a little, but make sure you season it well.
Eggs – I use free-range medium. You'll beat these to dip your fish into.
Breadcrumbs – I like Panko breadcrumbs for this because they're bigger and crispier. You can grind them down a bit if you like them finer.
Salt and pepper
---
How to make Fish Fingers
Mix your flour in a bowl with salt and pepper. Beat your eggs in a separate bowl. Add your breadcrumbs into another.
One at a time, take your fingers-shaped fillets and dip them into the flour, then the eggs, then the breadcrumbs.
Place on a lined baking tray and bake in a preheated oven for 20 minutes at 180C until golden brown and cooked through.
---
Substitutions
Flavouring – You can be a little inventive with your seasoning if you like. For example, a little grated parmesan in with your breadcrumbs would be good, or perhaps a little paprika or lemon zest. Garlic and onion powder could work well too.
Breadcrumbs – If you'd prefer to make this with your own homemade breadcrumbs, go ahead.
Leftovers
In the fridge You can keep this recipe in the fridge for 3 days. Reheat fully before serving or enjoy them cold.
In the freezer These are great for baking cooking and freezing. You can either freeze them BEFORE baking them or after they've been cooked.
Make sure you freeze them separately on a baking sheet before adding them into a labelled freezer bag once solid. Fully defrost them before baking in the oven. If you're freezing these after they've been cooked, make sure they're fully cooled before freezing.
Top tips for making the best Fish Fingers
What to serve with Fish Fingers
It has to be Homemade Chips! These skin-on fries are so easy and so delicious. Perhaps Jacket Potatoes instead? Also go for the classics – peas or beans. You could also serve with a squirt of lemon juice, tartare sauce or ketchup, or even a side salad.
Don't forget they're amazing between bread or wrap for the ultimate fish fingers sandwich! 
If using frozen fish
It's fine to use frozen fish for this recipe for convenience or to save money. Just defrost the fish fully in the fridge before you start cooking, and make sure you dab any excess liquid off the fillets with kitchen roll before you add the coatings, or they could end up soggy.
Prep the fish
I would recommend leaving the fish in the fridge until it's time to cook to help it keep its firmness.
FAQ
Can I fry these fish fingers instead?
Yes you can. They'll just require a bit more time and effort, and the calorie count will be higher. Fry them in hot oil in batches carefully.
What fish is best to use for making fish fingers?
I like to use cod for the fish fingers but you can use any kind of firm, meaty white fish, so choose your favourite flavour or budget. Haddock works well, so does pollock.
Can I make these crispier?
If you want to add another step to the method, you could bake the breadcrumbs a little before you coat your fish with them. Simply add them onto a baking tray, spray a little oil on them and bake for about 5 minutes until they're a bit golden.

It's not necessary to the recipe, but you will have slightly crispier fish fingers if you do.
Can I serve these to toddlers?
These are perfect for children from the age of six months because they are so full of goodness. Fish is a good food to introduce to little ones as early as possible too. Just omit any salt from your seasoning.
Let me know how you got on and what you thought of these recipes. Please rate the recipe using the ⭐️ below.
Also I'd LOVE to see your cooking creations. If you'd like to share yours with me, you can tag me on Instagram (@tamingtwins).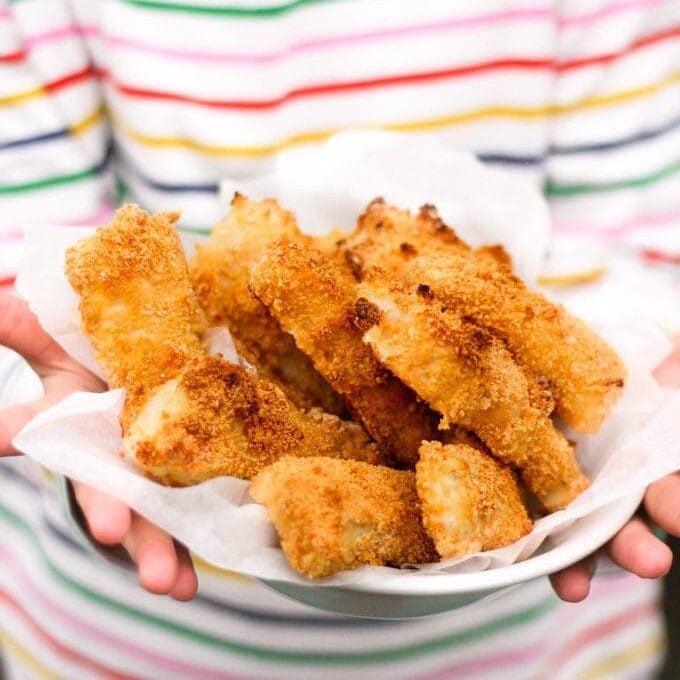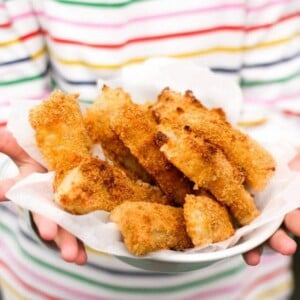 Homemade Fish Fingers Recipe
These delicious Homemade Fish Fingers are fun to make, really healthy and totally delicious. So easy too – whip them up in 30 minutes!
Ingredients
500

g

Firm white fish fillet

,

Skinless and boneless, cut into strips.

100

g

Plain flour

Salt and pepper

2

Medium free range eggs

,

Beaten.

150

g

Breadcrumbs
Instructions
Preheat the oven to 180C and line a baking tray with baking parchment.

Mix your flour in a bowl with a little salt and pepper. Prepare a separate bowl for the beaten eggs, and another for the breadcrumbs.

One at a time, take your fish fillets and dip into the flour, then the eggs and finally the breadcrumbs. Place on your lined baking tray.

Bake for 20 minutes until golden and cooked through.
Nutrition
Calories:
373
kcal
Carbohydrates:
46
g
Protein:
33
g
Fat:
5
g
Saturated Fat:
1
g
Polyunsaturated Fat:
2
g
Monounsaturated Fat:
1
g
Trans Fat:
0.01
g
Cholesterol:
136
mg
Sodium:
374
mg
Potassium:
647
mg
Fiber:
2
g
Sugar:
2
g
Vitamin A:
169
IU
Vitamin C:
1
mg
Calcium:
105
mg
Iron:
4
mg
Nutrition information is automatically calculated, so should only be used as an approximation.