It's been a bit quiet around these parts the last fews weeks. Sorry for the radio silence. I promise, I've still been eating cake and bumbling around. There's just been an undercurrent of sadness in my days which has left me finding it hard to write about adventures or how to make the lightest chocolate sponge.
For me, sometimes the only way to make sense of things is food (of course) and so I bring you, gloriously crispy, salty sautéed potatoes. Ideal for dealing with early mornings, hangovers and grief. I'll come on to the potatoes in a moment.
My Dad passed away at the very end of January. The home phone rang at 6:30am and a fat tear was rolling off of the end of my nose before I even made it down the stairs to answer. It was a given that the call would be coming sometime soon. The end of years watching dementia ravage the stubborn, feisty, verbose man he was.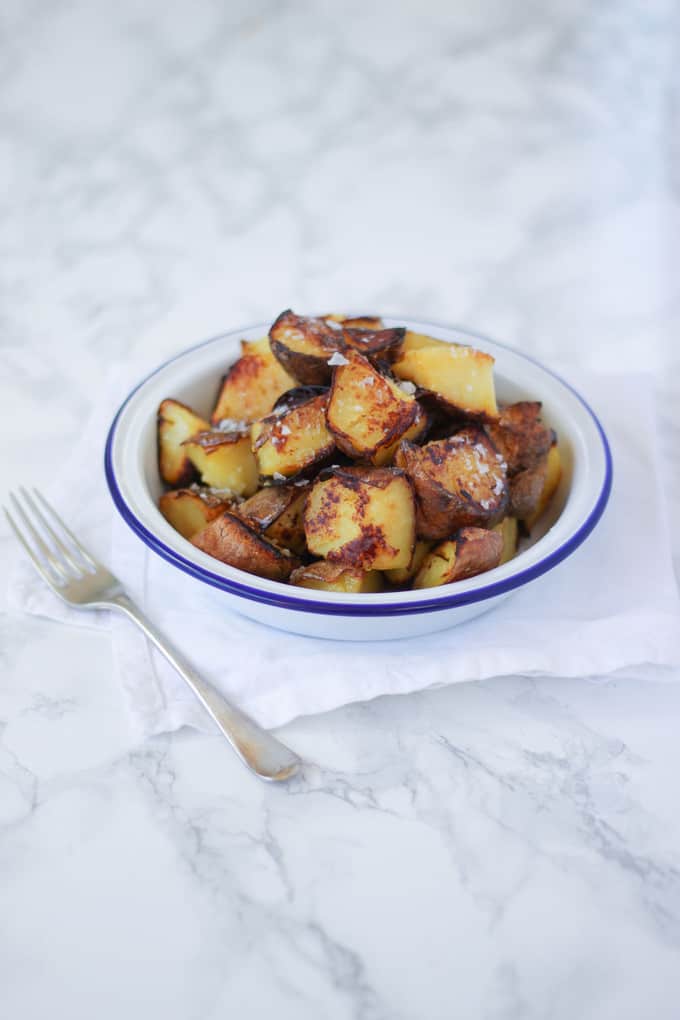 I've felt slightly fraudulent in my grief. I spoke to him every week, but he wasn't my confident. He was a great provider, but not the hands on Dad that we all take as vital in our millennial families. But it turns out, that the finality of death can take you quite by surprise, however prepared you are. It's made me reflect on how similar we are and on how I took his quiet devotion for granted, too busy being embarrassed by his eccentricity.
I'm so conscious that growing old is a privilege, one that some are not lucky enough to enjoy, but oh dementia is grim. There's no dignity in it. It's not how you see on TV. It's not just forgetfulness and 'oh how silly the can't remember your name'. Dementia is not knowing how to eat, not being able to speak, it's loneliness and loss, right there, animated in life.
In the midst of his illness, I think I'd somehow forgotten who he was before and when he died, it came back. Snippets and memories of a childhood full of warmth and happiness. No, not demonstrated as we expect these days, but no less valuable.
Him dozing off as he read to me every night in that little green bedroom, sitting in the high back chair next to my bed. (Including the time, on the eve of my 6th birthday, that with some persuasion he read me the whole of "Stories for 5 Year Olds" as I was convinced it would be redundant thereafter.)
When I first moved away from home, he sent me newspaper cuttings each week that he thought I'd find interesting, or little poems he'd written for me, in his hardly legible hand. At the time I was too busy being a foolish 20 year old to care. Now they feel like treasure.
Him standing staring across a field, watching sheep or cows. As at home as he would be anywhere, uncharacteristically quiet in the breeze. When I'm juggling two children around a play farm, all backpacks and chaos, I catch a breath and a moment of stillness and think of him, leaning on a gate.
Then the potatoes. The only thing he ever cooked and only ever for breakfast. They would be leftover from dinner the night before (where did all of those leftover potatoes come from?!) and fried, splattering oil over the kitchen much to Mum's dismay. Served with salt and possibly sausages. Forever, Dad's potatoes.
Thanks for listening, normal service will resume tomorrow.
Sauteed Potatoes
Crispy and perfect sauteed potatoes
Ingredients
Leftover potatoes

baked are best, with the skins left on

Sunflower oil

Sea Salt
Instructions
Add a generous glug of oil to a fry pan and heat until almost smoking.

Chop the potatoes into 8ths and add to the pan.

Fry until crispy, crunchy and golden.

Drain on kitchen paper and sprinkle liberally with salt.
Made it? Tag me!
Tag @TamingTwins so we can admire your make ⭐️
Keep in touch on Facebook ¦
Chit chat on Twitter ¦
Never miss a trick on Bloglovin' ¦
Circle with me on Google+ ¦
Pinning like my life depends on it Pinterest