We love our British foodie traditions, especially when they transform leftovers into something even more delicious. Hello Bubble and Squeak! It's delicious and money saving too.
If you want to know once and for all how to make Bubble and Squeak, here is a simple recipe of the ultimate English comfort food.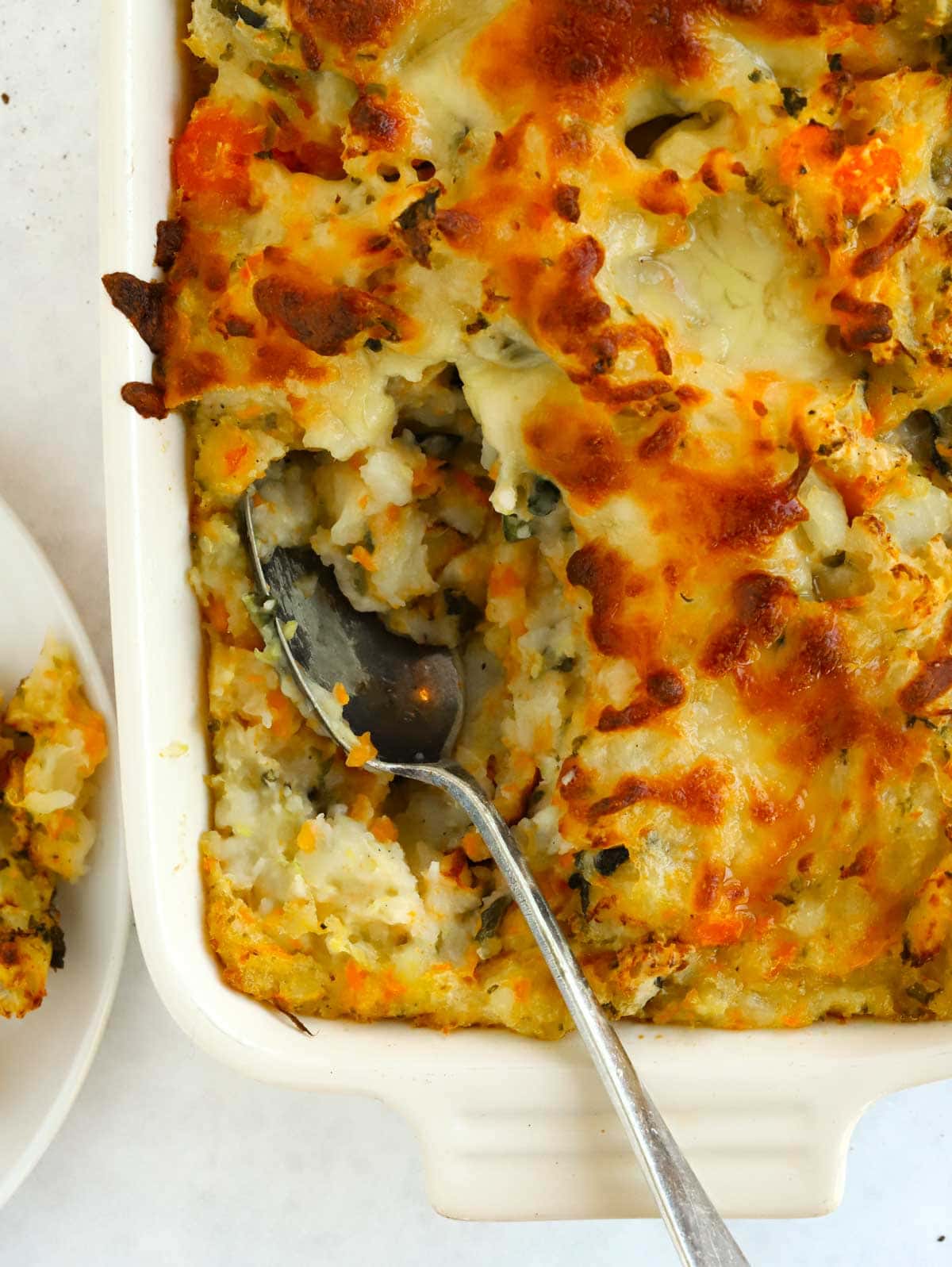 There is nothing better than throwing cooked leftover Sunday lunch ingredients together and tucking into them again during the week.
While Bubble and Squeak is traditionally made out of leftovers, I am going to show you how to make Bubble and Squeak from scratch in case you want to. 
I am also going to show you how this dish can actually be made in the oven or under the grill too, which I like to do for a couple of reasons.
One, you don't have to stand over it and worry about it burning. Two, you can add cheese for an extra crunchy, delicious topping!
---
Why you'll love this Bubble and Squeak recipe
⭐️ Low cost and perfect for leftovers
⭐️ Comforting and pack with vegetables
⭐️ Just so delicious!
---
About Bubble and Squeak
Bubble and Squeak dates back to the 18th century in England and is probably the most famous dish for being made out of leftovers. It started out with cooked beef in its ingredients, but during Second World War rationing it became more common to just have the mashed vegetables.
It is along the similar lines of Colcannon or Champ, both Irish dishes that are similar but aren't a crusted mash up of leftovers, rather more creamed mashed potato.
Then there's Rumbledethumps, a Scottish traditional dish that's also named after the apparent sounds the ingredients make in the pan as they fry!
I'm going to show you two versions of how to make Bubble and Squeak – one from scratch so you know what can go into it, or if you just fancy having it any time of the week, and also what to do if you are using leftovers.
---
Bubble and Squeak Ingredients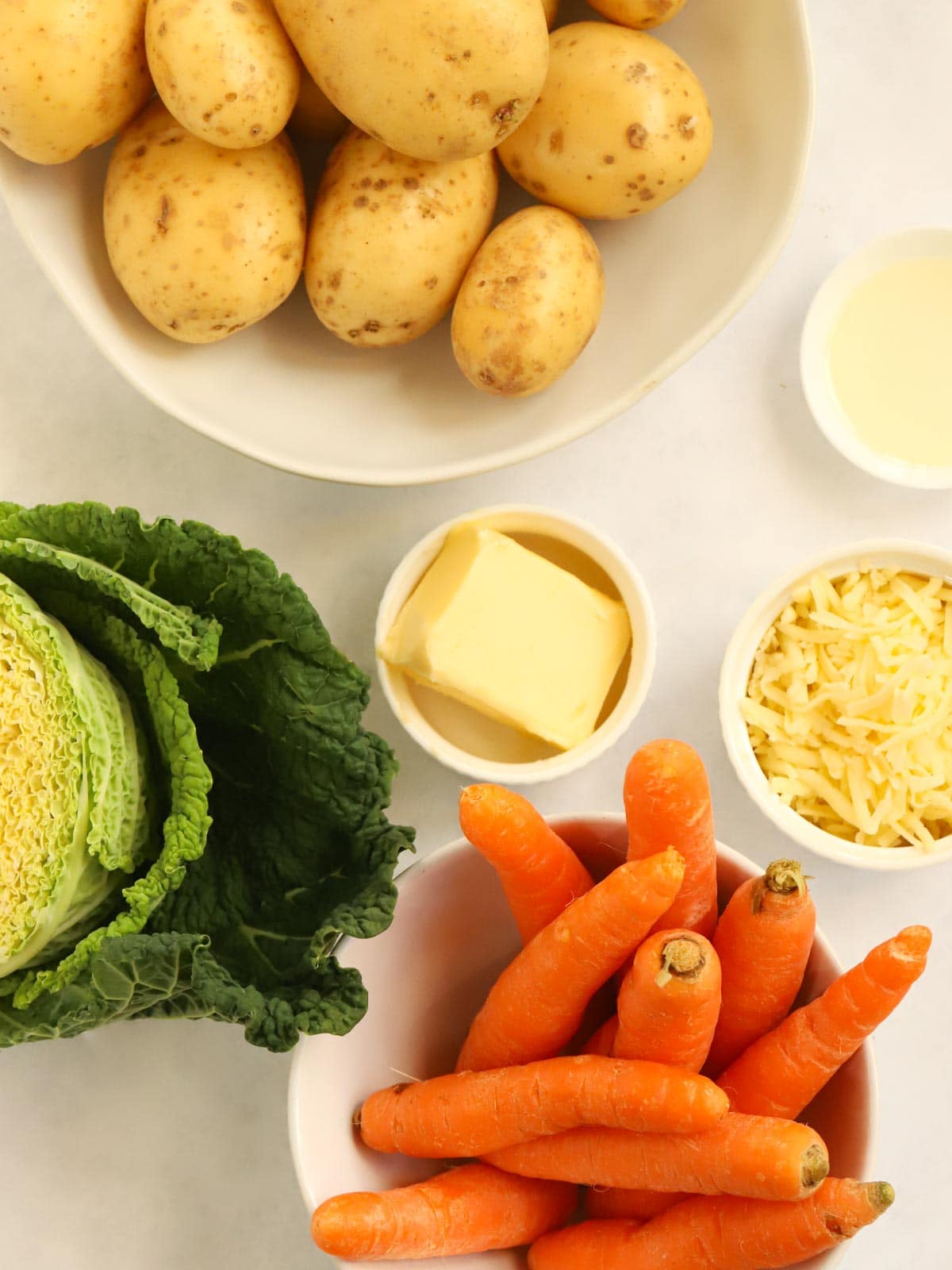 Potatoes – Any type work here
Savoy cabbage – Or other white cabbage if you prefer
Carrots – Frozen work well here too
Butter – I like salted
Salt and pepper
Sunflower oil – Or vegetable oil
Cheese – I like a strong cheddar here

OR

Sunday roast leftovers!
---
How to make Bubble and Squeak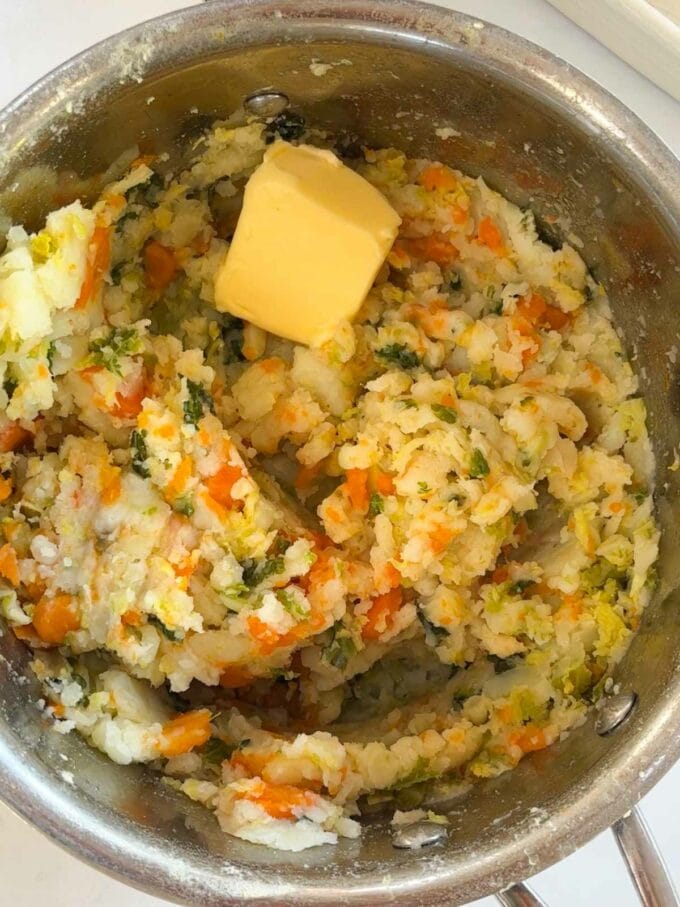 Add all of your cooked vegetables OR leftovers to a bowl and mash together with butter and salt and pepper.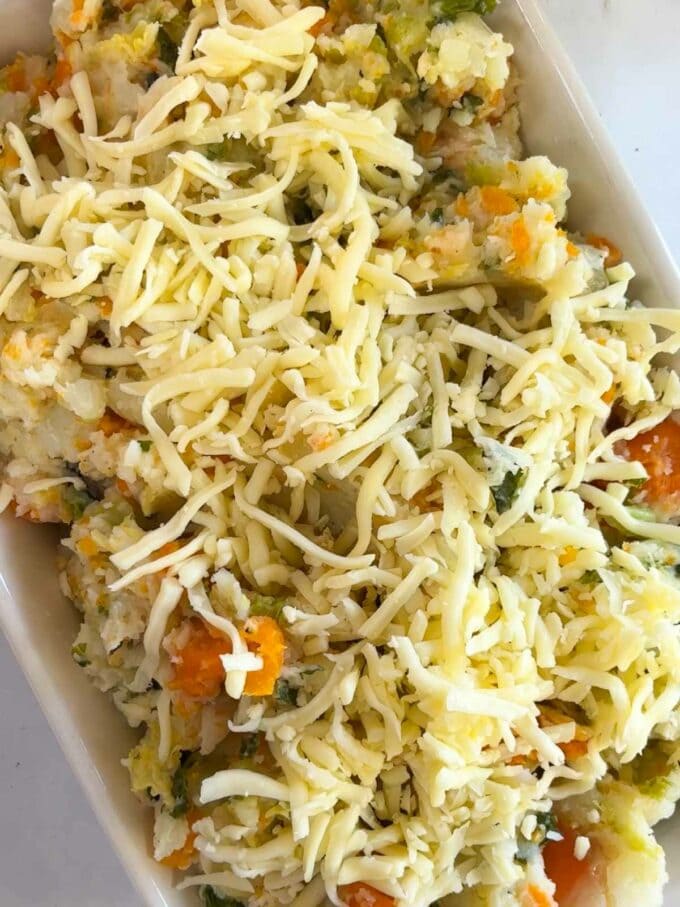 2. Place in a grill-proof dish and sprinkle the cheese on top. Pop under the grill OR oven bake (instructions and timings below).
---
Substitutions
Anything goes with Bubble and Squeak – any leftovers of cooked meat or any vegetables, just throw it all in. The concoction makes for delicious results.
Leftovers
In the freezer It's best to freeze this before you've baked it (also a great way to save leftovers for another time). That way you are following food safety guidelines of not reheating twice.
Just defrost and then bake as normal.
Top tip for making Bubble and Squeak
Bubble and Squeak is very flexible with measurements! Because the traditional method is to throw all leftovers in together to avoid waste, knowing that the already cooked flavours come together and are delicious in whatever form, it's a very forgiving dish. There's no need to stick to particular amounts and weights here – just guess or chuck it all in!
Bubble and Squeak FAQs
Why is it called Bubble and Squeak?
It's said to be as simple as being named after how it sounds in the pan while it's cooking! If you like delicious funny-name British classics, try out my foolproof recipe for Toad in the Hole!
What can I serve with Bubble and Squeak?
This is traditionally eaten on its own as you can add meat in with the recipe, however it does also make a fantastic side dish if there's not quite enough.

You could add baked beans, some people like it with a fried egg on top, and any kind of extra meat or fish would work well too. If have any gravy and Yorkshire Puddings left (doubtful) from your roast, you could serve it with these.
What if my Bubble and Squeak falls apart?
Honestly, the finished texture depends a lot on the amount of liquid in the vegetables you use and if they were leftovers or not. But remember, this is supposed to be very casual and it will still taste delicious!
Is Bubble and Squeak made in a frying pan?
Yes, it usually is. I like to make it like like though because you don't have to stand over it and worry about it burning. Also, you can add cheese for an extra delicious topping.
Let me know how you got on and what you thought of these recipes. Please rate the recipe using the ⭐️ below.
Also I'd LOVE to see your cooking creations. If you'd like to share yours with me, you can tag me on Instagram (@tamingtwins).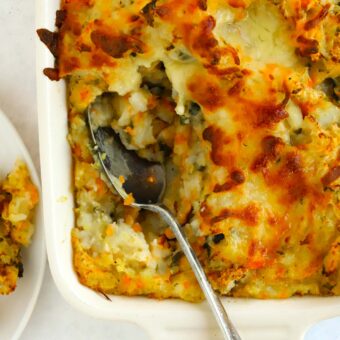 Bubble and Squeak
It's one of our beloved and unassuming yet totally delicious traditional dishes. It's also got the most wonderful eccentric name. Here's how to make Bubble and Squeak.
Ingredients
1

kg

Potatoes

Peeled and cut into 4cm cubes

1/2

Savoy cabbage

Thinly sliced

400

g

Carrots

Peeled and sliced

50

g

Butter

Salt and pepper

1

tbsp

Sunflower oil

50

g

Cheese
Instructions
OPTION 1:
Put a large saucepan of salted water on to boil and cook the potatoes for 10 minutes. Add the carrots and cabbage and cook for a further 5 minutes.

Preheat the GRILL to medium.

When the potatoes and the vegetables are cooked through (check by prodding a potato with a knife), drain well and return to the saucepan.

Then put the saucepan with the vegetables in (with no water in) back onto the hob heat for 1 minute. (This just allows the water to be removed from the potatoes so they aren't watery when we mash them.)

Mash everything well with the butter and salt and pepper.

Use the oil to grease a grill proof dish or tin and pile the mash in. Sprinkle on the cheese and put under the grill until golden (about 3-5 minutes).
OPTION 2 (if you're using leftovers):
Preheat the oven to 200C.

Take all of your cooked, cold potatoes and vegetables and mash well together with butter and salt and pepper. Sprinkle with cheese.

Put into the preheated oven and bake for about 30 minutes until hot through (check the middle is hot inside).
Notes
Leftover measurements You can guess approximate amounts of weights here. Nutritional info This is approximate for the version cooking this from fresh not using leftovers. 
Nutrition (per serving)
Calories:
406
kcal
Carbohydrates:
54
g
Protein:
9
g
Fat:
18
g
Saturated Fat:
9
g
Polyunsaturated Fat:
1
g
Monounsaturated Fat:
7
g
Trans Fat:
0.4
g
Cholesterol:
39
mg
Sodium:
247
mg
Potassium:
1392
mg
Fiber:
8
g
Sugar:
7
g
Vitamin A:
17179
IU
Vitamin C:
56
mg
Calcium:
155
mg
Iron:
2
mg
Made it? Tag me!
Tag @TamingTwins so we can admire your make ⭐️