Now THIS is how you jazz up a chicken breast – Pizza Topped Chicken! A delicious alternative to a traditional pizza is the perfect family meal.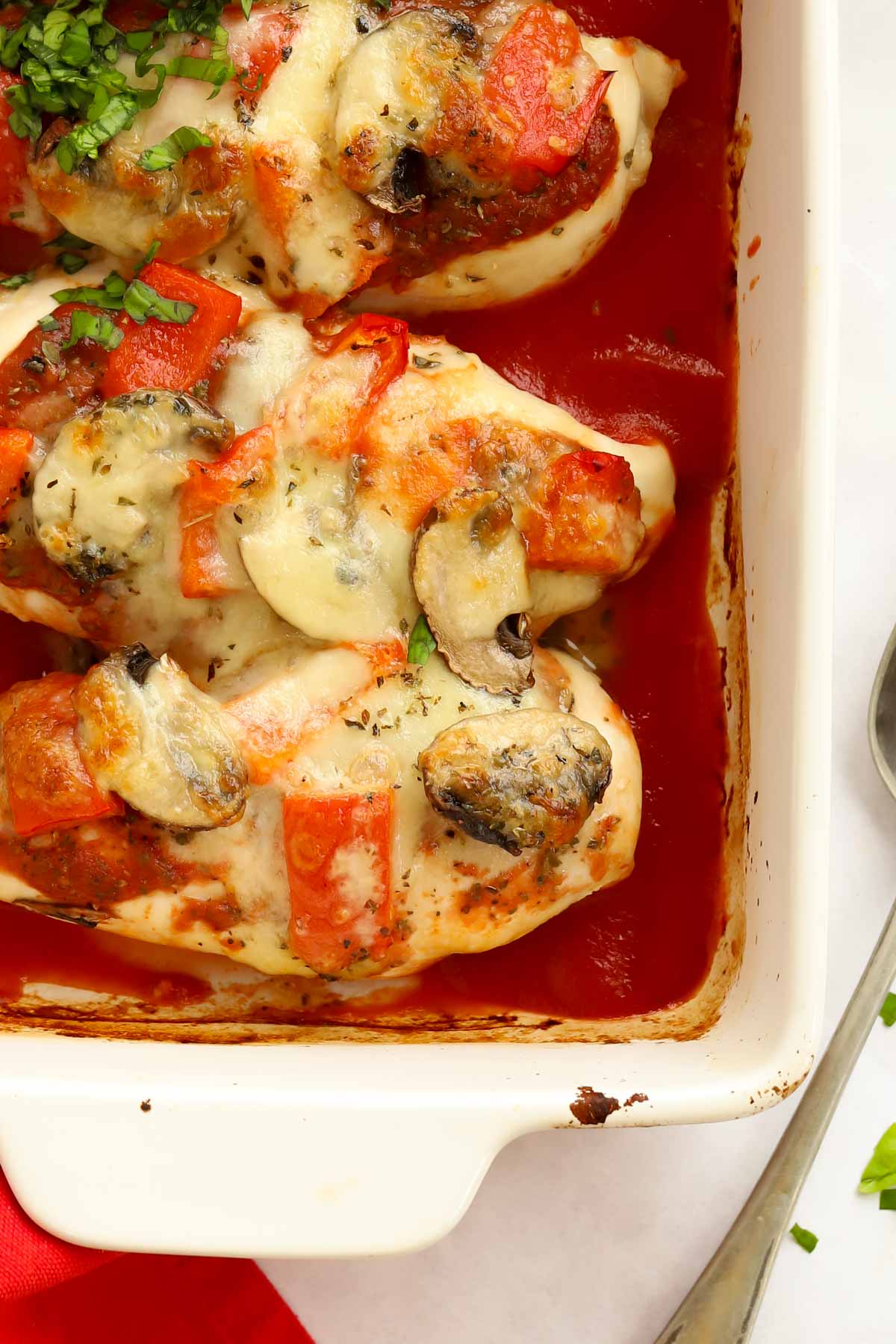 It's so easy to buy chicken breast but then have a complete mental block when it comes to what to do with them. I always think there's so much choice – which there is – but then trying to think of something that the whole family will love? Not so easy!
This cheesy Pesto Pizza Topped Chicken is a perfect go-to for an easy midweek meal. It only takes 30 minutes and feels like a bit of a treat at the same time. It's a good one to get the kids involved with too, as they can help choose and add their toppings.
I love to serve this with potato wedges and salad to make it a really summery meal, but you can choose whichever sides you prefer.
You'll love this recipe because:

✅ A quick 30 minute meal

✅ Healthy pizza alternative

✅ The kids can help make their own!
FAQs about this Pizza Topped Chicken Recipe
What toppings can I use?
Choose whichever your preferred pizza toppings are and be as inventive as you like! How about adding some tinned sweetcorn? Or perhaps barbecue sauce or pepperoni slices?
What should I serve it with?
I like to keep it simple with homemade potato wedges and some salad, but why not try any easy summer side dish like rice, vegetables, garlic bread, pasta, potatoes.
Will this work as leftovers?
Yes – let it go cold, slice it up and put it in the fridge for the next day's lunchtime salad. Yum.
What quantity should I use for children?
Use your discretion about how much your child can eat, but I would say a decent-sized chicken breast could probably be sliced through the middle when raw and shared between two.
The liquid at the bottom of my dish looks watery after cooking, does this matter?
Sometimes this can happen depending on the chicken you use and also the type of cheese. Buffalo mozzarella for example can be quite watery as it cooks. It's nothing to be alarmed about, just check the chicken is cooked through, lift it out out and serve.
Do I need to flatten the chicken breasts out?
This step is optional, and is useful if your chicken breasts are very thick. They vary A LOT. Personal preference, like thin and crispy or deep pan I guess?!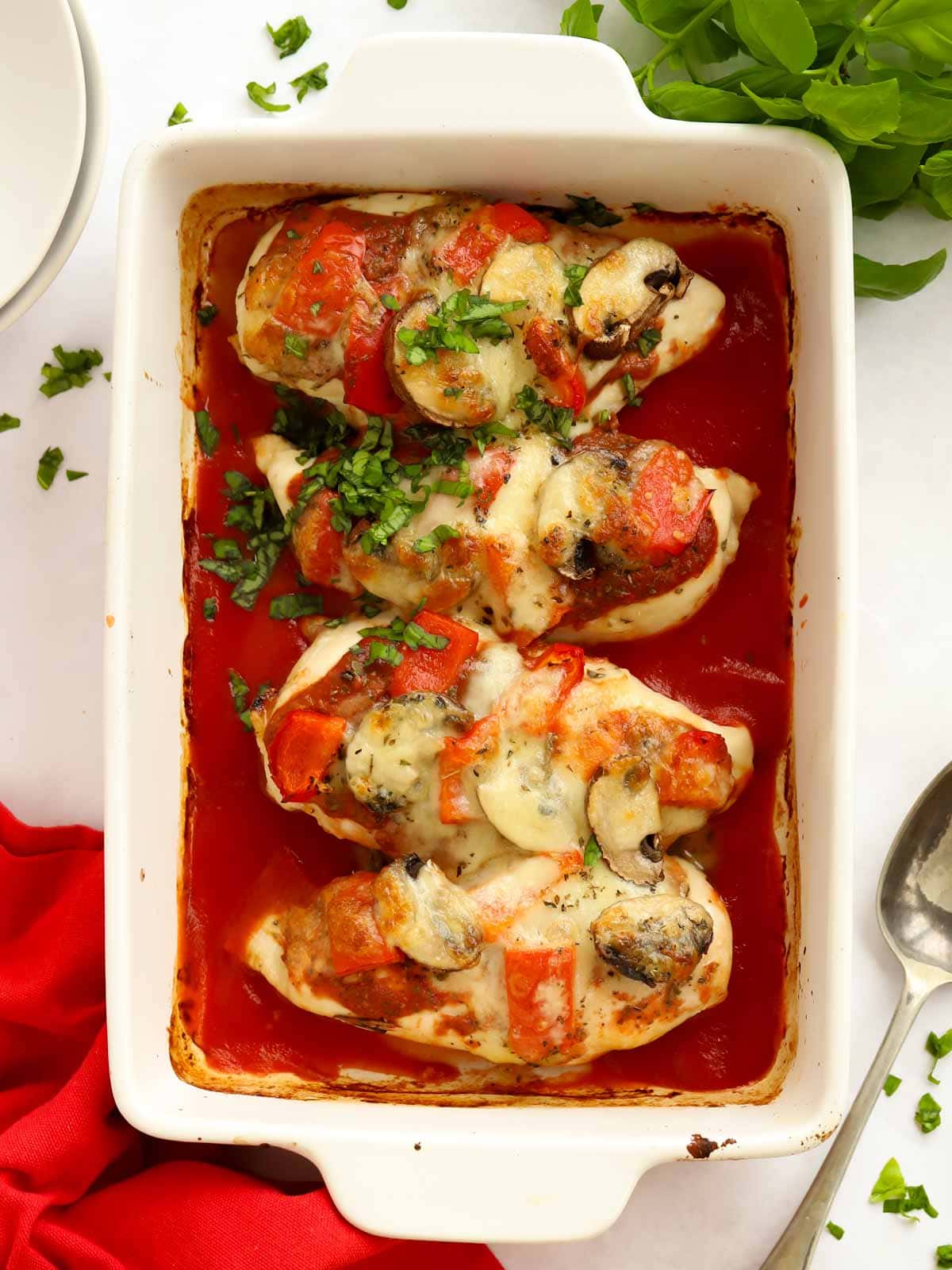 Fancy more easy chicken recipes?
Hope you enjoy this recipe as much as we do.
I'd love to know how you got on and what you thought of it if you make this recipe. Please rate the recipe using the ⭐️ by the recipe.Also, if you'd like to show me a photo by tagging me on Instagram (@tamingtwins) I LOVE to see your creations.
Pizza Topped Chicken Recipe
The best way to jazz up a chicken breast recipe is here - and the whole family will love it! Enjoy this Pizza Topped Chicken Recipe.
Ingredients
4

Chicken breasts

See notes

4

tbsp

Passata

1/2

tsp

Garlic powder

1/2

tsp

Dried oregano

Salt and pepper

1

Red pepper

Sliced thinly (See notes)

2

Large mushrooms

Sliced

75

g

Mozzarella

Grated or buffalo (See notes)
Instructions
Pre-heat the oven to 200°C and line or grease a baking tray.

If your chicken breasts are quite thick, put the chicken breasts on a chopping board, cover with clingfilm or baking paper and using a rolling pin or the bottom of a saucepan, flatten them out. (This

Place the breasts on to the baking tray.

Mix the passata with the garlic powder and oregano and divide between the chicken breasts, spreading out to cover. (If you have any left, you can pour it into the dish around the outside of the chicken.)

Top the chicken breasts with the slices of pepper and mushroom and then sprinkle over the cheese. Pop into the oven.

Bake for 18-20 minutes until the chicken is cooked through and the cheese golden.

Serve with the optional basil.
Notes
Chicken Breasts
These can sometimes come in bigger portions with less of them in a packet, so try and aim for approximately 450g of meat in total. You can partially slice them through the middle and then flatten very large chicken breasts and then cut into pieces so that everyone gets their own 'pizza'. Pizza Toppings
Vary the ingredients with your favourite pizza toppings. Mozzarella
If you use buffalo mozzarella (the balls, rather than grated) some water will come out as the chicken cooks. This is fine, just check the chicken is cooked and lift it out. You may also need more than the 75g if you are using buffalo mozzarella as it's tricky to cut thinly to cover the chicken.
Nutrition (per serving)
Calories:
317
kcal
Carbohydrates:
5
g
Protein:
47
g
Fat:
11
g
Saturated Fat:
4
g
Trans Fat:
1
g
Cholesterol:
140
mg
Sodium:
401
mg
Potassium:
892
mg
Fiber:
1
g
Sugar:
2
g
Vitamin A:
1328
IU
Vitamin C:
42
mg
Calcium:
106
mg
Iron:
1
mg
Made it? Tag me!
Tag @TamingTwins so we can admire your make ⭐️