These Crispy Chicken Burgers are not only ridiculously easy to make and totally delicious, they're also pretty healthy too. Oven-baked instead of fried and using a nifty trick to get that crispy coating we all love.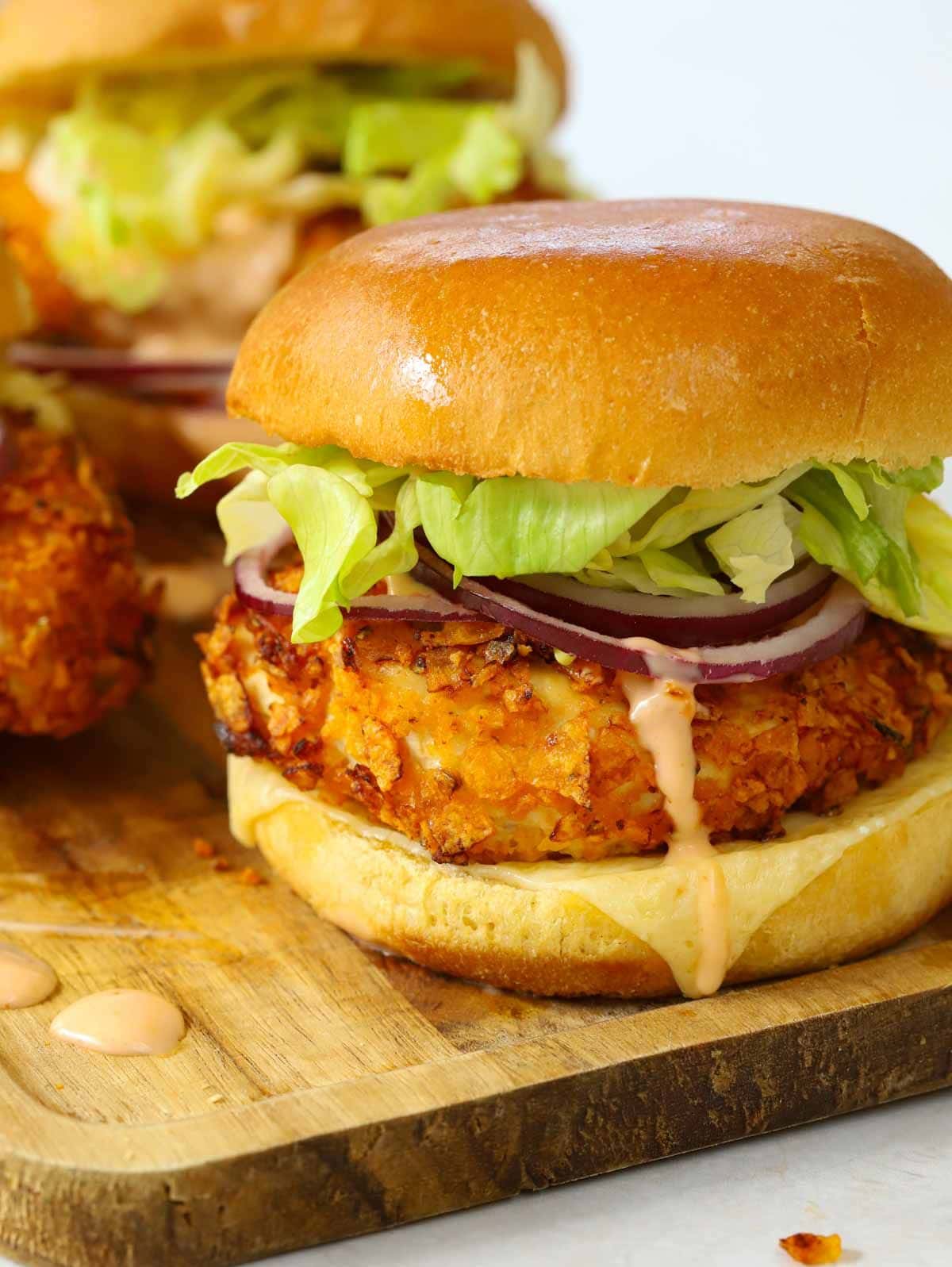 Homemade 'fast food' is one surefire way of pleasing your family at dinner time, and this Crispy Chicken Burgers recipe is perfect for a quick midweek meal or a weekend treat.
But I'll let you into a secret… While it may taste a bit naughty, the coating and cooking make this a pretty healthy choice.
The coating for the chicken is made with yoghurt (yes, yoghurt!), tortilla chip pieces for a crispy texture, and herbs and spices for flavouring. We're cooking it in the oven to keep that chicken breast tender and succulent on the inside but crispy on the outside. No deep frying in sight.
Look out for the coating tip below which makes this recipe a quick, zero faff recipe too. Enjoy!
---
Why you'll love this healthy burger recipe
⭐️ Healthy homemade fakeaway
⭐️ Quick and easy
⭐️ Mouth-wateringly delicious and big family hit!
---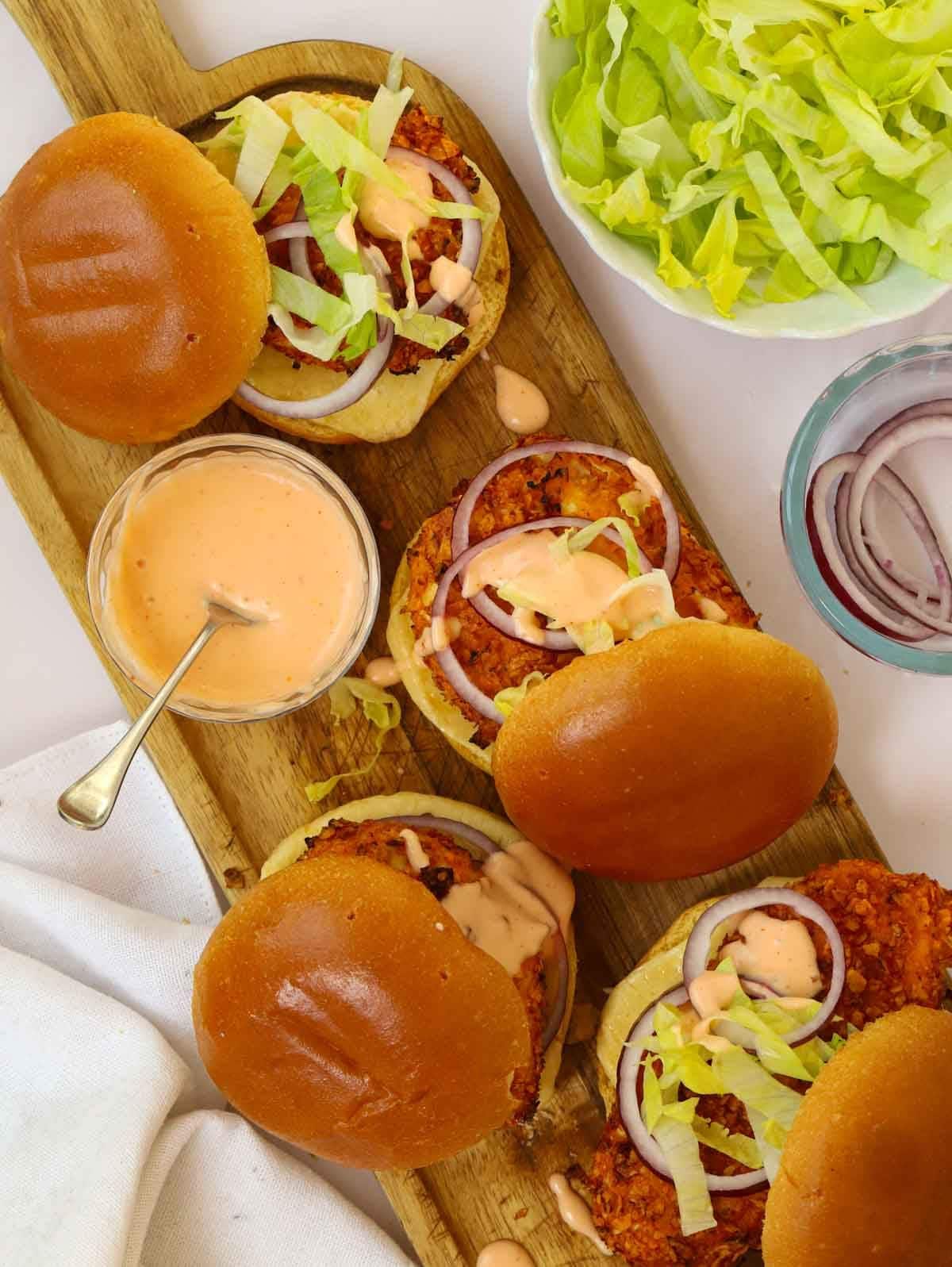 About these Crispy Chicken Burgers
Okay so here's my confession, I don't love fried chicken. My dear friend Anna (who also works here on TamingTwins with me) LOVES a deep fried chicken burger. We often discuss the pros and cons (what can I say – food nerds).
Anyway. I find fried chicken burgers all too greasy normally. Not only that, but who can face frying battered burgers at home? Not me that's for sure. So I set to making my own version as an Anna/Sarah compromise.
⭐️ We originally tested this recipe by dipping the chicken in flour, egg and then breadcrumbs. We felt that these weren't crispy enough and also were too much of a faff.
⭐️ Next we tested using yoghurt to bind the breadcrumbs on (like I do in my lush popcorn chicken). The yoghurt worked, it's maybe 10% less good than using egg, but we feel it's worth if for the time/effort/thinking saving.
⭐️ This version we swapped breadcrumbs for… CRUSHED TORTILLA CHIPS! (What joy.) We also baked on a grill rack and hurrah, so good.
---
What to serve with Crispy Chicken Burgers
The burgers are great on their own or as part of a bigger meal or feast. Why not try:
---
My other favourite homemade burger recipes
---
Crispy Chicken Burger Ingredients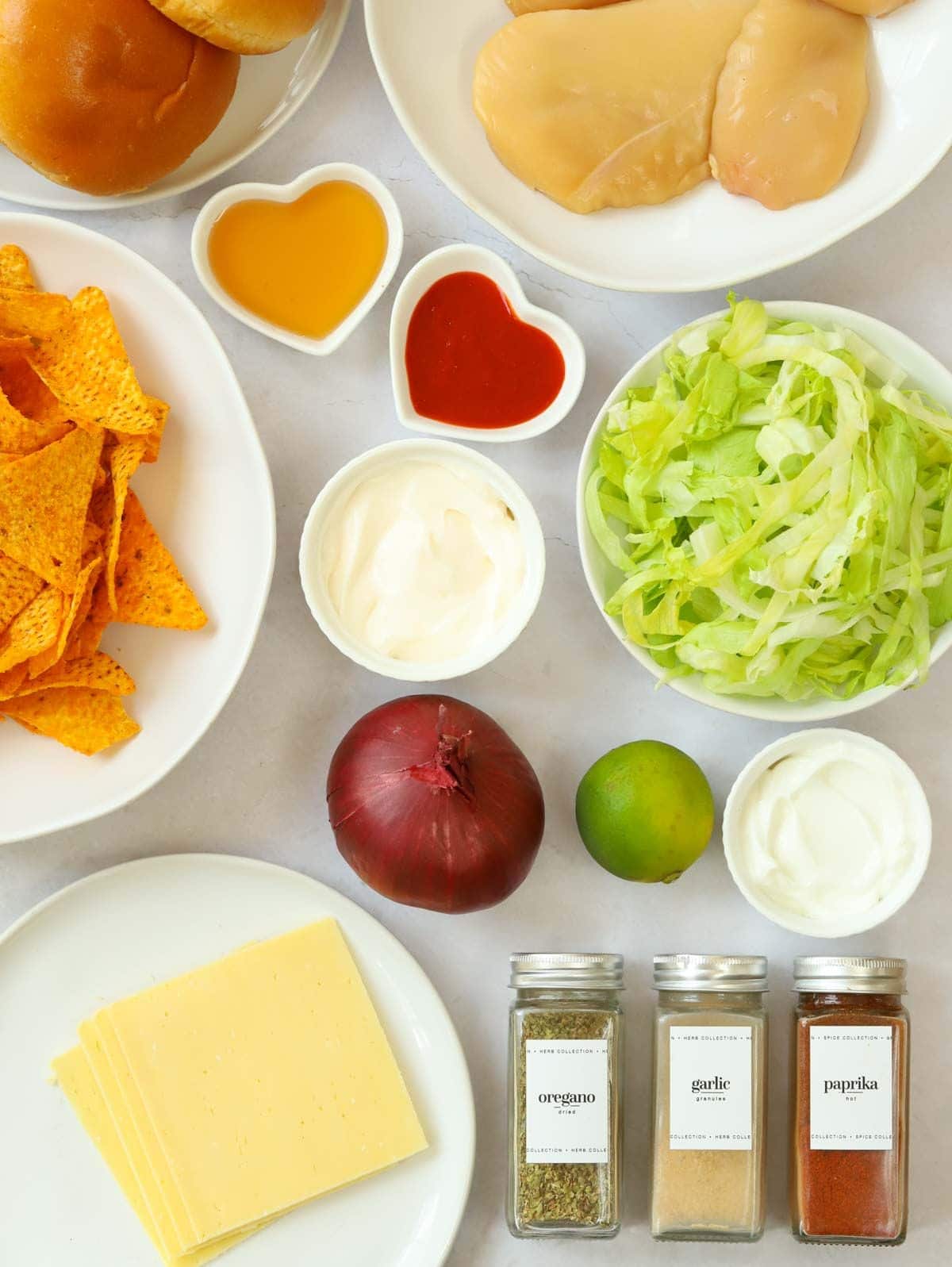 Chicken breasts – You could definitely use boneless, skinless thighs here but they will take longer to cook.
Greek yoghurt – Low fat or regular is fine.
Oil – Vegetable, sunflower or olive oil is fine. Spray oil is ideal!
Tortilla chips – Any flavour you prefer, we loved this using the spicy ones.
Oregano – Dried.
Paprika
Garlic granules
For the Hot Honey Mayo:
Mayonnaise – Regular or lower fat is fine.
Honey
Chilli sauce
Juice of a lime
To serve:
Buns – I like brioche buns but go for your favourite type
Cheddar cheese slices
Lettuce
Red onion
---
How to make Crispy Chicken Burgers
Coat the chicken well with the yoghurt and spices. Add the crushed tortilla chips and coat.
2. Put the chicken on a grill rack to bake. As per the recipe timings below, just before the end of the cooking time, add the buns and cheese to melt.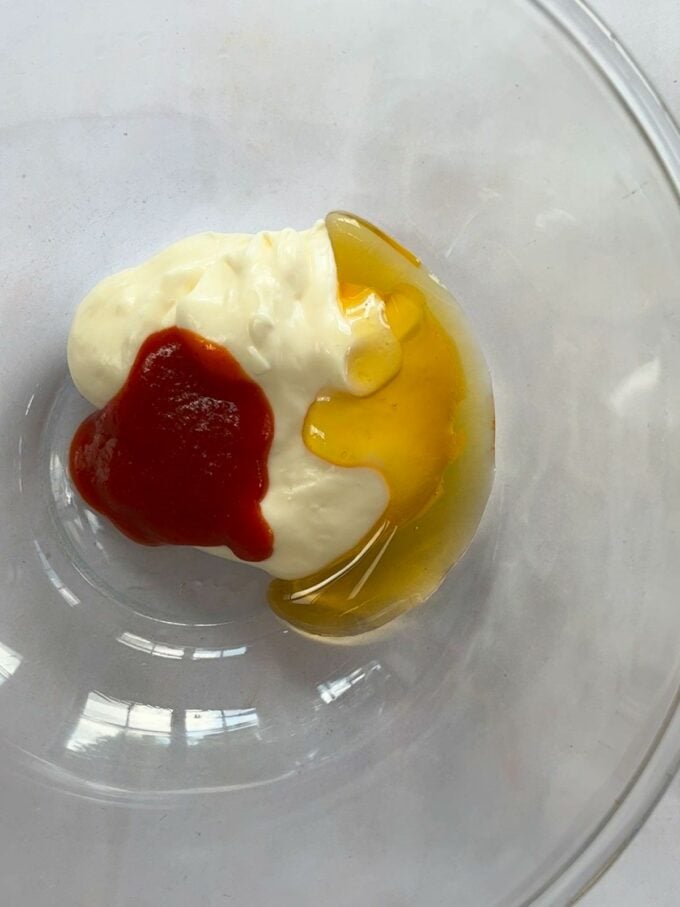 3. Whilst the chicken is cooking, mix up the mayo in a small bowl.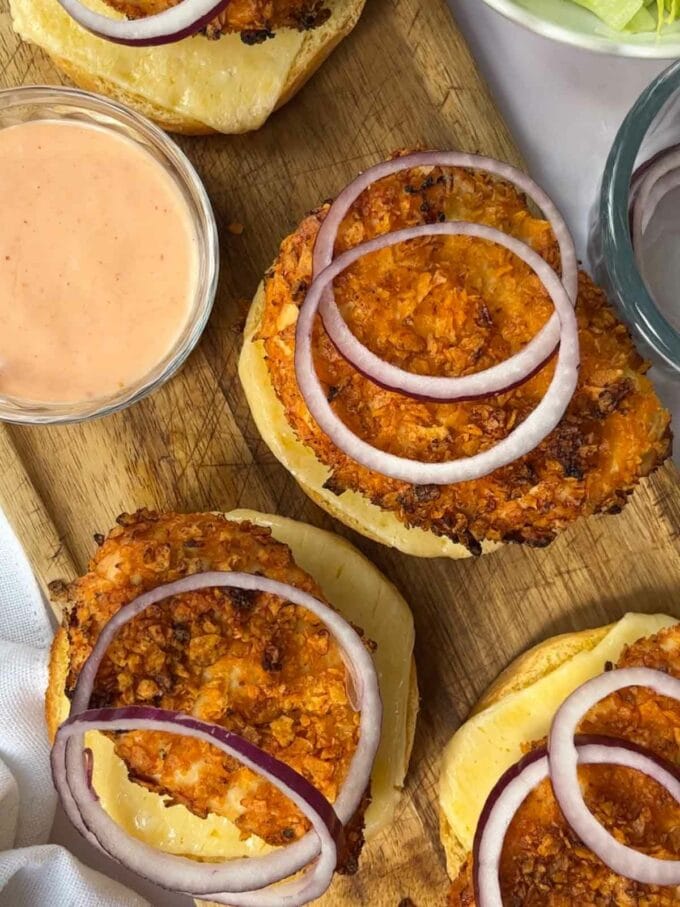 4. Make up the burgers in the buns and add salad and the dressing.
Hint: To coat the chicken, put it in a Tupperware tub with the yoghurt, put the lid on and shake. Add the breadcrumbs and other coating ingredients next, pop the lid on shake again. Simple!
---
Substitutions
Burger fillings and sauces – Choose your favourites instead and fill your boots!
Paprika – You can substitute this for smoked paprika, chilli flakes, a reduced amount of cayenne pepper, or anything similar to give these Chicken Burgers a little kick and colour.
Leftovers
In the fridge You can keep this recipe in the fridge for 3 days. The chicken would make fantastic lunches the day after.
In the freezer You can freeze any leftover cooked chicken. Just wait until it's totally cold and then put into a freezer proof container and freeze for up to 3 months. Defrost thoroughly. (It will not be very crispy after freezing!) As always ensure it's fully heated through before serving.
Top tips for making Crispy Chicken Burgers
How to coat the chicken: Quick hack!
To coat the chicken with Greek yoghurt, tortilla chips and flavouring, I shake it all together in a Tupperware tub!
Put the chicken, yoghurt and flavourings into the tub, put the lid on and shake it. Add the tortilla coating, pop the lid on and shake again. Simple!
I also use this trick for my Crispy Cauliflower Tacos and Salmon Fish Fingers too. I really recommend it for anything you need to cover with breadcrumbs or a coating as there's no mess and the ingredients are evenly distributed!
Cooking time
Please note that the cooking time will depend on the size and shape of your chicken breasts (plus how crunchy you want the outside to be).
If in doubt, check your meat thermometer to make sure it is cooked through. (The ideal cooking temperature for chicken is 74°C, according to Thermapen – my go-to thermometer-makers. There's also more cooking time information here).
Crispy Chicken Burgers FAQs
Don't I need to flatten the chicken first?
I mean, you could if you'd prefer your chicken to be flatter and more uniform in shape, but you know me – I am all about the convenience when cooking for my family, and I would say you don't need to, at all.

If you'd like to, put the breasts onto a chopping board, cover with cling film and beat with a rolling pin until flattened and even.
Let me know how you got on and what you thought of these recipes. Please rate the recipe using the ⭐️ below.
Also I'd LOVE to see your cooking creations. If you'd like to share yours with me, you can tag me on Instagram (@tamingtwins).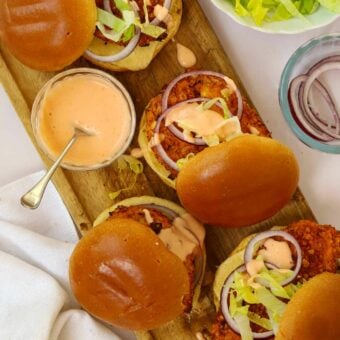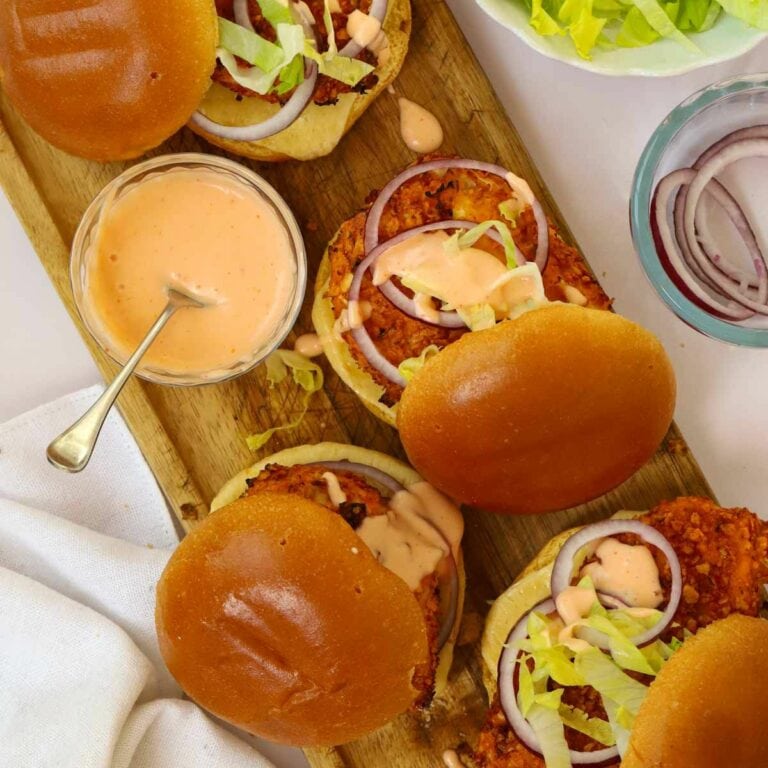 Crispy Chicken Burgers with Hot Honey Mayo
These Crispy Chicken Burgers with Hot Honey Mayo dressing are the ULTIMATE homemade fast food recipe. Tender chicken breast with a crispy coating inside a burger bun is your healthy fakeaway that's totally delicious but also quick and easy.
Ingredients
650

g

Chicken breast

x4 breasts

75

g

Greek yoghurt

100

g

Tortilla chips

(We like the spicy flavoured ones!)

1

tsp

Oregano

2

tsp

Paprika

2

tsp

Garlic granules

Sea salt and ground black pepper
For the Hot Honey Mayo:
100

g

Mayonnaise

2

tsp

Honey

2

tsp

Chilli sauce

Juice of a lime
To serve:
4

Burger buns

I like brioche.

4

Cheddar cheese slices

Lettuce

Red onion
Instructions
Preheat the oven to 200C.

Mix the yoghurt, oregano, paprika, garlic granules and salt and pepper, and use to coat the chicken. SEE NOTES BELOW.

Crush the tortilla chips until they are very fine (TIP: I put the tortillas in a bag and use a rolling pin or any hard object to smash them.) Roll the yoghurt coated chicken in the tortillas mixture.

Put the coated chicken breasts onto a grill rack (or cooling rack suitable for the oven) on top of a baking sheet and drizzle with the oil. This helps to make them crispier. Bake for 20 minutes, turning the chicken breasts halfway through.

While they are in the oven, make the hot honey mayo. Mix together all your mayonnaise ingredients in a small bowl and set aside until you assemble your burgers.

After the 20 minutes, remove the chicken from the oven. Carefully move the chicken to one side of the rack and sit the buns cut-side-up on the grill rack. Place a slice of cheese on the top of half of the buns. Return the chicken and bread to the oven for 5 minutes. The chicken should be cooked through and golden (use a meat thermometer to test if you have one).

Stack the chicken burgers in the toasted buns with lettuce, onions and the mayo.
Notes
COATING THE CHICKEN: Put the chicken and yoghurt in a Tupperware tub, put the lid on and shake until it's evenly coated. Add the breadcrumbs and other coating ingredients next, pop the lid on shake again. Simple!  Greek yoghurt: If you can get it, I do think thick Greek yoghurt works best for this as it acts like glue for the tortilla. If you only have natural yoghurt, you can try it but they won't stick quite as well and you may need to reduce the amount you use a little. Paprika: You can substitute this for smoked paprika, chilli flakes, a reduced amount of cayenne pepper, or anything similar to give these Chicken Burgers a little kick and colour. Oil: Vegetable, sunflower or olive oil is fine. This step is important as it makes the burgers crispy. If you had a spray bottle of oil this would be AMAZING for doing this (I didn't have one).
Nutrition (per serving)
Calories:
487
kcal
Carbohydrates:
49
g
Protein:
43
g
Fat:
13
g
Saturated Fat:
3
g
Polyunsaturated Fat:
4
g
Monounsaturated Fat:
4
g
Trans Fat:
0.04
g
Cholesterol:
108
mg
Sodium:
721
mg
Potassium:
761
mg
Fiber:
3
g
Sugar:
11
g
Vitamin A:
572
IU
Vitamin C:
3
mg
Calcium:
139
mg
Iron:
3
mg
Made it? Tag me!
Tag @TamingTwins so we can admire your make ⭐️