This is a super simple, warming recipe has just a handful of ingredients but so much flavour. No need to make a trip to the takeaway this weekend because this Chinese Style Slow Cooker Beef and Broccoli dish is our newest fakeaway. Healthy, delicious AND affordable.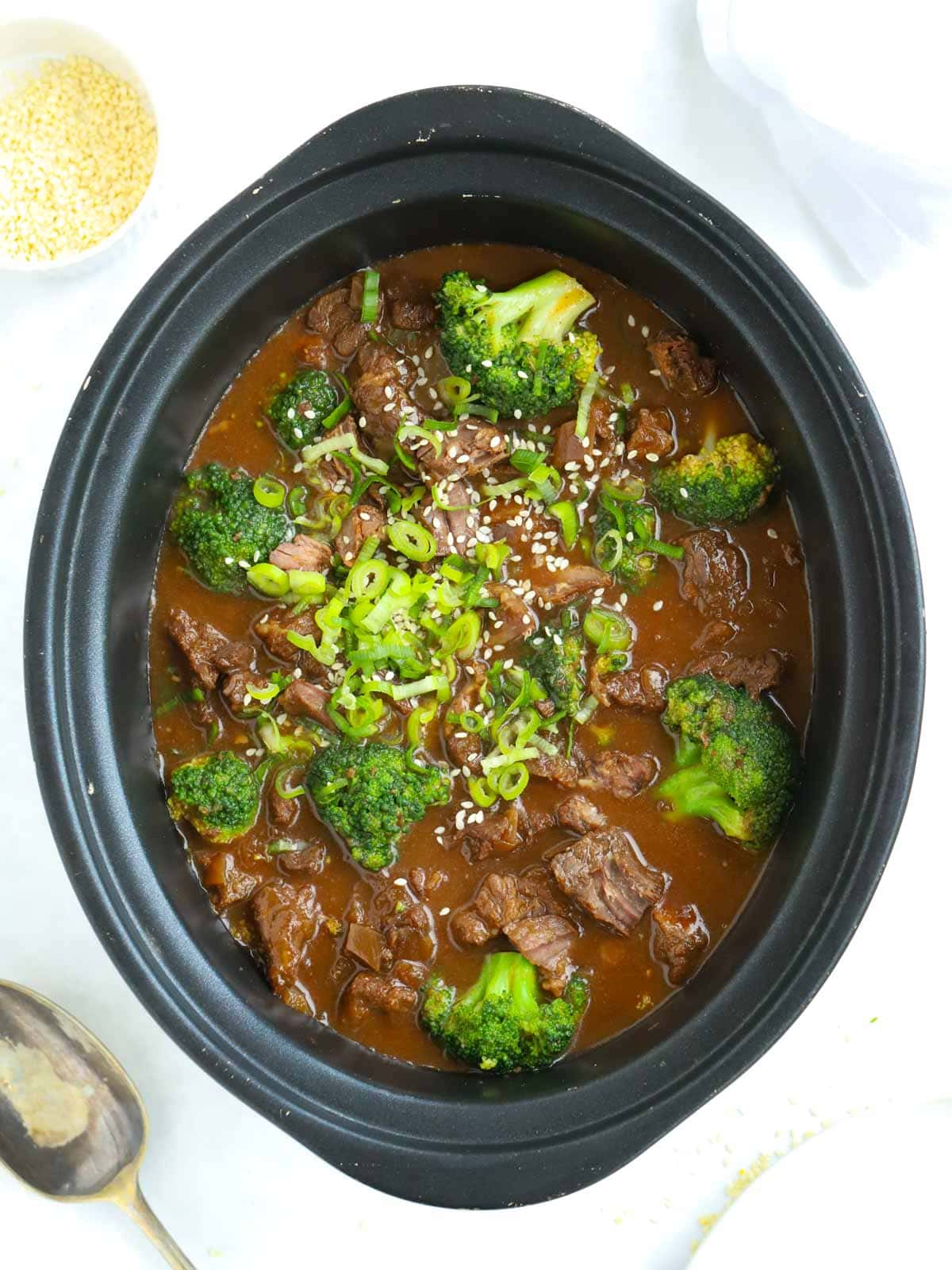 I know this is a slow cooker series, and I've tested so many slow cooker recipes over the years, but sometimes even I'm impressed about what they serve up!

This Slow Cooker Beef and Broccoli stir fry-style recipe is made with a sticky, tangy, rich Chinese-style sauce and while it tastes like a treat, it's actually fairly light and quite nutritious.
Plus, slow cooked beef just can't be beaten for flavour and tenderness.
This is a perfect weekend dinner, you could even serve this up as part of a banquet, alongside my Chicken Fried Rice, Peanut Butter Noodles with Halloumi or Pork Yuk Sung.
---
Why you'll love this Slow Cooker Beef and Broccoli recipe
⭐️ So easy with just a few ingredients
⭐️ Delicious, sticky sauce
⭐️ A homemade is best satisfaction
---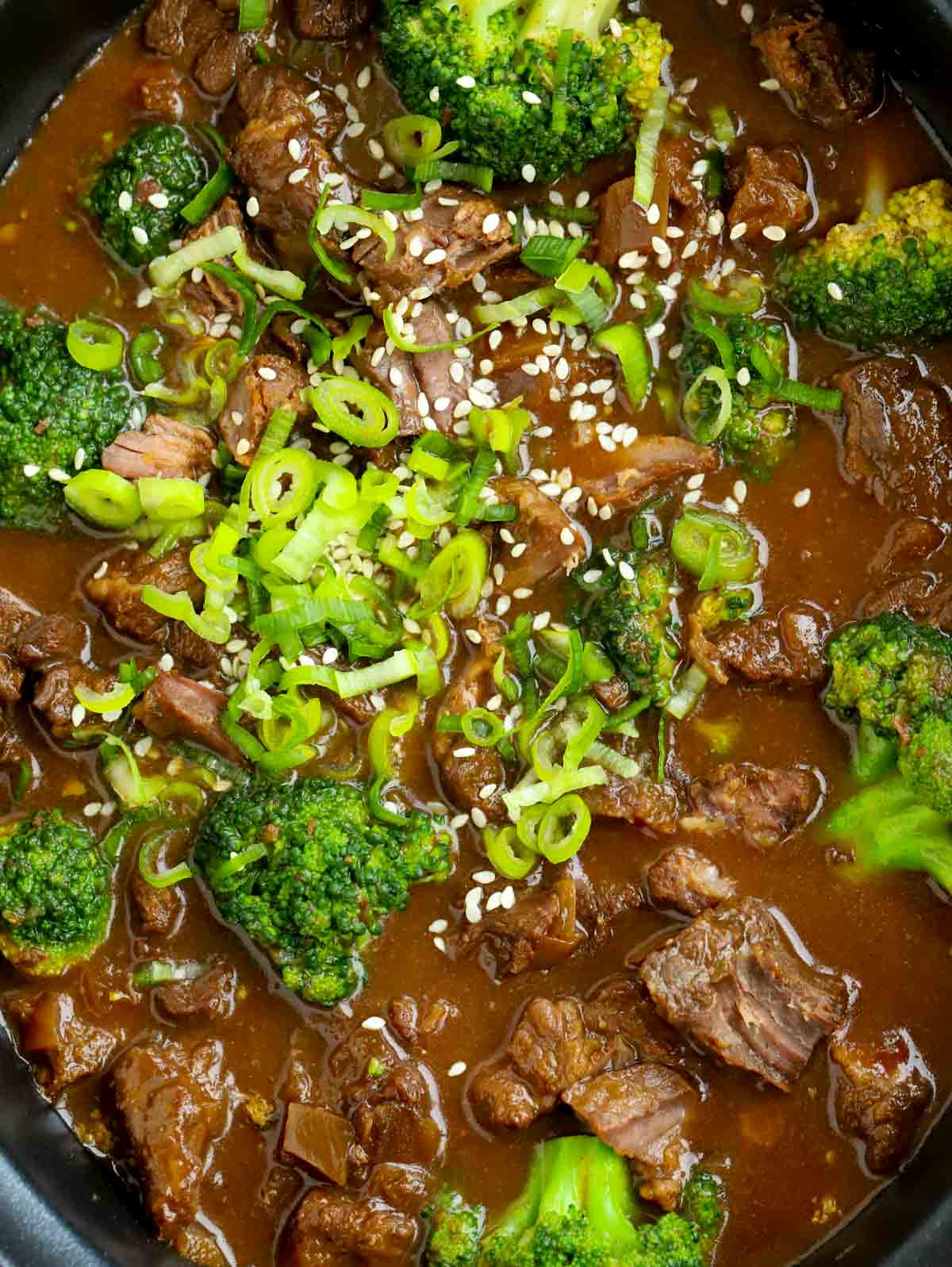 About Beef and Broccoli
Beef and Broccoli is actually a Chinese-American dish, rather than authentically Chinese.

Chinese restaurants first appeared in the United States during the Gold Rush, when over 20,000 migrants moved across from China.
Over the years since, Chinese American restaurants have adapted their dishes and style to use produce available nearby and meet the tastes of local customers. Beef and Broccoli is one such dish. [source].
My slow cooker remake of that recipe is, as always, created with cost, convenience, flavour and nutrition in mind.
---
Slow Cooker Beef and Broccoli Ingredients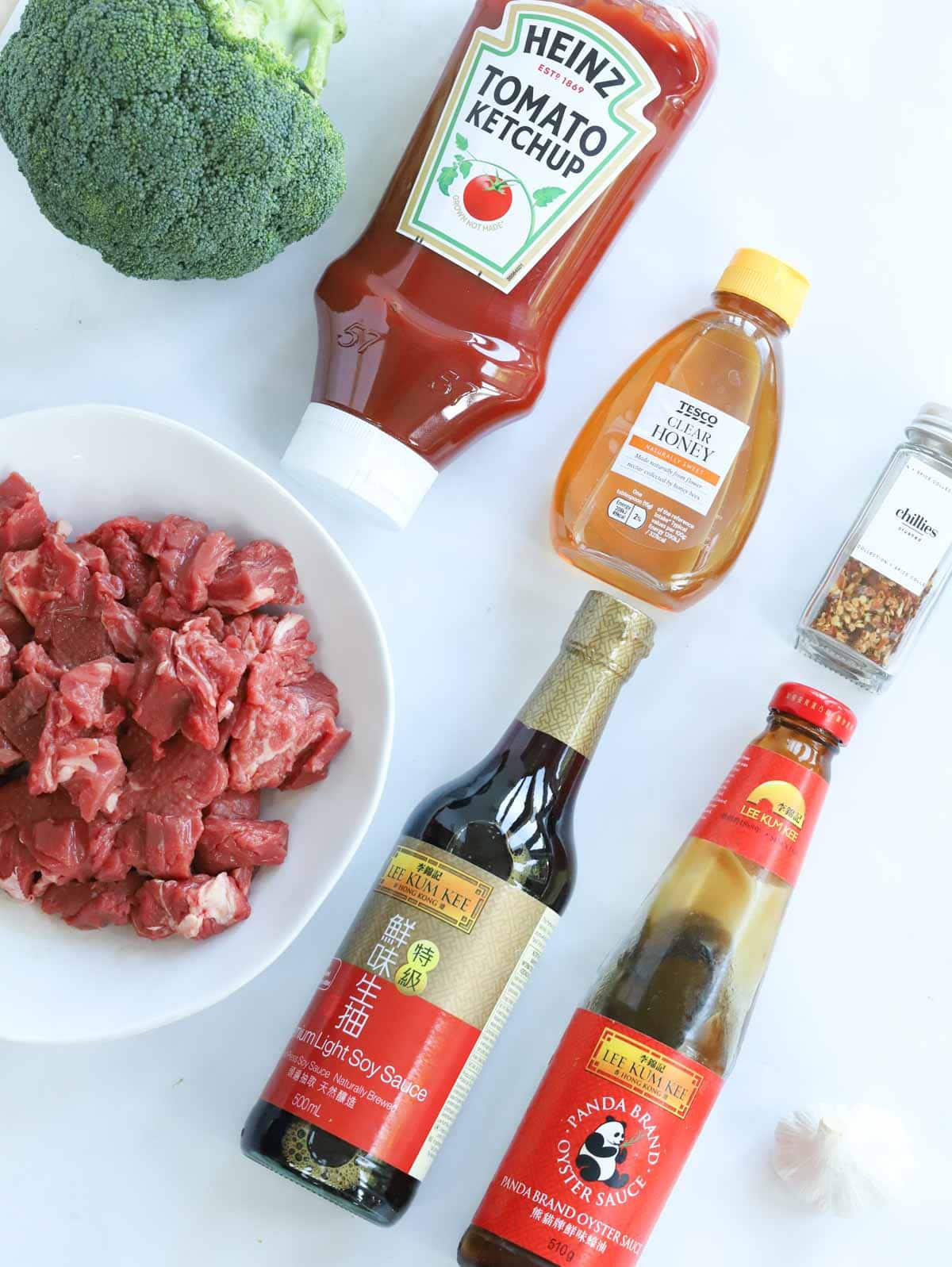 Diced beef – Usually called casserole beef or stewing steak in the supermarkets. No browning necessary.
Onion – Frozen or fresh is fine.
Ginger – Fresh or ready prepared is fine.
Garlic – Fresh or ready prepared is fine.
Low sodium soy sauce – It's worth buying low sodium here to reduce the salt content.
Oyster sauce – One of my favourite ingredients for packing in so much flavour.
Honey – Runny honey ideally.
Chinese five spice – From the herbs and spices aisle.
Broccoli – Fresh or frozen is fine.
---
How to make Slow Cooker Beef and Broccoli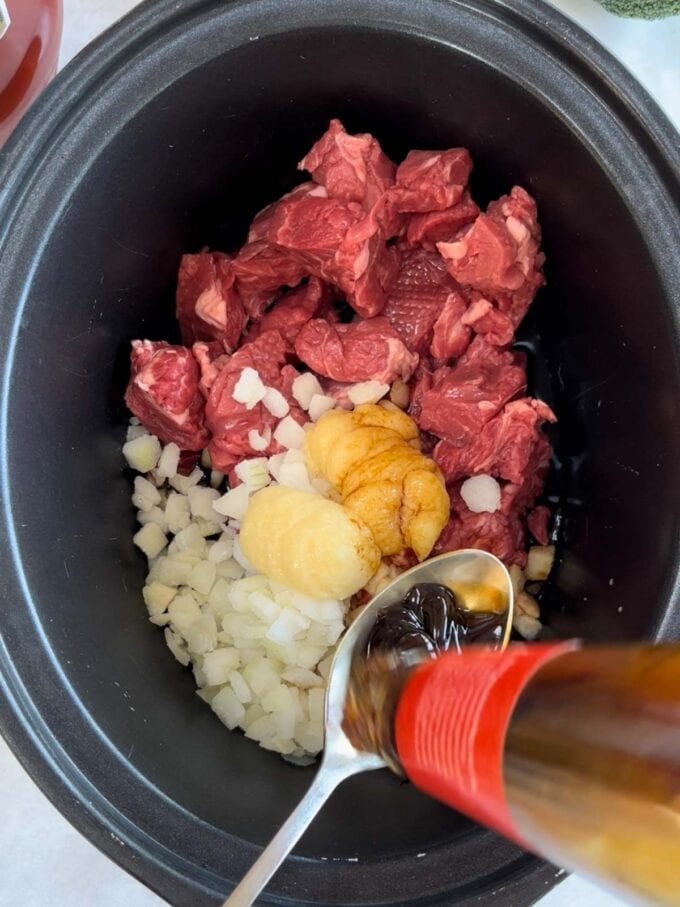 1. Add the ingredients to the slow cooker and cook (as per the recipe card at the end of this post).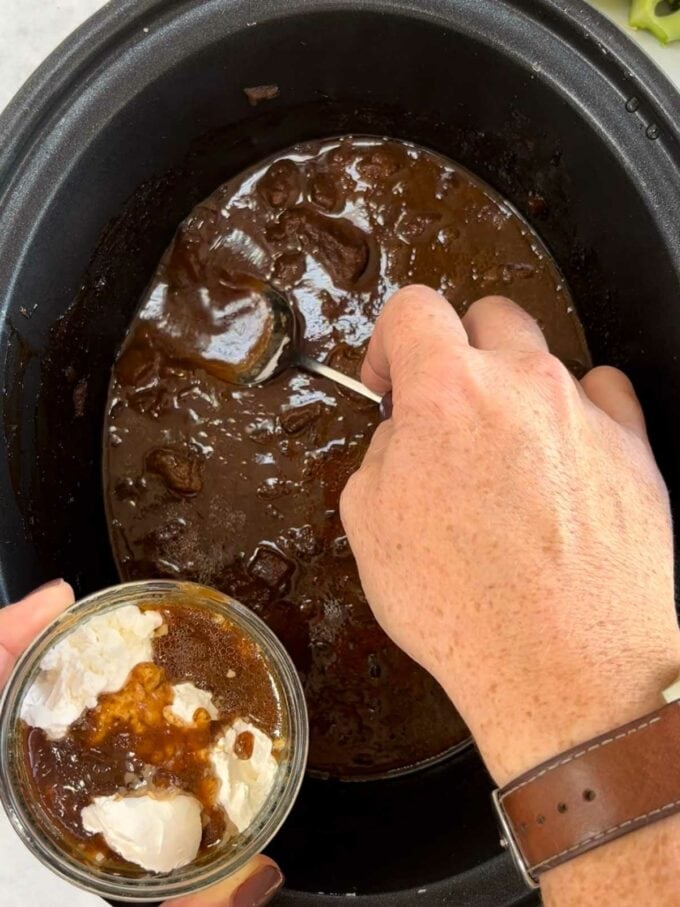 2. Half an hour before the end, make a cornflour 'slurry' to thicken the sauce.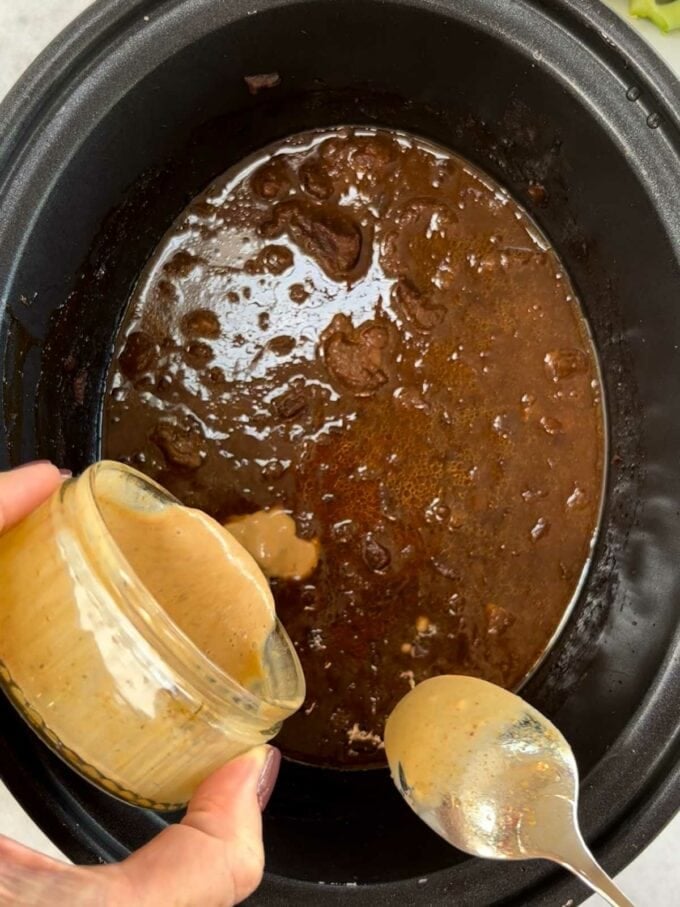 3. Pour the paste back into the sauce.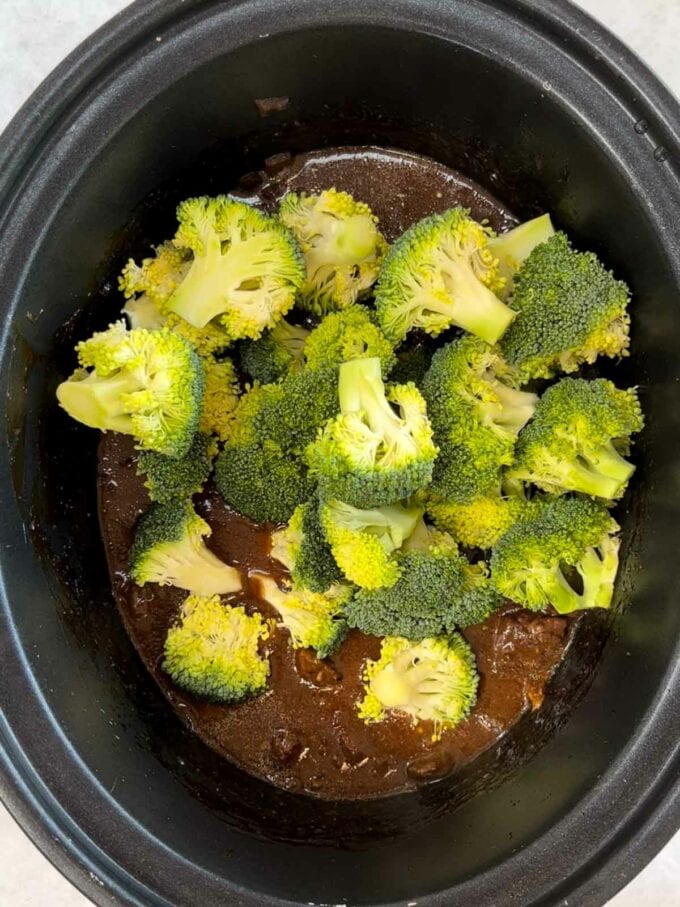 4. At this stage add the broccoli too and cook for a further 30 minutes. (Or, ideally, boil the broccoli separately and then add – see the recipe card notes.)
---
Substitutions
Vegetables – Beef and broccoli are a classic combination and go together so well, but feel free to add any other vegetables you like that need using up.
Leftovers
In the fridge You can keep this recipe in the fridge for 3 days. Reheat fully in the microwave or on the hob before serving.
In the freezer This recipe freezes well. Just wait until it's totally cold and then put into a freezer proof container and freeze for up to 3 months. Defrost thoroughly before reheating in the microwave or hob.
Top tips for making this Slow Cooker Beef and Broccoli recipe
Marinate the beef
If you want to save time in the morning, you can mix the sauce with the beef the night before and refrigerate until it's time to cook for extra flavour.
Broccoli timings
This goes in near the end for a more al dente finish, however if you prefer it less solid you can put it in for longer. Or to keep it fresh and green, steam or boil it separately beforehand (see recipe notes).
Thicken the sauce
If your sauce is very runny, don't worry, we will thicken it ad the end of the recipe. Just add some cornflour and water and stir into a paste. This is called a 'slurry' (see details in the FAQs).
Serving suggestions
This goes really well with rice or noodles. You could even try my Quick Egg Fried Rice.
Slow Cooker Beef and Broccoli FAQs
How do you make a cornflour paste ('slurry')?
This is a trick to thicken the sauce without ending up with floury lumps.

First you add cornflour to a small bowl, mug or jug, then use a little liquid from a dish (a spoonful or two) to mix the cornflour into a paste consistency. Add that back into the dish's sauce.

If you just sprinkle cornflour straight into the dish, it will form lumps that are almost impossible to get rid of. I promise this step is worth the extra dirty bowl!


Let me know how you got on and what you thought of these recipes. Please rate the recipe using the ⭐️ below.
Also I'd LOVE to see your cooking creations. If you'd like to share yours with me, you can tag me on Instagram (@tamingtwins).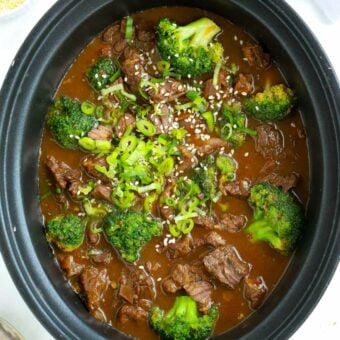 Slow Cooker Beef and Broccoli
With a sticky, tangy, rich Chinese-style sauce, this Slow Cooker Beef and Broccoli recipe is the ultimate fakeaway.
Ingredients
For the slow cook:
500

g

Diced beef

1

Onion

Chopped

1

tbsp

Ginger

4

Cloves

Garlic

6

tbsp

Soy sauce

Low sodium

4

tbsp

Oyster sauce

4

tbsp

Honey

4

tbsp

Tomato ketchup

2

tsp

Chinese five spice

1/2

tsp

Dried chilli flakes

(Optional)
To finish:
3

tbsp

Cornflour

1

Broccoli head

Chopped into bite sized florets
Instructions
Add the slow cook ingredients to the slow cooker. Set the slow cooker to HIGH for 4-5 hours, or LOW for 6-7 hours.

Half an hour before the end of the cooking time, make a cornflour paste slurry and add back to the sauce. Add broccoli at this stage too (or see notes for separate cooking preference).
Notes
Broccoli timings:
Be aware that the broccoli will lose its colour and end up looking a bit washed out and dull after it has been in the slow cooker.
Also, it may take longer than 30 mins depending on your slow cooker and the size of the broccoli pieces.
I prefer to steam or boil it for 4 minutes, drain it, and then add to the beef just before serving.
This means I can cook it to exactly the level of crunchiness we like and also it keeps its colour, so it looks (as well as tastes) delicious.
Nutrition (per serving)
Calories:
374
kcal
Carbohydrates:
45
g
Protein:
35
g
Fat:
7
g
Saturated Fat:
3
g
Polyunsaturated Fat:
1
g
Monounsaturated Fat:
3
g
Trans Fat:
0.4
g
Cholesterol:
78
mg
Sodium:
2272
mg
Potassium:
1121
mg
Fiber:
5
g
Sugar:
25
g
Vitamin A:
1031
IU
Vitamin C:
140
mg
Calcium:
122
mg
Iron:
6
mg
Made it? Tag me!
Tag @TamingTwins so we can admire your make ⭐️