This Honey Roasted Carrot and Parsnips recipe is so simple and full of flavour. The honey cooks to a sticky, saucy coating that the whole family will love.
The perfect make ahead Christmas Day vegetable side dish!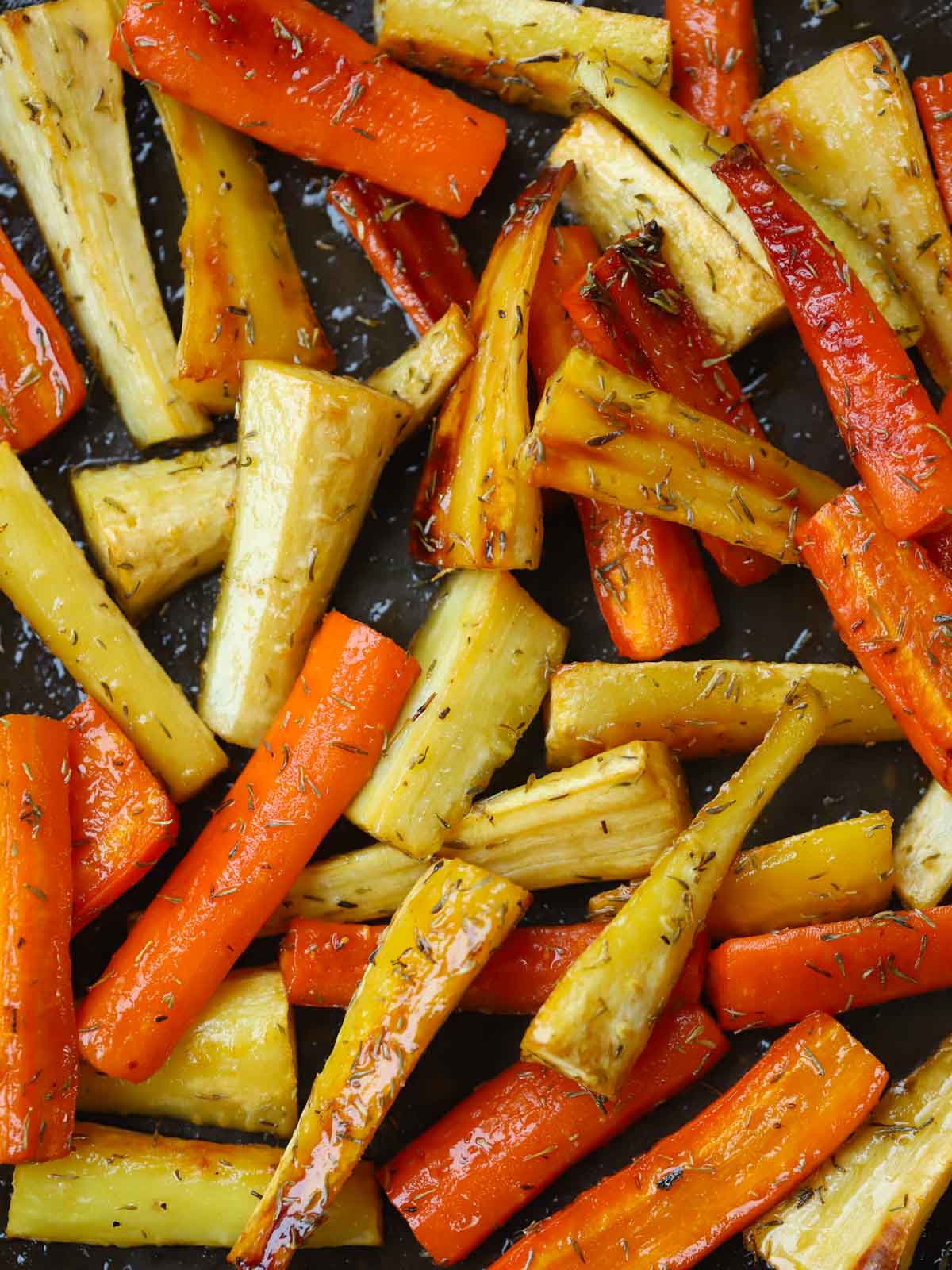 No dining table would be complete with the colours, smells and flavours of delicious carrots and parsnips, drenched in honey and sprinkled with thyme.
You can do all the prep on Christmas Eve, leaving just 15 minutes left to finish cooking the dish, meaning less time to factor in into your tight schedule and less oven space required when you need it the most!
---
Why you'll love this recipe
⭐️ Sticky, sweet and delicious
⭐️ Easy prep-ahead side dish
⭐️ Indulgent Christmas flavours
---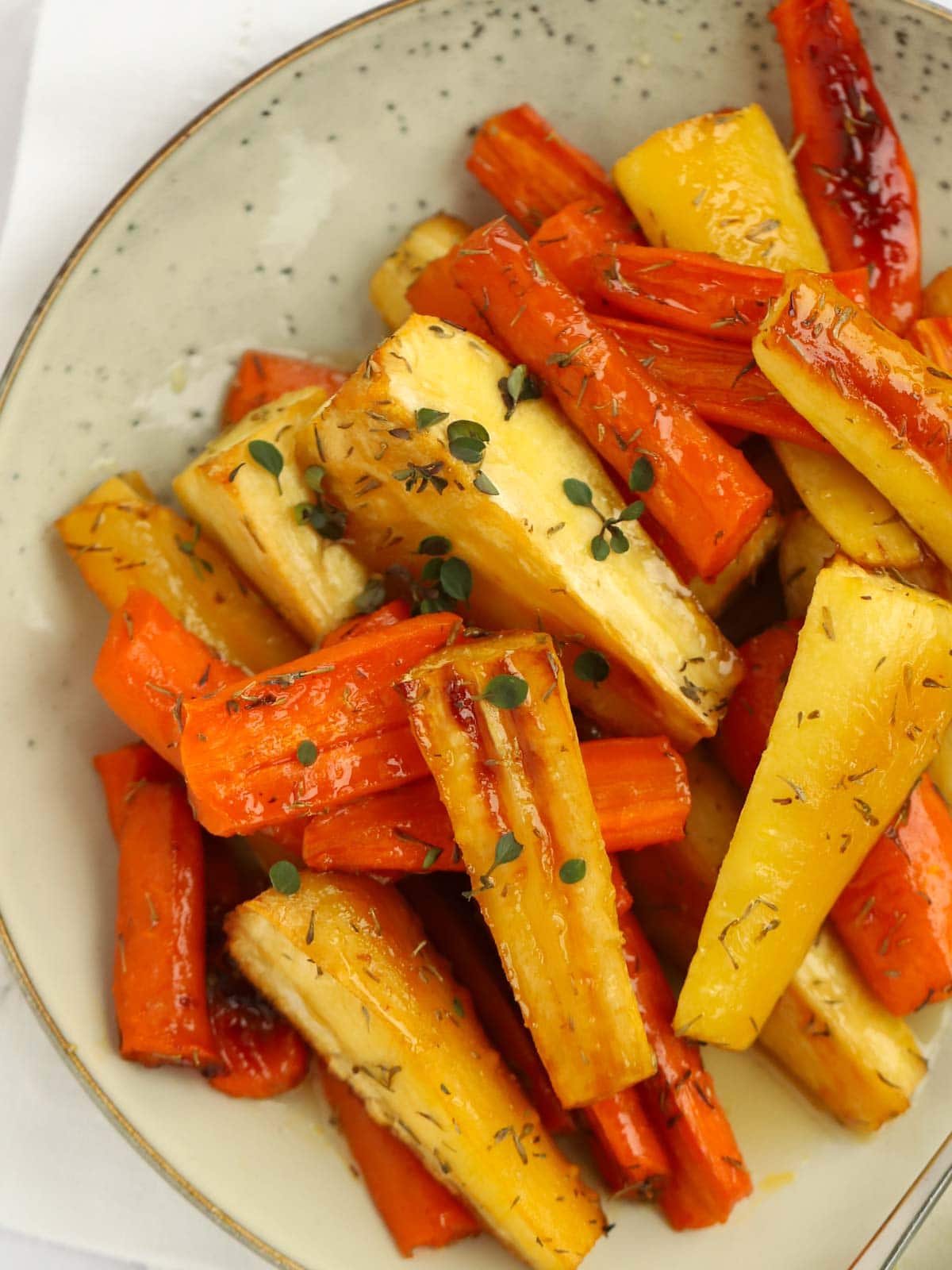 MAKE-AHEAD HONEY ROAST CARROTS & PARSNIPS
I'm sure you've got the idea by now that I'm ALL about preparing ahead at Christmas, making everything as convenient as possible. You can take this easy shortcut of making these veggies in advance.
All you have to do the night before serving them up is either:
Prepare the day before by part-roasting them (this means just another 15 minutes or so in the oven to finish off on the day).

Prepare the day before WITHOUT part-roasting (get them to the point where they're ready to go in the oven, but keep in the fridge instead until you're ready to roast).

Prepare further in advance and freeze instead (do the prep and put in the freezer until the day before, defrost and roast as normal on the day. The prep is minimal for this dish, so you might not think it's worth it, but the option is there in case it works for you!)
*Details for each method are in the recipe below
---
What you'll need
Parsnips
Carrots
Sunflower oil
Honey
Dried thyme
Salt and pepper
---
How to make it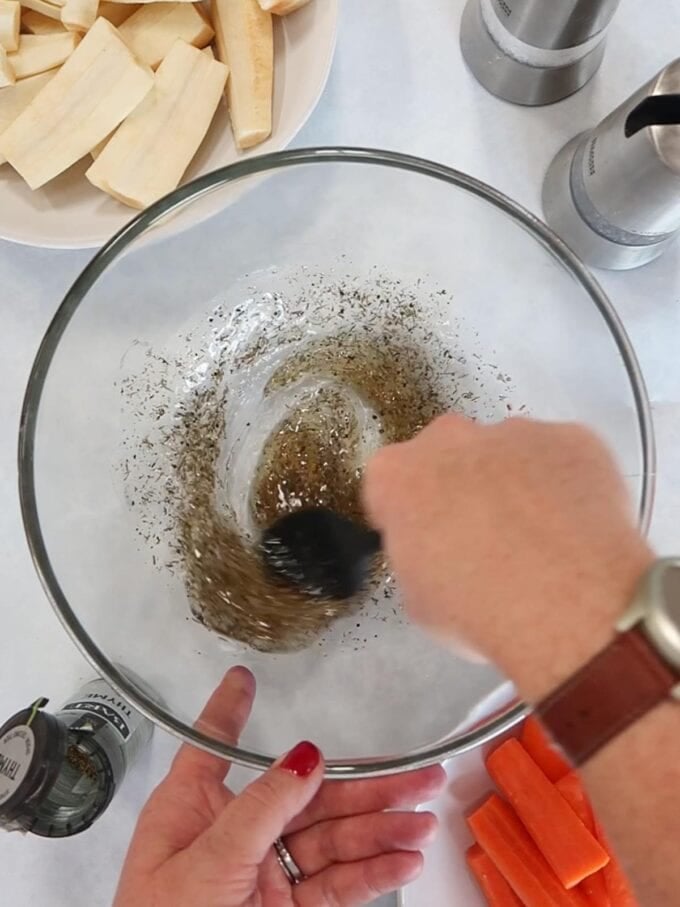 Peel and chop the vegetables into even chunks. Mix the rest of the ingredients together in a bowl. Toss the vegetables into the mixture until coated well.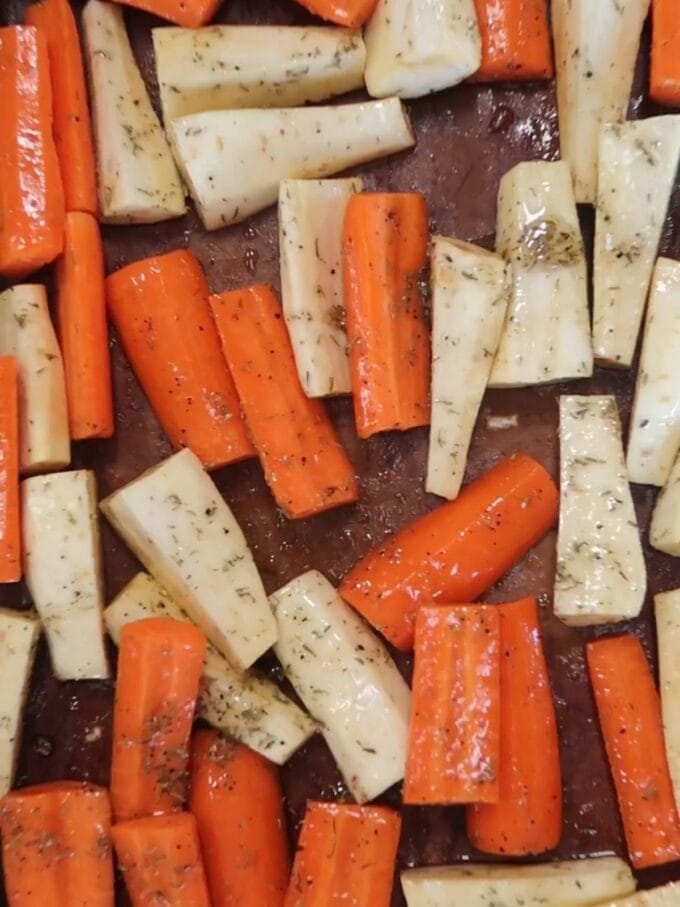 2. Put a single layer of the vegetables on a lined baking sheet. Bake in a preheated oven as per the recipe below.
Hint: I don't bother to parboil them. Just straight in the oven.
---
TOP TIPS
Shape
If you have your own preferred method for serving carrots and parsnips – in large chunks, small chunks or whole, for example, you will need to keep an eye on roasting times, as they may differ from the recipe. This includes if you're using baby carrots.
Timings
If you're cooking these with other dishes on the day, you might find they take a little longer if you're in and out of the oven. Make sure they don't start to burn on the edges.
Disposable foil trays
I turn to these for convenience at Christmas, and while I wouldn't usually recommend single-use kitchenware, disposable foil trays just make life so much easier for once!
FAQ
What can I serve with these vegetables?
Obviously I'm talking about serving these up for Christmas Day as that's when most people tend to make their veggies this way, BUT go ahead and dish them up for any regular roast dinner!

They're so easy and this recipe doesn't take much time or effort. They'd be perfect with my Slow Cooker Roast Beef, my Cheesy Vegetarian Pie or Chicken Pie.
Can I cook these and then freeze them for later?
Yes, you could do everything and then freeze when cooled for up to 3 months, then defrost and reheat them. Personally I wouldn't do this unless I had an enormous amount of leftovers.

In other words, I wouldn't waste them if they were already cooked but I don't think they'd be up to standard for Christmas Day. It's better to roast them fresh (or part roast the day before) for the best results.
Why are my carrots taking so long to cook?
It could be that you have overcrowded the oven tray. Make sure you roast them in a single layer, or it will be harder for them to cook properly.
Let me know how you got on and what you thought of these recipes. Please rate the recipe using the ⭐️ below.
Also I'd LOVE to see your cooking creations. If you'd like to share yours with me, you can tag me on Instagram (@tamingtwins).
Honey Roasted Carrots and Parsnips
Christmas wouldn't be the same without indulgent, extra special side dishes to elevate the ultimate roast dinner. Honey Roasted Carrots and Parsnips are so delicious and can be prepped in advance.
Ingredients
500

g

Parsnips

500

g

Carrots

3

tbsp

Sunflower oil

6

tbsp

Honey

3

tsp

Dried thyme

Salt and pepper
Instructions
HOW TO MAKE IN REAL TIME:
Peel and cut the vegetables into even-sized chunks.

Mix the oil, thyme, salt, pepper AND HALF of the honey in a bowl.

In a large bowl, toss the veggies with the liquid mixture until everything is coated.

Place in a single layer on a lined baking sheet (preferably with reusable baking paper if you have it!)

Bake in an oven preheated to 180C for about 40 minutes (turning half way).

Drizzle with the remaining honey.
OPTIONS IF YOU'RE MAKING AHEAD…
The day before (WITH part-roasting):
At step 5, cook until just turned brown at the edges. Probably about 30 minutes.

Remove from the oven, cover and store in the fridge or somewhere cold.

On Christmas Day, add the rest of the honey in a drizzle and bake for about 15 minutes to heat through and finish cooking.
The day before (WITHOUT part-roasting):
Follow the recipe to step 3 or 4.

Cover and place in the fridge until you're ready to cook.

Bake in an oven preheated to 180C for about 40 minutes (turning half way).

Drizzle with the remaining honey.
Making ahead to freeze (NO part-roasting):
Follow the recipe to part 3.

Put your vegetables on a tray lined with baking paper and freeze uncovered, making sure they're not touching for at least 1 hour (this stops them from sticking together).

Once they're hard, transfer into a freezer container and freeze for up to 3 months.

When you're ready, defrost them overnight in the bag and follow on from the original recipe at step 4.
Notes
Servings: This recipe would feed roughly 4 people, depending on how many people have each and whether some are children.
Nutrition (per serving)
Calories:
336
kcal
Carbohydrates:
61
g
Protein:
3
g
Fat:
11
g
Saturated Fat:
1
g
Polyunsaturated Fat:
1
g
Monounsaturated Fat:
9
g
Sodium:
100
mg
Potassium:
891
mg
Fiber:
10
g
Sugar:
38
g
Vitamin A:
20911
IU
Vitamin C:
29
mg
Calcium:
102
mg
Iron:
2
mg
Made it? Tag me!
Tag @TamingTwins so we can admire your make ⭐️