In collaboration with World Kitchen and Corelle
Oven baked Brussels sprouts with butternut squash, bacon and Parmesan cheese. The best ever Brussels sprouts, oven roasted for the perfect Christmas side dish.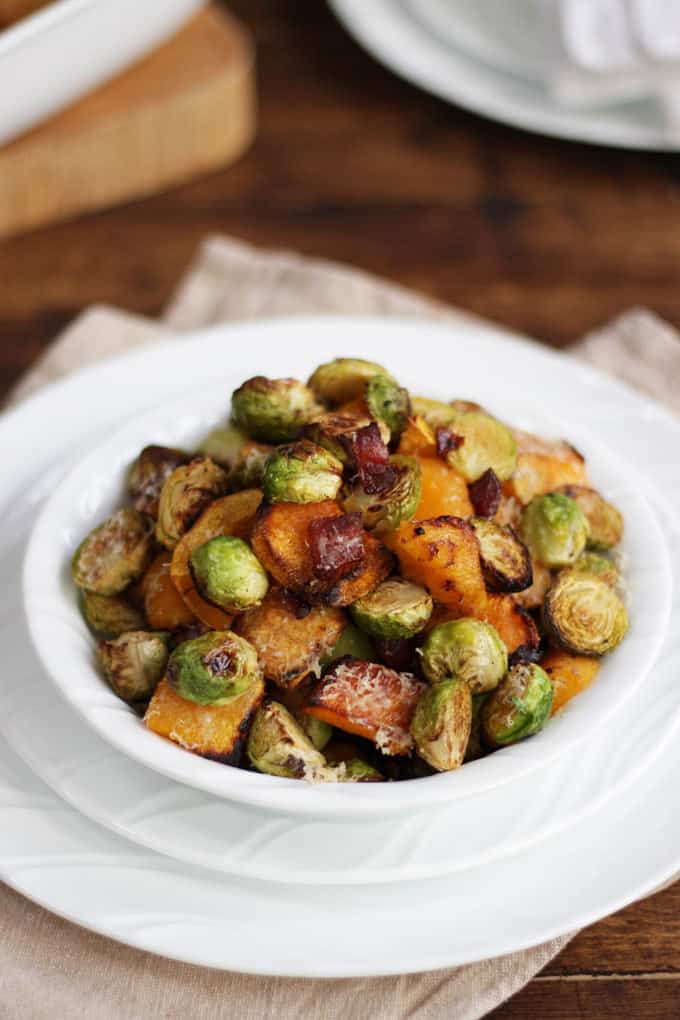 Are you ready and raring to go for Christmas? I am strangely organised this year, which does make me wonder if something big is going to creep up on my any minute soon. The calm is unnerving.
I'm doing Vlogmas again this year (where vloggers make a video every day in December). I loved it so much last year, despite is leaving me slightly exhausted. I guess this year it's made me realise that planning the month with military precision is the answer. Lists of lists here!
One thing I haven't given too much thought to is the Christmas table. What will you be decorating yours with? Do you go traditional or contemporary? Full on festive or something chic?
World Kitchen, who make Corelle dinnerware got in touch and asked me if I'd like to try some of their products for our Christmas table.
The Corelle dinnerware is absolutely perfect for families as, get this, it is BREAK RESISTANT! Yes, by some magic, it's super durable, nearly impossible to chip or crack. Imagine that, no more plate breakages, hallalujah.
Also, the products stack tightly together so it takes up less cupboard space and it's not only microwave and dishwasher safe, but also oven safe.
The Corelle dinnerware is available in a massive range of patterns, with something to suit every taste. World Kitchen have given me a 16 Piece Dinner Set in Corelle 'Swept' design as shown in these photos. Pop down to the bottom of this post to enter.
Now, on to the whole reason for the dinnerware – SPROUTS of course. What would Christmas dinner be without sprouts? Whether you love them of loathe them, please give this recipe a try. Sweet, sticky butternut squash, with the bite of the sprouts and salty crispy bacon. Add in earthy cumin, punchy cheese and an easy peasy cooking method? Seriously, recipe of the season or what?!
How do you serve your sprouts? Any top tips for Christmas table decoration?
Good luck if you enter the competition! (If you win, and reply to our notification in time, we could have this with you in time for Christmas day.)
How to make the Brussels Sprouts with Butternut Squash and Bacon:
Brussels Sprouts with Bacon and Butternut Squash
Ingredients
100g Smoked bacon lardons (or smoked bacon, chopped)
400g Frozen butternut squash cubes
250g Peeled sprouts, cut in half
2 tsp Ground cumin
50g Parmesan cheese, grated
Instructions
Pre-heat the oven to 200C.
Put the bacon and butternut squash onto a baking sheet and pop into the oven for 30 minutes.
Remove from the oven, add the sprouts and cumin and stir everything very well.
Sprinkle the cheese on top and put back into the oven for 15 minutes.
Click to pin the Brussels Sprouts with Butternut Squash and Bacon recipe for later:
Enter to win a World Kitchen Corelle Dinner set:
Disclosure: This recipe was an advertorial post commissioned by World Kitchen. As always, all opinions are truthful. This post contains affiliate links. This recipe is listed on PrizeFinder.com.
Keep in touch on Facebook ¦
Chit chat on Twitter ¦
Never miss a trick on Bloglovin' ¦
Circle with me on Google+ ¦
Pinning like my life depends on it Pinterest ¦