This post may contain affiliate links.
This Cadbury's Creme Egg Cheesecake Recipe (No Bake!) has been viewed over a million times. The ultimate Easter chocolate make, find out what all the fuss is about… This super easy dessert is a buttery biscuit base, topped with light, whipped cream and cream cheese, with chocolate and Creme Eggs. Easily adaptable to be Gluten Free.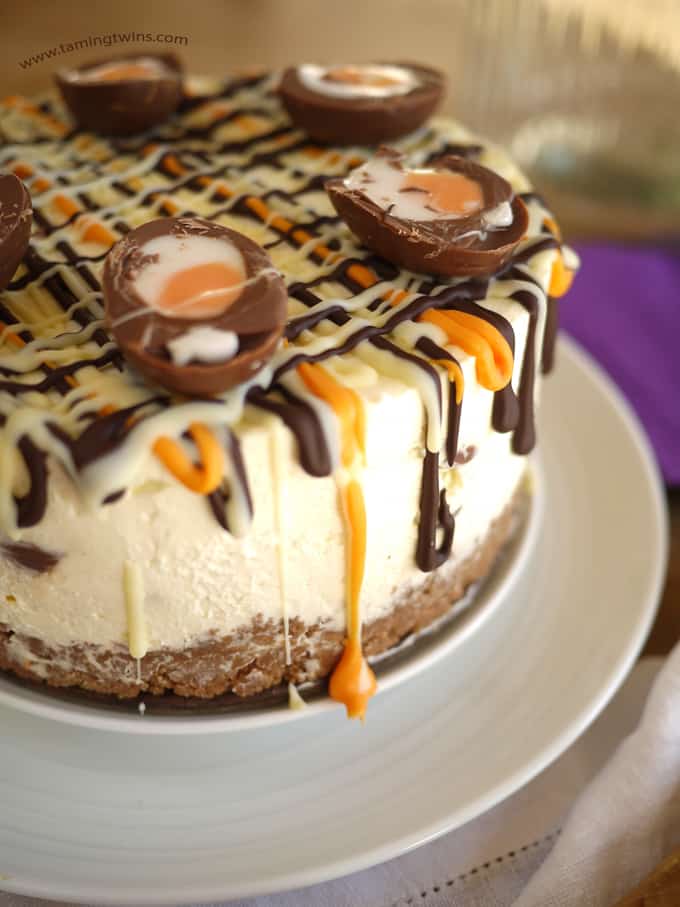 Am I safe to start posting Easter recipes without fear for you all being grumpy with me? Nope? Oh. Perhaps I can persuade you with this little no bake Creme Egg Cheesecake recipe number…? I know it's February but as I explained last year, my Cadbury's Creme Egg love only lasts for a short while so I'd better make it count, right?
Plus I love Easter remember? No gift shopping conundrums like Christmas and yet all of the good stuff to eat and time with the family. Win win. So, you're on board now, right? Hurrah for us. Let's celebrate with a giant, whopping, no bake Creme Egg Cheesecake full of chocolate Cadbury's Creme Eggs.
Fancy signing up to receive our free email newsletter? It takes less than a minute and you'll get all of our new posts and tips and tricks straight to your inbox!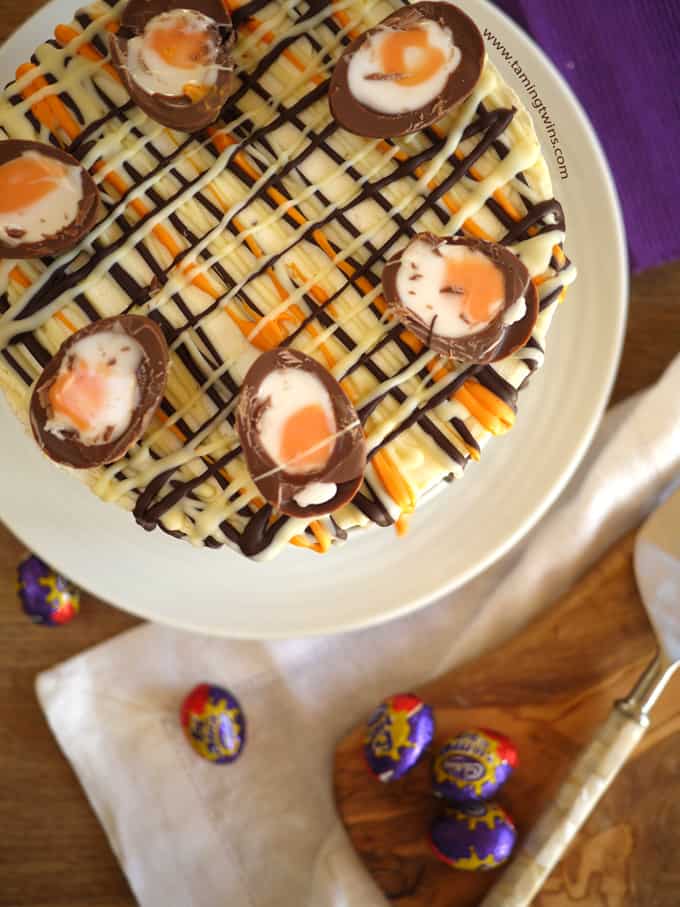 I have to confess I am not a cheesecake fan, especially not a giant cheesecake. I think I've been put off by claggy, dry, over baked cheesecakes.
With this no bake cheesecake, I've aimed for something a little tart to offset the gooey sweetness of the Cadbury's Creme Eggs. Made with whipped double cream and fluffy cream cheese, it doesn't use any gelatine so is also suitable for vegetarians.
The consistency should be sliceable but not solid. Something like room temperature butter, it will give a little quiver if you wobble it gently.
Some tips for making the No Bake Cadbury's Creme Egg Cheesecake Recipe:
Pop the Cadbury's Creme Eggs in the fridge for an hour or so before cutting, it will make them less gooey.
When whipping the double cream, be sure to watch it very carefully. It should be just forming soft floppy peaks, but still hold it's shape. Too running and the no bake cheesecake will be sloppy, too stiff and it will be too dense.
Do sift the icing sugar, it will give a much smoother texture to the cheesecake. Don't ignore this as I normally do!
I would stick to Philadelphia creme cheese for this (and full fat) it seems more stable than supermarket own brands.
Add more lemon juice if you'd prefer a slightly sharper tang
This is the gel food colour I used to colour the chocolate: Sugarflair Paste Colour
Only ever use Gel Food Colour to colour the chocolate. Liquid food colour will make it too thin.
Allow the chocolate to cool slightly before drizzling to avoid 'melting' the cheesecake. You'll also get neater lines as slightly cooled chocolate doesn't spread so easily.
For a neater chocolate drizzle, use disposable piping bags for each colour of chocolate. Just snip the end off to pipe. I use these: Savoy Disposable Icing Piping Bag
Use a tin with either a springform (the type where the side unclips) or a removable base.
Warm a sharp, thin knife under a hot tap and then dry it. Use this to run around the outside of the cake, inside the tin, before removing. Remove the knife and wipe it as you work your way around the cake.
The recipe is for a 7″ DEEP tin (not a standard sandwich cake tin, it will overflow! See the link below for the type of tin I use). You can use smaller or larger but your cheesecake will obviously be taller or shorter.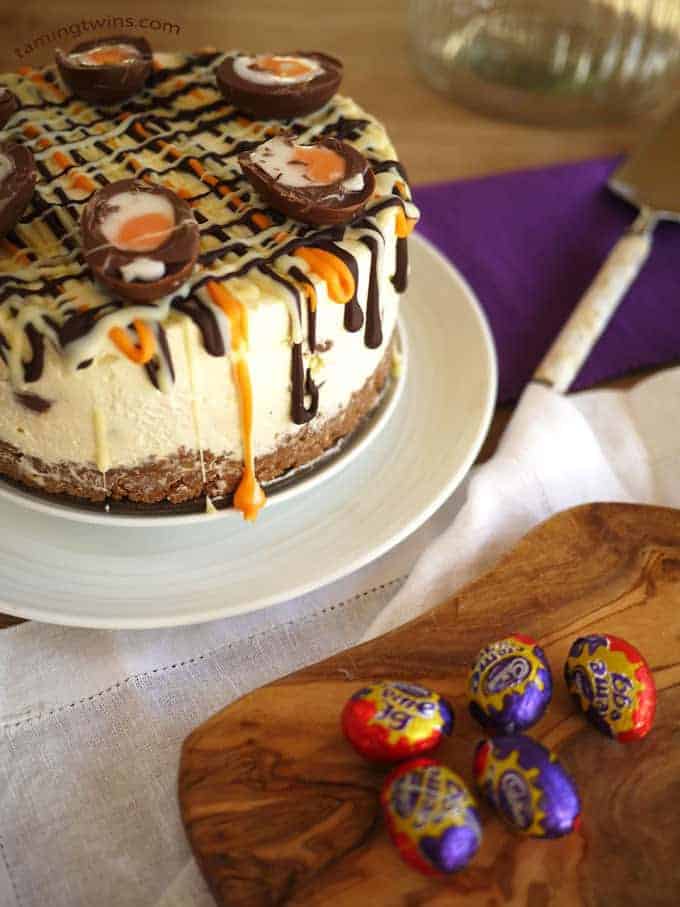 Hope you enjoy making this as much as I did. Please tweet me a photo if you do make it! You can find me on twitter @tamingtwins and Instagram @tamingtwins. Say hello! Follow me on Facebook if you'd like to know as and when I post more Easter recipes over the coming months.
What I used to make the No Bake Cadbury's Creme Egg Cheesecake Recipe:

Are you a Creme Egg lover? How's your favourite way to eat them? How many is an acceptable number to aim to consume between now and Easter…?
Looking for some more Creme Egg inspiration? One of my most popular posts ever is my 5 Top Tips for Creme Egg Cupcakes..
Or how about….
My No Bake Mini Egg Cheesecake (including how to video)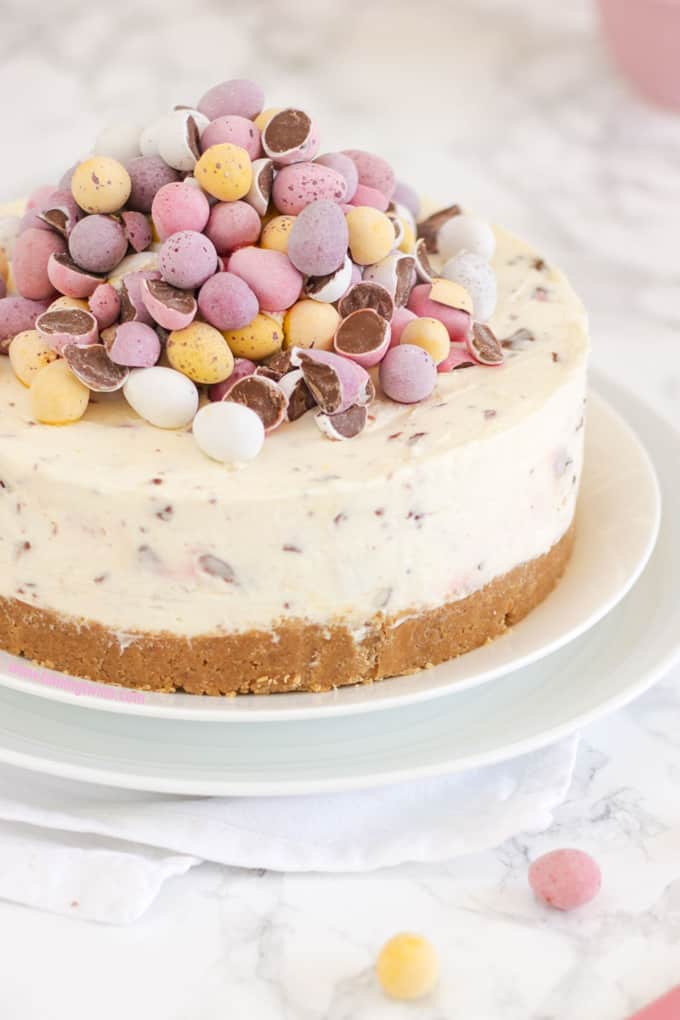 Or my Creme Egg Rocky Road Recipe?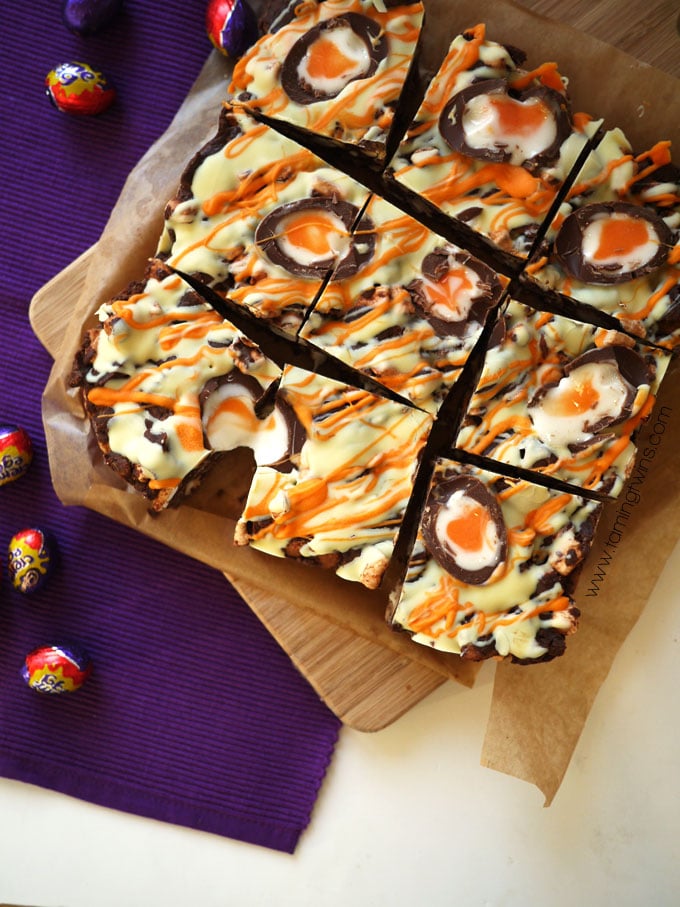 How to make the No Bake Cadbury's Creme Egg Cheesecake Recipe:
Creme Egg Cheesecake
The ultimate easy Creme Egg Cheesecake recipe. This recipe has been viewed over 2 million times, see what the fuss is about! No bake and utterly delicious, this is the perfect Easter dessert. Chocolate, cream cheese, whipped cream and a buttery biscuit base all make for the best sweet treat. INCLUDING VIDEO!
Ingredients
280

g

Digestive Chocolate Biscuits

140

g

Butter

,

Unsalted, melted

560

ml

Double cream

,

lightly whipped until it forms soft peaks

140

g

Icing Sugar

,

sifted

560

g

Philadelphia Cream Cheese

,

Full fat, 2 x 280g tubs

Juice of half a lemon

275

g

Mini Cadbury's Creme Eggs

,

about 3 small bags

4

Creme Eggs to decorate

60

g

Milk Chocolate

120

g

White Chocolate

Yellow Food Colouring

,

see my notes above
Instructions
Crush the biscuits until they look like lumpy sand. (I did mind in a food processor because I'm very lazy..)

Mix with the melted butter and press into your 7" tin.

Unwrap the mini Creme Eggs and chop them each into quarters.

Combine the whipped cream, icing sugar, cream cheese, lemon juice and chopped mini Creme Eggs. Fold in gently until fully combined.

Smooth on top of the biscuit base and flatten the top with the back of a spoon or a palette knife if you have one.

Chill for 3 hours or even better, over night.

Use my knife tip (above) to remove the cheesecake from the tin.

Melt your milk chocolate in a glass bowl over a pan of boiling water and allow to cool very slightly before drizzling over the cake in zigzags.

Melt your white chocolate in the same way, drizzle half of it onto the cheesecake.

Colour the white chocolate that is left with a tiny amount of food colour. Add more until you reach a yellow you're happy with, then drizzle this over too.

(You can prep all of the chocolates, pop them into piping bags and drizzle alternately if you prefer.)

Cut your large Creme Eggs in half and use to decorate the top of the cheesecake.
Nutrition
Calories:
783
kcal
Carbohydrates:
56
g
Protein:
7
g
Fat:
62
g
Saturated Fat:
37
g
Cholesterol:
142
mg
Sodium:
338
mg
Potassium:
278
mg
Fiber:
2
g
Sugar:
45
g
Vitamin A:
1615
IU
Vitamin C:
0.2
mg
Calcium:
125
mg
Iron:
1.9
mg
Nutrition information is automatically calculated, so should only be used as an approximation.