This homemade Cheesy Popcorn Chicken is oven baked to be light, crispy and totally moreish.
This post was originally published on
13 January 2015 and updated 12 May 2020.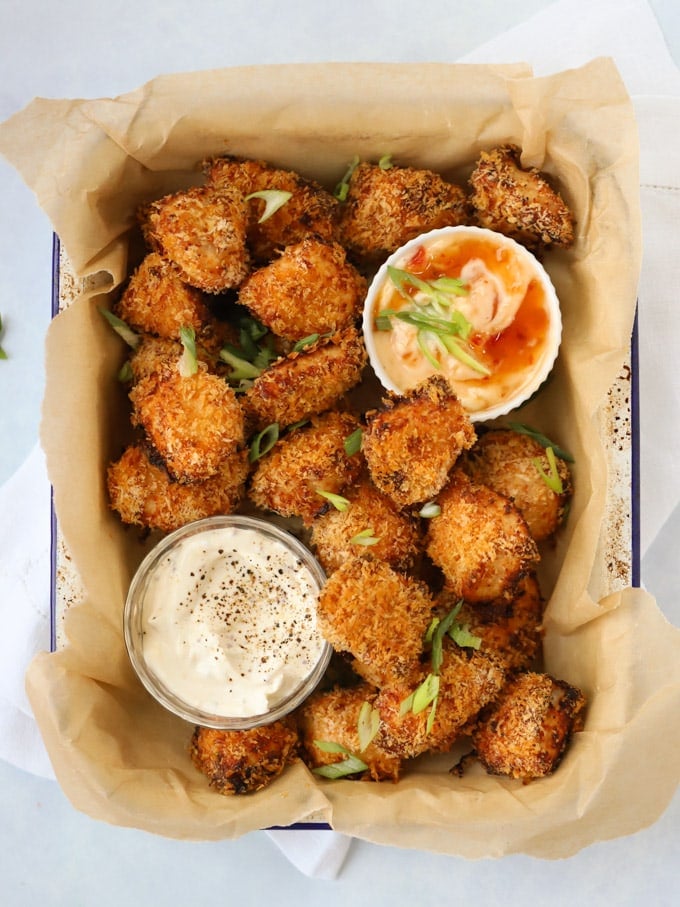 Wow. It's been a bit quiet around these parts. Please forgive me. The homeschooling and CONSTANT snack providing takes it out of you right?
I've been cooking heaps on Instagram though which I've really enjoyed and hope it's been useful too for meal times in these strange times.
Anyway.. Today I give you something to bring fakeaway happiness. Everyone will eat it, no moaning, crunchy joy – Parmesan Popcorn Chicken with a Honey and Mustard Dip. It's SO GOOD!
You'll love this Popcorn Chicken because:

✅ Oh hello fakeaway!
✅ Oven baked but still super crunchy.
✅ That cheesy panko coating is LIFE.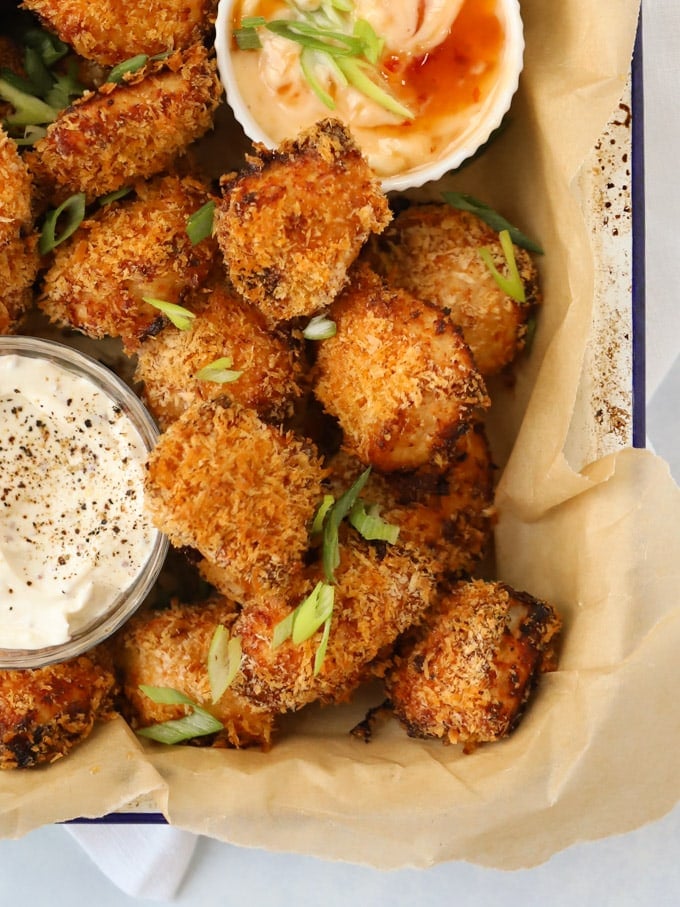 How do you make Popcorn Chicken?
Super simple, take chicken breasts (you could use boneless skinless thighs if they are what you have, but they'll take a little longer to cook) and cut into chunks.
Coat in yoghurt, to act as 'glue' and then roll around in tasty breadcrumbs and.. BAKE!
What can you serve with these Chicken Nuggets?
The recipe includes two dips because, a good dip improves everything right?! How about also trying:
Chips and baked beans for children's favourite dinner.
Put into wraps with salad.
Serve as a party snack.
What's the difference between Popcorn Chicken and Chicken Nuggets?
Umm. You got me. I guess maybe the name chicken nuggets put me off a bit?! These are basically posh chicken nuggets okkkayy?
Do I have to cook this Popcorn Chicken in the oven?
I like these golden chicken nuggets oven baked as it saves a lot of mess and oil, but they would also be good shallow fried if that's your preference.
These do cook really well in an air fryer or Tefal Actifry if you have one though. If your machine has a paddle to move the food around, just remove it and cook without (it'll knock the coating off).
Fancy some other fakeaway inspiration?
Hope you enjoy this recipe as much as we do. I'd love to know how you got on and what you thought of it if you make this Popcorn Chicken with Crunchy Parmesan recipe. Please rate the recipe using the ⭐️ by the recipe.
Also, if you'd like to show me a photo by tagging me on Instagram (@tamingtwins) I LOVE to see your creations.
Popcorn Chicken with
A great family meal with crunchy parmesan crust and soft chicken bites.
Servings
4
children's portions
Ingredients
4

Chicken breasts

Skinless and boneless

75

g

Greek yoghurt

See Note 1.

100

g

Panko breadcrumbs

See Note 2.

30

g

Grated parmesan

2

tsp

Paprika

See Note 3.

2

tsp

Garlic powder

Salt and pepper

Olive oil

See Note 4.
For the Honey and Mustard Dip
100

g

Greek yoghurt

3

tsp

Runny honey

1

tsp

Wholegrain mustard
For the Sweet Chilli Mayo
100

g

Mayonnaise

5

tsp

Sweet chilli sauce
Instructions
Preheat the oven to 220C.

Cut the chicken breasts into even, bite sized chunks (I use scissors).

Put into a large bowl with the greek yoghurt and coat well.

In another bowl, mix the breadcrumbs, Parmesan, paprika, garlic powder and salt and pepper.

Roll each piece of yoghurt coated chicken into the breadcrumbs mixture and coat well.

Place each piece onto a baking sheet covered with baking paper (don't overcrowd them, you may need two baking trays).

Give each nugget a little drizzle of oil (if you had one you could use an oil spray, which would work brilliantly).

Bake in the oven for about 20 minutes or until crispy and golden all over (they may take a little longer depending on your oven).

Whilst they are baking make each of the sauces by mixing the ingredients for each one together in a small bowl.
Recipe Notes
Note 1 - Greek Yoghurt
If you can get it, I do think thick Greek Yoghurt works best for this as it's so thick, it acts like glue for the breadcrumbs. If you only have natural yoghurt, you can try it but they won't stick quite as well and you may need to reduce the amount you use a little.
Note 2 - Panko Breadcrumbs
I use Panko (Japanese breadcrumbs) as they are SO crunchy and lush. Regular breadcrumbs or homemade breadcrumbs will work fine too.
Note 3 - Paprika
You can substitute this for Smoked Paprika, Chilli Flakes, a reduced amount of Cayenne Pepper, or anything similar to give these Popcorn Chicken pieces a little kick and colour.
Note 4 - Oil
Vegetable, sunflower or olive oil is fine. This step is important as it makes the nuggets crispy. If you had a spray bottle of oil this would be AMAZING for doing this (I didn't have one).
Nutrition Facts
Popcorn Chicken with
Amount per Serving
% Daily Value*
* Percent Daily Values are based on a 2000 calorie diet.