This post may contain affiliate links.
Can you believe, just 3 ingredients make up these easy Nutella Brownies? The famous chocolate hazelnut spread, eggs and self raising flour. The best, quick, gooey, fudgy Nutella brownies!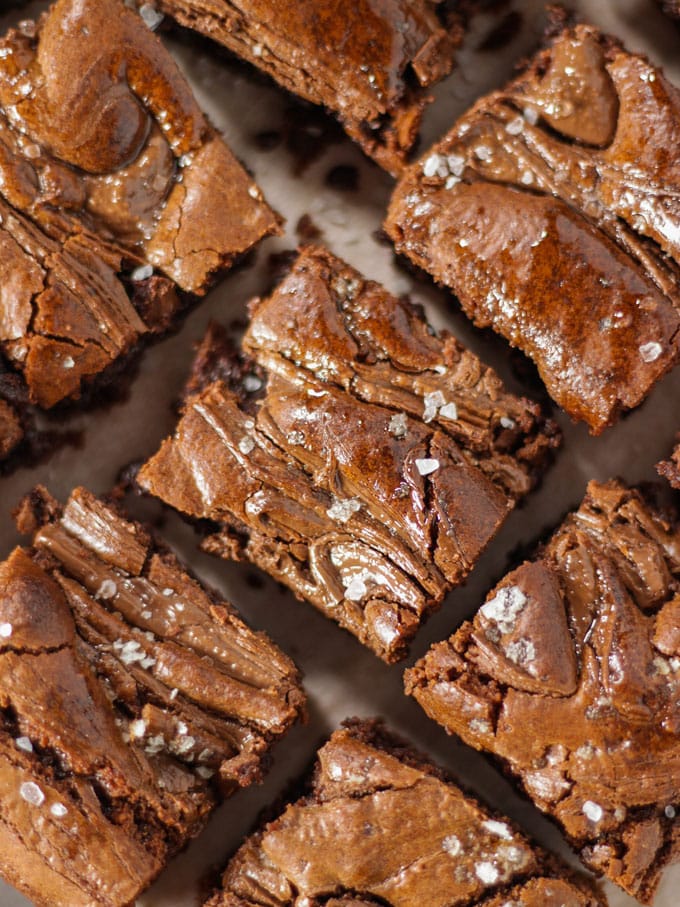 My love affair with Nutella is a long running one, from eating a spoonful from the jar during a relationship breakup (don't judge), to teaching my children the joy of it on toast on a rainy afternoon.
As I get older, I eat less sugar day to day (or try to) but there's still a place for it, and that for me, is in delicious baked treats!
This recipe for Nutella Brownies is extra special as it is SO SIMPLE.
It uses just 3 ingredients, so, not only delicious but super quick.
Side note: If you're concerned about the Nutella/Palm Oil debate, I've done lots of reading on this and there's a very good article which basically says, the makers of Nutella are doing their best to be responsible, and as a consumer, perhaps think about saving it as a treat. Works for us.
If you fancy some other Nutella treat recipes, how about my Nutella Cheesecake, Nutella Cake or Nutella Muffins?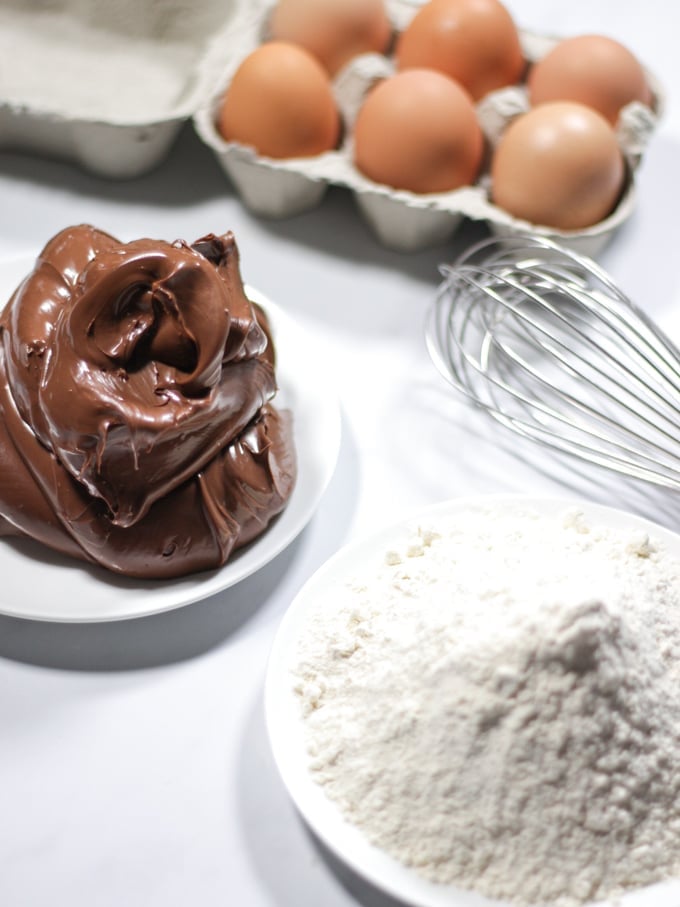 How do you make Nutella Brownies?
Preheat your oven to 180c, and line a tin with some baking paper.
Now mix, Nutella, self raising flour and eggs, be sure to mix this really well, ensuring that there are no lumps.
Pour your batter mix into the baking tray, now dollop the remaining Nutella on top, and swirl it over the top.
Finally bake for 30 minutes. To add a bit of bite, and counter act the sweetness sprinkle the top with sea salt flakes.
Can you believe that you only need three basic store cupboard ingredients?! (Nutella, self raising flour and eggs.) Perfect for when you are in a hurry and the need for Brownies strikes.
It's a toss up as to whether the texture of these is on par with my other brownie recipes but sometimes speed and ease wins right? (If I've tickled your fancy have a look at my brownie back catalogue Creme Egg Brownies Recipe, Microwave Brownies, Oreo Brownies with Raspberries).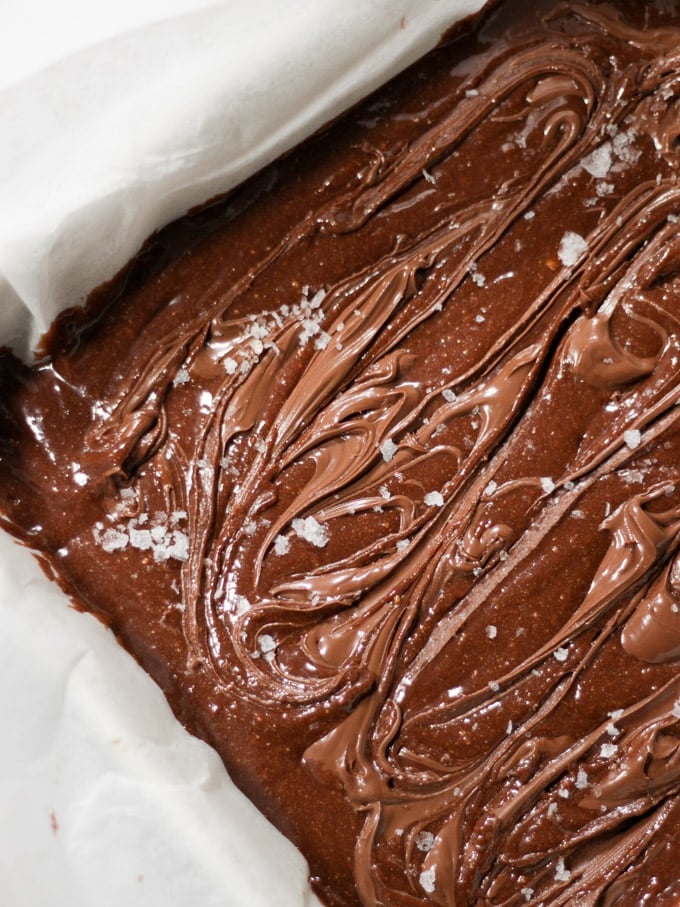 HOW DO YOU KNOW WHEN THE NUTELLA BROWNIES ARE COOKED?
It's really important not to over cook brownies, they should be fudgy and a little gooey.
The trick to the perfect brownies is to remove them from out the oven just before they are cooked through, when they still have a bit of a 'wobble'.
Then, leave them to go cold and firm before you cut them. Voila, fudgy brownies at your service.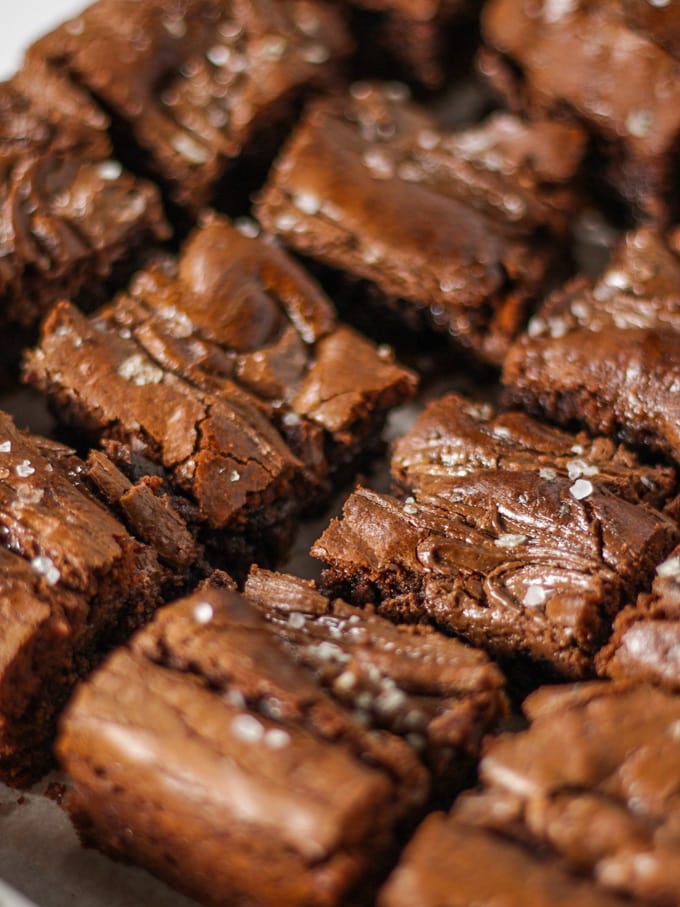 HOW DO I MAKE MY BROWNIES MOIST and GOO-EY?
The absolute secret to this is to ensure they aren't overcooked.
This is what gives them the gooey brownie texture, so different to regular chocolate cake.
Then let them cool fully (if you can bear to not eat immediately) before cutting. This means that they will still hold their shape even though they are slightly undercooked (compared to a regular cake).
How do you swirl the Nutella on top of the brownies?
Dollop on Nutella with a spoon. Then use a knife to swirl backwards and forwards over the top of the brownie batter.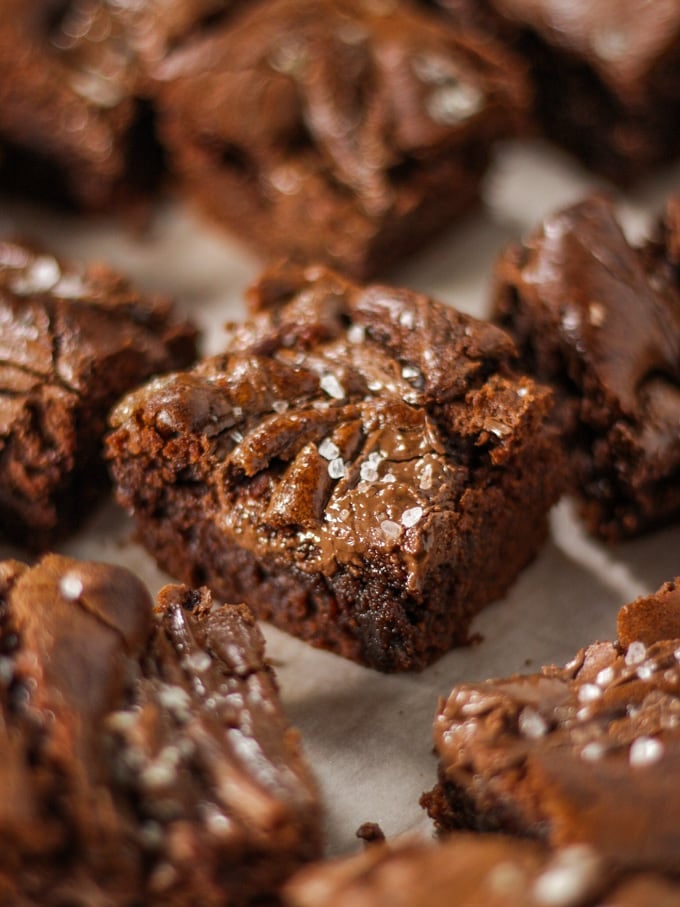 What I used to make Nutella Brownies:
I use a baking tin like this one. Sometimes I split this mixture between two, and reduce the cooking time, for thinner brownies, but for me only a deep brownie hits the spot.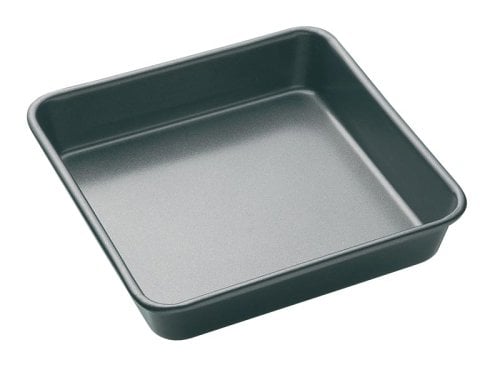 If you want to make a few batches of these brownies then use disposable foil baking trays as they are the perfect size, save on washing up and mean these are so easy to transport or give as gifts. I like these disposable foil trays from Amazon.
Baking parchment – I use baking parchment or baking paper for almost all of my bakes and cakes. It means no sticking, ever. I buy it in bulk from Amazon so I never run out and it's also heaps cheaper that way. Not to be confused with greaseproof paper, which needs to be oiled first.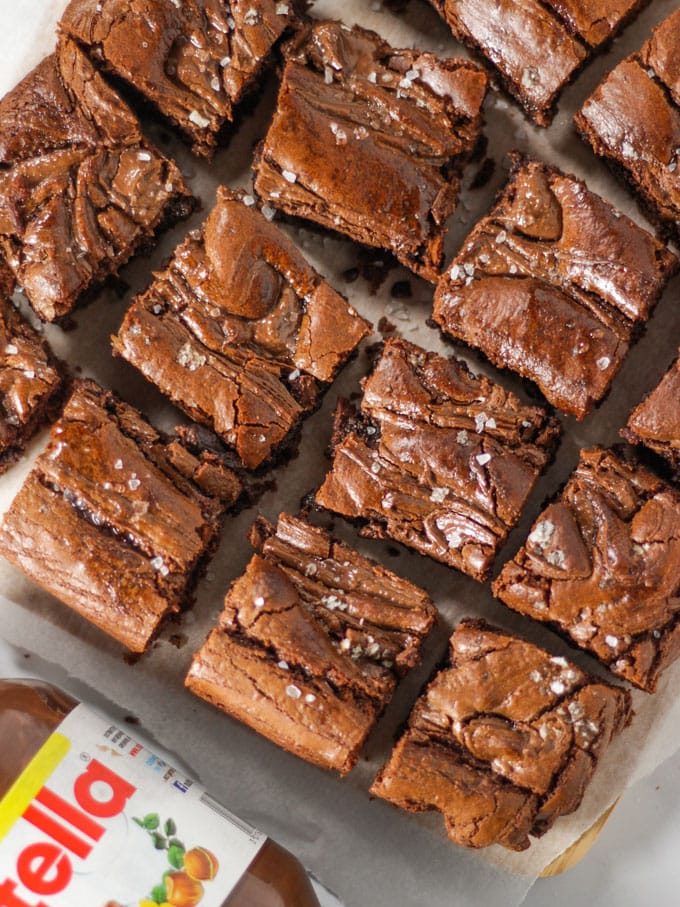 Tips for making Nutella Brownies:
Don't overbake your Nutella Brownies, cook until only just set.
These Nutella Brownies may rise in the oven and then sink down, don't worry this is completely normal.
Be sure to resist and let your brownies cool down fully before cutting. Trust me, I know the temptation is real but if you cut them too soon they won't hold their shape.
Brownies also make a great dessert served with vanilla ice cream or cream.
If you keep the Nutella Brownies in an air tight tin they will stay fresh for five days. There is no need to refrigerate them.
I'm often asked, can you freeze chocolate brownies? The short answer is – yes! After cutting them into portions, when they are completely cool, wrap in baking paper and freeze for up to 3 months. Defrost at room temperature for a treat whenever you fancy.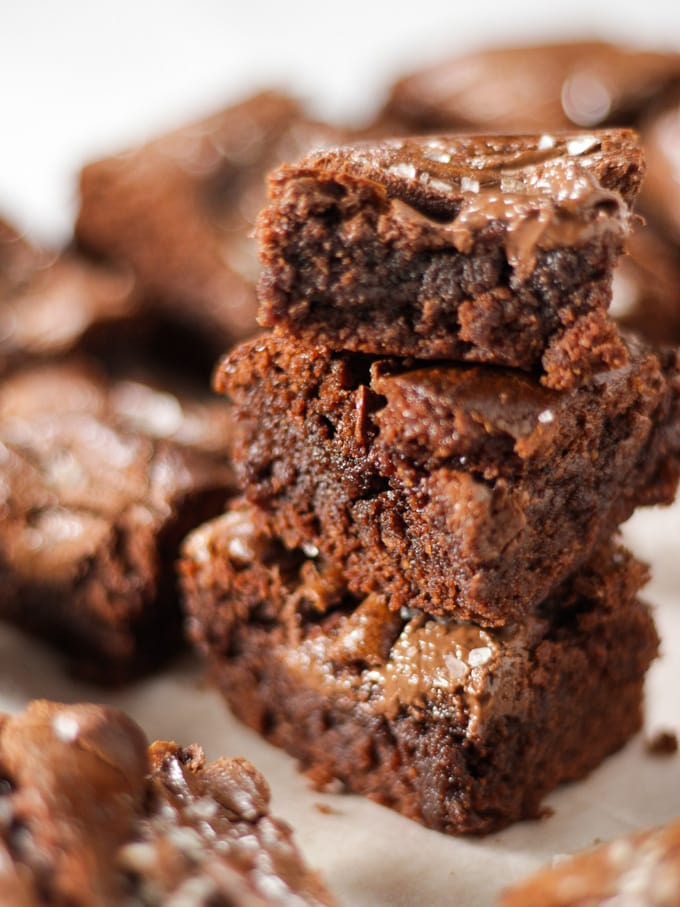 Fancy some other sweet treats to fight off those 3pm hunger cravings? How about my Flapjacks or Rolo Rocky Road?
Hope you enjoy this recipe as much as we do. I'd love to know how you got on and what you thought of it if you make this Nutella Brownie recipe. Please rate the recipe and leave me a comment below if you do.
Also, if you fancy showing me a photo by tagging me on Instagram (@tamingtwins) I LOVE to see your creations.
How to make Nutella Brownies: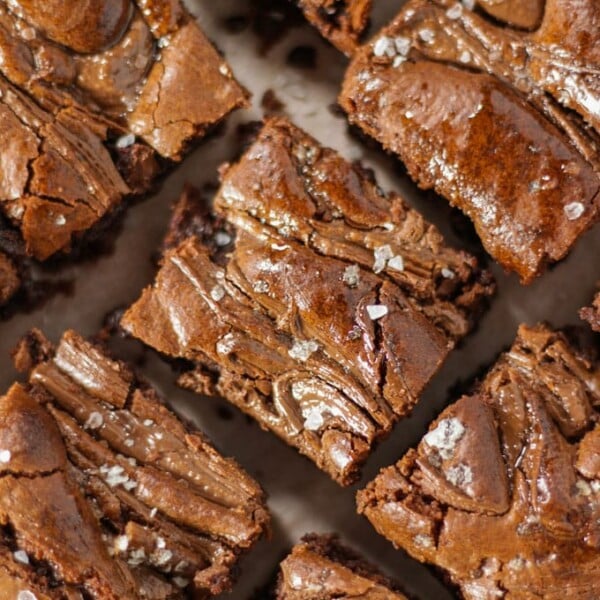 Nutella Brownies
Can you believe, just 3 ingredients make up these easy Nutella Brownies? The famous chocolate hazelnut spread, eggs and self raising flour. The best, quick, gooey, fudgy Nutella brownies!
Ingredients
600

g

Nutella

4

Eggs

175

g

Self Raising Flour
For the topping
150

g

Nutella

Sea Salt

,

Optional
Instructions
Preheat the oven to 180c.

Line a baking tray with baking paper (I used a 25x25cm tin).

Mix the Nutella, eggs and self raising flour together really well, until it has no lumps. (This might take a good few minutes.)

Pour the batter in to your tin.

Dollop the remaining Nutella on to the top of the batter and swirl. Sprinkle with sea salt if using.

Bake for 30 minutes, or until the edges are just solid but the middle still has a little wobble. Don't overbake them!

Ovens do vary so don't be alarmed if you recipe takes that little bit longer. Brownies are better under-done than over.
Nutrition
Calories:
308
kcal
Carbohydrates:
37
g
Protein:
5
g
Fat:
15
g
Saturated Fat:
13
g
Cholesterol:
40
mg
Sodium:
35
mg
Potassium:
216
mg
Fiber:
2
g
Sugar:
25
g
Vitamin A:
60
IU
Calcium:
58
mg
Iron:
2.3
mg
Nutrition information is automatically calculated, so should only be used as an approximation.