Fudgy Oreo Brownies with Raspberries – Gooey chocolate brownies with a double layer of Oreo cookies and raspberries. Because fresh fruit in brownies cancels out the chocolate, right?  These easy chocolate brownies have freshness from the fruit and crunch from the biscuits.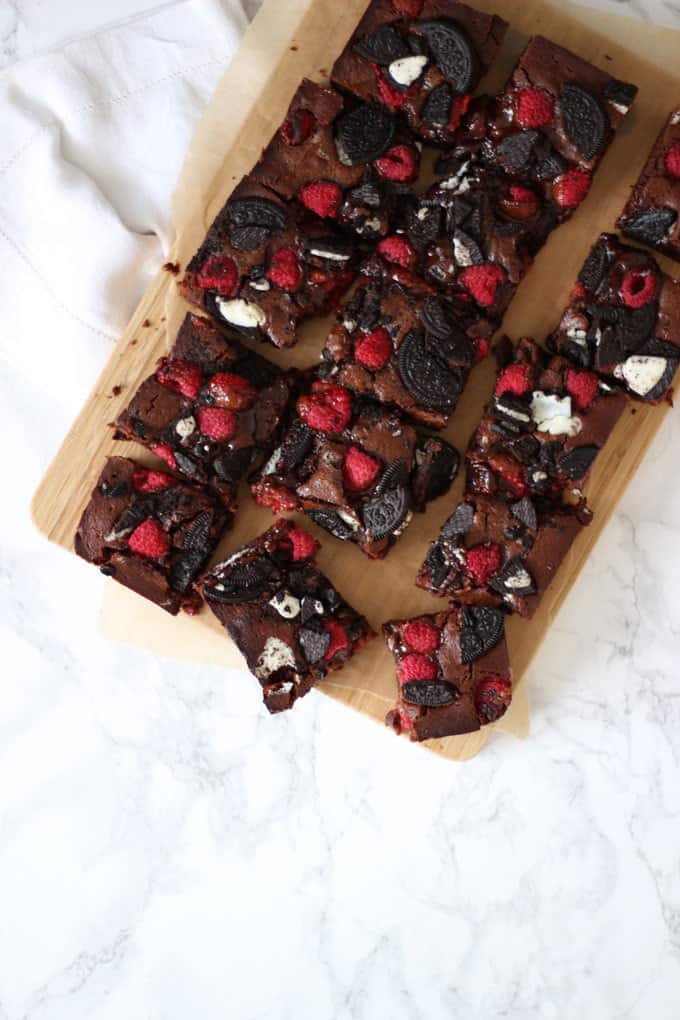 Who doesn't love a brownie? In fact, I love a brownie more than is strictly healthy. (Come to think of it, I'm not sure brownie and healthy even be used in the same sentence.)
So, on a day when I was short of time and a last minute birthday bake was required, this idea popped into my head. Because, what's better than a gooey chocolate brownie? An Oreo Brownie with Raspberries!
The Oreo cookies add crunch, the fruit adds freshness, all with a backdrop of deliciously dense and decadent chocolate.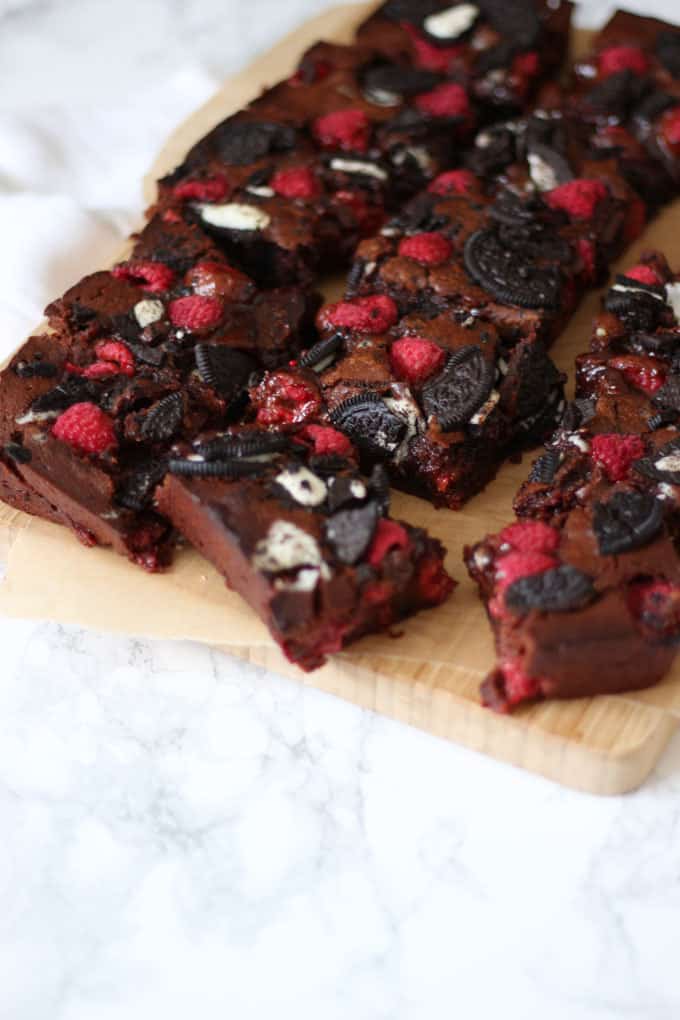 The birthday was Uncle Dave's, my husband's best pal. He's not actually either of our brothers, but somehow he ended up as Uncle Dave and it's stuck. These Oreo Brownies with Raspberries made such a fun birthday bake, piled high with a candle on top.
Uncle Dave, we love you and I hope you enjoyed the brownies, happy birthday my friend!
How do you make Chocolate Brownies?
Start by melting your chocolate, butter and sugar together and mixing your flour and eggs, all in the same saucepan. This recipe is based on a much loved Nigella brownie recipe, with numerous tweaks. I love the Nigella brownie method as it's such an easy way to make gooey chocolate brownies.
This recipe adds in Oreos and Raspberries too, just simply layered into your baking tin with the brownie batter.
I use disposable foil baking trays for this recipe as they are the perfect size, save on washing up and mean these are so easy to transport or give as gifts. I like these disposable foil trays from Amazon.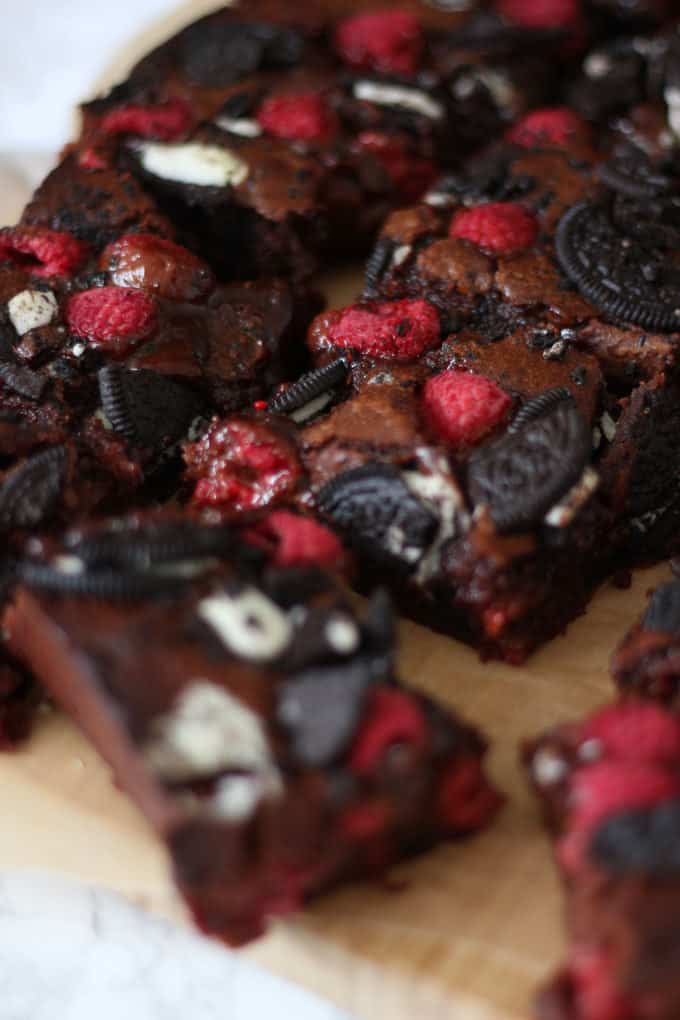 Tips for making the Oreo Brownies with Raspberries:
These gooey chocolate brownies will be quite soft because of the fresh fruit. You can keep them in the fridge until serving to make them firmer.

Don't overbake them, cook until only just set.

Be sure to resist and let them cool down fully before cutting. They will fall into a mess if you cut them before they are cold.

Serve them for dessert with vanilla ice cream or, of course, piled high and topped with candles for a birthday.

I use disposable foil tins like these as they are super easy to transport: Pack Of 6 Foil Tray Bakes
I used my favourite Callebaut chocolate for this recipe. This chocolate is just amazing, it melts so well and really makes a difference to any recipe. When you buy it in bulk (1kg bags at a time) from Amazon it works out about the same price as supermarket chocolate. A good investment I think as it really does make SUCH a different.
Fancy some other easy brownie recipes? How about my Double Chocolate Microwave Brownies or my Chocolate Brownies with Celebrations Chocolates?
Hope you enjoy this recipe as much as we do. I'd love to know how you got on and what you thought of it if you make the Oreo Brownies with Raspberries recipe. Please rate the recipe and leave me a comment below if you do.
Also, if you fancy showing me a photo by tagging me on Instagram (@tamingtwins) I LOVE to see your creations.
How to make the Oreo Brownies with Raspberries:
Oreo Brownies with Raspberries
Fudgy, gooey, Oreo Brownies with Raspberries - Dense, fudge brownies with a double layer of Oreo cookies and raspberries. Because fresh fruit in brownies cancels out the chocolate, right? Heavy on the chocolate but with a touch of freshness from the fruit and crunch from the biscuits.
Ingredients
200

g

70% Dark chocolate

100

g

Milk chocolate

250

g

Salted butter

you can use unsalted if it's all you have, just add a pinch of salt, it helps to bring out the chocolate flavours

300

g

Soft light brown sugar

4

Large eggs

175

g

Plain flour

200

g

Fresh raspberries

154

g

pack of Oreos

roughly chopped into quarters
Instructions
Pre-heat the oven to 180C.

Grease a 32cm x 20cm disposable foil baking tin.

Melt the chocolates, butter and sugar together over a low heat.

Once they are melted, remove from the heat and leave to cool for 5 or 10 minutes.

Beat in each egg, one by one.

Stir in the flour.

Put half of the batter in each of the tin to cover the base.

Spread half of your raspberries and half or your chopped Oreos over this batter evenly, so you get some in each bite.

Spread the rest of the batter over the top.

Put the remaining raspberries and Oreos on top of this.

Bake for about 25 minutes. A skewer should come out only just clean. You could test at 20 minutes and again at 23 minutes just in case.

As always, remember that depending on your oven and the tin size you use it could take up to 10 minutes longer, but please please try not to overcook them. Brownies are always better under-done than over.
Nutrition Facts
Oreo Brownies with Raspberries
Amount Per Serving
Calories 394
Calories from Fat 198
% Daily Value*
Fat 22g34%
Cholesterol 80mg27%
Sodium 195mg8%
Potassium 208mg6%
Carbohydrates 44g15%
Protein 4g8%
Vitamin A 505IU10%
Vitamin C 3.5mg4%
Calcium 52mg5%
Iron 3.5mg19%
* Percent Daily Values are based on a 2000 calorie diet.