This is the ULTIMATE No Bake Nutella Cheesecake. Incredibly easy and utterly delicious. This chocolate and hazelnut delight is a must make for Nutella fans! Light and creamy, with a buttery biscuit base and roasted hazelnut topping.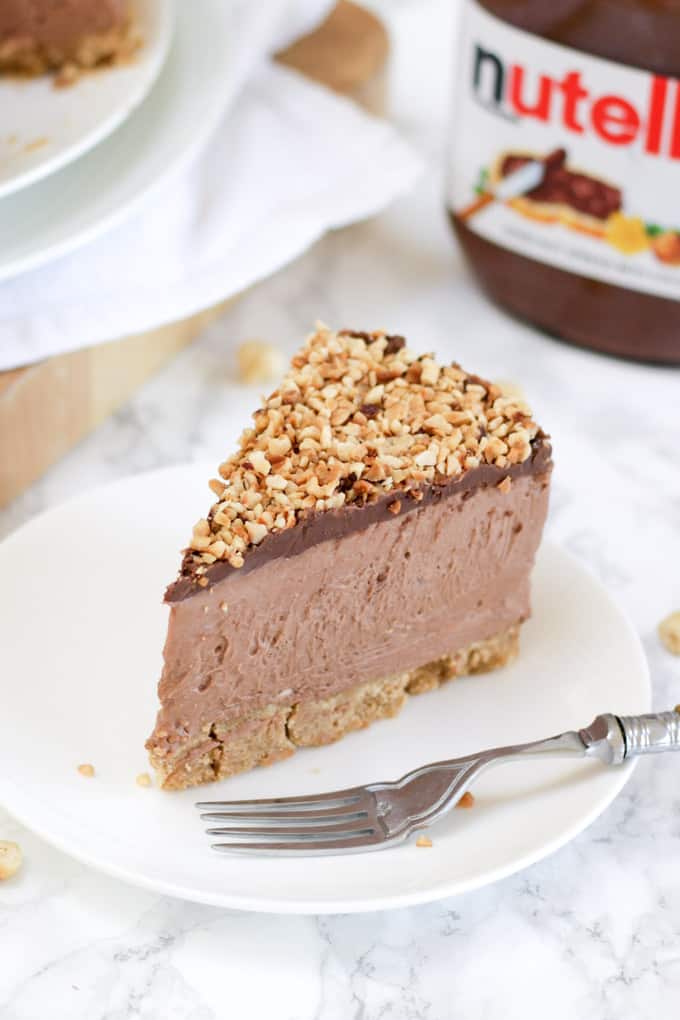 Oh No Bake Nutella Cheesecake let me count the ways I love you. Chocolate? Hazelnuts? Quick? Simple? Delicious show stopping dessert? Yes, yes and a bit more yes.
April was a funny old month here. My Facebook page went a bit insane overnight with my Easter cheesecake recipes racking up almost 10 million views in the month.
It was so fantastic to see so many people making my recipes on Easter Sunday, I made a little collage of some of the photos and had a weep (sentimental over baking, that is how I ROLL).
We had a lovely Easter break, full of fun and friends and delicious food. But a couple of weeks later and can I be honest with you dear bloggy pals? I'm kind of missing the cheesecake excitement around these parts.
Sometimes I think possibly I should start a desserts dedicated blog to house all of these beauts, but you know, this site is the stories of my life and desserts after definitely one of my stories.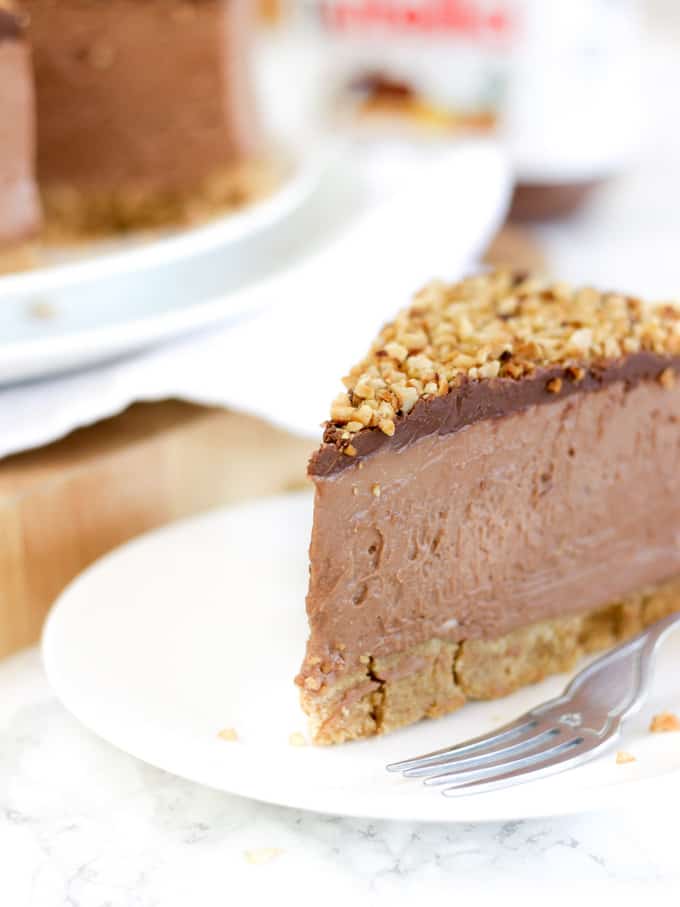 So, my cheesecake dabbling joined forces with one of my great sugary loves – NUTELLA. It was always going to be a good marriage am I right? Hello NO BAKE NUTELLA CHEESECAKE!
This really is a show stopper. I think brown things never look quite as good in photos as they do in reality. Please believe me when I say that this is seriously set in my top 5 favourite ever things I've baked in my whole life ever amen. Yes. It's THAT STINKING GOOD.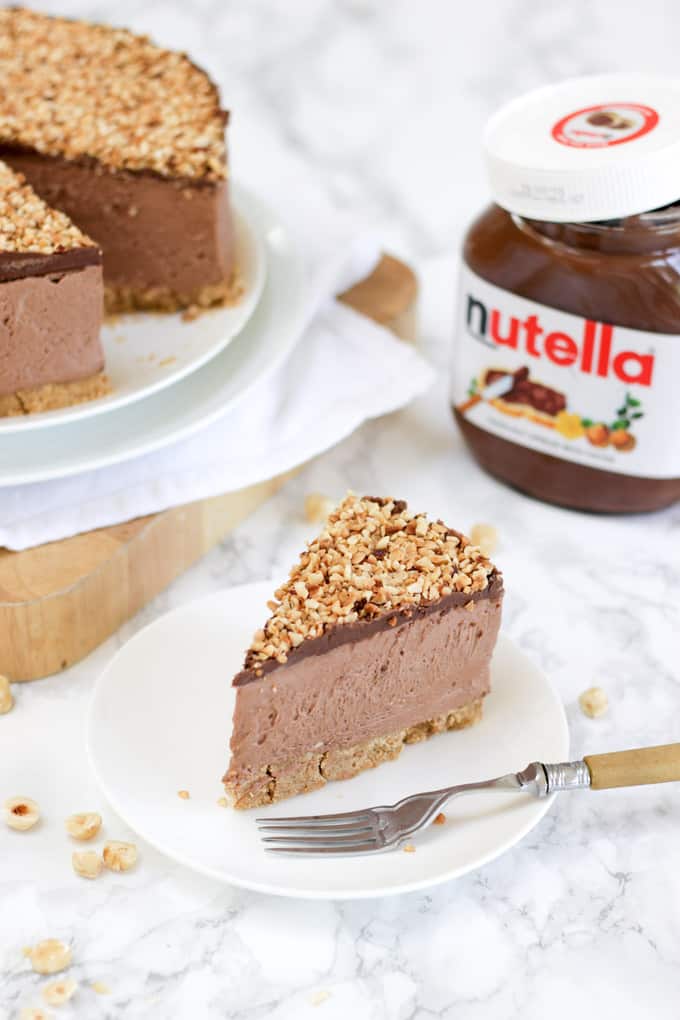 I sketched out my recipe idea for this, based on my last cheesecake recipe, then did some research and stumbled upon Queen Nigella's Nutella Cheesecake.
She doesn't use any whipped cream in hers which I'm intrigued by, I imagine it must give more of a dense torte texture. I prefer a lighter cheesecake so have kept in my usual whipped double cream.
After a few trial runs I also ended up using almost double the Nutella I planned on using. Oops. But honestly, if you're going to do it, you may as well really do it, RIGHT?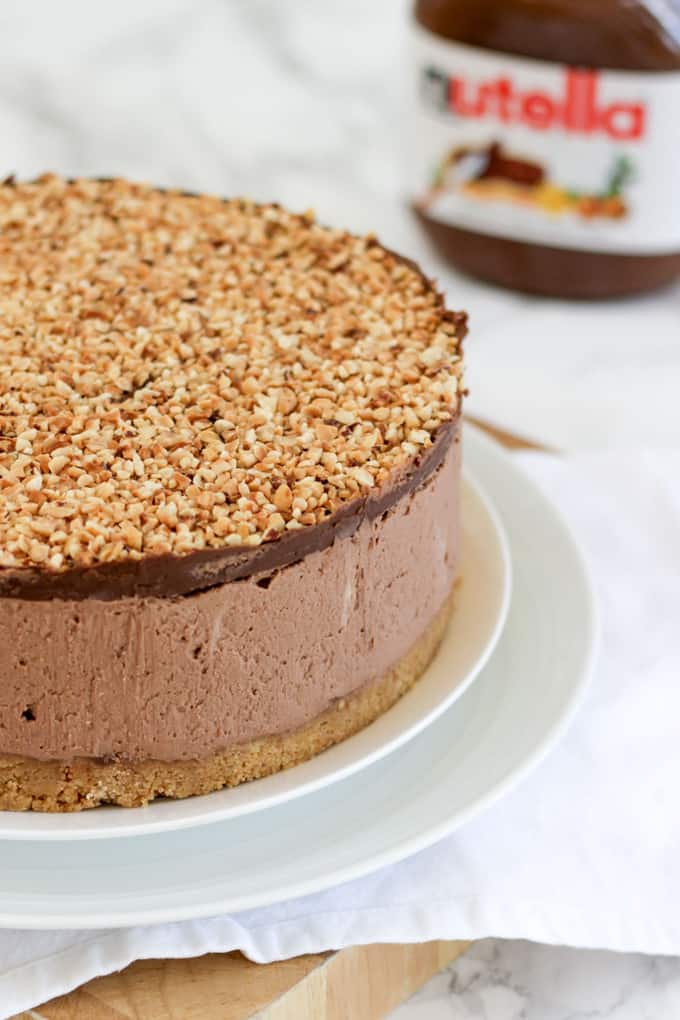 Tips for making the No Bake Nutella Cheesecake (sorry, there's quite a few, please hang in there):
What I used to make the No Bake Nutella Cheesecake: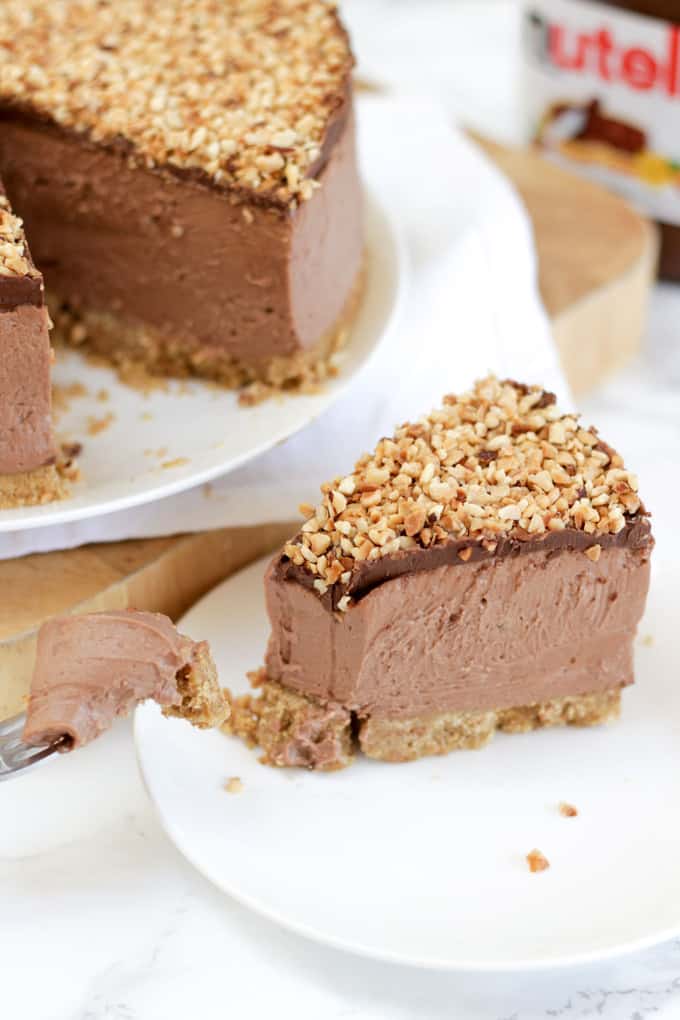 Recipe for the No Bake Nutella Cheesecake: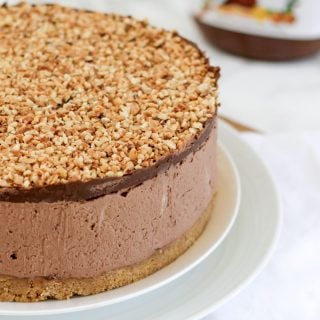 No Bake Nutella Cheesecake
This is the ULTIMATE No Bake Nutella Cheesecake. Incredibly easy and utterly delicious. This chocolate and hazelnut delight is a must make for Nutella fans.
Ingredients
280

g

Digestive chocolate biscuits

120

g

Butter

Unsalted, melted

600

ml

Double cream

lightly whipped until it forms soft peaks

400

g

Philadelphia cream cheese

Full fat

75

g

Icing sugar

Sifted

Juice of half a lemon

600

g

Nutella
To decorate
150

g

Nutella

100

g

Roasted chopped hazelnuts
Instructions
Crush the biscuits until they look like lumpy sand. (I did mine in a food processor because I'm very lazy..)

Mix with the melted butter and press into your 7" tin.

Combine the whipped cream, icing sugar, cream cheese, lemon juice. Fold in gently until fully combined.

Add the 600g Nutella and stir in thoroughly.

Smooth on top of the biscuit base and flatten the top with the back of a spoon or a palette knife if you have one.

Put into the freezer for 2 hours.

Gentle warm the 150g Nutella (I pop it into the microwave for 20 seconds) and pour over the top. Cover with the chopped hazelnuts.

Pop back into the freezer for an hour.

Use my knife tip (above) to remove the cheesecake from the tin.

Leave to stand for about 30 minutes at room temperature before serving.

Share and enjoy!
Nutrition Facts
No Bake Nutella Cheesecake
Amount Per Serving
Calories 885
Calories from Fat 603
% Daily Value*
Total Fat 67g 103%
Cholesterol 126mg 42%
Sodium 293mg 12%
Potassium 443mg 13%
Total Carbohydrates 64g 21%
Protein 9g 18%
* Percent Daily Values are based on a 2000 calorie diet.
I hope you love this recipe as much as we did. In my testing of this, I had three of these left over. I ended up dropping them off to a friends' house whilst I went out for a run. Running with a Nutella cheesecake, that's a sight you don't see often. I will leave you with that picture – ha!
Enjoy and please pop a photo on my Facebook page if you make this, I'd love to see.