This post may contain affiliate links.
Easy Nutella Muffins recipe – These Nutella muffins are super easy to make, a basic cake mixture with the delicious addition of a spoonful of Nutella. A really simple and delicious chocolate cupcake, perfect for baking with children or for after school snacks.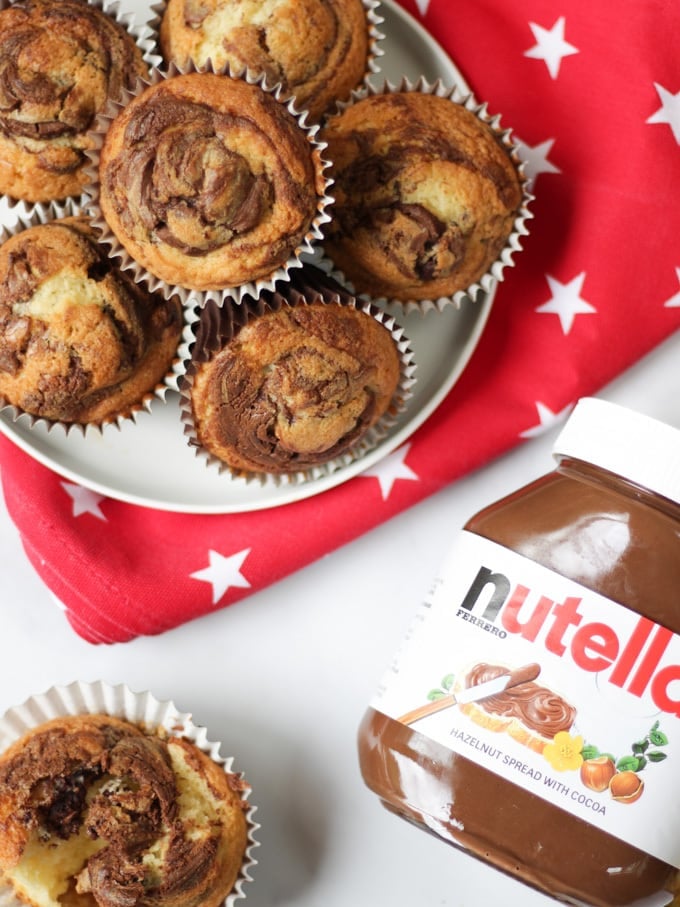 Oh deliciously smooth and sweet Nutella, let me count the ways I love you.
If you are a long time follower, you will know that George, Harri and I simply can't get enough of it's chocolatey goodness. We love it so much, it features in many of my recipes like Nutella Cake and I even have a whole Nutella Pinterest Board board dedicated to it.
These magical little muffins make the perfect after school snack. I don't know about you but if I have only learned one thing in the two and a bit years I've been a school run Mum it is I MUST take snacks to pick up and they need to be given out immediately.
This prevents any hunger related meltdowns, and means I am always greeted with a smile (and a kiss from George!).
How do you make Nutella Muffins?
These Nutella Muffins are made using a really simple cake batter.
I used the same method in my Ultimate Banana Muffins recipe (which incidentally would also be amazing with a small amount of Nutella in).
The Nutella Muffins are mixed up in just a few minutes with the usual creaming of butter and sugar, then adding eggs and flour. You can make the muffin mixture by hand, but I used My beloved Kitchen Aid Mixer. This beautiful shiny machine sits proudly on my worktop amongst the chaos of our house renovation and I couldn't live without it.
Evenly distribute the mixture into 12 muffin cases, I used these best quality cupcake cases (in brown), add a spoonful of Nutella, swirl a little and they are ready to bake. I bake them at 160deg (fan oven) for around 20 minutes.
How do I know if my Nutella Muffins are cooked?
These Nutella Muffins should take around 20 minutes to cook.
I bake them in my favourite muffin tray. Once out of the oven they should look golden and springy on top.
If you are unsure if they are properly cooked, take a metal skewer and put it into the centre of the muffin. When you pull out the skewer it should be clean with perhaps a few crumbs on it. If there is any batter on your skewer return the Nutella Muffins to the oven for a few more minutes.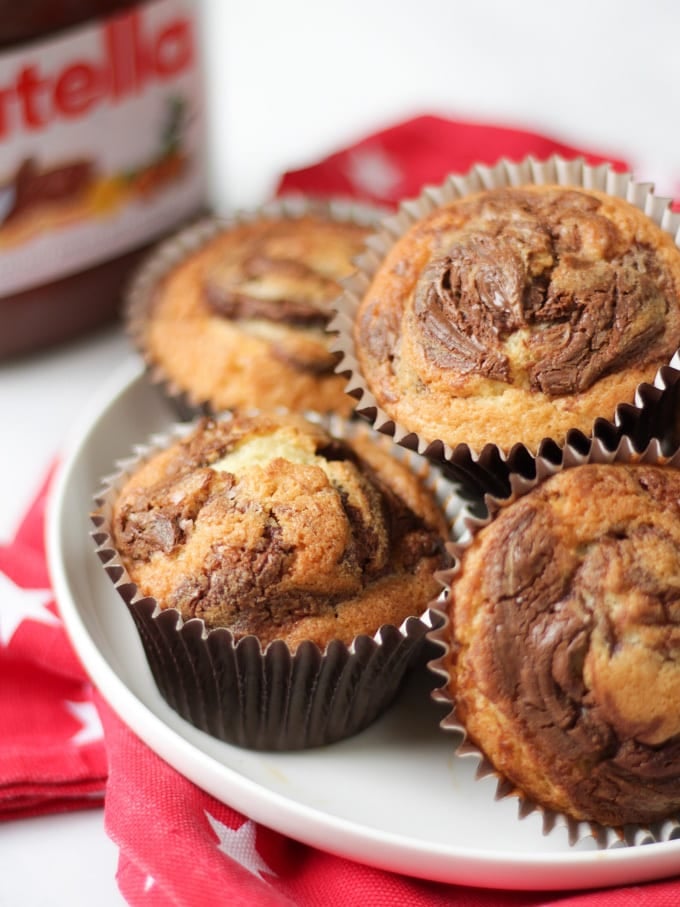 HOW DO YOU MELT NUTELLA?
Nutella isn't as tricky to work with as chocolate you'll be glad to know!
I pop it into a microwave proof dish and warm gently (just 20 seconds or so). My top tip is to warm it gently like this before mixing into the cake batter. This makes it far easier to combine with the cake batter.
WHAT CAN YOU DO WITH NUTELLA?
Nutella works brilliantly well in so many baking recipes, giving a delicious nutty chocolatey flavour.
Have you tried my No Bake Nutella Cheesecake or Peanut Butter Nutella Blondies? We also love it served in pancakes, spread on rice crackers, on some apples if low carbing and on a piece of good old fashioned toast.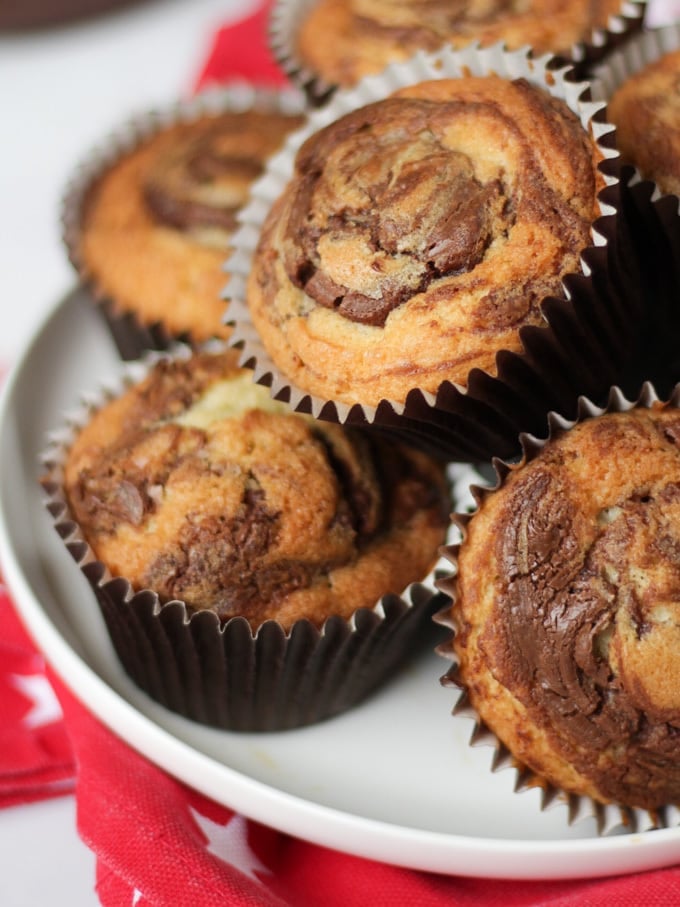 Tips on making Nutella Muffins:
Be sure to use cupcake liners, you can even invest in silicone ones to use again and again. I like really good quality paper ones. I tend to use brown or gold for this Nutella Muffins recipe as I think they look the prettiest!
These Nutella Muffins are best eaten on the day of baking. However, to enjoy on the following day simply heat in the microwave for 10 seconds to make them slightly gooey.
When you add the Nutella Muffin cake batter to the individual cupcake cases you then spoon a little Nutella on top, at this point take a table knife and swirl the mixture. Lastly, really push the knife right down to get the majority of the Nutella covered with the batter. If you don't, don't worry, the uncovered Nutella just gives the top a slightly crunchier bite.
This recipe makes a great base for lots of other Muffin flavours. For a healthier touch add in blueberries, bananas, raspberries or chopped apples. For you Nutella haters (yes I know you exist!) you could add chocolate chips, or even some chopped up leftover Christmas chocolate!.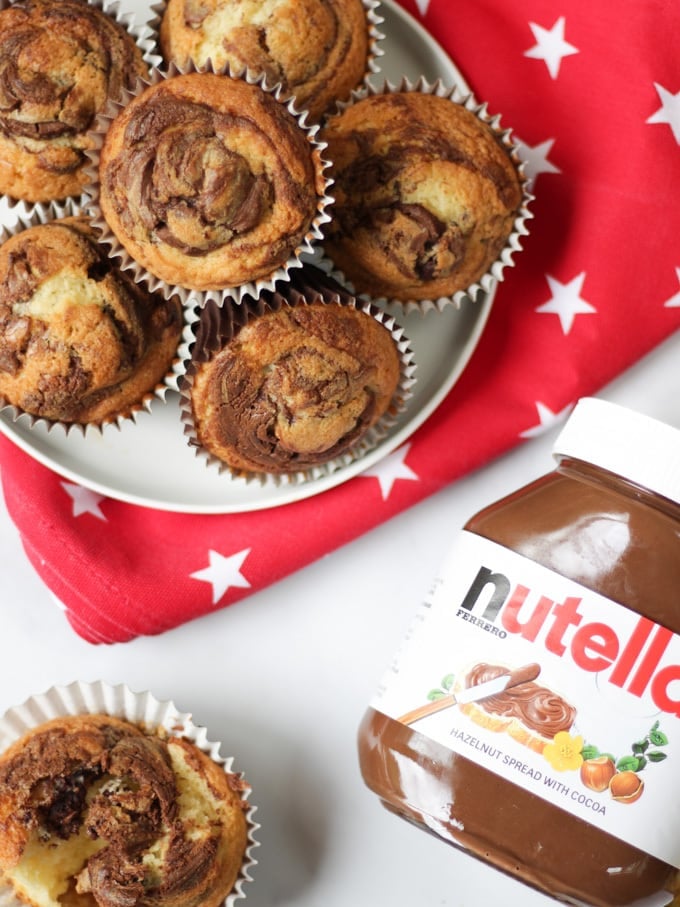 Fancy some other easy Nutella recipes? How about my Ultimate no bake nutella cheesecake recipe or Nutella Cake?
I hope you enjoy this recipe as much as we do. I'd love to know how you got on and what you thought of it if you make this Nutella Muffins recipe. Please rate the recipe and leave me a comment below if you do.
Finally, if you fancy showing me a photo by tagging me on Instagram (@tamingtwins) I LOVE to see your creations.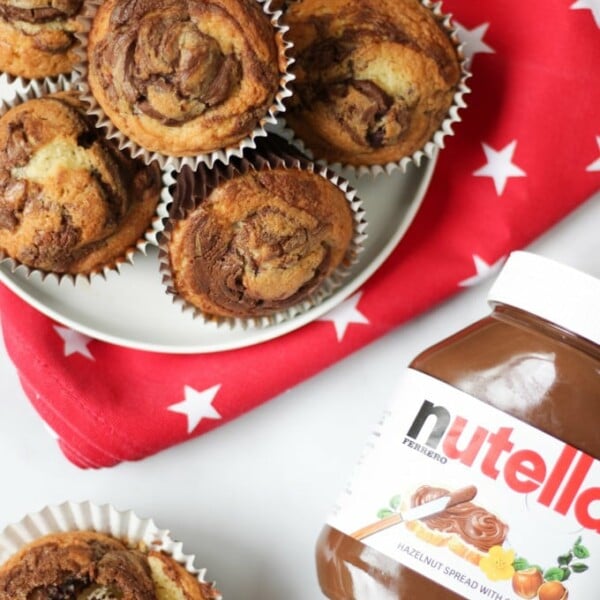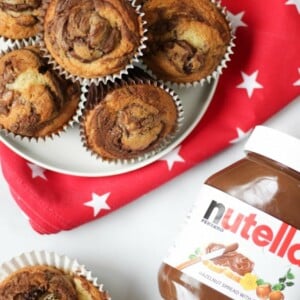 Nutella Muffins
Easy Nutella Muffins recipe – These Nutella muffins are super easy to make, a basic cake mixture with the delicious addition of a spoonful of Nutella. A really simple and delicious chocolate cupcake, perfect for baking with children or for after school snacks.
Ingredients
175

g

Unsalted butter

175

g

Cater sugar

3

Medium eggs

175

g

Self raising flour

150

g

Nutella
Instructions
Pre-heat the oven to 180c.

Cream the butter and sugar until light and fluffy.


Beat in the eggs one at a time, don't worry if it curdles slightly.


Gently stir in the flour.

Scoop the mixture into 12 cupcake liners in a muffin tray.

Share the Nutella evenly between the 12 muffins (If the room is cold, pop the Nutella in a bowl in the microwave for 15 - 20 seconds first to warm it and soften it slightly.)


Use a table knife to create a swirl, making sure that the majority of the Nutella is covered by cake batter.

Bake for 20 minutes until golden and springy.
Nutrition
Calories:
297
kcal
Carbohydrates:
33
g
Protein:
3
g
Fat:
16
g
Saturated Fat:
11
g
Cholesterol:
72
mg
Sodium:
22
mg
Potassium:
84
mg
Fiber:
1
g
Sugar:
21
g
Vitamin A:
425
IU
Calcium:
25
mg
Iron:
0.9
mg
Nutrition information is automatically calculated, so should only be used as an approximation.