Chocolate Peanut Butter Bars
Oh hai January. Where did you spring from? One minute I was making a festive Chocolate Orange Layer Cake and the next, here we are in this shiny new 2016.
I'm not a great one for new year's resolutions but I do love the fresh, new start of January. I love that you have 12 whole months, stretching ahead, full of possibilities. Yes new year, I can do this. I can do all of those things I meant to do last year but didn't! Ha! I've got this.
Or not.
I'm not sure why but this January I'm all a bit less bouncy about the new year. I've toned it down somewhat. Perhaps it's because I already took part in a 100 Day Plan last year to get me more organised so I'm not feeling the weight of clutter quite so much as normal. Or perhaps it's because our second week of January is going to be spent on holiday (hurrah!) so my focus is elsewhere.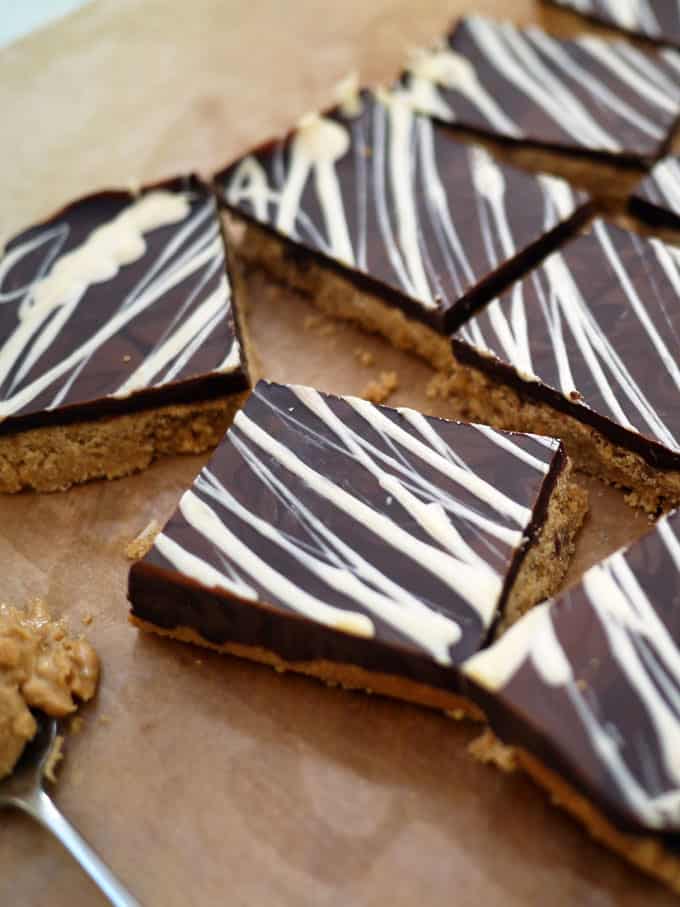 Anyway, one goal I am aiming for this year is to say yes more. Not in a crazy Danny Wallace Yes Man style, but mainly to the children. In the stretch of learning to juggle work and children and life, I find I say no a lot. They are off to big school in September and I feel the weight of the fact that these are our last months together, full of the promise of weekday fun.
So I'm going to try and say yes more. Waffles for breakfast just because we can? Yes. An indulgently deep bath all together on a Wednesday morning just because they want to splash? Yes. One more episode of Paw Patrol? (KILL ME NOW) but.. Yes.
And you know what else? I am saying YES to Peanut Butter Crunch bars in the midst of everyone else's healthy eating January. Slimming World I'll be back for you soon but right now, I need some comfort with a cup of tea on a grey afternoon and so we've ended up here.
Peanut butter and chocolate? What else could you need..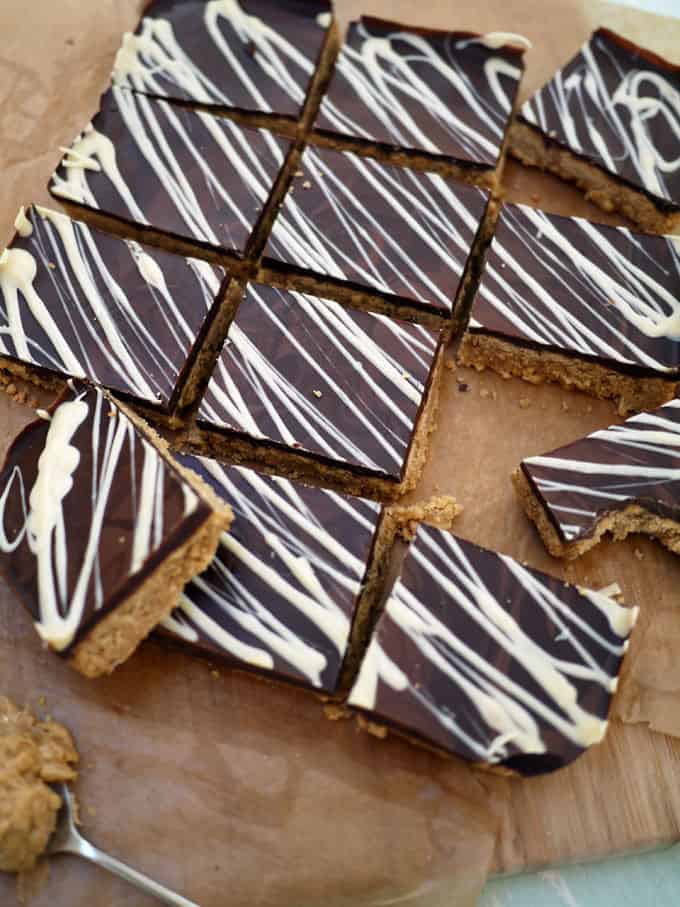 Peanut Butter Crunch Bars
An easy recipe for all chocolate and peanut butter fans.
Ingredients
250

g

Crunchy peanut butter

175

g

Soft light brown sugar

1

Egg

large

1

tsp

Ground ginger

150

g

Plain flour

125

g

Milk chocolate

75

g

White chocolate
Instructions
Preheat the oven to 180C.

Cream the peanut butter and sugar together in a bowl (or a food processor if you're lazy like me!)

Mix in the egg until totally combined.

Add the ginger and the flour and mix well, it will be a very stiff, crumbly mixture. If using a food processor, add all the ingredients to the processor and and mix for a few seconds until you have a firm dough.

Grease a 15x20cm rectangle tin.

Press the dough into the tin and flatten using your hands or the back of a fork.

Cook for 15-20 minutes until golden brown.

Leave to cool in the tin.

When cool, melt the milk chocolate on low in the microwave or in a bowl over a pan of hot water.

In a separate bowl, repeat with the white chocolate.

Spread the milk chocolate over the traybake, then drizzle the white chocolate on top.

Allow to set and then cut into pieces using a sharp knife and remove from the tin.
Nutrition Facts
Peanut Butter Crunch Bars
Amount per Serving
% Daily Value*
* Percent Daily Values are based on a 2000 calorie diet.
Pin it for later..
How's your January going? Do you have any resolutions beyond eating more peanut butter and chocolate based baked goods..?
Keep in touch on Facebook ¦
Chit chat on Twitter ¦
Never miss a trick on Bloglovin' ¦
Circle with me on Google+ ¦
Pinning like my life depends on it Pinterest ¦