These Blondies with Peanut Butter and Nutella are totally and utterly delicious. A really simple bake, that looks SUPER impressive.
First published on June 3, 2014, updated on May 15, 2020.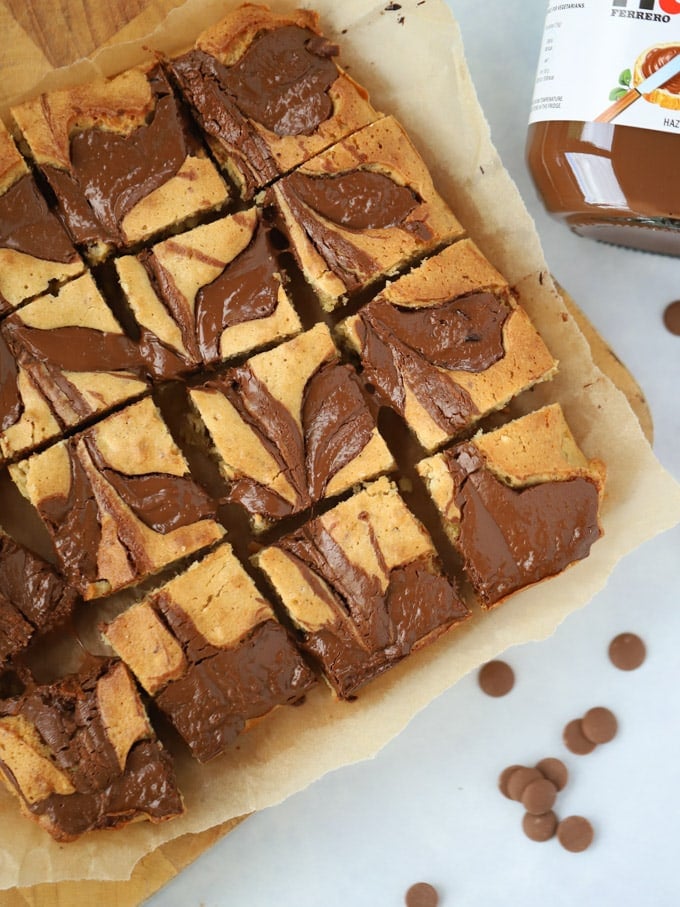 Oh hello old friend! I first posted this Blondies recipe back in 2014 and you know what? I loved it then and it's just as good now.
I know, this is big chat from someone who does a lot of baking, but I honestly think this is one of my favourites ever.
In need of some easy, simple, comfort food baking? Blondies with Peanut Butter and Nutella are your new BFF.
You'll love this Blondie recipe because:

✅ So quick and easy to whip up.
✅ Looks super impressive.
✅ Peanut Butter = GOOD. Nutella = GOOD. Together? 😍

Tips for Making the Blondies with Peanut Butter and Nutella
I used a very dark (70%) chocolate for the topping as I think the bitterness really cuts through the creamy, peanut sweetness. You could use a 40% ish if you don't like it quite so dark, but please don't use milk chocolate, it'll all be a bit too gooey sweet.
If you can, try to use a pan very close to the size I used (25cm x 25cm) they are just the right thickness in that tin. If you use a smaller tin, they'll be deeper and may need a little extra cooking.
One last thing, when you take these out of the oven, resist the temptation to eat them with a trail of warm Nutella dribbling down your chin (who, me?) Leave them to be totally cold before you cut them and they will keep their pattern and give a nice clean cut. The chocolate, Nutella topping cools to something like a truffle texture. (Oh, be still my heart.)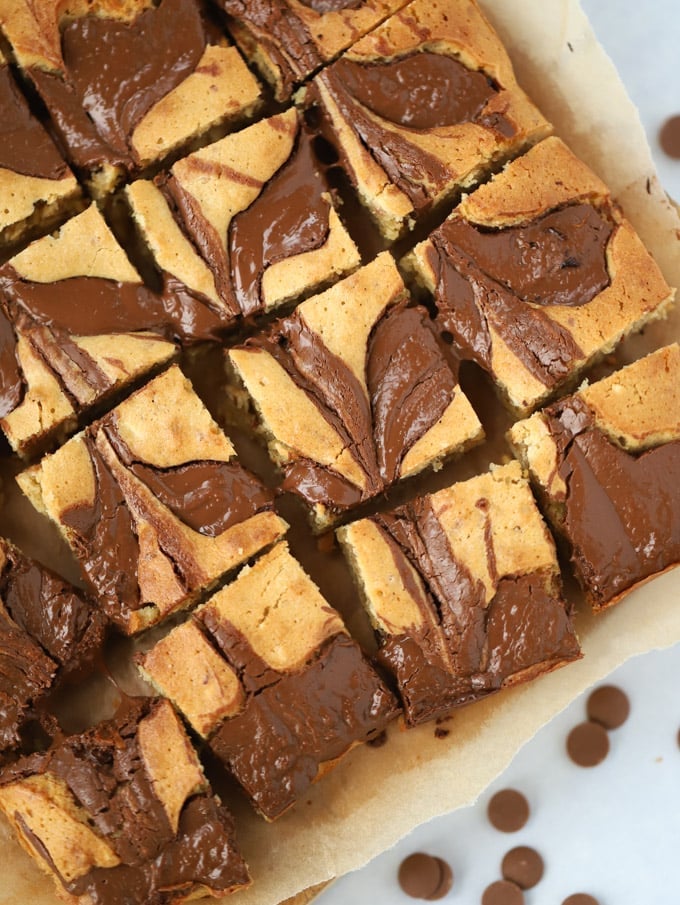 Watch me making the Blondies
Fancy some other Brownie type inspiration?
Hope you enjoy this recipe as much as we do. I'd love to know how you got on and what you thought of it if you make this Blondie recipe. Please rate the recipe using the ⭐️ by the recipe.
Also, if you'd like to show me a photo by tagging me on Instagram (@tamingtwins) I LOVE to see your creations.
How to make Peanut Butter Nutella Blondies: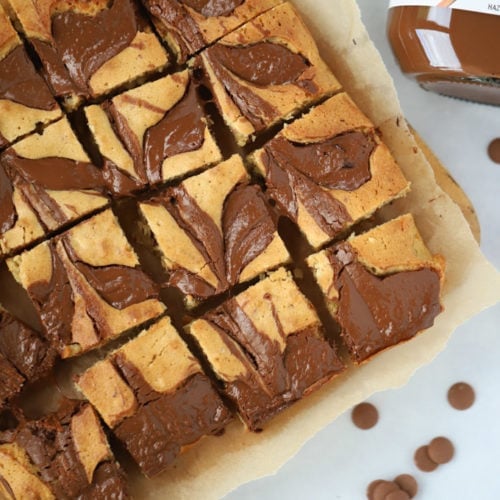 Peanut Butter Nutella Blondies
A winner for any nutella and peanut butter fans. A delicious gooey blondie.
Ingredients
125

g

salted butter

150

g

soft light brown sugar

100

g

crunchy peanut butter

2

free range eggs

100

g

plain flour

175

g

Nutella

125

g

very dark chocolate

I used 70%
Instructions
Pre-heat the oven to 180C.

Line a 25cm x 25cm tin with baking paper.

Melt the butter and sugar together over a low heat.

Once they are melted, remove from the heat and beat in the peanut butter.

Leave to cool for 5 or 10 minutes.

Meanwhile, put the Nutella and dark chocolate in another bowl and microwave for 20 seconds, take out and stir very well. If it's not melted together, pop back in for another 20 seconds and stir well again. Repeat if you need to, but be really careful not to burn the chocolate. You're trying to make a smooth paste consistency with no lumps.

Go back to your butter, sugar and peanut butter mixture and beat in each egg, one by one.

Stir in the flour.

Put the batter in to the prepared tin and smooth out with a spatula.

Now take your chocolate mixture and using a spoon, dollop (technical term) 4 or 5 lines of it horizontally along the length of the pan.

Now use the edge of a knife to draw lines vertically through these lines, first top to bottom, then bottom to top, about 10cm apart. Taaa-daaa! Pretty pattern ahoy.

Bake for about 20 minutes. A skewer should come out only just clean. You could test at 17 minutes and again at 20 minutes just in case.

As always, remember that depending on your oven it could take up to 10 minutes longer, but please please try not to overcook them. Blondies are always better under-done than over.
Nutrition (per serving)
Calories:
242
kcal
Carbohydrates:
28
g
Protein:
3
g
Fat:
14
g
Saturated Fat:
10
g
Cholesterol:
50
mg
Sodium:
94
mg
Potassium:
95
mg
Fiber:
1
g
Sugar:
20
g
Vitamin A:
300
IU
Calcium:
34
mg
Iron:
1
mg
Made it? Tag me!
Tag @TamingTwins so we can admire your make ⭐️