These Peanut Butter Brownies are the ultimate in gooey, chewy, homemade chocolate bakes. Easy to make and oh my goodness so easy to eat too!
Hi my name is Sarah and I CANNOT STOP BAKING BROWNIES.
Maybe it's because now I've nailed my reliable recipe, there's so many options. The world is my.. Peanut Butter Brownie. 🙌🏼
I love that these don't even need a mixing bowl, and the addition of a swirl made with PEANUT BUTTER? What could be better?!
Get your bake on my friends, because these are the bake for any PB (or Reece's!) fans out there.
You'll love this Peanut Butter Brownie recipe because:

✅ Mixed up in under 10 minutes.
✅ Totally moreish Peanut Butter + Chocolate flavour combo.
✅ Perfectly fudgy, rich brownies every time.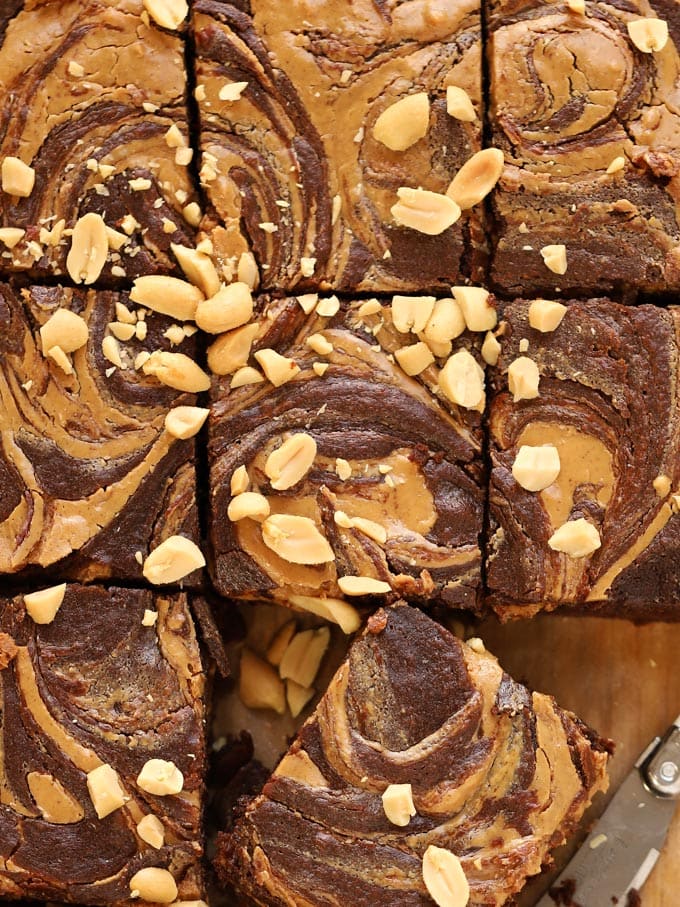 Which tin do I use to bake brownies in?
I normally use a baking tin like this one to bake all of my brownies in.
(I actually couldn't find my square tin on the day when I made these ones and ended up using a rectangle roasting tin which was 100% not as good 😬.)
Sometimes I split this mixture between two, and reduce the cooking time, for thinner brownies.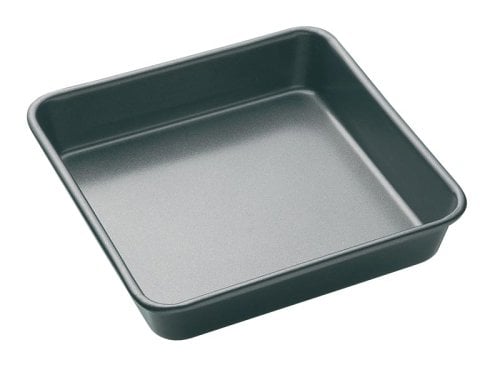 Which chocolate should I use for brownies?
I almost always use my favourite Callebaut chocolate for this recipe.
I choose this chocolate for a few reasons:
Melts really well without burning easily.
It gives a brilliant consistency because of the quality.
Tastes amazing.
It's super easy to measure etc because it's in little drops.
When you buy it in bulk (1kg bags at a time) from Amazon it works out about the same price as supermarket chocolate. A good investment I think as it really does make SUCH a difference and is so easy to use.
TOP TIPS FOR MAKING THIS PEANUT BUTTER BROWNIE RECPE:
Don't overbake your brownies, cook until only just set.
Try to let them cool down fully before cutting.
If you keep the Peanut Butter Brownies in an air tight tin they will stay fresh for four or five days. There is no need to refrigerate them.
I'm often asked, can you freeze chocolate brownies? Yes! After cutting them into portions, when they are completely cool, wrap in baking paper and freeze for up to 3 months. Defrost at room temperature for a treat whenever you fancy.
I use baking parchment or baking paper for almost all of my bakes and cakes. It means no sticking, ever. I buy it in bulk from Amazon so I never run out and it's also heaps cheaper that way. Not to be confused with greaseproof paper, which needs to be oiled first.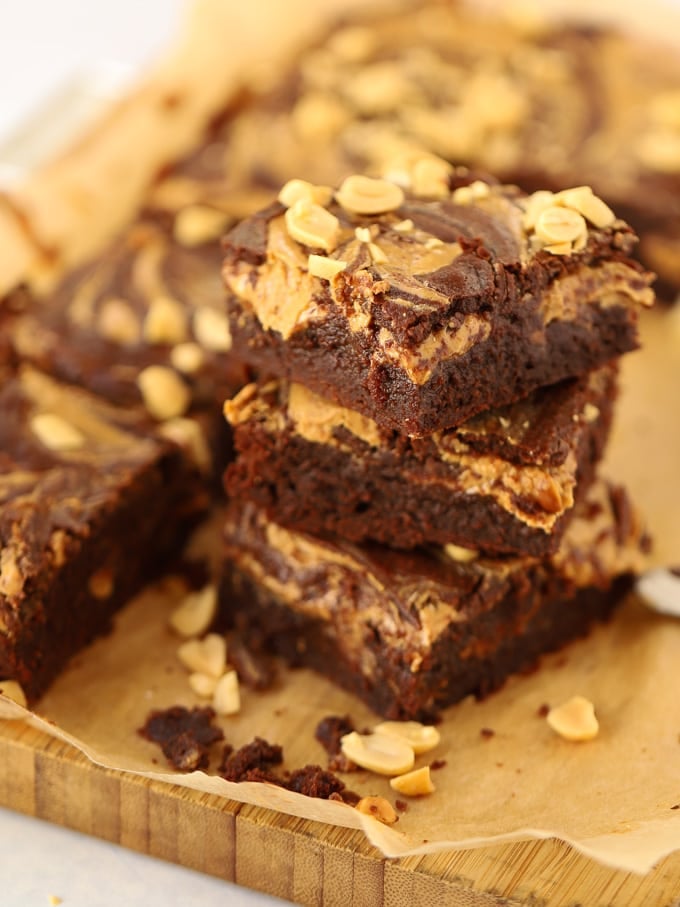 Fancy some other brownie ideas?
Hope you enjoy this recipe as much as we do. I'd love to know how you got on and what you thought of it if you make this Peanut Butter Brownies recipe. Please rate the recipe using the ⭐️ by the recipe.
Also, if you'd like to show me a photo by tagging me on Instagram (@tamingtwins) I LOVE to see your creations.
Peanut Butter Brownies
These Peanut Butter Browniesare the ultimate in gooey, chewy, homemade chocolate bakes. Easy to make and oh my goodness so easy to eat too!
Ingredients
250

g

Butter

See Note 1

200

g

70% Dark chocolate

See Note 2

100

g

Milk chocolate

See Note 2

300

g

Soft light brown sugar

4

Eggs

175

g

Plain flour

250

g

Peanut Butter

See Note 3
Instructions
Preheat the oven to 180c.

Line a baking tray with baking paper (I used a 25x25cm tin).

In a saucepan on a very low heat, melt the butter.

When it's starting to melt, add in the dark chocolate and milk chocolate and the sugar and stir until it's all melted together.

Once they are melted remove from the heat and leave to cool for 5-10 minutes. 

Beat in each egg, one by one.

Pour into your baking tin and top with the peanut butters (SEE NOTE 3).

Using a knife, swirl the mixture so that some of the batter is on top of the peanut butter and some remains on top, making a pretty pattern.

Bake for 30 minutes, or until the edges are just solid but the middle still has a little wobble. Don't overbake them!

Ovens do vary so don't be alarmed if you recipe takes that little bit longer. Brownies are better under-done than over. 

Allow to cool COMPLETELY before cutting up (if you can bare it!)
Notes
Note 1 - Butter
Please do use butter rather than margarine, the taste and texture will be much better. If you have a dairy allergy or similar and need to substitute, it will work (obviously you'll need to change up the chocolate too) but you might need to adjust the cooking time a little depending on the consistency of the spread you use.
Note 2 - Chocolate
This recipe uses dark chocolate and milk. I wouldn't recommend only using milk chocolate as they just won't be dense/fudgy in the same way. A slightly difference ratio if you don't have enough of either will be fine though.
Note 3 - Peanut Butter
I like a mixture of crunchy and smooth (half and half) peanut butter for this. (I just mix them together in a small bowl before using.) But if you don't have both types, either one will be fine. I like Pip&Nut brand peanut butter. It has quite a runny texture. If the peanut butter you are using does NOT have a runny texture, you can pop it into the microwave for 30 seconds or so before using to make it more runny. It it's too stiff it won't 'swirl' through the brownie batter.
Nutrition (per serving)
Calories:
547
kcal
Carbohydrates:
49
g
Protein:
10
g
Fat:
36
g
Saturated Fat:
18
g
Cholesterol:
101
mg
Sodium:
281
mg
Potassium:
343
mg
Fiber:
4
g
Sugar:
31
g
Vitamin A:
625
IU
Calcium:
66
mg
Iron:
4
mg
Made it? Tag me!
Tag @TamingTwins so we can admire your make ⭐️