This post may contain affiliate links.
This easy Malteser Rocky Road recipe is a fun and quick No Bake Malteser Cake. Perfect as a chocolate treat for children and grown ups too, this tray bake is a take on traditional chocolate tiffin, packed with Maltesers and marshmallows.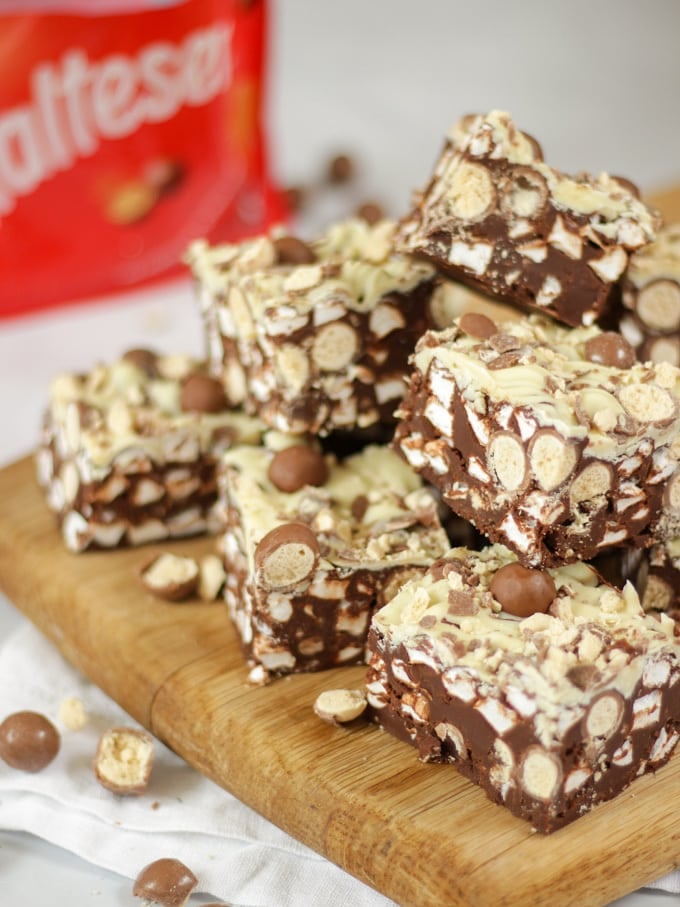 Is there any better quick chocolate treat to make than Rocky Road? No bake and easily made with store cupboard ingredients, even if you've never cooked before, you'll nail Rocky Road every time and this Malteser Rocky Road is no exception.
By the way, does any one else write Malteasers?! (Instead of MalTESERS). I've typed MalTEASERS approximately 57 times whilst writing this post. Please tell me it's not just me who thought it was spelled like that?!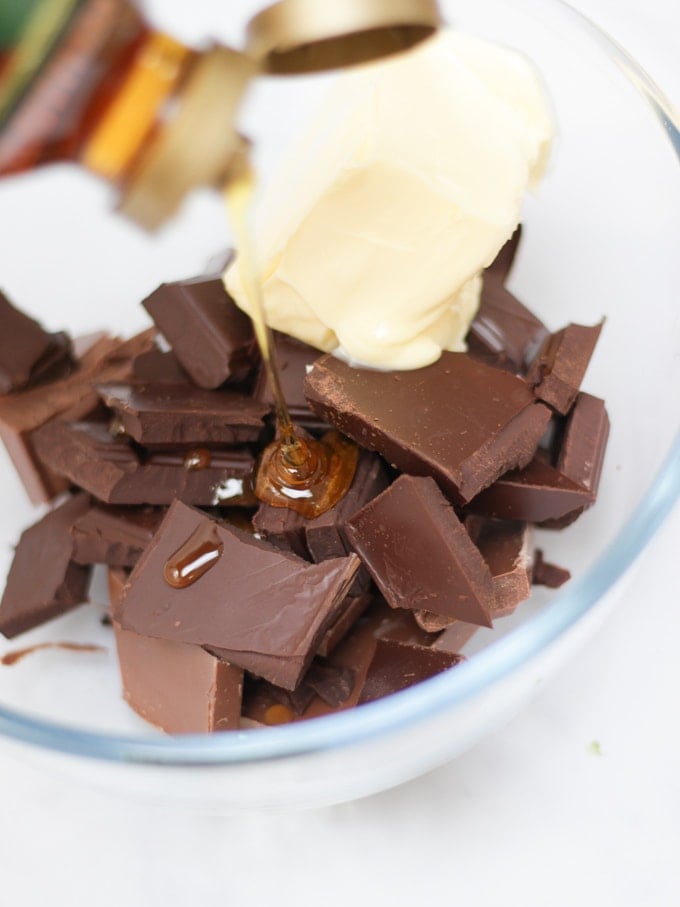 This is one of my go to bake sale recipes. I hope you like it as much as we do!
What ingredients do you use to make Rocky Road?
A simple Rocky Road recipe uses chocolate, butter and golden syrup, along with marshmallows and biscuits or other fillings.
In this recipe for Malteser Rocky Road, the biscuits are replaced by Maltesers for delicious chocolatey crunch.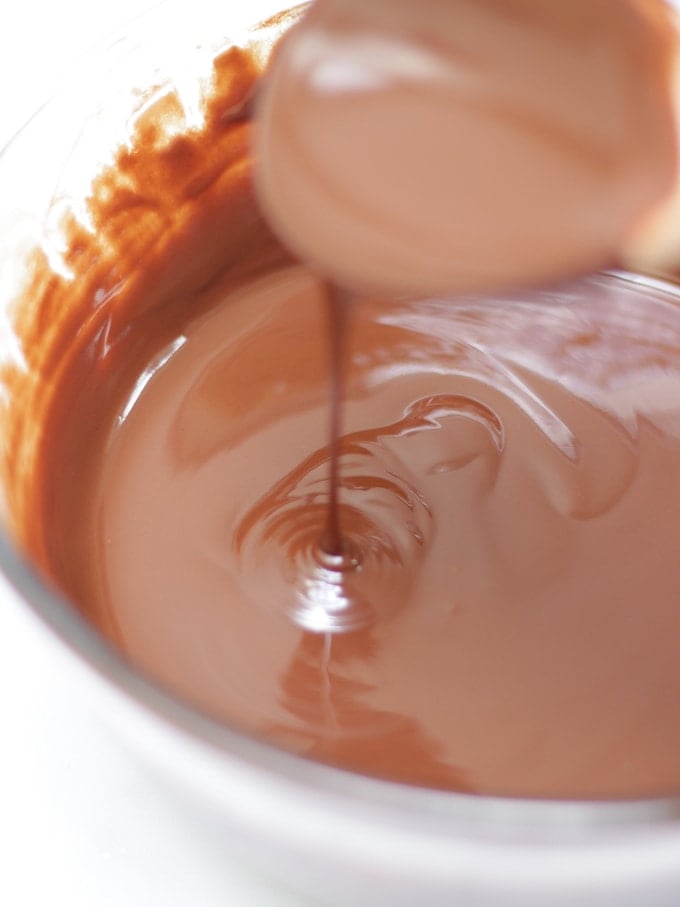 How do you make Malteser Rocky Road?
Start by melting your milk chocolate and dark chocolate, along with your butter and golden syrup.
Allow this mixture to cool slightly. If you add your marshmallows whilst it's too warm, they will melt into a gooey mess. You should be able to touch the mixture with your finger without feeling the heat.
Add your marshmallows and Maltesers to the mixture and mix in thoroughly until everything is coated. Press into your lined tin and then coat with the white chocolate and more Maltesers!
Chill until your Rocky Road is solid enough to cut.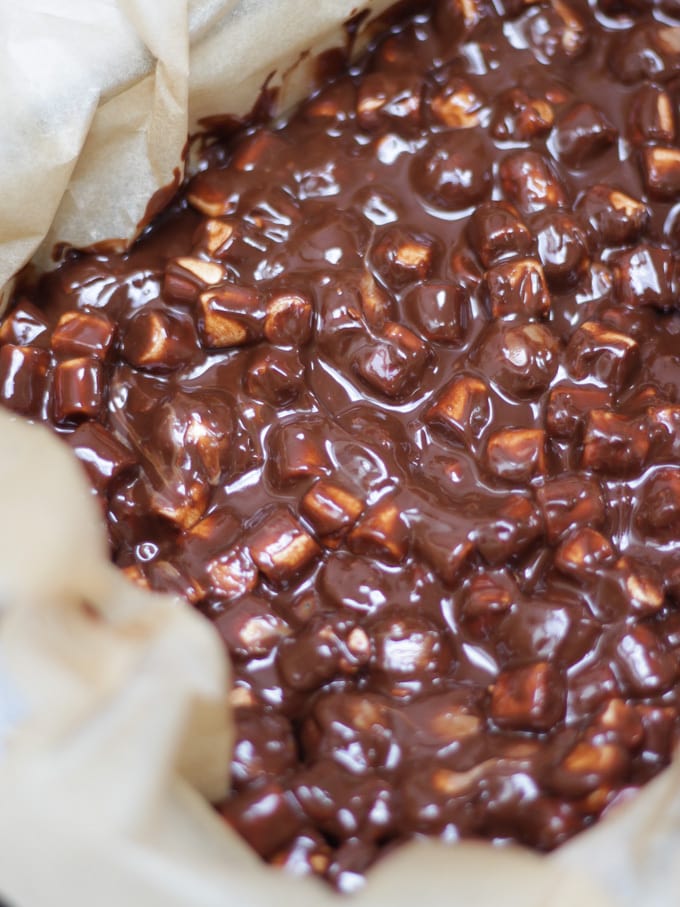 Tips for making the Malteser Rocky Road:
You can melt your chocolate mixture either in a saucepan or in the microwave:

If using a saucepan, only use a very, very low heat or the chocolate, butter, syrup mixture will seize and go grainy. I also find it helps to put the butter in first and let it melt a little, so that the chocolate isn't touching the bottom of the pan.
If melting your chocolate mixture in the microwave, use a large bowl and microwave in 30 second bursts, being sure to mix very well between each burst. The mixing is really important as it distributes the action of the microwave and speeds the process up without causing any burning.

If the slab of Malteser Rocky Road is too hard to cut straight out of the fridge, allow to come to room temperature for 30 minutes.
I like to crush some of the Maltesers I decorate the top with as I think it looks pretty, but it's up to you!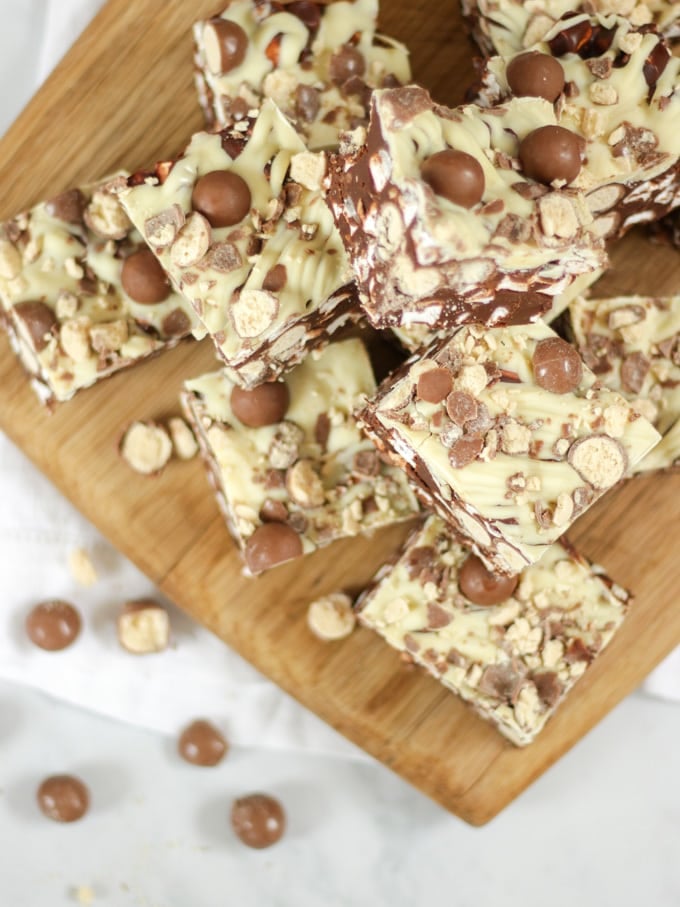 Tools I used to make the Malteser Rocky Road recipe:
Piping bags – I used a disposable piping bag to cleanly put my white chocolate on top of these Rocky Road tray bake bars. If you buy one thing for baking, let it be disposable piping bags. I know we are all reducing plastic, but the volume of washing up liquid it takes to get reusable ones clean, I am sure the damage to the environment it worse.
Baking parchment – I use baking parchment or baking paper for almost all of my bakes and cakes. It means no sticking, ever. I buy it in bulk from Amazon so I never run out and it's also heaps cheaper that way. Not to be confused with greaseproof paper, which needs to be oiled first, not good for no bake cakes.
Chocolate – I try to use my favourite Callebaut chocolate for this recipe. This chocolate is just amazing, it melts so well and really makes a difference to any recipe. When you buy it in bulk (1kg bags at a time) from Amazon it works out about the same price as supermarket chocolate. A good investment I think as it really does make SUCH a difference.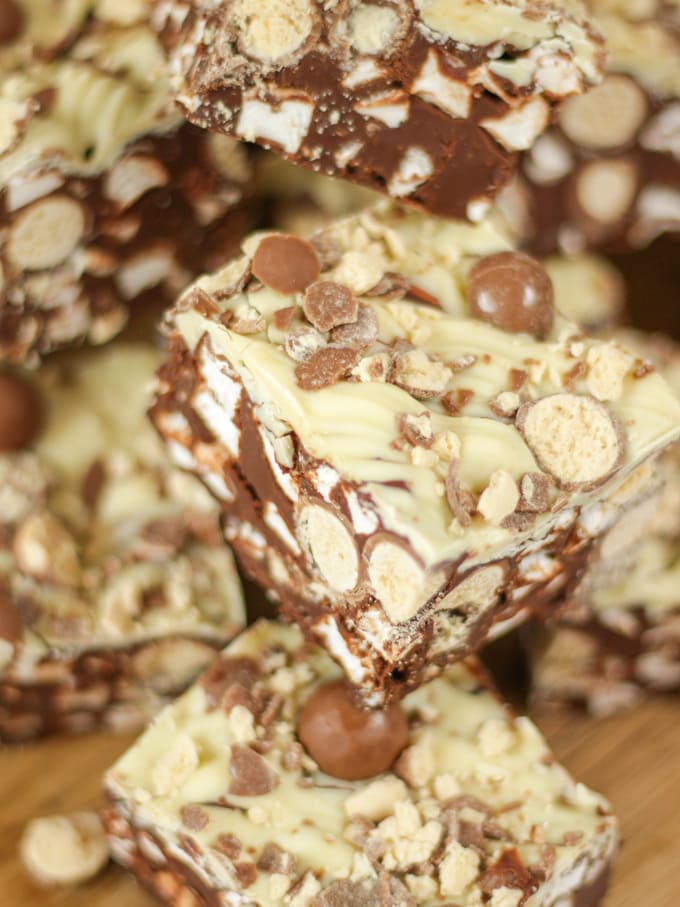 Fancy some other easy tray bake recipes? How about my Microwave 2 Minute Fudge or my Peanut Butter Bars?
Hope you enjoy this recipe as much as we do. I'd love to know how you got on and what you thought of it if you make this Easy Malteaser Rocky Road Cake recipe. Please rate the recipe and leave me a comment below if you do.
Also, if you fancy showing me a photo by tagging me on Instagram (@tamingtwins) I LOVE to see your creations.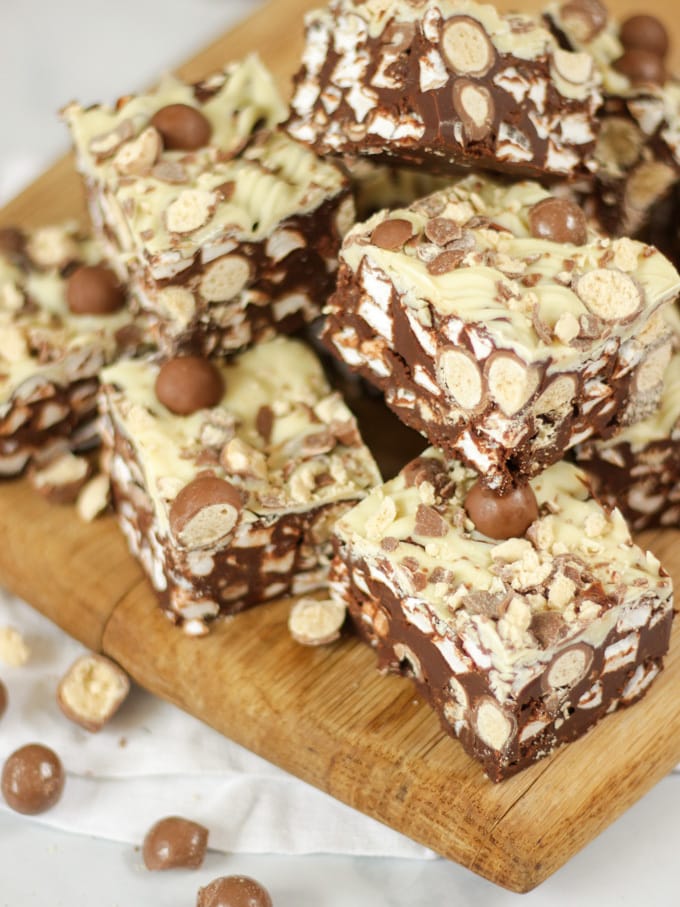 How to make the Malteser Rocky Road recipe:
Malteser Rocky Road recipe
This easy Malteser Rocky Road recipe is a fun and quick No Bake Malteser Cake. Perfect as a chocolate treat for children and grown ups too, this tray bake is a take on traditional chocolate tiffin, packed with Maltesers and marshmallows.
Ingredients
150

g

Butter

200

g

Milk chocolate

200

g

Dark chocolate

4

tbsp

Golden syrup

300

g

Maltesers

180

g

Mini marshmallows
To decorate:
200

g

White chocolate

100

g

Maltesers
Instructions
Melt the butter, milk chocolate, dark chocolate and golden syrup together and stir thoroughly. (See recipe tips above regarding melting.)

Allow the chocolate to cool slightly and then stir in the Maltesers and mini marshmallows.

Line a 20cm x 20cm baking tin with baking paper and press the mixture firmly in.

Melt the white chocolate and pour all over the top. Press in the remaining Maltesers.

Allow to set in the fridge for at least a couple of hours.

Turn out of the tin and cut into small chunks using a very sharp knife.
Nutrition
Calories:
380
kcal
Carbohydrates:
46
g
Protein:
4
g
Fat:
20
g
Saturated Fat:
11
g
Cholesterol:
24
mg
Sodium:
270
mg
Potassium:
201
mg
Fiber:
2
g
Sugar:
29
g
Vitamin A:
270
IU
Vitamin C:
0.1
mg
Calcium:
58
mg
Iron:
2.6
mg
Nutrition information is automatically calculated, so should only be used as an approximation.