Wondering how to use up leftover chocolate? This Chocolate Brownies Recipe with Celebrations Chocolates is the perfect way to put it to good use. Bake up a brownie storm with this easy make. Inspired by Nigella's classic brownie recipe, this is your go to chocolate traybake cake!
In collaboration with Belling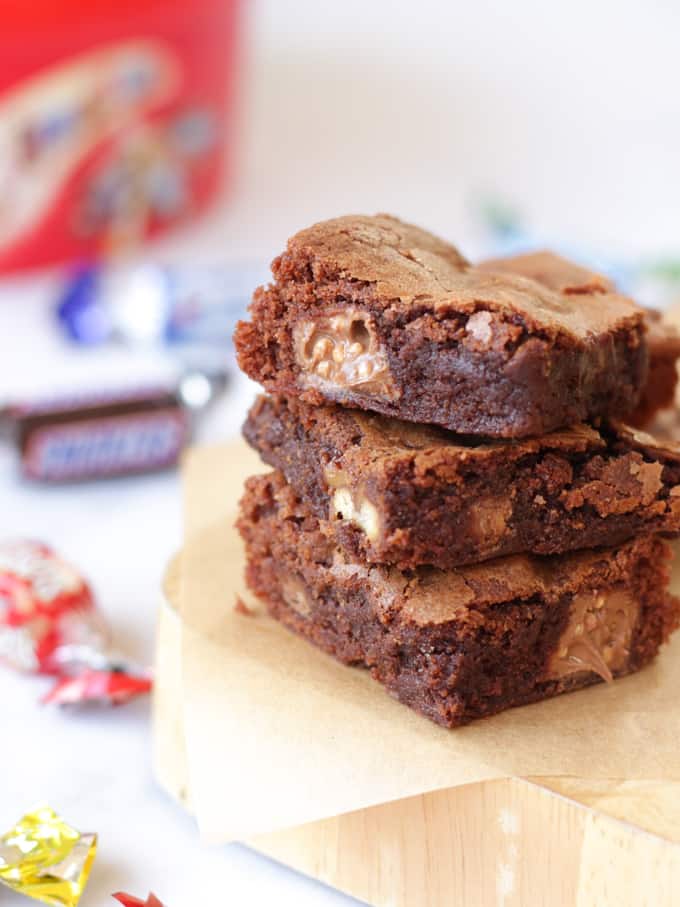 Did I ever tell you about the time I met Nigella? No, I know I didn't. It's too embarrassing.
But, it's 2018 (HAPPY NEW YEAR!) and in the interests of self acceptance and all that I shall share with you my less than finest hour.
I queued for 3 hours at a book signing. I wanted to truly convey to Queen Nigella Lawson how she had reinvigorated my sense of joy in food. How she had inspired me to unapologetically immerse myself in my kitchen life, how that love had lead to a new career and how I would be forever grateful to her for it.
Instead, when I made it to the front of the queue. I uttered the profound words… "I really love your dress". Before I was ushered off.
Oh. My. Goodness. Definitely not what I'd planned, but you win some, you lose some. Nigella, although I didn't manage to tell you, you're forever an inspiration.
Christmas has been and gone (I hope you had a rest, delicious food and found some peace?) and I'm left with a sense of excitement for the year ahead and a small mountain of Celebrations Chocolates. I need to stop nibbling so I decided to find a home for them once and for all. These Nigella inspired brownies are the perfect place for them.
How to make Nigella's Chocolate Brownies?
There's many different ways to make brownies, often using a basic cake batter type mix, but heavy on the chocolate. I'm so keen on this particular method as it's just such an easy way to make chocolate brownies and quite different from your usual brownie batter.
You melt the butter, chocolate and sugar, leave it to cool and then add eggs, flour and anything else (in this case leftover Celebrations Chocolates). One pan, no mess, easy peasy.
I've baked these brownies in my fantastic new Belling oven (remember I mentioned it when I made my Turkey, Brie and Cranberry Puffs?) So useful to be able to peek in through the wide glass door and check on how these bad boy brownies were baking. (The timer function is also super useful, I popped these into the oven, set the timer and they were ready for pudding after dinner. Chocolate dreams come true right there.)
What are Chocolate Brownies made of?
This recipe uses really simple ingredients that you'll hopefully have at home. Unsalted butter (please, always use butter not margarine, there's no comparison) and good quality chocolate (I love Callebaut chocolate for cooking, it's so easy to use and gives the best results, if you buy in bulk from Amazon it also works out about the same price as regular chocolate – win!)
In this recipe I've used my leftover Celebrations Chocolates, but you could substitute any leftover chocolate filling for the same weight.
Or if you fancy a totally different change,  Jamie Oliver uses sour cherries and nuts in his chocolate brownies.
Tips for how to make the Chocolate Brownies with Celebrations Chocolates:
I'm often asked, can you freeze chocolate brownies? The short answer is – yes! After cutting them into portions, when they are completely cool, wrap in baking paper and freeze for up to 3 months. Defrost as room temperature for a treat whenever you fancy.
How do you know when chocolate brownies are cooked? It's so important not to over cook chocolate brownies. The trick is to bring them out of the oven just before they are cooked through, when they still have a bit of a 'wobble'. Then, leave them to go cold and firm before you cut them. Voila, fudgey brownies at your service.
A good small roasting pan for making brownies is a great investment. This is the one I like, the perfect size and good value for money as mine has lasted me for about 10 years so far! Masterclass Non Stick Small Roasting Pan.
I made another version of a similar brownie for Easter here if you fancy a peek at my Filthy Fudgy Easter Brownies or if you're short on time, how about my amazing Microwave Brownies?
You can find the recipe for these Nigella inspired brownies below. Please rate the recipe and leave me a comment below if you make them. I'd love to know how you got on and what you thought of the recipe.
Also, if you fancy showing me a photo by tagging me on Instagram (@tamingtwins) I LOVE to see your creations!
Recipe for the Chocolate Brownies with Celebrations Chocolates:
Chocolate Brownies with Leftover Celebrations Chocolates
Wondering how to use up leftover chocolate? This Chocolate Brownies Recipe with Celebrations Chocolates is the perfect way to put it to good use. Bake up a brownie storm with this easy make. Inspired by Nigella's classic recipe, with a few tweaks, this is your go to chocolate traybake cake!
Ingredients
75

g

Milk chocolate

broken into chunks

75

g

Dark chocolate

broken into chunks

125

g

Unsalted butter

150

g

Soft light brown sugar

2

Eggs

100g

Self raising flour

200

g

Leftover chocolate pieces

such as Celebrations! Wrappers removed.
Instructions
Preheat the oven to 180C.

In a heavy saucepan, put both chocolates, the butter and sugar. Melt slowly over a very low heat, stirring regularly. Remove from the heat and allow to cool for 10 minutes.

Add the eggs and flour and beat until very smooth and totally combined.

Line a small roasting tin (about 9" square - see tips above) with baking paper.

Pour in half of the batter, smooth out. Sit the chocolates on top and pour over the rest of the batter, smoothing out.

Bake in the oven for 20 minutes.

Remove from the oven and allow to cool fully before cutting into pieces.
Nutrition (per serving)
Calories:
217
kcal
Carbohydrates:
24
g
Protein:
2
g
Fat:
13
g
Saturated Fat:
7
g
Cholesterol:
37
mg
Sodium:
17
mg
Potassium:
103
mg
Fiber:
1
g
Sugar:
17
g
Vitamin A:
235
IU
Calcium:
25
mg
Iron:
1.1
mg
Made it? Tag me!
Tag @TamingTwins so we can admire your make ⭐️
Pin the Chocolate Brownies with Celebrations Chocolates recipe for later:
Disclosure: This post was sponsored by Belling. As always all opinions are truthful. This post contains affiliate links.