Terry's Chocolate Orange Cake Recipe – Lovely layers of moist chocolate sponge cake, sandwiched with chocolate orange buttercream, decorated with chocolate orange segments. It's not Terry's Chocolate Orange Cake Recipe… It's mine!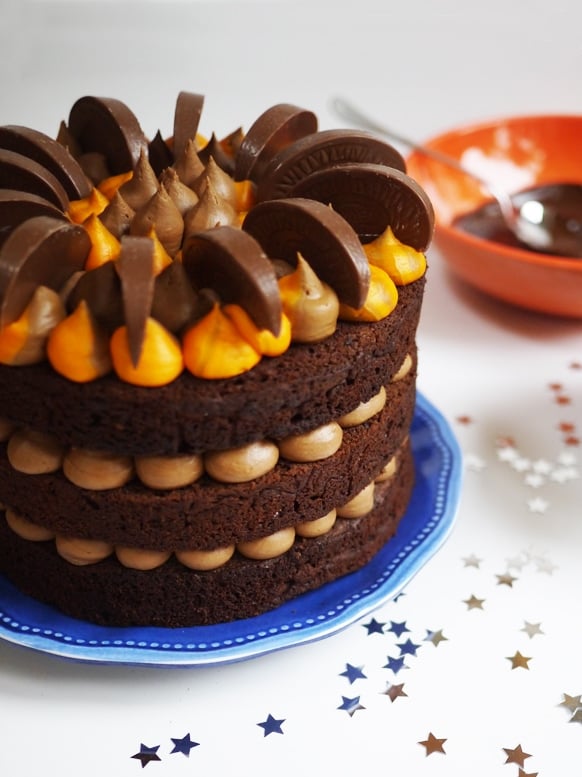 Growing up, Terry's Chocolate Orange always meant that the festive season had really arrived. There was nothing quite like cracking one of those blue boxes open, and if you got the orange core in the centre? Amazing.
Thank heavens those blue boxes of Terry's Chocolate Orange are now available all year, so this Orange Chocolate Cake can be the perfect treat as a birthday cake, celebration cake or just because it's Wednesday!
This Terry's Chocolate Orange Cake Recipe is a celebration of those little blue boxes.
(If you are a lover of chocolate oranges, I mean who isn't then you might want to wonder over to my no bake chocolate orange cheesecake recipe.)
I originally posted this recipe almost two years ago as a way of using up leftover Christmas chocolate oranges (leftover chocolate? Ha!). That feels like a blogging life time ago now!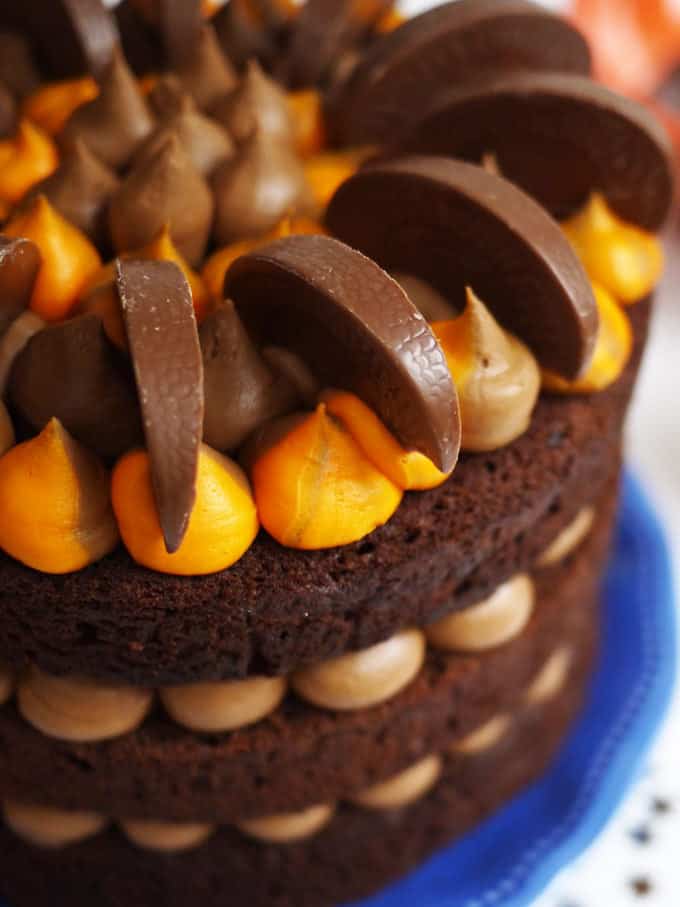 I still love this layer cake, wouldn't it make a great alternative to a traditional Christmas cake?
Because I made this Chocolate Orange Cake recipe again for a friend's birthday cake recently, I thought I'd take some new photos and post it again as hopefully I've improved my blog photography a little in the last couple of years. (Natural light, who knew?)
How do you make a Chocolate Orange Cake?
This layer cake is surprisingly simple to make, a basic chocolate orange sponge cake and chocolate orange buttercream, a bit of tweaking and some pretty decoration and taa daa! Chocolate orange heaven right there.
Start by greasing and lining your cake tins very well (a good dose of butter to stop them from sticking!)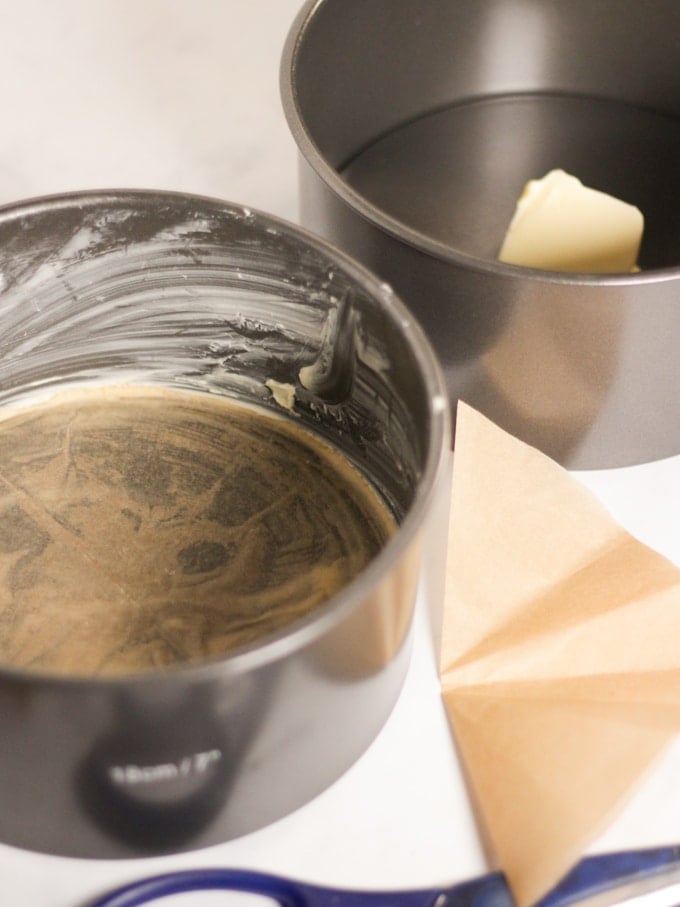 Next, start to make your cake batter by taking your butter and sugar until fluffy.
Add the eggs, cocoa, flour, melted chocolate and orange extract.
Spoon evenly between your buttered cake tins.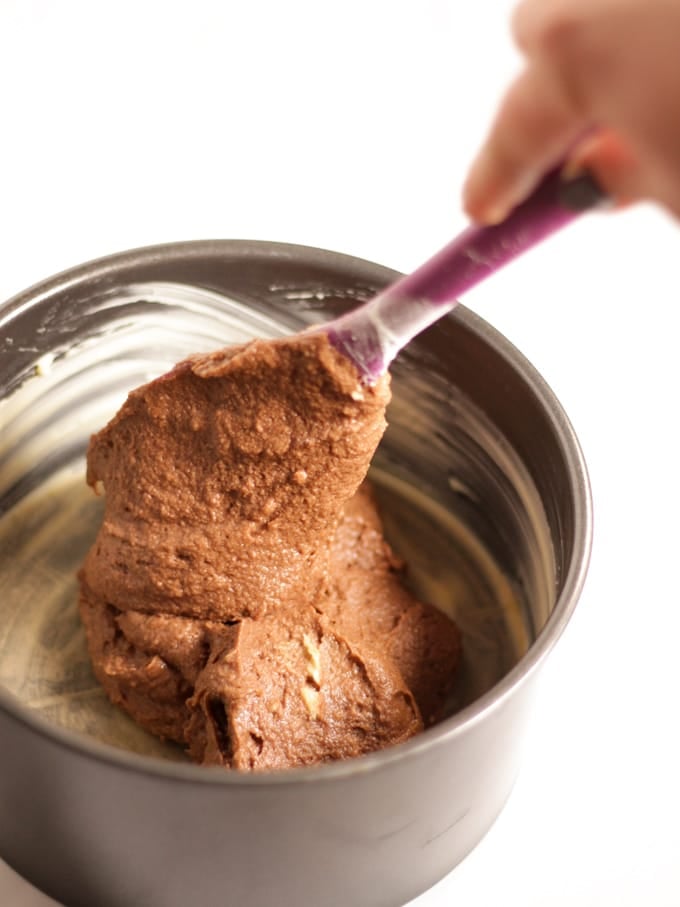 Smooth them out using a spatula or the back of a spoon.
Top tip!
I tend to smooth them almost to a slight dip in the middle, so that when they rise they don't get a big peak in the middle.
Then bake until the orange chocolate cakes are just pulling away from the edges of the tin and springy to the touch.
Icing the Sponge Cake:
When the chocolate cakes are cooled, trim off the tops (if they do have domes) to make them nice and flat and even. (This is really important to give a stable cake.)
Make the chocolate orange buttercream icing, by creaming the butter, icing sugar and orange extract.
Split the icing into two bowls, add the melted chocolate to one half and the orange gel food colouring to the other.
Pipe onto the cake, sandwiching the layers and, of course, decorate with your Terry's Chocolate Orange pieces!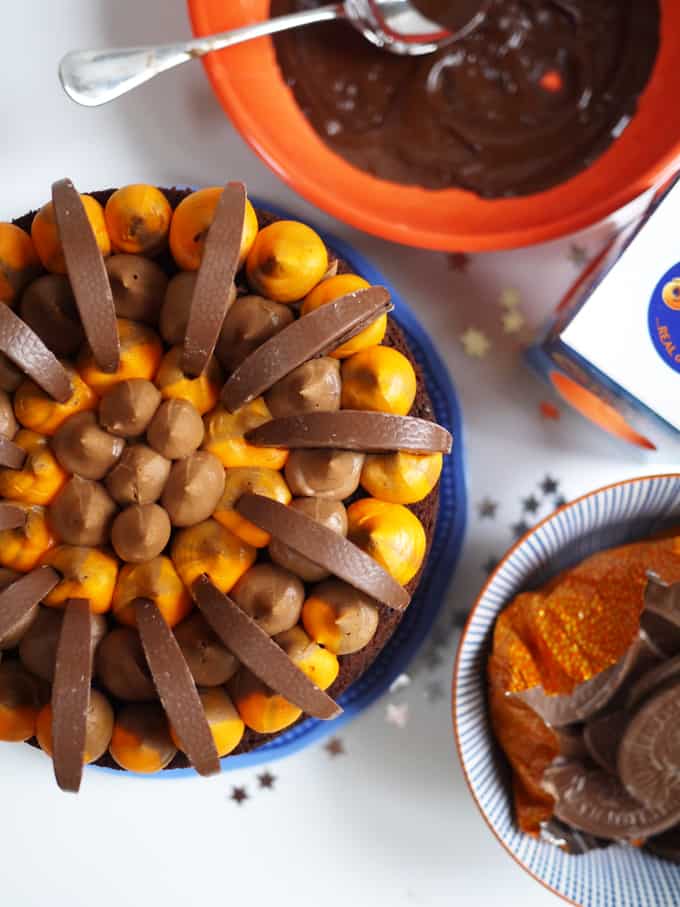 Tips for making the Chocolate and Orange Sponge Recipe:
As always, it really helps to use good tins for baking, I use and recommend something like these, available on Amazon, they are a great investment: Masterclass 7″ Deep Round Tin
Don't trim and ice the cakes until they are completely cold.
Invest in good quality Orange Extract for this cake, you will notice the difference. I really like this one, available on Amazon: Steenberg's Orange Extract
Disposable piping bags are a must buy if you're planning on some cake decorating, they are so easy to use. I buy them in bulk from Amazon, you can find them here: Disposable Piping Bag Roll
Please ONLY use a good quality gel (or paste as it's sometimes called) for the orange colouring. The supermarket brands really don't live up to a professional paste, I promise, using this will make your life SO much easier as you only need a tiny dot to get the colour you want. The difference is unbelievable! This is the brand I use and recommend, which you can buy on Amazon: Tangerine Gel Food Colour
What I used to make this recipe:
Fancy some other lovely layer cakes?
How to make the Terrys Chocolate Orange Cake recipe:
Chocolate Orange Cake Recipe
Terry's Chocolate Orange Cake Recipe - Lovely layers of chocolate sponge cake, sandwiched with chocolate orange buttercream frosting icing. It's not Terry's Chocolate Orange Layer Cake Recipe... It's mine!
Ingredients
350

g

Unsalted butter

350

g

Caster sugar

6

Free range eggs

50

g

Good quality cocoa

270

g

Self raising flour

90

g

Melted dark chocolate

3

tsp

Orange Extract

Waitrose sell a good one and it's only £1.50 which is cheap as chips compared to some good quality extracts: Waitrose Cooks' Homebaking orange extract
For the icing:
300

g

Unsalted butter

600

g

Icing sugar

150

g

Dark chocolate

3

tsp

Orange Extract
To decorate (if you fancy):
Sugarflair Tangerine Gel Food Colour

1

Terry's Chocolate Orange
Instructions
Grease 3 x 7″ round sandwich tins (or 2 x 8″).

Preheat the oven to 180C.

Cream your room temperature butter with your sugar until it's pale, light and fluffy.

Next, mix in the eggs, one at a time, beating really well after each egg. Don't worry if it starts to look a bit curdled, it'll all come good.

After this, mix in your flour and cocoa. If you've been using a mixer, do this bit by hand. It helps to keep the sponge light.

Stir in the melted and slightly cooled chocolate and the orange extract.

Spoon into a your tins, smooth out with the back of a spoon. Make a bit of a dip in the middle to account for rising.

Bake for about 30 minutes or until a skewer comes out clean. You might need to adjust the time by 5 minutes either way depending on your oven.

Meanwhile make your icing. Beat your butter until it's pale, light and fluffy.

Beat in your icing sugar and orange extract.

Now split your icing into two bowls, weigh out 675g into one and there should be about 225g left in the other.

Add 150g melted and cooled dark chocolate to the 675g bowl of buttercream. Mix in completely.

Colour the other bowl of 225g of buttercream orange using Sugarflair Tangerine Gel Colour. Use a very very small amount at a time, just a tip of a knife or so, until you get the colour you fancy.

If either batch of buttercream is too stiff, beat in a teaspoon or two of boiling water to soften and lighten the texture of the icing.

When your cakes are completely cold, use a carving knife to level them. Just trim the top crust off. Remember, this is important, it's not a waste of cake. If you don't do this, with a cake this size it will be wonky.

Top each layer with a spread of your chocolate buttercream. Then snip the top off of two disposable piping bags, fill one with the rest of your chocolate buttercream and the other with the orange buttercream.

Pipe a circle around the outside of two of the layers, sit each on the one before.

On the top layer, pipe small dollops all over and top with your segments of chocolate orange.
Nutrition (per serving)
Calories:
708
kcal
Carbohydrates:
82
g
Protein:
6
g
Fat:
41
g
Saturated Fat:
25
g
Cholesterol:
149
mg
Sodium:
38
mg
Potassium:
204
mg
Fiber:
2
g
Sugar:
63
g
Vitamin A:
1110
IU
Calcium:
49
mg
Iron:
2.1
mg
Made it? Tag me!
Tag @TamingTwins so we can admire your make ⭐️