Super easy, no bake, utterly delicious Creme Egg Rocky Road recipe. Great for bake sales and making with kids, the best Easter chocolate treat! This no fail chocolate dessert recipe is a must make for Easter.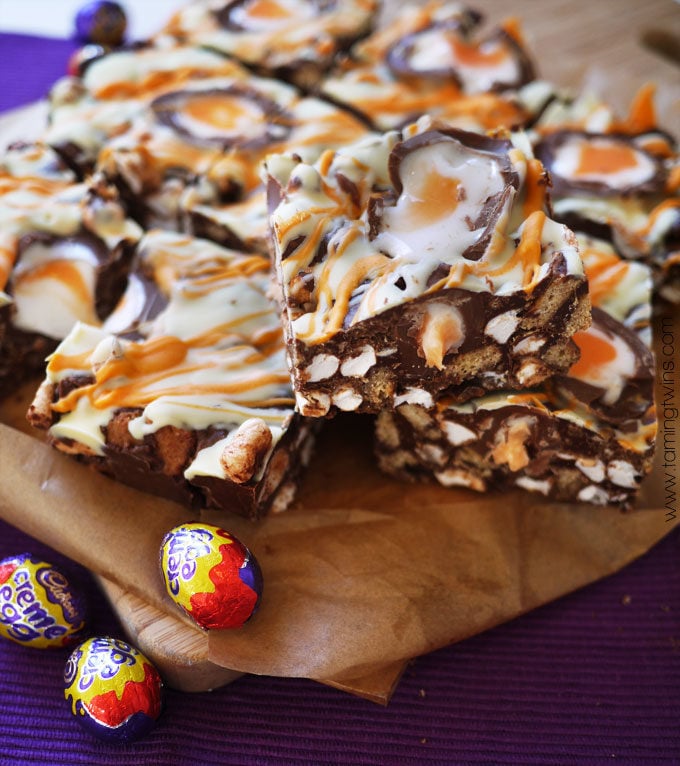 Every January I step onto the healthy eating band wagon and by the start of Spring, I fall spectacularly off with my many Easter bakes (Creme Egg Cheesecake or Caramel Egg Croissant anyone?). This year is a bit different. I've just been aiming for a bit more balance. To move a bit more and eat a bit less. (I appreciate the irony of the fact that I'm talking about this under a photo of Creme Egg Rocky Road, but bear with.)
If you, like me, want to move a bit more to try and balance off all of the Easter treats, how about doing something amazing for Sport Relief this March to give you the oooomph to go for it? Sport Relief is when the great British public get active and have fun to help change lives. You could help to raise money by taking part in a sport relief event (from running a mile with the family to cycling 100 miles), host a dress down day at work or organise a bake sale (now you see where I come in!).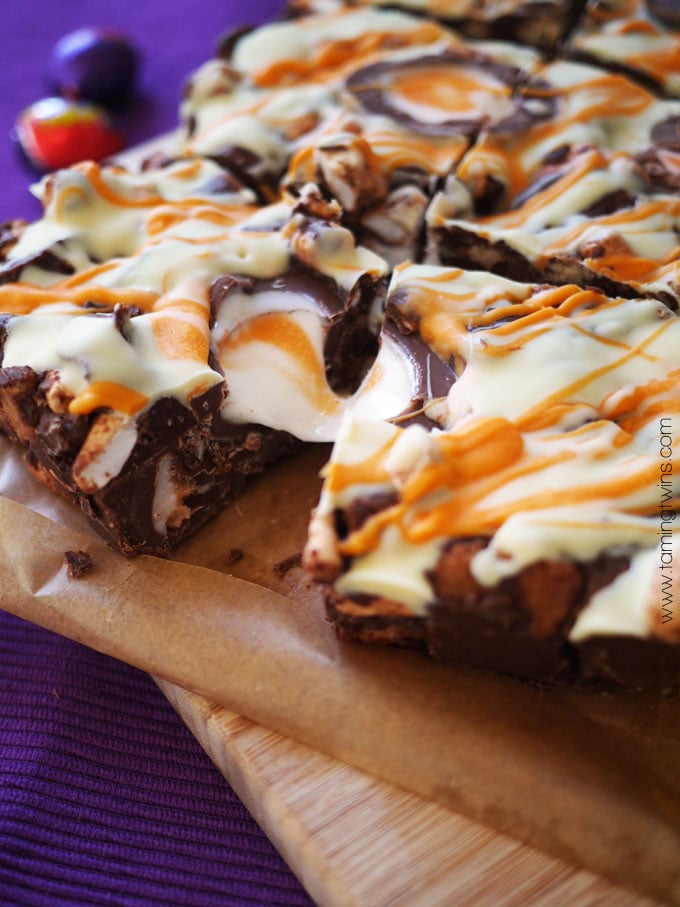 Tips for making the Creme Egg Rocky Road recipe:
Make sure you do melt the butter slightly before adding the chocolate, this stops the chocolate from burning.
Only use a very, very low heat. Or the chocolate, butter, syrup mixture will seize and go grainy.
Make sure you do allow it to cool before adding anything else or the mini Creme Eggs and the marshmallows will melt. Still tasty but not quite as pretty.
If the slab is too hard to cut straight out of the fridge, allow to come to room temperature for 30 minutes.
Don't use liquid food colour to colour chocolate, this is the only one I use and recommend: Sugarflair Concentrated Paste Colour – Egg Yellow / Cream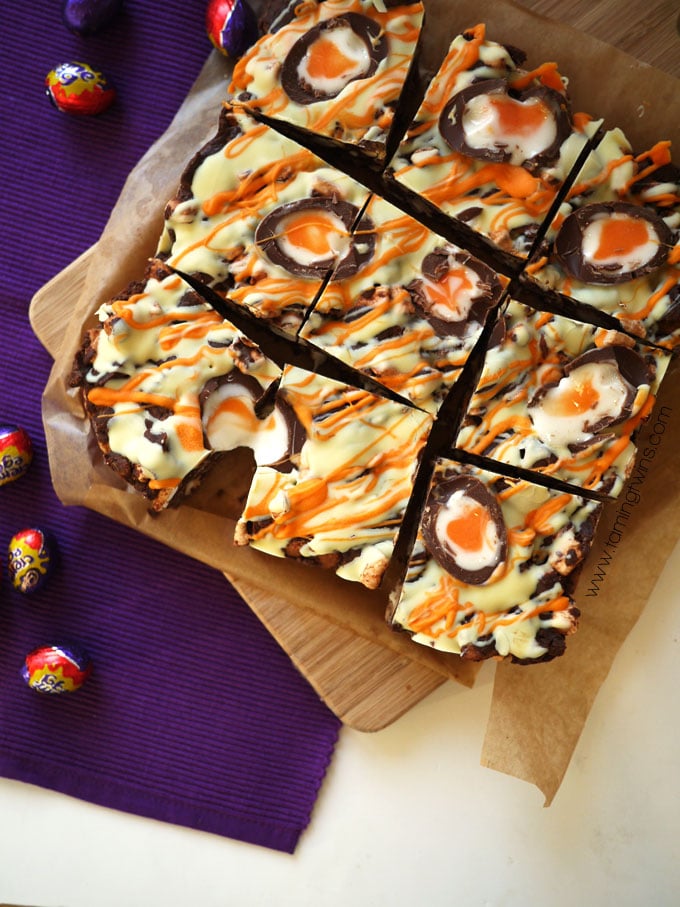 This Creme Egg Rocky Road recipe is the perfect bake sale make. Easy but super impressive looking, right on seasonal baking trend, can be made in advance and no need for anything fancy schmancy.
How to make the Creme Egg Rocky Road Recipe:
Creme Egg Rocky Road
A full on chocolate rocky road treat full of creme eggs.
Ingredients
150

g

Unsalted butter

250

g

Dark chocolate

chopped

150

g

Milk chocolate

chopped

4

Tablespoons

Golden syrup

180

g

Mini Creme Eggs

unwrapped

180

g

Mini marshmallows

150

g

Digestive biscuits

crushed into chunks

150

g

White chocolate

chopped

Yellow gel food colouring

8

Creme Eggs

full size, unwrapped
Instructions
Melt the butter in a large pan over a low heat.

When it's about half melted, add the dark chocolate, the milk chocolate.and the golden syrup.Over a very low heat, continue to melt it all. Stir until it's thick and well combined.

Remove from the heat and set aside for 10 minutes until it's cooled slightly.

Add the mini Creme Eggs, the marshmallows and the digestive biscuits, stir until everything is well coated.

Line a 20cm x 20cm baking tin with baking paper and press the mixture firmly in.

Meanwhile melt the white chocolate in a bowl over a saucepan of steaming water. Make sure you keep the temperature very low as white chocolate can seize easily.

Take half of the melted chocolate and put in another small bowl, colour until very deep yellow using the gel food colour, just a very small amount at a time.

Drizzle the white chocolate and the coloured white chocolate over the rocky road, cut the full size Creme Eggs in half and sit in the chocolate, pressing in firmly.

Allow to set in the fridge for at least a couple of hours.

Turn out of the tin and cut into small chunks using a very sharp knife.
Nutrition Facts
Creme Egg Rocky Road
Amount Per Serving
Calories 782
Calories from Fat 423
% Daily Value*
Total Fat 47g 72%
Cholesterol 44mg 15%
Sodium 148mg 6%
Potassium 373mg 11%
Total Carbohydrates 88g 29%
Protein 7g 14%
* Percent Daily Values are based on a 2000 calorie diet.
Disclosure: Sport Relief asked me to give them a mention, but I was not compensated for this, just happy to help as I think it's a great cause.