Celebrate spring with a no bake Easter treat – Mini Egg Rocky Road! Just 4 ingredients and mixed up in 5 minutes.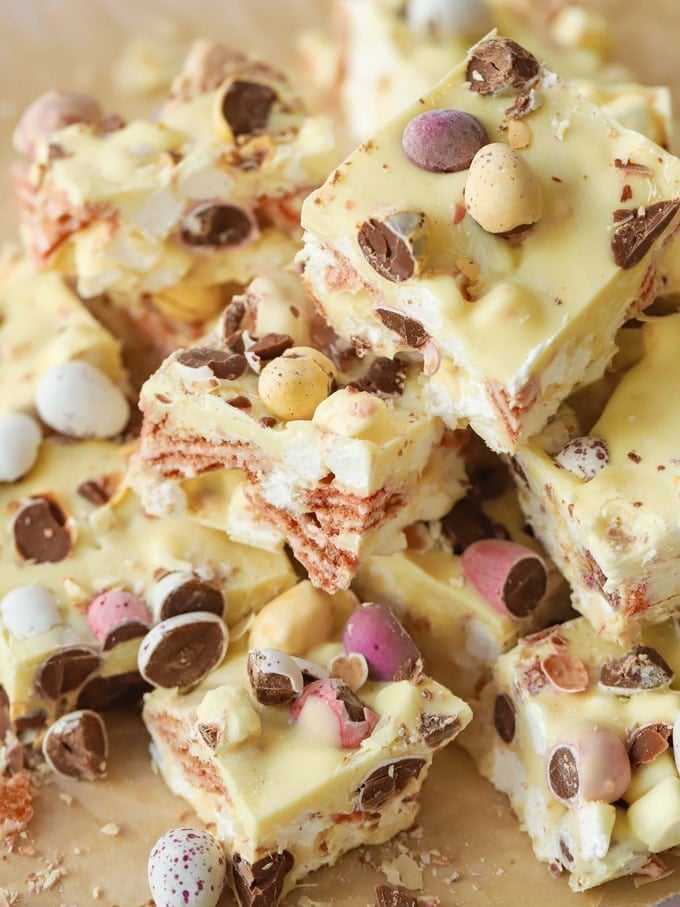 I am so here for the 5 minute recipes right now.
My brain can't quite compute much else, but any celebration (hello EASTER!) is a reason to brighten this year isn't it?
So, I give you, this 5 minute recipe for Mini Egg Rocky Road.
Really simple and totally delicious, make it with the children and feel like you've done some superstar parenting and then, joy, eat the results. WIN!
You'll love this Mini Egg Rocky Road recipe because:

✅ Just 4 ingredients.

✅ Looks so pretty 😍

✅ Really simple and fun to make with children.
FAQs about the Mini Egg Rocky Road recipe
How should I store these?
These are fine at room temperature unless it's a very hot day in which case, store them in the fridge.
How long will these last for?
These will keep for up to a week. After that the marshmallows tend to get very sticky and wet where they've been cut.
What chocolate should I use for this?
I try to use my favourite Callebaut chocolate for this recipe.
This chocolate is just amazing, it melts so well and really makes a difference to any recipe. When you buy it in bulk (1kg bags at a time) from Amazon it works out about the same price as supermarket chocolate. A good investment I think as it really does make SUCH a difference.
What pan should I make these in?
I like to use a non stick, 20cm x 20cm shallow baking tin like this one.
Another size/shape is fine, but obviously the treats will be thicker or thinner accordingly.
Be sure to line the tin with baking paper to get them out easily.
What should I use to line the tin with?
I use baking parchment or baking paper for almost all of my bakes and cakes. It means no sticking, ever.
I buy it in bulk from Amazon so I never run out and it's also heaps cheaper that way. Not to be confused with greaseproof paper, which needs to be oiled first, not good for no bake cakes.
Fancy more easy Easter recipes?
Hope you enjoy this recipe. I'd love to know how you got on and what you thought of it if you make this recipe. Please rate the recipe using the ⭐️ below!
Also, if you fancy showing me a photo by tagging me on Instagram (@tamingtwins) I LOVE to see your creations and try and share as many of them as I can.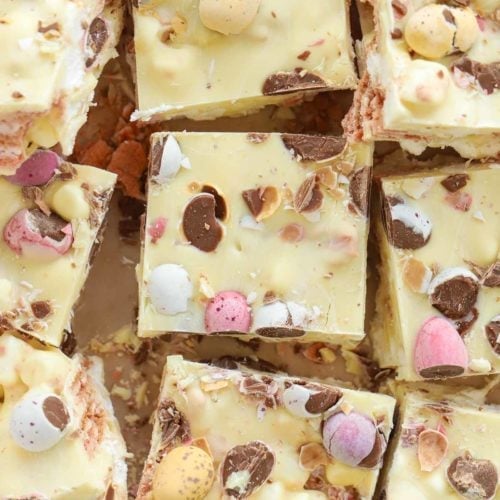 Mini Egg Rocky Road
Celebrate spring with a no bake Easter treat - Mini Egg Rocky Road! Just 4 ingredients and mixed up in 5 minutes.
Ingredients
400

g

White chocolate

Melted. See Note 1.

100

g

Pink Wafer biscuits

Broken into pieces. See Note 2.

150

g

Mini marshmallows

160

g

Mini Eggs
For the topping:
200

g

White chocolate

Melted. See Note 1.

80

g

Mini Eggs
Instructions
Carefully melt the white chocolate (see Note 1).

Add the other ingredients and stir well. Press into a 20cm x 20cm tin lined with baking paper.

Top with the additional white chocolate, melted, and sprinkle on the extra Mini Eggs.

Put into the fridge for 2 hours or over night. Turn out and cut into squares.
Notes
Note 1 - Melting the Chocolate
To melt your chocolate either
Pop into the microwave for 30 seconds at a time, mixing and storing very well between each blast. It's VITAL to do the mixing even if it doesn't look like it needs it. In total it will probably only need about 3 x 30 seconds.
Pop the chocolate in a heatproof bowl over a pan of gently bubbling water. Do not let the pan touch the water. The steam from the water will be enough. Don't let any of the water or steam get into the bowl, it should only touch the bottom of the bowl.
Note 2 - Wafer Biscuits
In the UK these are the Crawfords brand. I just use these as they taste good and also look really pretty in pastel colour! You could use an other biscuit if you prefer.
Nutrition (per serving)
Calories:
334
kcal
Carbohydrates:
45
g
Protein:
4
g
Fat:
16
g
Saturated Fat:
10
g
Trans Fat:
1
g
Cholesterol:
10
mg
Sodium:
93
mg
Potassium:
119
mg
Fiber:
1
g
Sugar:
38
g
Vitamin A:
45
IU
Vitamin C:
1
mg
Calcium:
97
mg
Iron:
1
mg
Made it? Tag me!
Tag @TamingTwins so we can admire your make ⭐️