This microwave Malteser Fudge is so easy to make; three ingredients: condensed milk, chocolate and of course, our favourite malty treat. It is absolutely fool proof!
It's here – the END OF TERM!
As the children leave their class for the end of the school year, it's always good to mark it with a little card and a treat for teachers.
Teachers have such a huge impact on our children, they spend so much of their little lives at school – what better way to say thank you than Malteser Fudge?!
Really though, whatever you choose to send in to school, I think something personal is a nice touch and a good way to teach children about taking time to say thanks.
This recipe is so easy, it's perfect to make with kids and also, MINIMUM faff for that crazy last week of term. 🙌🏼
✅ Just 3 ingredients
✅ Takes just 3 minutes
✅ Totally delicious!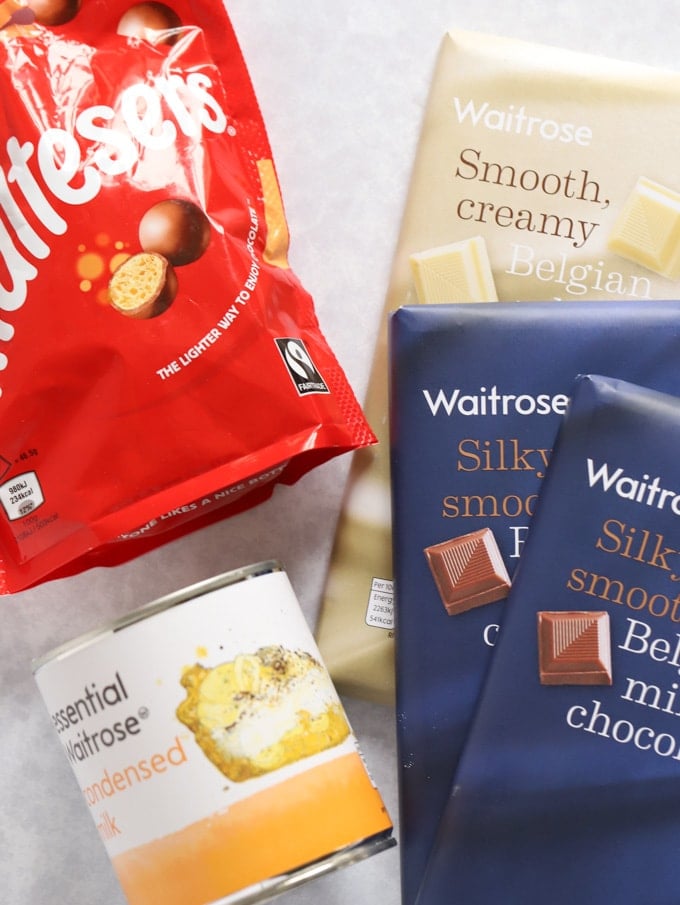 This recipe is a variation on my 2 minute microwave fudge, and it makes a fab homemade gift.
I first discovered this fudge recipe almost two years ago and I've got quite a fudge repertoire now if you fancy a look; Rolo Fudge, Creme Egg Fudge,  Baileys Fudge, Peanut Butter Fudge, and Cookies and Cream Fudge.
This Microwavable Fudge is so easy the world is your oyster with all the different flavours on offer.
HOW DO YOU MAKE MALTESER FUDGE?
This is not traditional fudge, where you boil and cook cream, this is my really simple version.
Less faffing, fewer ingredients and super quick.
The basic recipe for this fudge is so simple, just chocolate and condensed milk.
You can cook this in a microwave or a slow cooker. Of course it's much quicker in a microwave though.
Just cook it for 30 seconds, two or 3 times, beat really well. Let it cool down for 3 – 4 minutes.
Mix in some Maltesers and pour into a lined dish.
TOP TIP: You might notice that the Maltesers lose their chocolate coating, you can't help this and don't worry as they will all be hidden in a minute.
Melt some white chocolate, drizzle over and top with more Maltesers.
Store in the fridge over night and then chop up and serve.
NOTE: I say 3 ingredients, but I do use two types of chocolate. You can use just one if you prefer, I just like the way that the white chocolate looks on top!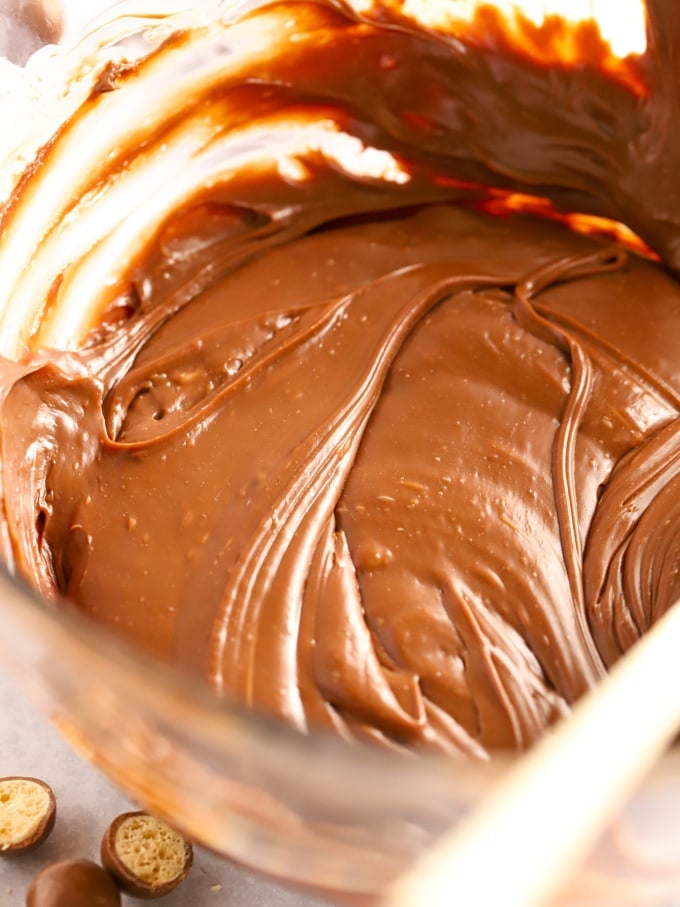 CAN YOU USE EVAPORATED MILK INSTEAD OF CONDENSED MILK IN FUDGE?
Unfortunately you simply can't substitute the condensed milk, for anything else.
Whilst you could use evaporated milk in place of milk in many situations, evaporated milk and condensed milk are completely different.
Evaporated Milk is condensed milk without added sugar, and has an entirely different thickness and texture.
HOW LONG CAN YOU KEEP HOMEMADE MALTESER FUDGE?
There doesn't seem to be any hard and fast rules on this, but I've kept it in the fridge for a week and it's been absolutely fine.
It will go really quite firm, so just let it soften a little before eating.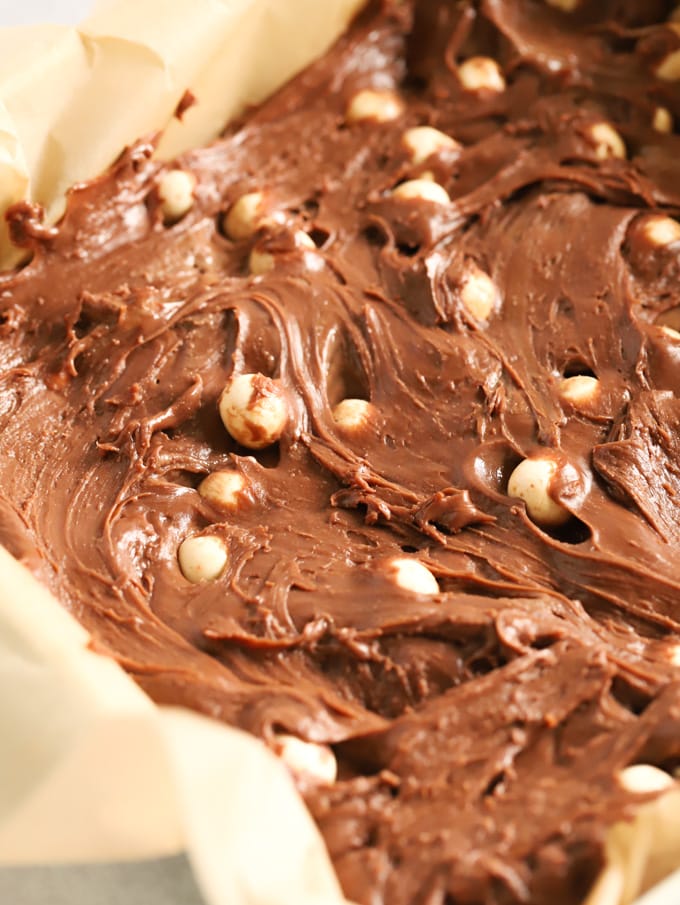 WHAT I USED TO MAKE MALTESER FUDGE:
I used my favourite Callebaut chocolate for this recipe. This chocolate is just amazing, it melts so well and really makes a difference to any recipe. When you buy it in bulk (1kg bags at a time) from Amazon it works out about the same price as supermarket chocolate. A good investment I think as it really does make SUCH a difference.
Make sure that you do use baking paper (or parchment as it's sometimes called) to line the tin. (I like this one, available on Amazon: Bacofoil Baking Parchment.)
Use a fairly small dish to get a nice, deep fudge. (I like this one, available on Amazon: Masterclass 23cm Tin.)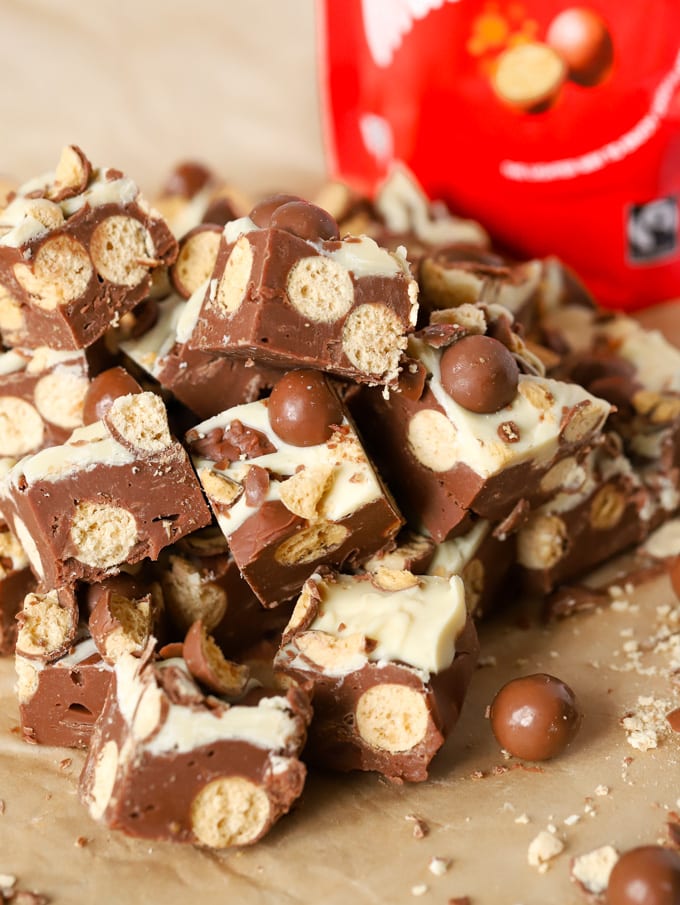 TIPS FOR MAKING THIS MICROWAVE FUDGE RECIPE:
I pack the pieces of Malteser Fudge, fresh from the fridge, into little bags like these cellophane bags (from Amazon). It adds a special something to make them feel like a real gift.
I used milk chocolate in the fudge this time and white chocolate on top. You can use also use milk or dark chocolate if you prefer or half and half works really well too.
You can also make this fudge in your slow cooker or crock pot. It will take about 40 – 50 minutes. Beat regularly. Depending on your particular slow cooker, this may take a little more or less time. As soon as it is thick and silky smooth looking, it's ready. If your Slow cooker fudge looks like it's a bit lumpy or splitting? You can resolve this by giving it a really really good beating with a wooden spoon. It should soon come together again.
This fudge is kept stable by being chilled. Keep it in the fridge until you need it and if you're giving it away, suggest that the lucky recipients keep it chilled too. It should stay fresh for around 2 weeks.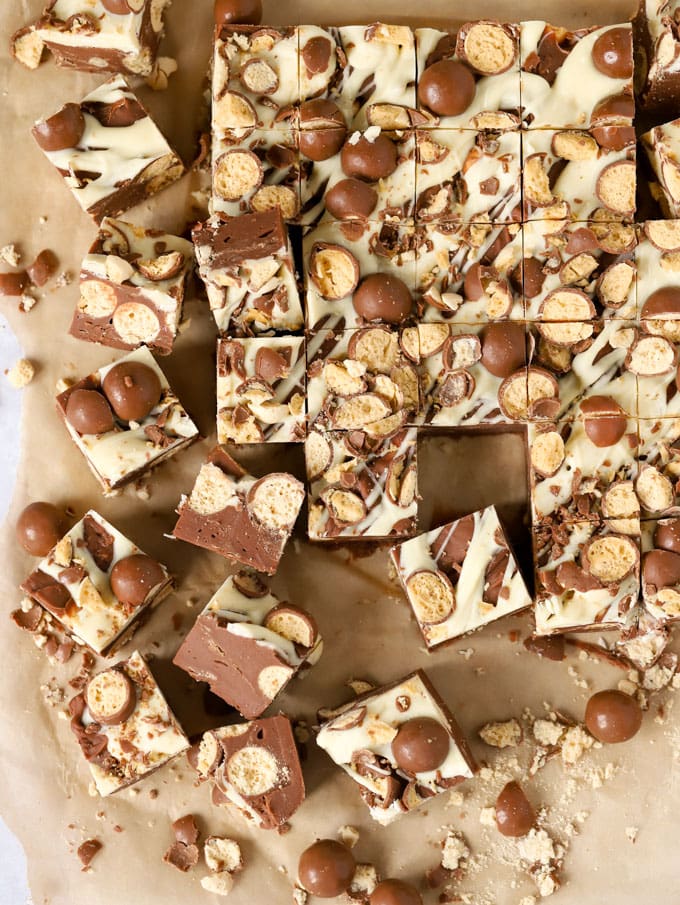 Got a sweet tooth…check out these recipes too:
Hope you enjoy this recipe. I'd love to know how you got on and what you thought of it if you make this recipe.
Please rate the recipe using the ⭐️ below!
Also, if you fancy showing me a photo by tagging me on Instagram (@tamingtwins) I LOVE to see your creations and try and share as many of them as I can.
Malteser Fudge
This microwave Malteser Fudge is so easy to make; three ingredients: condensed milk, chocolate and of course, our favourite malty treat. It is absolutely fool proof!
Ingredients
To decorate
150

g

White chocolate

Melted

160

g

Maltesers

Some chopped in half and some crushed
Instructions
Put the milk chocolate and condensed milk into a large bowl. 

Microwave for 30 seconds, beat well. Repeat once or twice until very thick and smooth. Allow to cool for 3 – 4 minutes.

Mix in 200g of Maltesers and stir very well.

Pour into a baking dish lined with baking paper.

Smooth out fudge mixture, drizzle over the white chocolate and then press the remaining Maltesers gently into the top of the mixture, trying to get an even spread across the whole of the baking dish. 

Cut into small pieces, and keep in the fridge until ready to serve.
Notes
Maltesers – I used 360g as that's how much is in a box, and these seem to be the cheapest way to bulk buy them. If you have a few grams more or less in the pack size you buy, that's fine.
Nutrition (per serving)
Calories:
110
kcal
Carbohydrates:
17
g
Protein:
2
g
Fat:
4
g
Saturated Fat:
2
g
Cholesterol:
6
mg
Sodium:
94
mg
Potassium:
93
mg
Fiber:
1
g
Sugar:
12
g
Vitamin A:
55
IU
Vitamin C:
0.2
mg
Calcium:
55
mg
Iron:
0.5
mg
Made it? Tag me!
Tag @TamingTwins so we can admire your make ⭐️