Learn how to make Creme Egg Fudge with this super simple and easy recipe. This slow cooker fudge recipe uses your crock pot for simple and delicious fudge every time. Just 3 ingredients! No boiling of sugar, it uses condensed milk and chocolate instead. Such a delicious treat as an Easter sweet or dessert.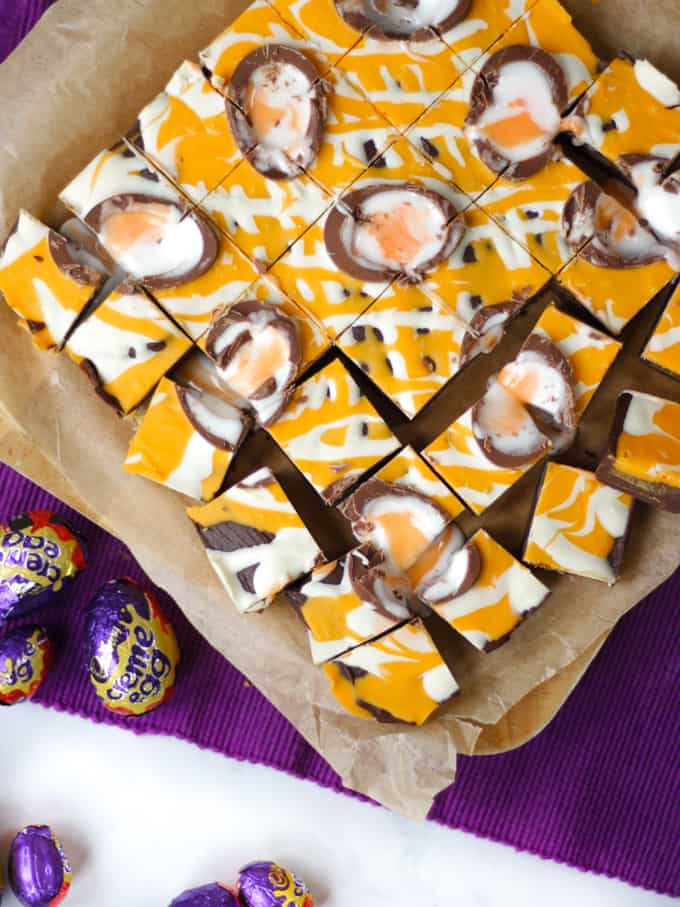 I made this Creme Egg Fudge recipe last year, without really planning to blog about it but it was too good not to share. This slow cooker (crock pot if you're that way inclined) fudge combo is everywhere on Pinterest and it's so adaptable.
The children and I made a chocolate orange version as Christmas gifts for teachers last year and it went down SO well I had to try it with Creme Eggs.
It takes a while but just bubbles along quietly on low in the slow cooker whilst you get on with something else. Result? Deliciously easy slow cooked Easter fudge. (You can also cook it in the microwave using THIS method of mine if you prefer.)
G&H are so excited to help package this up and give as gifts to adults this weekend. I hope someone remembers to give me a bag of it..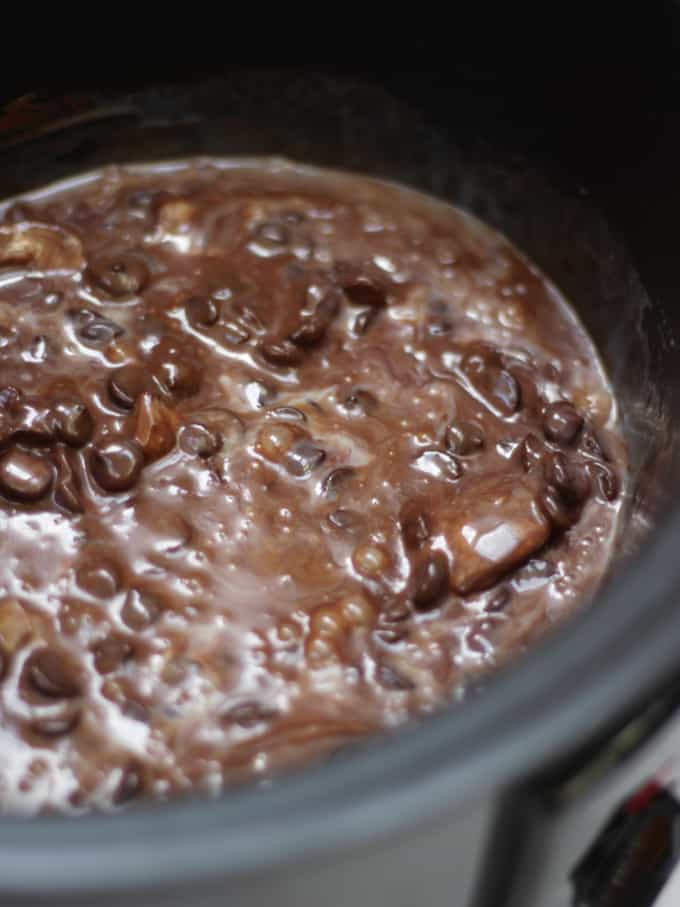 I made this in my new slow cooker which I'm a bit in love with. It's only £30 ish on Amazon at the moment but it's made me really enjoy using a slow cooker for just about the first time ever as it's so light and easy to use. (Sorry, I'm becoming a slow cooker bore. I promise it will wear off soon.)
I used my favourite Callebaut chocolate (dark in the fudge and white on top). This chocolate is just amazing, it melts so well and really makes a difference to any recipe that calls for chocolate to be melted.
It's not cheap but when you buy it in bulk (1kg bags at a time) from Amazon it works out about the same price as supermarket chocolate. A good investment if you love a spot of baking as much as I do.
Tips for making the Slow Cooker Creme Egg Fudge:
Slow cooker fudge look like it's a bit lumpy or splitting? Resolve this by giving it a really really good beating with a wooden spoon. It should soon come together again.
Use a fairly small dish to get a nice, deep fudge. (I like this one, available on Amazon: Masterclass 23cm Tin.)
You can add extra flavourings if you'd like, like this amazing vanilla extract (it's THE best!).
I use dark chocolate in the fudge this time to give a deeper flavour. You can use milk chocolate if you prefer or half and half works really well too.
This fudge is kept stable by being chilled. Keep it in the fridge until you need it and it you're giving it away, suggest that the lucky recipients keep it chilled too.
Watch how to make the Chocolate Creme Egg Fudge (1 MINUTE VIDEO):
What I used to make the Slow Cooker Creme Egg Fudge: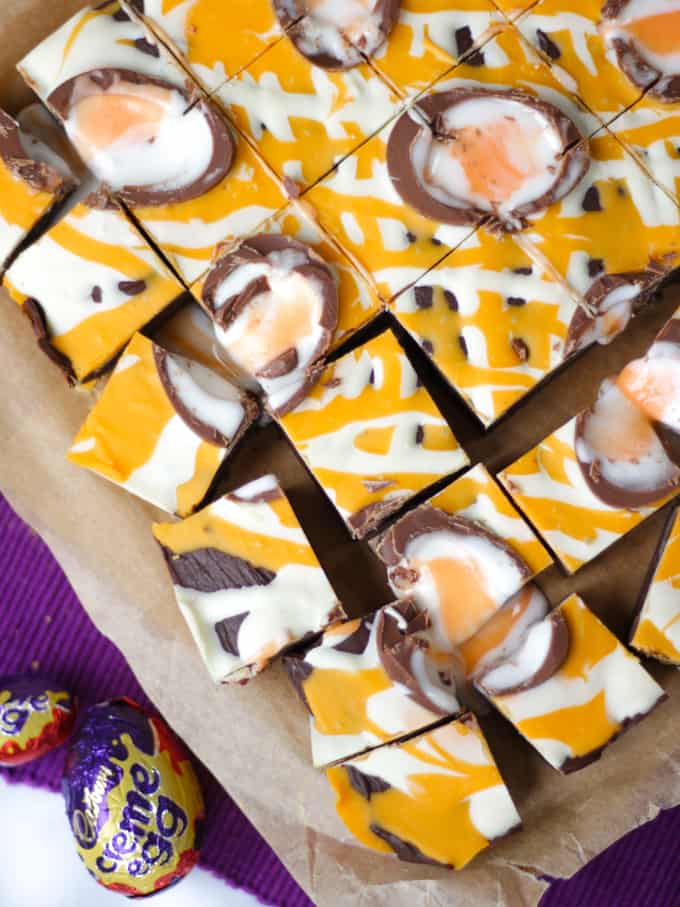 How to make the Slow Cooker Creme Egg Fudge:
Slow Cooker Creme Egg Fudge
Learn how to make this super simple and easy Slow Cooker Creme Egg fudge in your crock pot. No boiling of sugar, it uses condensed milk instead. Such a delicious treat as an Easter sweet or dessert!
Ingredients
400

g

Chocolate

397

g

Tin Carnation Condensed Milk

3

Creme Eggs
To decorate:
100

g

White chocolate

melted

6

Creme Eggs
Instructions
Pop the chocolate (broken into chunks), the condensed milk and the 3 Creme Eggs (cut in half) to the slow cooker.

Cook on LOW for 50 minutes, stirring every 10 minutes.

Pour into a pan lined with baking paper and smooth out the top.

Drizzle over melted chocolate, and decorate with Creme Egg halves.

Refrigerate overnight and then cut into chunks.
Nutrition (per serving)
Calories:
142
kcal
Carbohydrates:
18
g
Protein:
1
g
Fat:
8
g
Saturated Fat:
4
g
Cholesterol:
4
mg
Sodium:
19
mg
Potassium:
101
mg
Sugar:
16
g
Vitamin A:
30
IU
Vitamin C:
0.2
mg
Calcium:
41
mg
Iron:
0.5
mg
Made it? Tag me!
Tag @TamingTwins so we can admire your make ⭐️
Fancy some more Creme Egg goodness..?!
How about… My Cadbury's Creme Egg No Bake Cheesecake (viewed over a million times!)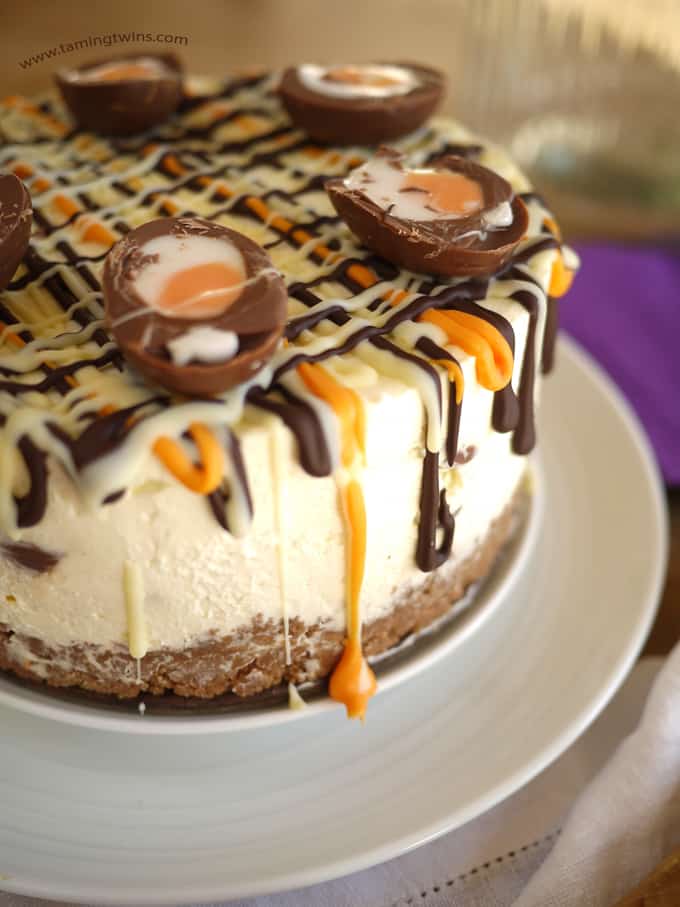 Or my Creme Egg Rocky Road Recipe?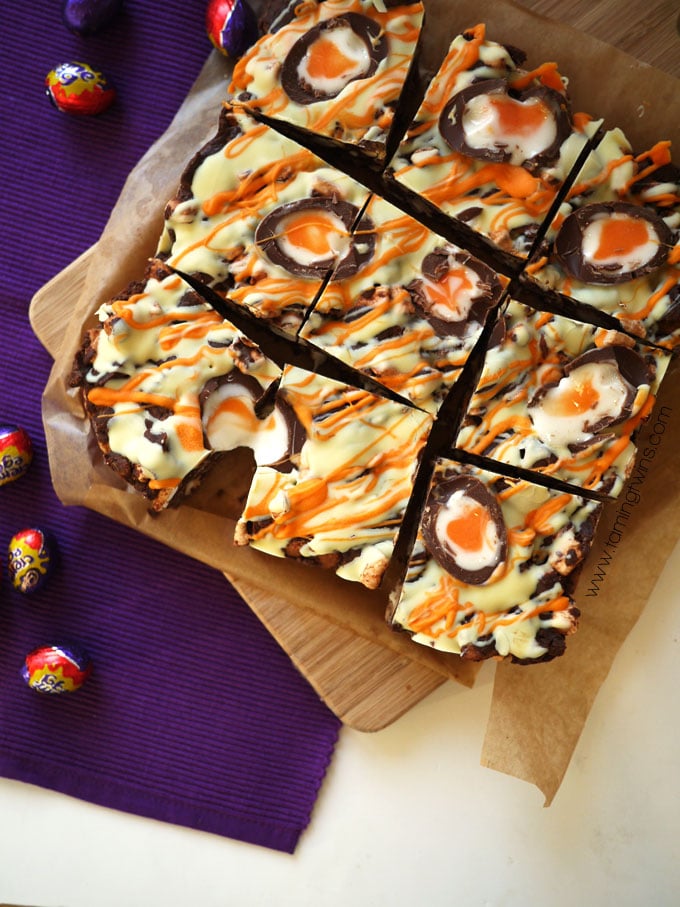 Fancy signing up to receive our free email newsletter?


It takes less than a minute and you'll get all of our new posts and tips and tricks straight to your inbox!