Is there any better way to tell someone how much they mean to you, than with baked goods? I think not. What's a diamond when you can give a Daim bar IN A COOKIE. (Didn't they used to be Dime bars by the way?)
At Christmas, I decided to do something a little bit different for my six best friends. I decided to give them the gift of cake, for a whole year. Not to be too emotional but these are amazing ladies.

Naomi's been in my life since I was 3, through the shell suit years and the New Kids on the Block tapes, whilst Emma's only been badly dancing and making silly videos with me for a year or two.
Nic is my partner in wine drinking crime, dubbed by my children as "funny Nicola", her aim in life is to buy them the loudest toys she can find (I cannot WAIT for her to have some children for me to return the favour). My dear pal Cath, she's Harriet's fairy Godmother and an all round gem, we were once dubbed "tits and teeth", an excellent partnership I say.
Julie and I met when we were both aiming to be business woman of the year (or maybe not), she makes me cry with laughter and over the last few years has been an expert at plying me with giant ice cream sundaes whenever I needed some TLC. Last but not least, gorgeous Kerry and I bonded through cake and afternoon teas many moons ago now, whilst waiting for our happy endings.
I don't see them all every day or every week so it was a way of sending them a bit of cake love during 2015. They'll be getting a parcel each month, with a baked surprise in.
So I sent my first set of parcels off into the wild and hurrah, they all made it safe and sound. I hope they were enjoyed with a cup of tea and that warm fuzzy feeling of knowing someone is thinking of you.

I didn't drizzle the cookies that were posted, I thought I'd play it safe for January at least in case the chocolate wasn't up to the journey.
I wrapped the cookies in a few layers of baking paper, so they were nice and snug in little postal boxes (an excellent Poundland buy) with a little ribbon.
Here's to many more months of my little Cake Club by post..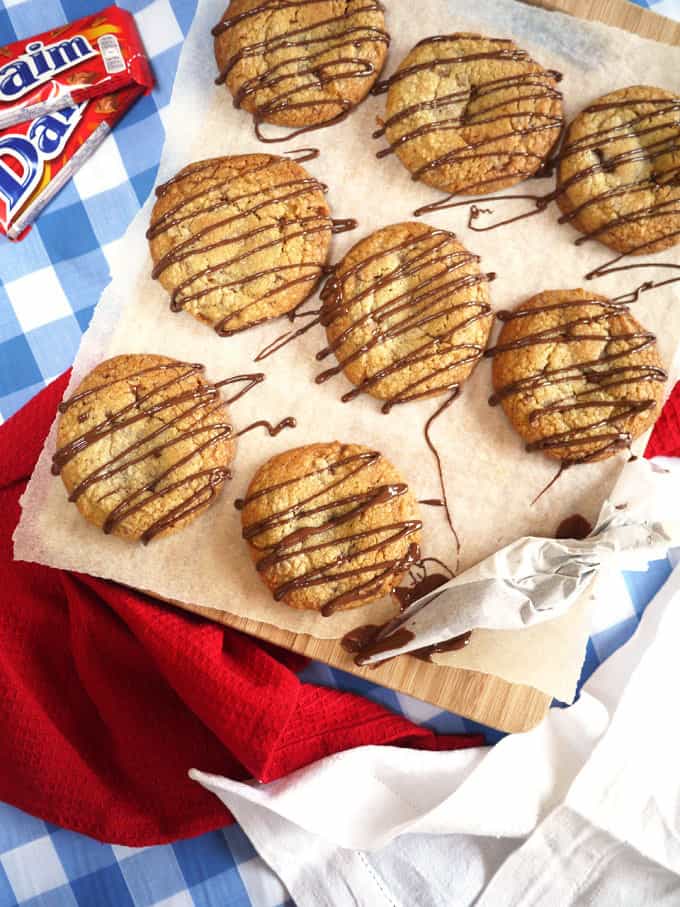 Daim Bar Cookies
Daim bar cookies are a great soft cookie with a surprise Daim centre a great, quick, sweet treat.
Ingredients
150

g

Unsalted butter

softened

75

g

Caster sugar

75

g

Soft light brown sugar

1

Egg

225

g

Plain flour

1/2

tsp

Bicarbonate of Soda

1/2

tsp

Salt

115

g

Daim bars

chopped into small chunks

50

g

Milk chocolate

to drizzle
Instructions
Beat the butter and sugars together until creamy.

Stir in the egg, flour, bicarbonate of soda, salt and chopped Daim bars. Mix until it forms a stiff dough.

Divide into 12 cookies, I light to weigh each little ball out (because I'm a nerd like that..) they should be 50g - 55g each.

Roll each into a ball, flatten very slightly and place on a plate lined with baking paper. Pop the plate in the freezer for at least an hour.

Bring them out of the freezer and sit them on baking sheets with plenty of room between (I don't put more than 6 on a full size baking sheet).

Bake at 180C for about 15 - 18 minutes until they are just golden brown.

Leave them on the baking tray until they are cool. Don't move them whilst they are warm or they will fall apart.

If you want to top with chocolate, melt the chocolate in a bowl over a pan of simmering water (not touching the water). When fully melted, allow to cool slightly and then drizzle over the cookies.

(I made a small piping bag from greaseproof paper to pipe a nice neat drizzle.)
Nutrition Facts
Daim Bar Cookies
Amount Per Serving
Calories 259
Calories from Fat 108
% Daily Value*
Total Fat 12g 18%
Cholesterol 41mg 14%
Sodium 178mg 7%
Potassium 61mg 2%
Total Carbohydrates 33g 11%
Protein 3g 6%
* Percent Daily Values are based on a 2000 calorie diet.
Do you show your love with cake? What's the yummiest thing to be delivered by your postman lately? Will they always be a Dime not a Daim to you too?
Sarah x
Let's be friends..
Picture this on Instagram ¦
Keep in touch on Facebook ¦
Chit chat on Twitter ¦
Never miss a trick on Bloglovin' ¦
Circle with me on Google+ ¦
Pinning like my life depends on it Pinterest ¦